Discover more from The Auburn Observer
Deep dives into the stats, strategies and stories of Auburn football and basketball
Over 3,000 subscribers
What Auburn basketball is getting in Jabari Smith, the program's highest-rated commit ever
The Tigers just picked up the No. 5 player in the entire country. Here's a breakdown of his game and how he'll fit on Bruce Pearl's team.
This story, which was posted last Friday, has been unlocked for all readers. If you would like to subscribe to The Auburn Observer for stories like these and a bonus weekly podcast episode, you can do so for $6/month or $60/year by using the button below.
Auburn basketball just created the biggest boom of the Bruce Pearl era, as five-star power forward Jabari Smith Jr. has committed to play for the Tigers.
Smith is the No. 5 overall player in the country for the class of 2021, according to the 247Sports Composite. His composite rating of 0.9986 makes him Auburn's highest-rated commitment in the modern rankings era, as freshman point guard Sharife Cooper was a 0.9920. Auburn beat out SEC rivals Georgia and Tennessee for his commitment, as well as powerhouse program North Carolina.
A prolific power forward out of Sandy Creek High School in Georgia, Smith is yet another major pickup from the talent-rich Atlanta area for Pearl and his staff. He plays for the famed Atlanta Celtics AAU team, which he led to a championship in the Adidas Gauntlet series in 2019. Smith also won a gold medal with the United States' U16 basketball team at the FIBA Americas Championship that same year.
Smith is the son of former LSU big man Jabari Smith, who played two seasons at LSU after transferring from junior college before being selected in the second round of the 2000 NBA Draft. The elder Smith spent four seasons in the NBA before finishing his playing career overseas. Smith is also a distant cousin of Kwame Brown, who was the No. 1 overall pick in the 2001 NBA Draft.
On the floor, Smith looks like a perfect fit for Pearl's fast-paced, four-out offensive system and his havoc-creating brand of defensive basketball.
Smith's listed height, well, depends on where you look. ESPN lists him at 6-foot-8, Rivals has him at 6-foot-9 and 247Sports has him at 6-foot-10. His weight is much more consistent across the sites, though, at 210 pounds on 247Sports and Rivals.
Smith is incredibly long and lanky, and he knows how to use that length on both ends of the floor well. As a junior at Sandy Creek last season, Smith averaged 24.5 points per game, 10.8 rebounds per game, 2.8 blocks per game and 1.3 steals per game. At the FIBA Americas U16 Championship, he was the Americans' second-leading scorer at 13.8 points per game and averaged 6.2 rebounds per game.
(All GIFs are from YouTube, via Courtside Films, OST247, BTL Sports, ERT and Hudl)
The elite forward projects best as a stretch four in Pearl's system, although he could theoretically slide into some small-ball five opportunities if he puts on good weight.
What separates Smith from the pack is that he loves to attack defenders face-up, with the ball in his hands. He shows a lot of confidence in making things happen off the dribble. When he attacks the basket, he has an effortlessly smooth touch that reminds me of Isaac Okoro would finish in traffic during his one and only season at Auburn.
He doesn't rely on overwhelming defenders with a ton of athleticism and power. Instead, Smith often goes with finesse and touch, which should translate well to the next level against more physical defenders. Even his highlight-reel dunks are more crafty ones than a case of simply cramming it home.
One of the biggest aspects that stands out about Smith's game is his ability to score in traffic. With his extra height and length on most defenders, he goes up and over on jump shots at midrange with impressive consistency. This is an area that separates truly elite players from the great ones in basketball — the pro-level ability to get to your spot and hit contested shots.
Another attribute that makes Smith a perfect fit in Pearl's system is his ability to stretch the floor as a shooter. He shot 38 percent from 3-point range as a junior last season and 36 percent from 3-point range on the U16 national team. Smith shows zero hesitation in catching the ball in transition to shoot from deep, stopping and popping himself, or even creating looks from deep on his own.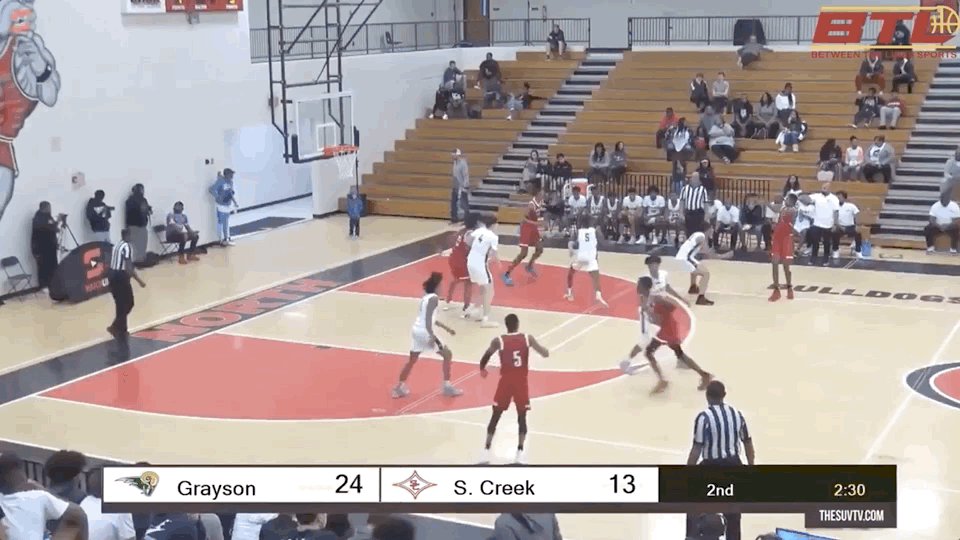 Smith plays like a wing who has grown into big-man height over the years, so his post moves aren't his calling card. However, he's got a solid hook shot, a quick turnaround jumper and even a sweet one-legged fadeaway.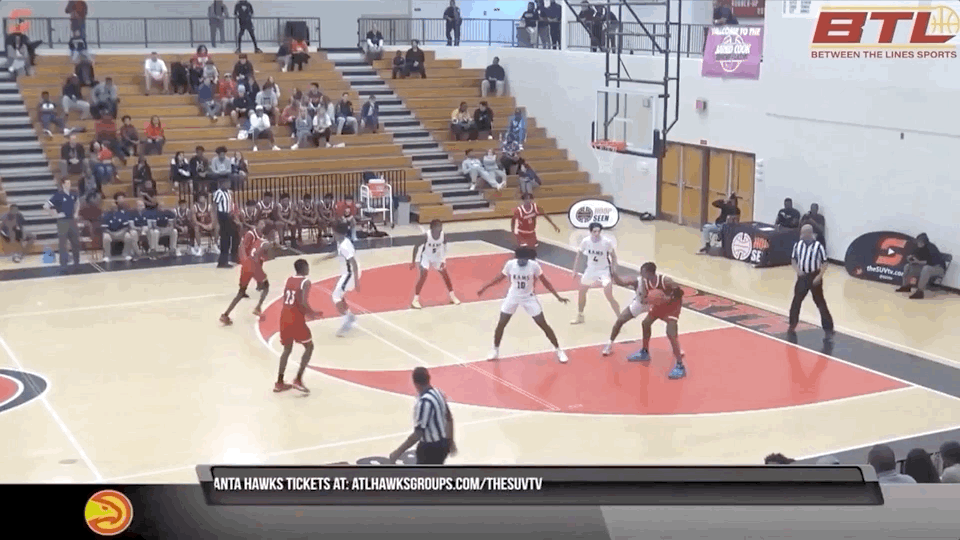 But Smith looks the most comfortable when he's got the ball in a triple threat position and play off the bounce. In the half-court game, Smith is a real weapon on screens. He can roll to the basket and finish in traffic, but he also isn't afraid to pop out for 3-point opportunities.
If Cooper doesn't turn out to be a one-and-done player at Auburn — a real possibility, given the strength of the 2021 draft class — Tigers fans can get excited about the combination Smith could create with the top-tier point guard in the two-man game.
In addition to his 3-point stroke, Smith has a nice rhythm at the free-throw line. He shot 78 percent on free throws in high school and in international play last year. His shot mechanics, like a lot of his game, are smooth and fluid.
Passing isn't one of Smith's biggest offensive strengths, but he's shown real progress in that area over time. He can take advantage of extra attention in the open floor to set up teammates, and he even takes the ball up the floor as the primary ball-handler at times for Sandy Creek.
While his slighter frame doesn't make him a powerful rebounder, he gets plenty of them on both the offensive and defensive end thanks to great length and energy. Most of his highlight packages include stretches where he stays with the play and puts back his own misses in traffic. Averaging 6.2 rebounds in 17 minutes per game at the international level is a good sign of his work in this area.
As a defender, Smith protects the rim with anticipation and instincts. Opponents can think they have enough space on drives to go up against him, but he quickly eliminates that thanks to a quick twitch and extra wingspan. As he continues to build his strength, he has the look of a defender who could handle guards, forwards and centers. Take a look at this supercut of blocks last season at Sandy Creek:
That length also comes in handy in terms of generating steals. Like Chuma Okeke, another talented forward in Pearl's system, he has active hands and wants to create havoc in passing lanes. From there, he can spark fast-break opportunities on offense — both his high school and AAU teams play a free-flowing brand of up-tempo basketball, so he has plenty of experience playing at high speeds.
With the way Auburn often morphs into a positionless brand of basketball under Pearl, Smith has the real potential to be a constant matchup nightmare. He's too tall for most wings and too quick for most big men. Combine that with an ability to fluidly switch and guard one through five, and it's easy to see why the Tigers made him such a huge priority in this recruiting class.
There's a wide variety of player comparisons out there for Smith. Some have pointed to his lankiness, height and face-up game to compare him to Kevin Durant — which is pretty unfair, given that Durant is one of the most naturally gifted scorers in basketball history.
The 247Sports prospect evaluation compares him to Robert Covington, a natural small forward who is a tenacious defender and was most recently the Houston Rockets' small-ball center in the NBA bubble. For a more vintage comparison, others have pointed out the similarities between Smith and another former Atlanta area great — Shareef Abdur-Raheem, the stat sheet-stuffing former No. 3 overall pick and NBA All-Star who played 13 seasons in the league.
Personally, I like the comparison to former Michigan State one-and-done product and No. 4 overall pick Jaren Jackson Jr. If Smith can continue to grow, there's a lot to his style that is reminiscent of the 6-foot-11 Jackson, a stretch four who can make plenty of impact plays on both ends of the floor.
In overall talent, skill set and physical gifts, Smith is unlike any other player Pearl has had during his time at Auburn. If this young, hyper-athletic team of Tigers can grow together during the 2020-21 season, Smith is an instant-impact type of two-way weapon who should plug in perfectly with what Auburn wants to do in 2021-22.
Smith's commitment is the latest sign that Auburn basketball is here to stay under Pearl, and it is a force that is only growing in the national recruiting landscape. Given Smith's status in the amateur basketball scene, he's the type of player who will go a long way in getting more blue-chip prospects to join the Tigers in their 2021 class.