Discover more from The Auburn Observer
Deep dives into the stats, strategies and stories of Auburn football and basketball
Over 3,000 subscribers
20 observations from Auburn's 2020 depth chart and Kentucky week practices
Two surprising names rise to the top on defense, while one position group still needs sorting out as the Tigers prepare for their season opener.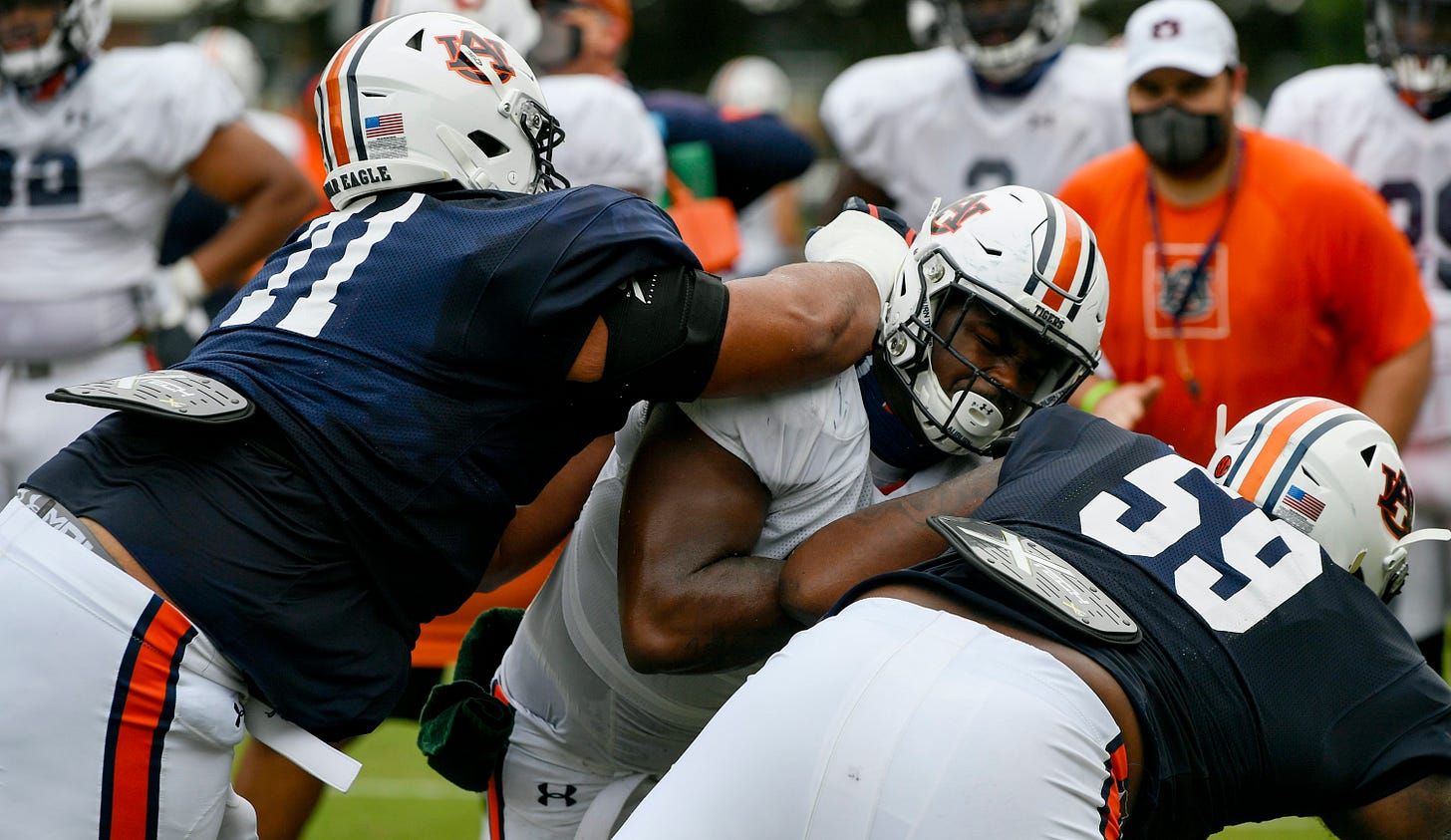 RG Brandon Council, DT Colby Wooden and RT Brodarious Hamm (Todd Van Emst/Auburn Athletics)
---
Thanks for checking out The Auburn Observer. For the month of September, every story and podcast will be free. Starting next Thursday (October 1), The Auburn Observer will switch to a paid newsletter. If you haven't already, please subscribe using the button below to get new posts sent to your inbox. If you enjoy our work, make sure to tell all your fellow Tigers fans to join us.
Though it happened through Zoom and email, Auburn had two major game week traditions Tuesday — Gus Malzahn's weekly press conference and the release of the official depth chart.
Here are 20 observations from that 2020 depth chart and the interviews with Malzahn, quarterback Bo Nix and linebacker K.J. Britt.
1. Colby Wooden is the surprise winner of the defensive tackle battle next to Tyrone Truesdell.
The end result of several position battles were revealed when Auburn released its 2020 depth chart Tuesday morning. Most of them weren't surprising at all, even the ones in which the perceived favorites didn't win out.
Then there's Colby Wooden, who will now inherit Derrick Brown's starting job next to Tyrone Truesdell at defensive tackle.
Wooden was a defensive end in high school. Auburn still has him listed as a Buck on its own online roster. He only played in three games last season after he missed time in his first preseason with mono. A reasonable expectation for him, even after defensive coordinator Kevin Steele raved about him two weeks ago, felt like a rotation piece at end behind Big Kat Bryant and Derick Hall.
And yet, here Wooden is as the starting defensive tackle. When asked about Wooden's push to the top of the depth chart Tuesday, Malzahn said the word "consistent" three different times. Malzahn also says Wooden weighs more than his currently listed 268 pounds, which made him a real difference-maker in fall camp.
"He's grown so much, mentally and physically," Britt said Tuesday night. "Just looking at him grown, I really don't even recognize him. He's gotten so much better. He really understands the game, and it's really important to him, too. He wants to be the best he can be, and that's something you really can't take from him.
"He flashes some way, every day. That's just something we've seen from him. He's gotten better. He's gotten better. I can't wait to watch him play. I can't wait to play behind him. If you ask me, he's doing a dang good job playing his position, holding his gap, playing with his hands and understanding the playbook."
With Bryant, Hall and T.D. Moultry having already established themselves on the outside, the inside was where more of the opportunities would come for Auburn's younger defensive linemen. Wooden will bring an edge rusher's mentality to the inside, which should pair perfectly with the skill set of Truesdell.
Auburn will rotate plenty of bodies along Rodney Garner's defensive line this season, as it's always done. But Wooden emerging as the first name on the depth chart shows just how far the former blue-chip prospect has come with a full offseason of work.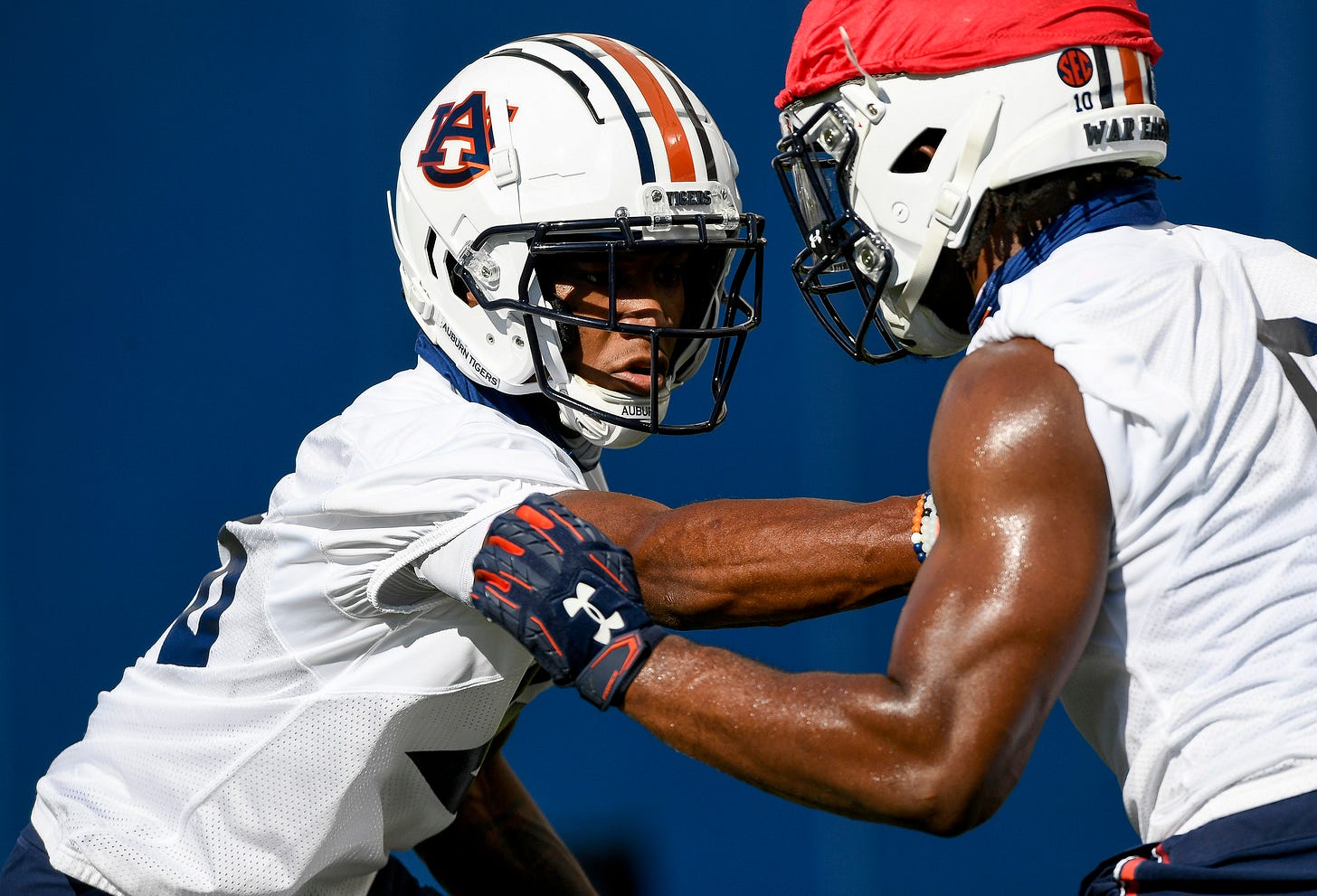 CB Jaylin Simpson and LB Owen Pappoe (Todd Van Emst/Auburn Athletics)
2. Jaylin Simpson, the winner of another big defensive position battle, also turned some heads.
Heading into fall camp, it felt like Nehemiah Pritchett or JUCO transfer Marco Domio would be the ones to beat at cornerback across from Roger McCreary. However, the first-string spot will go to Jaylin Simpson, a redshirt freshman who played in four games as a safety last year.
"He really came on," Malzahn said. "He's got some natural football instincts, and we put him at corner right off the bat, and you could tell that each day he improved. He can flat out run. He's got really good ball skills, and he's a good tackler. He really stepped up, and he made an early impression and just kept that momentum going throughout fall camp."
Simpson — like Pritchett, Domio, Matthew Hill and Devan Barrett — received first-team snaps earlier this month. The Georgia native seems to have made the most of his opportunities, as he's projected to be the first one out there with McCreary when Auburn takes the field against Kentucky on Saturday.
"He's crazy athletic, a freakish athlete," Britt said. "He can jump 40 (inches) and stuff like that, but it's also his love for the game and his progress… Simp loves football and just watching him every day work, work, work his craft coming from safety to corner and just to keep working. He's now progressed his way into a starting position. I don't expect anything else but for him to progress, and before it's all said and done I expect him to be a household name. He's going to be really special."
The Tigers will rely on more than just two cornerbacks this season, of course, and seven of them were listed on the depth chart Tuesday. (Eric Reed Jr., a true freshman, is the seventh man.) Steele and his players sounded quite confident in the depth in the secondary throughout fall camp, and Simpson's victory in a crowded battle should speak volumes heading into the 2020 campaign.
3. Left tackle, as expected, is still the major question mark on the mostly new offensive line.
Heading out of Auburn's final week of fall camp, left tackle appeared to be the only holdup for a Tigers offensive line that had to replace four out of five starters. Returning starter Nick Brahms, Brodarious Hamm, Tashawn Manning and Brandon Council had emerged as first choices, with Alec Jackson and Austin Troxell still battling it out at left tackle. (Also, Manning at left guard and Council at right guard was projected correctly here last week.)
According to the depth chart, that still hasn't been decided yet. Both Jackson and Troxell are listed as first-teamers at left tackle, with the giant "OR" between them.
"As far as left tackle, we'll just have to see how that goes," Malzahn said. "There's something to be said for this week, too. This is a big week for a lot of guys, as far as even evaluation."
Auburn has had to deal with injuries and COVID-19-related absences along the offensive line during fall camp, so it isn't a surprise that there's at least some uncertainty along the offensive line.
The final few practices before Saturday will be important for both Jackson and Troxell. And this situation further underscores the fact this offensive line is going to be a major work in progress, especially early in the season.
4. This is your last chance to hop on the Brodarious Hamm hype train before it leaves the station.
Take it away, friend of the newsletter "Young King" Dave McKinney:
Brodarious Hamm has had plenty of time to fill up the cars on his hype train. He's been the Tigers' top reserve offensive lineman for a couple of years now, and the buzz around him has been so great, he was named to the SEC coaches' second-team offense last week — even though he's never started a single game.
Hamm was the unquestionable starter at right tackle from the moment fall camp began. Stay healthy, and the job was going to be his. Need any more reason to buy into him in 2020?
"I think he's set for a big-time year," Malzahn said. "He's very, very talented. He's probably as strong as any lineman that I've had come through here in a long time."
Let's all remember that, among other NFL linemen, Malzahn coached Braden Smith.
5. Shaun Shivers is RB1.
It was made official Tuesday — Auburn's new starting running back is none other than Shaun Shivers. The most experienced back on the roster will be the first one on the depth chart, and he's coming off a fall camp in which he received plenty of praise from coaches and teammates.
The case for Shivers as RB1 was made here last week. He's made great strides in terms of his potential in Chad Morris' passing game, both as a receiver and as a pass protector. He was Auburn's most explosive running back last season, and the Tigers need all the help they can get in creating more big plays this season.
Auburn is not likely to hand the ball to Shivers 25 to 30 times a game. The Tigers have built a strong amount of quality depth in the backfield, and some of those younger playmakers will get their share of opportunities.
But Auburn didn't do the parade of ORs with the starting running back position this year. Shivers is the clear-cut leader here. He was voted as one of Auburn's team captains for 2020.
"Worm's done a really good job of taking the next step, moving up because… that room has kind of moved around and shifted a little bit," Nix said Tuesday night. "He's been the one that's kind of kept them all together. He's been a great leader for us throughout the whole team."
Shivers also has plenty of experience and explosiveness, and he's coming off a strong finish to his sophomore season in which he had one of the most memorable plays in program history. This should be the Year of the Worm.
6. Harold Joiner is not on the depth chart, but Auburn still expects to use him.
The most notable absence from the depth chart Tuesday was sophomore running back Harold Joiner. All the other scholarship running backs on the roster — Shivers, D.J. Williams, Tank Bigsby and Mark-Antony Richards — were listed.
But Malzahn says that isn't a sign of lost faith in the athletic Joiner.
"Harold did some good things during fall camp, and he'll have a role," Malzahn said. "But it will be a little bit more specific role as we go. And here's the deal, too: We feel like we've got five guys at the running back position that can all help. He is one of those guys that does have experience. And he's made some big plays in games. So you'll still see Harold Joiner out there some, too."
Since his arrival on the Plains, Malzahn has talked about using Joiner like he used Charles Clay during his time at Tulsa — in multiple positions and not strictly defined to one role. (Morris also coached Clay at Tulsa.) At Auburn, Joiner has been a backup Wildcat option and a receiving back in certain packages. That will most likely continue in 2020, especially considering Morris' past use of pre-snap motion.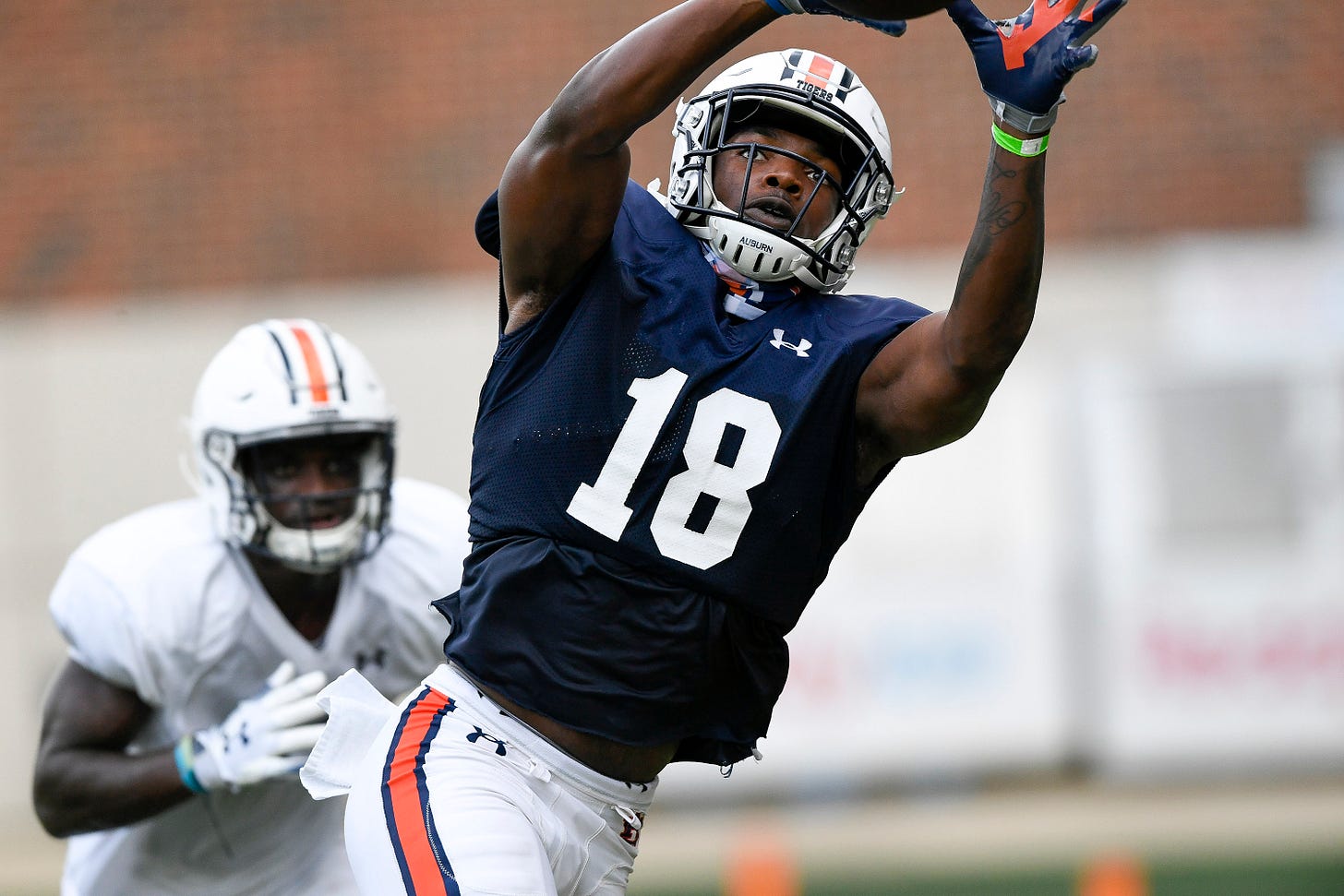 WR Seth Williams (Todd Van Emst/Auburn Athletics)
7. Take a close look at who is listed at wide receiver.
Auburn didn't go with the massive depth chart of years past, where both sides of the ball could have as many as 13 or 14 positions listed. Instead, it's 11 on both sides, and the Tigers have three wide receiver spots on there.
Seth Williams is a starter, of course, at what will most likely be the 9/X/split end position. Eli Stove and Anthony Schwartz are listed as co-starters at what appears to be the 2/Z/flanker role, although Malzahn said the two could play together regularly.
"I think you'll see a little bit of both," Malzahn said. "Sometimes, one will be on the side. Sometimes they'll both be on the field. You know, I think the big thing for Chad is he's going to find a way to put his best players on the field and move them around and create match ups. So there will be a lot more moving around this year than there has been in the past."
Shedrick Jackson had a strong fall camp and is listed as a starter in the slot. In years past, the Tigers have listed a 5/Y/big slot and a 3/small slot. However, those positions seemed to be combined on the depth chart, as the two backups to Jackson are the 6-foot-4 Ze'Vian Capers and the 5-foot-11 Caylin Newton.
The two remaining wide receivers on the depth chart are true freshmen Kobe Hudson and Elijah Canion, who are both listed behind Williams. Roles will adapt and change over time, but these are going to be the top eight to watch heading into the Kentucky game.
8. Auburn has a very young offense.
This observation was first pointed out by @AUSportsNerd on Twitter:
No fan wants to hear about a team building toward next season, especially before the current season even begins. Auburn has to get better on offense now in order to be where the fan base wants it to be, even in a weird year that's been heavily affected by a global pandemic.
However, one should keep in mind that this is a new offense with a first-year offensive coordinator, behind a new offensive line, rolling with an underclassman at starting quarterback and putting plenty of other underclassmen in the two-deep depth chart. This season doesn't count to anybody's eligibility, and the Tigers only have a few draft-eligible key players on the entire offense.
There's a lot to like about Auburn's championship chances in 2021 if it can make the necessary steps forward on the offensive side of the ball in 2020. (And this is going to be such an abnormal season of football that no one should be surprised if Auburn is in contention this year.) So, through the frustrations that will inevitably come with the Tigers' offensively, keep in mind that this is far from a finished product, thanks to the talented youth the Tigers are putting out there.
9. Grant Loy is locked in as QB2.
Auburn went out and got Grant Loy for a reason this offseason, and he'll start the year as the backup to Bo Nix at quarterback. The Bowling Green graduate transfer will be a good insurance policy in a season where player availability could be up in the air, and Malzahn has liked what he's seen from the newcomer.
"He's a guy that started at the college level," Malzahn said. "Chad recruited him at Arkansas. That was the relationship. He's came here, and he's really done a good job with his teammates, good job with the offense. You know, we let all the guys — other than Bo — go live all three scrimmages. I think that was big for him. He can create things on his own. He's got a very live arm. And so we're glad to have him."
Loy brings enough to the table as a quarterback that it won't have to completely reinvent its offense in case something happens to Nix. While Nix is arguably the most valuable player on the roster in 2020, having Loy could be extremely vital this fall.
10. There's a new position change to note.
True freshman offensive tackle Jeremiah Wright is now playing defensive tackle, where he's listed as the fourth option behind Wooden. Malzahn said it was a depth move, as the Tigers lost a member of the roster there earlier in fall camp when Coynis Miller Jr. left the team.
Wright played defensive tackle in high school, and he is a massive young man — currently listed at 6-foot-5 and 340 pounds.
"Jeremiah just made the transition," Britt said. "I have seen some good stuff out of him. He's got a really good attitude and keeps a smile on his face. No negative energy whatsoever. He keeps you laughing, but on the field he's trying to get better, trying to adapt, trying to come into our culture. He's going to be fine. I can't wait to see what he can do."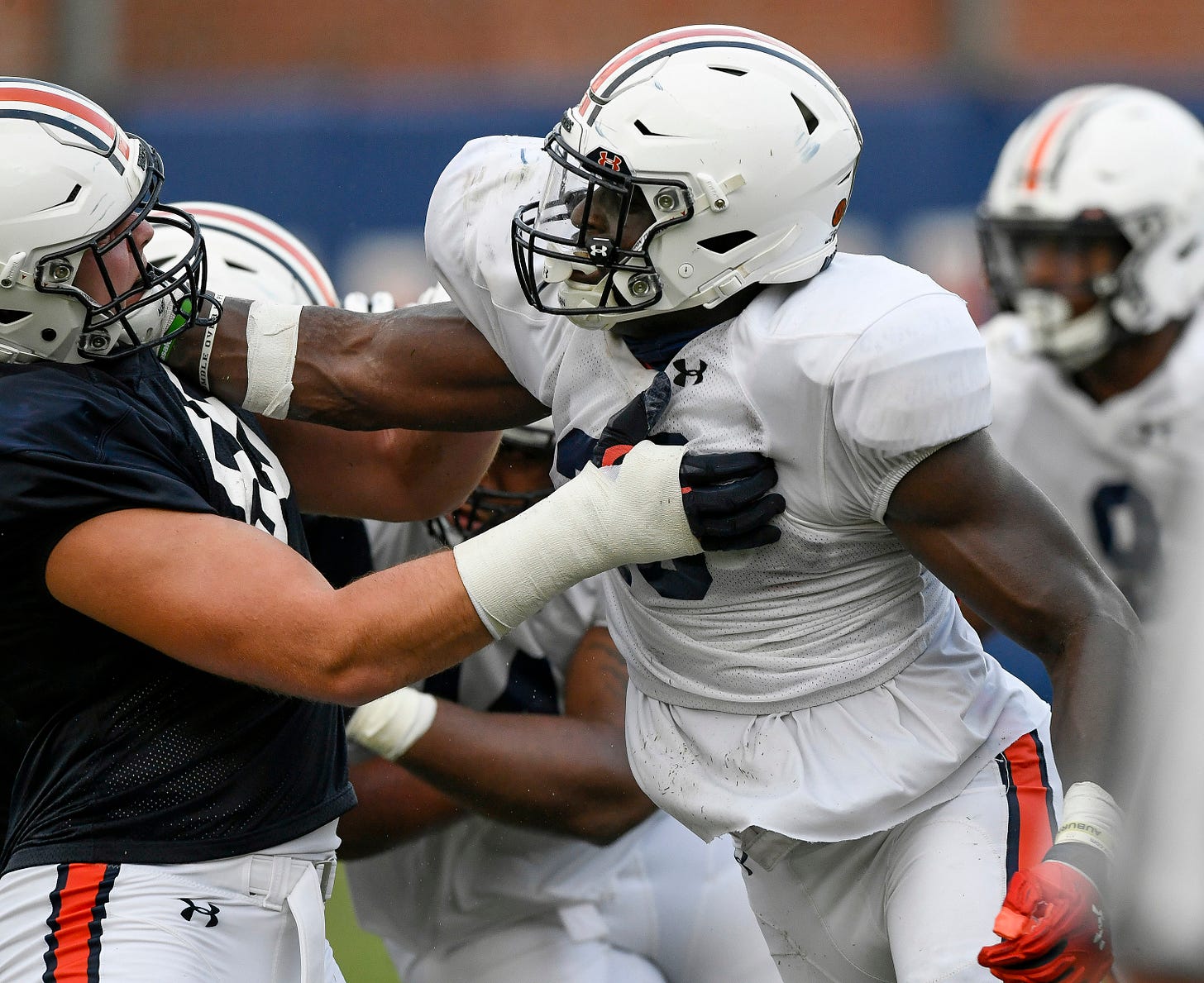 DE Derick Hall (Todd Van Emst/Auburn Athletics)
11. Even without Derrick Brown and Marlon Davidson, the Tigers' defensive line is stacked.
Auburn listed 14 defensive linemen on its depth chart — six on the outside and eight on the inside. Only five of them are upperclassmen.
Big Kat Bryant is back at defensive end, where he should be the leader for the Tigers in 2020. Jaren "Stone" Handy is his primary backup, with true freshman Daniel Foster-Allen occupying the third-team role. At Buck, Derick Hall edged senior T.D. Moultry in what was a competitive preseason battle, and sophomore Caleb Johnson rounds out the unit there.
Truesdell's primary backup, perhaps in a bit of an upset, is true freshman Zykevious Walker. One of the Tigers' most highly touted 2020 signees, Walker has already gotten a lot of comparisons to Marlon Davidson, and his listing at tackle reinforces that. The JUCO signees, Marquis Burks and Dre Butler, are also in there. Wooden's primary backup is athletic veteran Daquan Newkirk, followed by newcomers Jay Hardy and Wright.
Replacing the production of Derrick Brown and Marlon Davidson won't be easy, and the Tigers' defensive front will have a challenge right away in the form of Kentucky's ground game. But all that depth — and the younger challengers who rose the ranks this fall — should have fans excited about this new era.
12. Auburn only has two longterm injury concerns right now.
Malzahn announced Tuesday that true freshman Buck defensive end Romello Height and redshirt freshman linebacker O.C. Brothers both underwent shoulder surgeries during the offseason and will be out indefinitely. Malzahn said he hopes both will be able to play before the end of the 2020 season.
In much more positive news, Auburn was projected to have everybody back at practice Tuesday evening for the first time in a while. The Tigers didn't have any positive COVID-19 tests last week, and the remaining players in quarantined were set to return to practice Tuesday.
Auburn still has to go through two more rounds of testing before Saturday. However, as games get shifted and canceled across the country, the Tigers appear to be in a good spot, health-wise, during a challenging time for that.
Let's wrap this up with some rapid-fire observations, quick reads style.
Quick reads
Auburn still hasn't named starters at punter (Oscar Chapman vs. Aidan Marshall) and holder (backup kicker Ben Patton vs. Grant Loy). Shaun Shivers and Eli Stove are the starters at kick returner.

It's worth noting that Auburn's tight ends were all listed as TE — not TE/HB, like in years past — on the depth chart. John Samuel Shenker is the starter there.

Malzahn and Nix praised Kentucky's defense for being a veteran-laden group that rarely makes mistakes, especially in coverage. Last season, the Wildcats allowed the second-fewest passing plays of 20-plus yards in all of the FBS. That fits right into their style of controlling the clock and limiting opportunities for the opposition.

K.J. Britt has an intriguing comparison for true freshman linebacker Cam Riley: "Cam is so big and long. He has a frame like Karlos Dansby or someone like that. He's just long, athletic and can run. He can cover really. He's so smooth in all of the drills. He's just like floating."

Nix says that the new-look offensive line has listened to the chatter about them this offseason: "Our offensive line is super pumped to get out there and show what they can do. Obviously, they've heard all the talk this offseason about how this is going to look, whether they can do it or not. Those guys are going to be really prepared and ready to go, and I'm looking forward to seeing those guys in action."

Malzahn said Caylin Newton will be involved in special teams in addition to his work at wide receiver, and he praised the former Howard quarterback for the ability he's shown in that role during fall camp.

Tate Johnson made some waves Tuesday as the lone true freshman on Auburn's offensive line to crack the two-deep. He's listed as a co-backup with redshirt freshman Kamaar Bell at left guard.

Malzahn said each student will have a unity t-shirt from the athletic department's "Together We Will" initiative at their seats inside Jordan-Hare Stadium on Saturday.
Quote of the day
I'm anxious to see the outcome, but I'm anxious to see the foundation we've laid in the process through March, through the quarantine, through July and camp. I'm just anxious to see all of this stuff pay off. Win or lose, we're going to fight our butt off, defense and offense.

Just to see everything we've been through, the adversity we've been through, I'm anxious just to put it all together in the game we love, put it all together on the stage we want to be on at Jordan-Hare Stadium.

Whether it's 11 a.m. or 5 a.m., it doesn't matter. Just being out there, I can't wait. The closer it gets the more butterflies I get. It's good butterflies. I can't wait. I'm like a kid going to a fair. I'm ready.
-LB K.J. Britt on the anticipation for the season opener against Kentucky
Up next on The Auburn Observer: Thursday will include both a piece on Bo Nix heading into his sophomore campaign and a new podcast episode. The Aubserver Mailbag is back on Friday, so send in your questions for it on Twitter @JFergusonAU or via email at the1andonlyJF@gmail.com.