Discover more from The Auburn Observer
Deep dives into the stats, strategies and stories of Auburn football and basketball
Over 3,000 subscribers
Aubserver Mailbag 1: OL concerns, Bo Nix improvements and the GOAT mac & cheese
Plus: Seth Williams projections, Wildcat possibilities, eagles flying good, helmet physics, Austin Wiley's NBA hopes, haikus, wrestling opinions and a renewed rivalry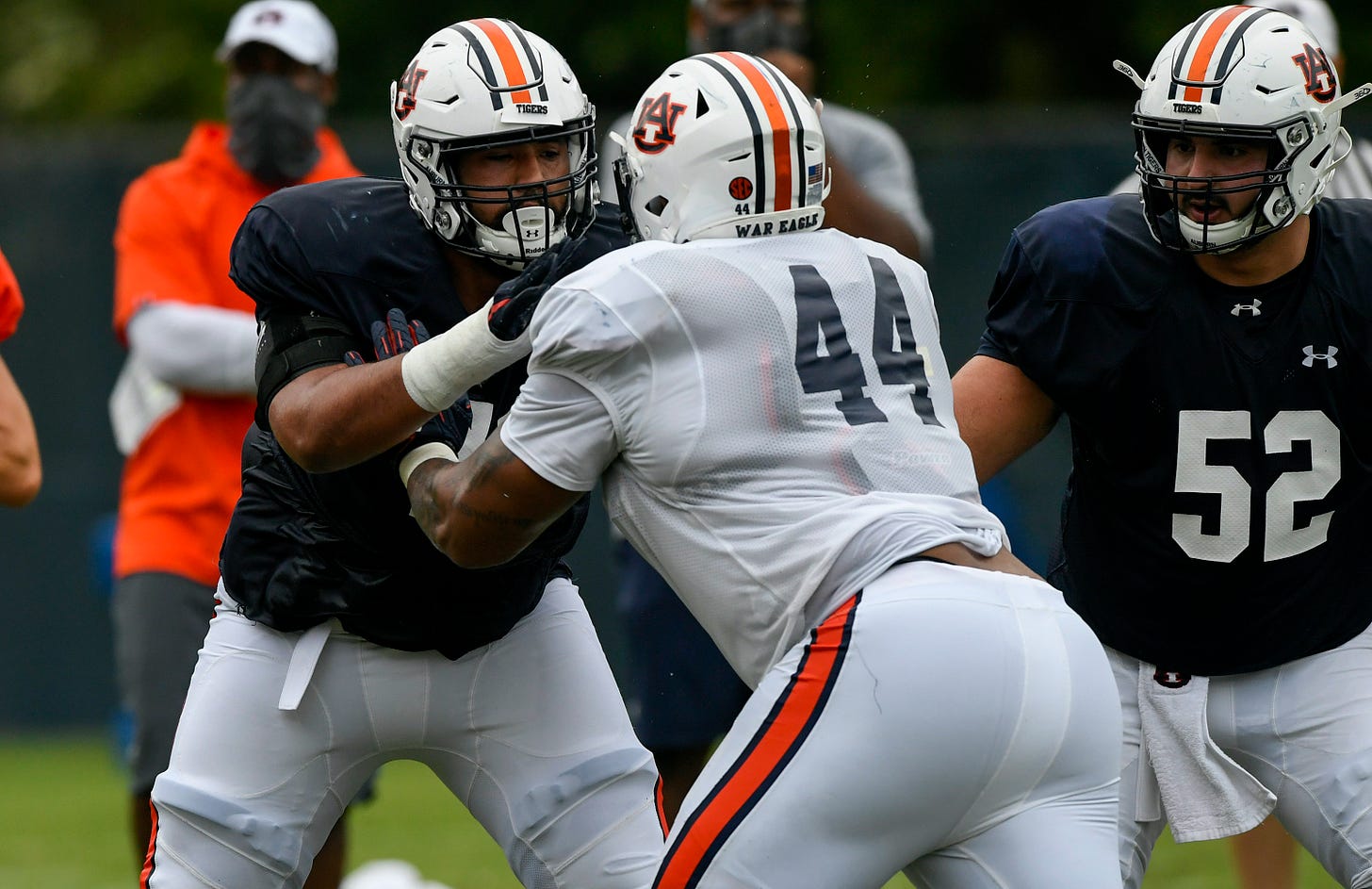 (Photo credit: Todd Van Emst/Auburn Athletics)
Thanks for checking out The Auburn Observer. For the month of September, every story and podcast will be free. Starting October 1, The Auburn Observer will switch to a paid newsletter. If you haven't already, please subscribe using the button below to get new posts sent to your inbox. If you enjoy our work, make sure to tell all your fellow Tigers fans to join us.
Also, be sure to check out the second episode of The Auburn Observer Podcast, which went up this morning on the website and all the major podcast platforms.
---
Ladies and gentlemen, welcome to the start of a third Mailbag era. (Let's all hope this one lasts longer than the first two.)
For those of you who might be new to these, you can send me questions on Twitter @JFergusonAU or email me at the1andonlyJF@gmail.com. I'll answer your questions on all things Tigers football and men's basketball, and I've been known to tackle ones about food, movies, television shows, music, professional wrestling and completely off-the-wall hypotheticals.
And, since I won't be killing any innocent editors with these anymore, I will shoot to post an Aubserver Mailbag every Friday morning — so feel free to send those questions in whenever they come to mind.
Let's go.
Offensive line?!?!?!? Should we all be freaking out? Or will this ragtag group of underclassmen and transfers turn out to be alright?

Ashton R.

Our OL last year were really good pass protectors, despite their run-blocking issues. Do you think the new guys can develop that needed chemistry in time? I like our talent, just seems like they may need a minute.

Eric M.
Unsurprisingly, several of the first batch of questions I got were about Auburn's offensive line. The concerns about what's going down up front with four new starters — especially in a year that didn't have spring practices — are more than valid. And Auburn missing an entire week of practice didn't help matters at all.
But something Gus Malzahn said Sunday night about the offensive line stuck out to me in particular.
"I would hope that we would have a good idea — by the time we played our first game — about our top 10 guys," Malzahn said. "And the offensive line is very unique that you can actually move guys around. So if we could get our top 10 guys, I think that would be a really good deal."
Predicting who will start up front for Auburn in the season opener and how they'll work as unit is tougher than usual. Judging by a few of the names I've heard about the most, I would expect improved run-blocking to be a huge emphasis. But the vast majority of these linemen don't have FBS starts, and only Nick Brahms has had one for Auburn.
Let me pose a different way of looking at Auburn's offensive line situation right now, based on what Malzahn said Sunday. He emphasized wanting to find the "top 10" linemen. Most of the time, the push is for the starting five. However, in a season where player availability will be unpredictable, finding virtually two lines of possible starters could be huge.
Instead of just focusing the first-team reps on a select few, Auburn's push to find a top 10 might work out in its favor, because starters could be forced to sit out due to positive tests or contact tracing results at any moment. Having versatility among these linemen, as Malzahn alluded to in the above quote, is also important. A player such as Brandon Council, who can play anywhere, is worth significantly more this fall.
The start of this season will most likely be ugly for a lot of offenses and offensive lines. Auburn should get a grace period with all of the newness. However, I think there's a way that this wider scope could, in a weird way, benefit the Tigers if the fall season goes on as planned.
What one specific thing would Bo Nix improving on make the most difference to the Auburn offense? And what will you be looking for to signal Chad Morris influence on the offense other than throwing to the tight end?

John R.
It's easy to say "accuracy" as an improvement area for Nix, considering his completion rate was below 60 percent last season.
Specifically, he needs to get more accurate on intermediate balls, because he completed just 37 percent of them in 2019. Seth Williams and Anthony Schwartz are both accomplished receivers at that level of the field. Chad Morris' best quarterbacks have thrived in that area. Improving there could be huge for Auburn, as it would diversify its passing attack and use the full scope of its receivers' skill sets.
As for John's second question, I will be looking closely to see if Auburn relies less on screen passes in 2020 than it has in recent years under Malzahn. Morris goes for more short passes than behind-the-line ones, and I think that fits Nix's style well, going back to his championship-winning days at Pinson Valley.
That also goes hand-in-hand with the aforementioned intermediate range improvement. If Nix can take a step forward as Morris puts his fingerprints on the Auburn attack, fans should see less of an "all-or-none" approach when it comes to air yards and a more updated passing game.
So if you add up the yards in games in which Williams was at least close to 100 percent healthy last season — excluding Tulane and Kent State — he averaged a little more than 70 receiving yards per game. Take out the Texas A&M game where he was effective but limited, and it's 74.3 yards per game.
Cracking 1,000 yards will be tough for any receiver to do in a 10-game regular season. Only 12 receivers in FBS averaged 100 yards per game in 2019. If Auburn made it to a bowl game, Williams would need to average 90.9 yards per game to make it to 1,000. Only 22 receivers hit that mark last year. If Auburn made it to the SEC title game as well, he would have to average 83.3 yards per game — something only 29 receivers did.
It's going to be quite difficult, even with expected improvements from both Williams and Nix. I think Auburn will spread the wealth a little more in its passing game, too, to the benefit of players such as Anthony Schwartz, Eli Stove and several underclassmen. In a regular season, Williams most likely hits 1,000. With fewer games, I don't see it.
But I'm still expecting Williams to make a serious run at All-SEC honors.
Who is the most likely Wildcat QB for Auburn? Who would be the most fun Wildcat QB and why is it JJ Pegues?

Lindsay C.
If I had to guess, now with Boobee Whitlow gone, D.J. Williams would be the one to watch at Wildcat. He's got experience as a high school quarterback and has the most carries of the bigger, between-the-tackles backs in Auburn's offense. I wouldn't be surprised if he ends up being the trigger man in 2020.
But let's expand the range. Harold Joiner already has some experience there. Pegues would definitely be the most fun one to watch and a natural fit because of his quarterback background. Caylin Newton is on the smaller side, yet he's a logical option for the package.
My ultimate off-the-wall answer? Daquan Newkirk. Just watch him break a 50-yard touchdown as a running back in high school:
I'll pick Newton to win that bet, just because I don't think we see much of Loy this season and Newton is working out at wide receiver. He's a dynamic guy, and there will be opportunities for wideouts behind the big three of Williams, Schwartz and Stove.
I do wonder what would happen to Auburn if Nix went down with an injury. My gut says Cord Sandberg would get that call, but then again, the Tigers went out and got Loy for a reason. If it's a blowout situation, Auburn might be best served by playing young Chayil Garnett, especially since there will be no impact on eligibility this fall.
As for the mac & cheese question, I'm going with one I had around this time last year — the green chile mac from Heim BBQ in Fort Worth, Texas. My friend David Ubben recommended Heim while I was in Dallas last year for the Auburn-Oregon opener, and it did not disappoint. I got an order of excellent bacon-wrapped burnt ends, but the side of mac stole the show for me. It had the perfect noodle-to-cheese ratio, and the green chile gave it an incredible pop of extra flavor. I wouldn't change a thing about it.
How do you think the new on-field personnel restrictions will affect Auburn's pre-game eagle flight? It would be a shame to halt the tradition on its 20th anniversary. Any chance Auburn gets special permission to continue doing it?

Auburn Elvis
This was a question I didn't know the answer to, and I still don't have a definite one. However, let's go back to the SEC's new on-field regulations that were released last Friday:
"On-field performances, presentations and recognitions shall be prohibited including, but not limited to, sponsor and donor recognitions and athletic department student-athlete and team recognitions."
That seems to me like the eagle flight would not be allowed this season. If so, that's a real shame. I know it won't be the same without a completely packed Jordan-Hare Stadium, yet it's something that would get whoever is allowed in the stands fired up for the game. I'll keep an eye on any more developments.
I forward all space questions to Harry Caray:
I think it might take an impressive showing for Austin Wiley to get taken in the second round. Most NBA Draft experts are on the fence about him as a second-rounder or an undrafted free agent. I think Wiley showed good strides in some of his weaker areas in his final year at Auburn, and he's definitely got the physical stature to make it in the league. But in a time where teams are getting smaller and demanding more face-up centers, it'll have to be a situation where it's the right fit for Wiley.
If I know anything about Wiley, it's that he's worked extremely hard since the abrupt end to college basketball season to put himself in a draftable position. If he can show improvement in his mobility and scoring while continuing to protect the rim and rebound at a high level, I could see a team snatching him up as a fun big-man project.
How quickly will Sharife Cooper be a star? Please answer in haikus only.

Josh W.
I will answer this
With a question of my own
When is the first game?
Playing off the Observer's namesake, what's the worst match rating Dave Meltzer ever gave? Mine is 3 1/2 stars for Flair-HBK at WrestleMania 24, a 5-star match in any meaning of the term.

Billy E.
I'll go in a different direction. To me, the 5-star match should mean something special. And Uncle Dave gave that to Davey Richards vs. Michael Elgin at ROH Showdown in the Sun in 2012. That match was a bunch of no-selling for the sake of no-selling, and the crowd wasn't even that into it. Meltzer went more than five years between five-star matches, ending the drought — deservingly so — with the Punk-Cena match at Money in the Bank in 2011. Then he gave five stars to Richards-Elgin months later. No thanks.
In These Uncertain Times, it's important for all of us to come together and say… yes.
My ultimate goal is to keep being able to pay the bills by covering Auburn sports, which I truly love to do. And, judging by the response I've gotten in the first week, there's a good chance I'll be able to do that.
Other than that, I want to come up with unique ways to give Auburn fans something different and fresh — even from what I'm used to doing — about their favorite teams. I want to get creative. Try some different formats and angles. Experiment. Be unafraid to possibly screw up, since I won't have demands on story metrics from people who don't understand the product.
Also, I want subscribers to enjoy this with me. Life is pretty dark right now for a lot of people. Sports are supposed to be fun. They're not a magic wand for you to stick your head in the sand with and escape from all the things wrong in the world, but they can be much-needed entertainment and joy at the right times. I'm doing this because I enjoy it. So let's get weird and have some fun.
Honestly, my father and grandfather kept me in form by asking me questions about Auburn — even when they knew I was spending most of my unemployment time playing video games and trying to learn how to cook.
Now I can demand money from them as payback in a few weeks.
---
This weekend on The Auburn Observer: What we learned from the Tigers' return to the practice field and (hopefully) another scrimmage back at Jordan-Hare Stadium. Plus, another episode of the podcast comes out Monday.