Discover more from The Auburn Observer
Deep dives into the stats, strategies and stories of Auburn football and basketball
Over 3,000 subscribers
Aubserver Mailbag 3: Changes in a Chad Morris offense — and SEC teams as fast food restaurants
Plus: RB rotation, Bo Nix vs. UK, WR usage, looking ahead to UGA, schedule comparisons, two-way players and Takeo Spikes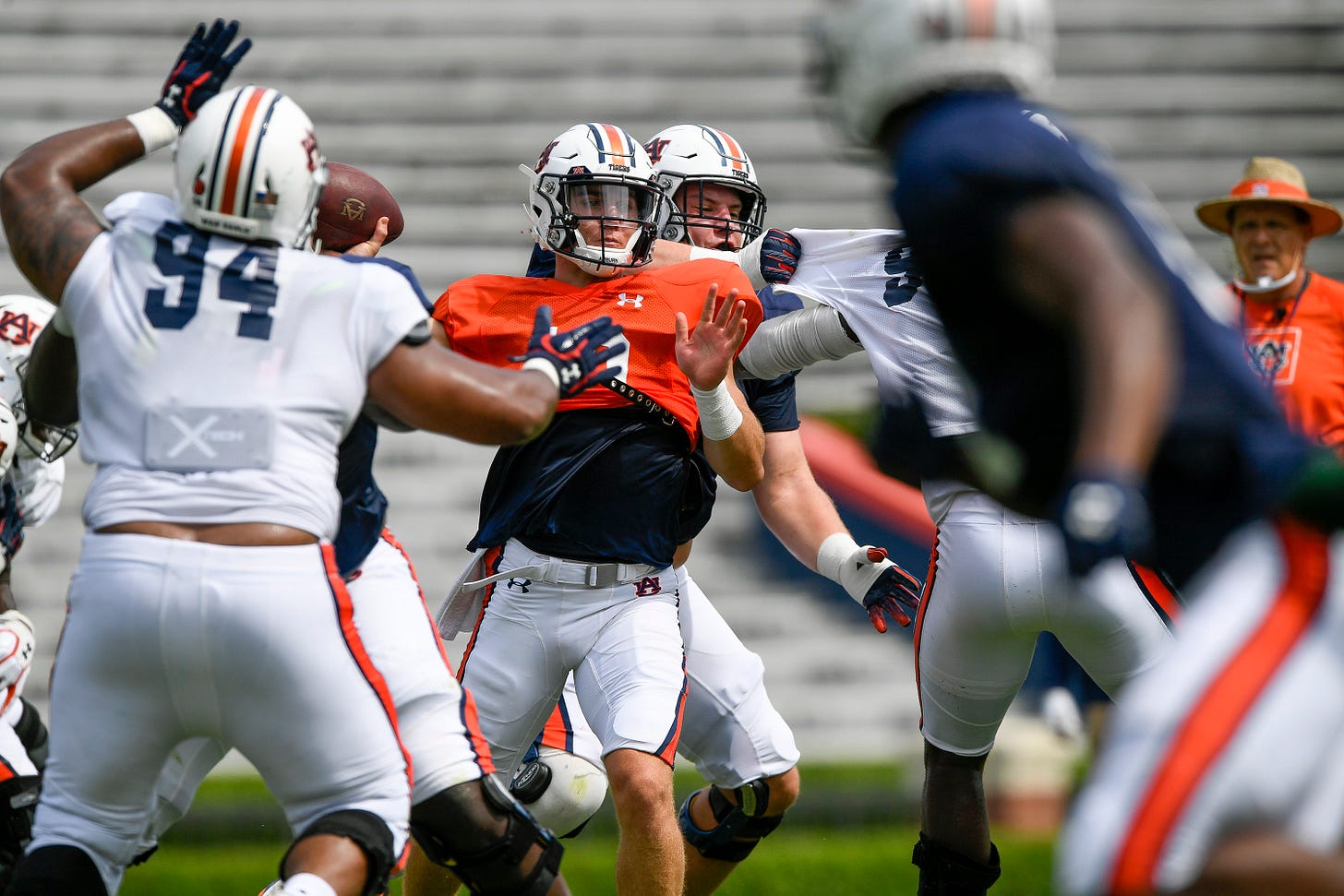 QB Bo Nix (Todd Van Emst/Auburn Athletics)
---
Thanks for checking out The Auburn Observer. For the month of September, every story and podcast will be free. Starting October 1, The Auburn Observer will switch to a paid newsletter. If you haven't already, please subscribe using the button below to get new posts sent to your inbox. If you enjoy our work, make sure to tell all your fellow Tigers fans to join us.
Welcome back to the Aubserver Mailbag, now with 50 percent more bulleted lists.
Next week's mailbag will be right before the Tigers' season opener against Kentucky. If you have any questions about that matchup, send them in on Twitter @JFergusonAU or email them at the1andonlyJF@gmail.com.
Let's get right into this week's mailbag, which spends a lot of time on Chad Morris' Auburn offense and ends with the best off-the-wall question so far in this new era.
Bo Nix called it a "new offense" in the spring. Seth Williams said the exact same thing last week. Anthony Schwartz said it was "a completely different offense" at the beginning of fall camp. According to the players, it's not the same playbook.
But all of that needs some context. The story has been told a million times now. Chad Morris was looking for help with his offense as a high school coach in Texas. He visits Gus Malzahn in Arkansas and starts to use his scheme. They both become college coaches. The Morris offense's DNA comes from Malzahn's offense.
I've compared the differences between Morris and Malzahn as offensive playcallers as two chefs using the same sets of ingredients to make their own dishes. Morris' best attacks have been defined by the passing game, while Malzahn's have been through various styles of run-first football. It's not going to be a completely foreign offense to Auburn fans. It's bringing new elements out of something familiar.
What are some of those differences? Earlier this year, I broke it down into two major areas — a greater emphasis on throwing the ball deeper than the usual "screen or shot" style under Malzahn, and more variety in concepts and route combinations. Last week, Morris said the two biggest evolutions in his offense during the course of his college coaching career has been using tight ends and running backs more in the passing game. Under Malzahn, those two groups haven't had a large share of the targets.
The terminology has been different, too. Nix said in April that Morris had brought in his own concepts, changed the names of some that Auburn already used and even kept some of the previous names. Nix has also repeatedly said that the offense felt new.
My opinion: Don't expect a drastically different scheme from Auburn this season, but expect enough changes — especially through the air — that will make it feel like a new type of offense. And, considering the serious championship contenders in college football all have explosive offenses that do plenty of damage in the passing game, those were changes that needed to at least be attempted.
Do you think we'll see more or fewer "trick" / "gadget" plays this season with Chad Morris at the helm? Should we expect any trickeration during Auburn's first offensive drive against Kentucky?

Jeffrey B.
When I first got this question, my initial reaction was that Morris didn't have the same type of reputation for trick plays as Malzahn.
However, some research led me to the discovery that Morris is at least partially responsible for bringing the "Philly Special" play from the Super Bowl in 2018 to prominence while he was the offensive coordinator at Clemson. He openly talked about using trick plays during his time as the head coach at SMU. He also called quite a few trick plays during his time at Arkansas, although several of them notably backfired.
With Malzahn and Morris now working together, I wouldn't be surprised to see Auburn run a higher rate of trick plays this season than the last few. A lot of that depends on the success of the early ones, sure, but both of these coaches are known for their gadget plays and have been looking forward to coaching on the same team.
We might not see a trick play on the first drive against Kentucky, unless Auburn got into a specific situation in the red zone that triggers the call. (That's how a lot of trick plays under Malzahn have worked — the Tigers wait for an exact opportunity that they've practiced, then they run it. Sometimes it comes down to a certain yard line or side of the field.)
But I'll bank on seeing some creative calls. What else do you think these two did during quarantine?
This might be a cop-out, but I don't necessarily see the ceiling and floor of Auburn's offense changing that much because of who starts at running back. I believe the setup is in place for Auburn to have something close to a modern rotation at the position, and I also believe that the differing talents of Shaun Shivers, D.J. Williams, Mark-Antony Richards, Tank Bigsby and Harold Joiner should blend together well.
It's just going to be a matter of who gets the ball more. If Auburn rides the hot hand in a particular game, I would see a Shivers attack looking different than a Williams one — more pre-snap motion and outside runs with Shivers, more between-the-tackles calls and play-action shots with Williams. Richards and Bigsby, to me, would thrive in an RPO-heavy scheme that wants to get its backs out in space as receivers. Still, I envision a lot of mixing and matching in order to attack certain matchups and increase unpredictability.
As for roster management, I don't think the big issues will come for a little while. Seniors who decide to return for a free year in 2021 will not count toward the scholarship count. The problems will come later in the logjams of freshman, sophomore and junior classes, where the eligibility lines start to run together. Until the NCAA decides what will happen to the 85-man count in 2022 and beyond, the best plan of action is to cross that bridge when it gets there. For more on this topic, I encourage everyone to read my friend Max Olson's explainer from late last month at The Athletic.
Kentucky brings back most of its defensive starters in 2020. Last season, the Wildcats allowed just 6.2 yards per attempt and a completion percentage of 57.2. But I would also like to point out that, against their five FBS opponents that finished with winning records, those numbers went up to 7.4 yards per attempt, a 61.1 percent completion rate and six touchdowns to just two interceptions. Quarterbacks on good teams didn't have rough outings against Kentucky last season.
Let's see what that could mean for Nix. Against FBS opponents with winning records, Nix completed just 52.9 percent of his passes for an average of 5.7 yards per attempt. It's also worth noting, though, that Nix was much stronger at home — even, at times, against Georgia and Alabama. Kentucky finished No. 34 in defensive SP+ last season, which was eight spots higher than Ole Miss.
In a home game against a solid, experienced defense that could take a step forward, I'll predict that Nix throws between 30 and 35 passes in a new Morris system, completes more than 60 percent of them, and lands somewhere in the neighborhood of 250 passing yards. Call it a strong day where he doesn't struggle but doesn't carve up a good Kentucky team.
I cannot wait to look like a complete idiot here, like I do with most of my predictions.
Here are the wide receiver carries per game numbers for Morris' offenses at the college level:
2010 Tulsa: 5.3

2011 Clemson: 2.5

2012 Clemson: 1.6

2013 Clemson: 0.7

2014 Clemson: 0.9

2015 SMU: 0

2016 SMU: 1.3

2017 SMU: 0.8

2018 Arkansas: 0.5

2019 Arkansas: 1.2
Mark that down as another difference between Morris and Malzahn — Morris doesn't use wide receivers a ton in the rushing attack. He does, however, move running backs into the slot and employ a lot of pre-snap motion, which can have a similar effect.
With Auburn's depth at running back and track record at the position, I wouldn't expect to see sweeps to receivers be a big part of the offense. Anthony Schwartz and Eli Stove have quite a bit of experience at it, and they might do it from time to time, but history suggests they will primarily get to concentrate their efforts on running routes.
So the Georgia quarterback situation is quite interesting, huh? First Jamie Newman opts out, and the word this week is that D'Wan Mathis — not USC transfer J.T. Daniels — has put himself in position to start the opener. He took most of the first-team reps in the last scrimmage, as Daniels still hasn't been fully cleared from a 2019 knee injury that required two separate surgeries.
Daniels has the experience edge over Mathis, as well as veteran backup Stetson Bennett and newcomer Carson Beck. He started 12 games at USC. But Georgia hasn't given Daniels a ton of first-team reps recently, since there's no guarantee he'll be cleared to play next weekend.
I can't separate Mathis and Daniels. People I trust in Athens say Mathis has looked great in camp, which has helped his chances to earn the job. Daniels has experience, but his numbers at USC weren't exactly stellar, and he hasn't been working as the No. 1 guy recently.
No matter who the Tigers face at quarterback in Week 2, they will be virtual newcomers to that type of stage. I would expect that, in either scenario, Georgia tries to control the ball at home and lean on its elite defense.
How would you adjust the 10-game, all-SEC schedule to compare it to a typical schedule? In a normal year Auburn seems to finish between 7-5 to 9-3, but those are with schedules that include 3 easy wins, and a challenging Power 5 foe. What formula would you apply to this year's schedule to compare it to Auburn's typical schedule?

Auburn Elvis
I racked my brain trying to come up with an adequate answer for this one. Then, when comparing past SP+ numbers for opponents to the current ratings for the 2020 season, I stumbled upon a SP+ win probability spreadsheet template on Reddit.
So I plugged in Auburn's 2020 10-game schedule and ran the win probability numbers, based on the current SP+ ratings. Then I compared it to the last three Auburn 12-game schedules and what the probabilities were heading into those seasons. Yes, teams outperform and underperform according to their expectations, but we don't have the benefit of that when making these comparisons for 2020.
Here's what I found: Auburn's expected win total for 2020 is 6.24, with a 29 percent chance for a 6-4 season and a 25 percent chance for a 7-3 season. Here's how that compares to the projections from the last three years:
2020 (Preseason SP+ rating = 20): 6.24 expected wins — 27% chance of 6 wins, 25% chance of 7 wins

2019 (23.4) = 8.03 — 28% chance of 8 wins, 21% chance of 7 or 9 wins

2018 (22.1) = 8.91 — 29% chance of 9 wins, 22% chance of 8 or 10 wins

2017 (20.7) = 8.41 — 27% chance of 8 or 9 wins
According to those numbers, a 6-4 record for Auburn this year would be similar to an 8-4 record in a normal season. Two of your near-automatic wins are gone. The home game against Tennessee looks easier than playing Oregon or Washington at a neutral site at the moment. But that third near-automatic win is traded for a road game at South Carolina, where your win probability, according to SP+, is 68.52 percent instead of the usual 95 percent or higher you get in those types of games.
If Auburn loses to four schools that it plays every single year, then it's more of an 8-4 comparison. If it loses to three of them and adds another loss to one of the non-traditional opponents, then it might be viewed more like a 9-3 season. Context will matter a ton, especially in a year where rosters could shift dramatically.
So, here's a quick and easy comparison chart:
10-0 = 12-0, obviously

9-1 = 11-1, another easy one

8-2 = 10-2, keeping it steady

7-3 = 9-3 or 10-2, depending on that third loss

6-4 = 8-4 or 9-3, depending on that fourth loss

5-5 = 7-5 or 8-4, but no one is going to be happy either way
Simply put, losses are probably going to translate rather evenly. A three-loss year will feel like a three-loss year, unless it really feels like the schedule is tougher than the preseason projections would have indicated. Trading three easy wins and a tough Power 5 game for two against beatable East opponents seems like a fair exchange.
Who would be Auburn's 3 best options to play both ways?

Josh W.
I could take the easy way out here and name the three of the four Auburn players who have played on both sides as Tigers — RB-turned-CB Devan Barrett, WR-turned-CB Matthew Hill, DT-turned-OT Alec Jackson and DT-turned-OG Tashawn Manning.
But that's boring. Here are my three other picks:
LB Owen Pappoe: I'm convinced the unreal athleticism would translate anywhere on the field. If Pappoe is so good at closing down defenders in space, think about how dangerous he would be trying to avoid them.

TE J.J. Pegues: Pegues moved from defense to offense in middle school, so he's got a little bit of a background on that side of the ball. He weighs 300 pounds and is extremely athletic for his size. If Auburn needed a big body to play inside on the defensive line in a pinch, Pegues wouldn't be a bad call at all.

DT Daquan Newkirk: In the first mailbag here, I made my case for the former high school running back to play Wildcat for Auburn. I'm not backing down from this one. Let the 317-pound man carry the ball in a goal-to-go situation.
Spikes has been nominated for a few years now, and it really feels like he's a longshot. As James Brady pointed out at SB Nation in 2018, Spikes played more games than any other NFL player who never made the playoffs. The numbers are there, especially in the form of tackles.
But he made the Pro Bowl just two times and didn't reach the postseason. He just doesn't have the accolades of a normal Hall of Famer, and the challenge will only get tougher as more people are nominated each year. Spikes will probably go down as one of the truly underappreciated players of his era.
I'd like to see your picks for SEC West schools as fast food restaurants. Maybe the whole SEC if you're feeling froggy. 

Chandler B.
Now this is a classic mailbag question.
Alabama: Cook Out. This is not a size comparison like others on this list, as Cook Out is still very much a regional power. It's a product comparison. The variety of options and depth are unmatched in the league. It's so quickly produced at high quality and cheap prices, it makes rivals jealous and suspicious.

Arkansas: Arby's. It's for nihilists.

Auburn: Popeyes. You might think LSU here, but both Auburn and Popeyes are famous for constantly doing something you didn't expect. Sometimes you're going to get extra food or a wild championship run. Sometimes you're going to get a bizarrely wrong order or a season that falls way below expectations.

Florida: Burger King. For stretches of its history, it was extremely popular and challenged the biggest names in the world. In my lifetime, it feels like the King was at a cultural peak during the Urban Meyer era. It's trying to get back to that level, but it's going to be tough.

Georgia: Wendy's. Its very best years were in the 1980s, but it's had a recent renaissance. It wants to compete with the vast menu of Cook Out/Alabama and has held a recent edge over Burger King/Florida. It really likes the color red. Also, it sometimes does things that make people on Twitter cringe.

Kentucky: Sonic. The food (football) is not what people think of first and foremost. Some of its offerings in that department can exceed expectations from time to time, but the drinks (basketball) will always be the kings.

LSU: Taco Bell. It keeps to a steady rotation of the same ingredients — like, say, football players mostly from Louisiana and Texas — and mixes and matches to make some crazy combinations. When those innovations work, they really work. It's also extremely popular with rowdy, late-night crowds.

Mississippi State: Hunt Brothers Pizza. Popular in more rural areas. Surprisingly a lot bigger than you might think. It has the reputation as being cheap and lowbrow, but it can get the job done and even outperform some of its pricier rivals. You know exactly what you're going to get here.

Missouri: Jack In The Box. Whenever you see this in SEC territory, you still say, "That doesn't seem right."

Ole Miss: Papa John's. It tries to market itself as so much better than its rival because it's more expensive and in nicer buildings. It's not.

South Carolina: Bojangles. Carolina represent. It doesn't have the same brand awareness as others on this list, but there are some things that it does really well. This might be my laziest comparison, but the chicken theme and the regional appeal were right there.

Tennessee: Hardee's. It was a powerhouse back in the day, going on a ridiculous run of success and national brand expansion. It's not quite what it used to be, but it's got a passionate and loyal following. Recently, it's made some questionable decisions on what to do with its product. There's always potential here.

Texas A&M: Whataburger. This is as Texas as it gets. Expansion has been made into the heart of the SEC footprint, but it's still a much bigger deal regionally than nationally. When it's clicking, it should have the resources and the quality to compete with pretty much anyone on this list.

Vanderbilt: Smoothie King. It's not even playing the same game as everyone else.
This weekend on The Auburn Observer: Look for the final set of preseason camp observations on Saturday morning. Then, it'll officially be game week on the Plains — and all of the stories and podcasts around the opener against Kentucky will be 100 percent free.