Discover more from The Auburn Observer
Deep dives into the stats, strategies and stories of Auburn football and basketball
Over 3,000 subscribers
Aubserver Mailbag 4: How are the Tigers gonna run the dang ball in 2020?
Plus: Joey Gatewood, offensive line concerns, Gus Malzahn and Chad Morris' partnership, future coaches, Kota Ibushi and mustard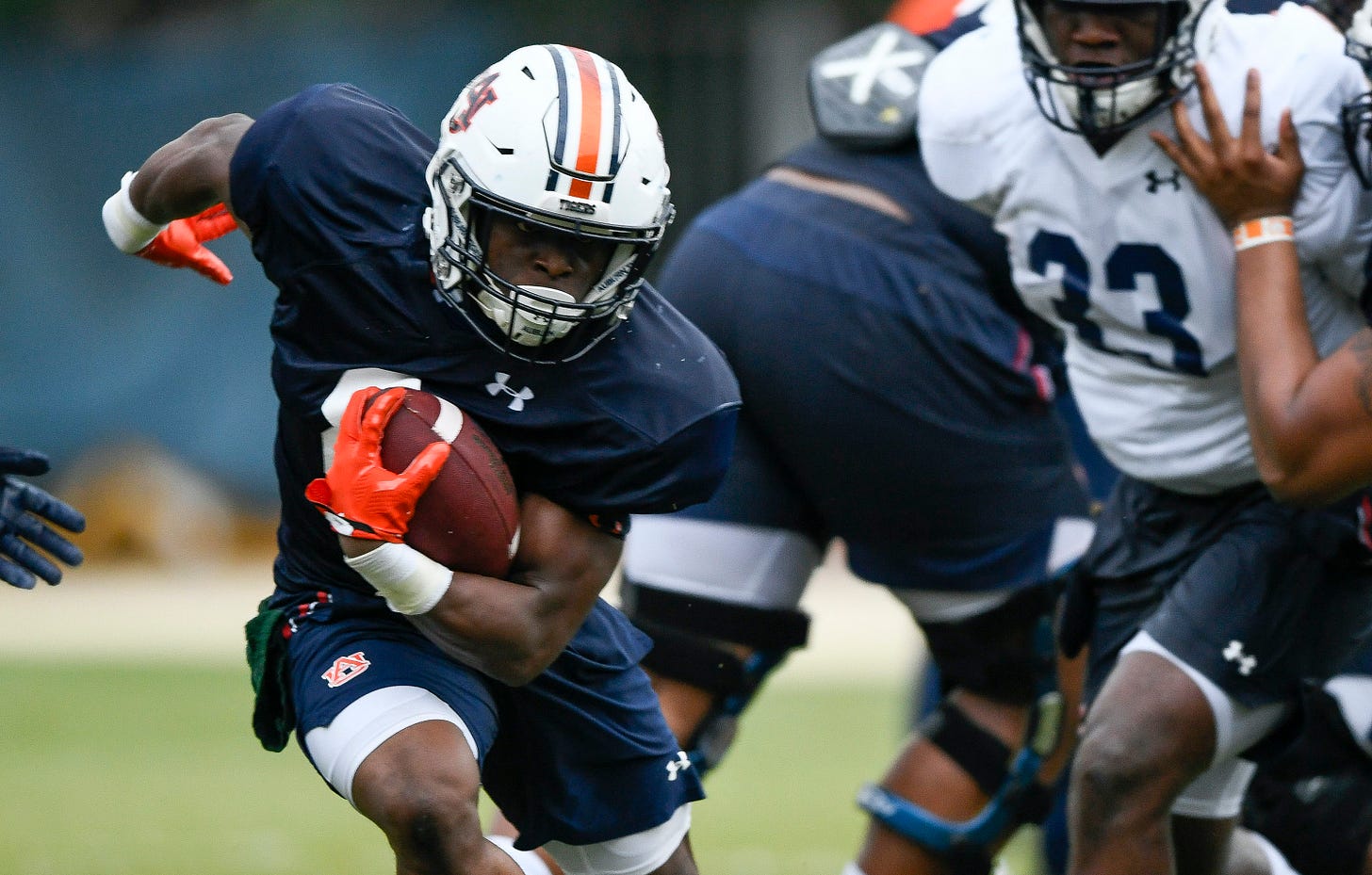 RB Shaun Shivers (Todd Van Emst/Auburn Athletics)
---
Thanks for checking out The Auburn Observer. For the month of September, every story and podcast will be free. Starting this upcoming Thursday, October 1, The Auburn Observer will switch to a paid newsletter. If you haven't already, please subscribe using the button below to get new posts sent to your inbox. If you enjoy our work, make sure to tell all your fellow Tigers fans to join us.
Heading into Auburn's opener against Kentucky this week, I've broken down the big-time matchup between the Wildcats' excellent running game and the Tigers' defensive front, as well as quarterback Bo Nix's potential in a new-look offense built toward his strengths.
But this is Auburn football. We can't get to a game without a good-sized discussion on the running backs, right? That's the main theme of this week's Aubserver Mailbag. Let's go.
It's a fair question, considering a lot of the talk of the first two years of Shivers' career at Auburn has been along the lines of "he's too small to be a lead back."
Yet here he is, the Tigers' starting running back heading into the 2020 opener.
It's unlikely that Shivers will get the per-game workload of a Kerryon Johnson, Kamryn Pettway or Tre Mason this fall. And it's not because Shivers couldn't handle it. He's an extremely tough back who has shown plenty of ability to take and deliver punishment between the tackles.
It has more to do with what Auburn's running back looks like right now. The depth is there for a strong rotation. D.J. Williams called it a "family" instead of a competition earlier in camp. Coaches have talked about how well Shivers, Williams, Mark-Antony Richards and Tank Bigsby complement each other well.
Instead of asking one or two running backs to do every single thing, they can have more of the rotation that has been prevalent among the top teams in college football. (Statistically, the Tigers have been leaning that way already over the last two seasons.)
As I wrote last week, Shivers made a lot of sense as an RB1 for Auburn this year become of his combination of experience and explosiveness, plus his improvement this offseason as a receiver and pass protector.
But Shivers is also on top of the depth chart because he's a leader. He's a captain. He's got a personality that coaches and teammates love.
"You can always count on Worm," Nix said this week. "You can always count on him to lift your spirits and just be there for you. Not only is he a really good football player, but he's a great person and he's a great guy, great friend. He's going to be a great captain."
People might look at Shivers' name on top of the depth chart and doubt him because of his size. Yet the junior is used to that. He's been proving a lot of unsure people wrong for his entire career, and he'll get a great chance to do it again as the leader of a new-look ground game.
What Auburn does at running back during obvious passing situations will be a fascinating thing to watch early in the season.
Shivers has been getting great reviews about his work in that area, and we know that Morris will ask his running backs to run routes more than past Auburn offenses. Mark-Antony Richards and Tank Bigsby have been praised for their versatility.
Then there's Williams, who should have a lot of value in the passing game as a former high school quarterback. Williams said it himself last week — he's more of the downhill runner, while the other three are inside-outside threats. While I think he'll touch the ball more frequently as one of the top backs, I could see Williams taking over Malik Miller's duties as a pass protector and short-yardage specialist.
I think there will be so much newness with the offense, especially behind an offensive line with four first-time starters, that this area will have to be a work in progress. There will most likely be a rotation among the running backs, but if someone gets the hot hand, the roles out of the backfield could shift quite a bit in the early season.
This is tough. I'll say Shivers gets 15-17 touches and Williams gets 8-10, while Bigsby and Richards get somewhere between 4-6. Joiner gets 2-3 opportunities to catch the ball out of the backfield. If the offense is moving early, I could see Shivers maxing out at 4-5 carries before another back gets the ball.
All of this is pure speculation on my end, but that's my vision of a solid Week 1 rotation. Looking forward to being dead wrong here.
I would think they'll get a handful of opportunities. If one of them strings together some big plays, expect to see them get a bigger share. Shivers will be the leader, but there's a reason Auburn put "OR" between Williams, Bigsby and Richards. I think the Tigers are wanting to see which of them will make the most of their early chances.
I'll go under here. Kentucky only allowed more than 200 rushing yards in five of its 13 games last season, and most of that defense is back.
Auburn only hit that mark in three games against Power 5 teams last season — and two of them were truly bad defenses in Arkansas and Mississippi State. I also think there's going to be more of an emphasis on putting the ball in the air in Morris' debut, especially with Nix and all the experience that returns at wide receiver.
This doesn't necessarily mean that I think Auburn will have a bad game running the football. I just don't feel great about a 200-yard performance until I see what this new-look offensive line does.
I think they'll be aware of it, but it's not going to take up a big part of the game plan. Gatewood has been cleared by the NCAA to play, but the SEC is holding it up due to a conference rule that states non-graduate transfers must sit out at least two semesters before playing. SEC commissioner Greg Sankey sounded adamant Wednesday that the rule is going to stay in place until the schools work together to change it. Then on Thursday, Kentucky coach Mark Stoops didn't sound confident about Gatewood's chances at being able to play this weekend.
If Gatewood is somehow cleared by the SEC to play Saturday, he might be someone the Wildcats turn to in a, well, Wildcat package. Terry Wilson is locked in as the starting quarterback, and Kentucky has another backup ahead of Gatewood on the depth chart because of his uncertain eligibility situation.
Auburn fans who are worried about the former Tiger running wild Saturday probably won't have to fear that. But if the SEC surprisingly does — in my opinion — the right thing and clears the intraconference transfers in a year that won't count against anyone's eligibility, I wouldn't be surprised to see Gatewood get involved a little bit.
I know this is something Auburn fans who aren't big fans of Malzahn will say, but I don't buy it. Malzahn even addressed it on Tiger Talk on Thursday night.
Part of the reason why the Morris hire made so much sense is that this is the first time Malzahn will have an offensive coordinator that is something of an equal to him in the coaching profession. They've been close friends for well over a decade now. Even with the lackluster offensive performance in 2019, I don't think Malzahn would've given up playcalling to just anyone. Morris became available after a swift firing from Arkansas, and there's enough of a shared background there to make this work.
Things can change if Auburn's offense looks bad early in the season, sure. But this isn't a Rhett Lashlee or a Chip Lindsey dynamic. (By the way, both of those former Auburn coordinator have looked great in the early season, haven't they?) There should be a lot more trust there.
When Brandon Council transferred to Auburn, Cole Cubelic gave a quick scouting report on him, and concluded that while it was helpful to have Council on the team, he didn't think Council was good enough to start. Now exiting fall camp, Council is not only a starter, but talked about as one of the better players on the o-line.

So… is this a sign that Council has stepped up his game since coming to Auburn, or is this an indication that the o-line might not very good this year?

Nate S.
This is a great and difficult question, Nate.
Cole Cubelic knows more about offensive line play than I'll ever know, so his evaluation should carry a ton of weight. I even had the same opinion of Council, too, after he transferred to Auburn — he'd be a depth piece that will provide competition and versatility. That Akron offense he was on in 2019 was one of the worst in the country, and knowing that might have clouded my judgment of him.
But it doesn't sound like Council is getting the "we're starting him solely because he's got experience" treatment from Auburn at all. Just read what returning starter Nick Brahms had to say about him during fall camp:
"Just watching him on the practice field, his demeanor, just watching how smart he is and intelligence-wise — I mean, he's up there with the rest of us. … He's really quick. I think that's what really makes the difference with him. And getting off the ball. I think that's a key for offensive linemen, getting off the ball, really, before the defense sets. If you can time it up before even the center starts to snap the ball, that's perfect, and I think he does a good job of that."
Looking at the depth chart, Council beat out several players for a starting job at guard, and he sounds like the first man up to move around up front in case someone else goes down. The fact he's started a lot of games in the FBS definitely helps, but the word about him from those inside the program isn't one of someone who's just starting by default. (Remember that Auburn picked up Wilson Bell from Florida State in a similar manner a few years ago, and he never cracked the regular starting lineup.)
I think the offensive line could have a tough time early in the season but develop into a strong unit, particularly in the form of run-blocking. It didn't take long for Council to lock in a starting job alongside Brahms and the heavily hyped Brodarious Hamm. To me, that says he's been a bright spot for a line that needs it.
What player currently on the roster will have the most successful coaching career?

Josh W.
Although he's technically not on the roster right now, my pick would be Chandler Wooten.
I remember going to talk to Wooten shortly before he arrived at Auburn as an early enrollee, and I was absolutely blown away by his maturity and demeanor during our interview. He was a high school senior who sounded like an NFL veteran.
Wooten is a beloved teammate who has also been an outspoken voice for Auburn athletics on topics such as racial injustice and police brutality this year. I think Travis Williams could develop a nice pipeline of linebackers following in his footsteps as a player-turned-coach — Tre' Williams and Deshaun Davis also come to mind — and Wooten fits the bill.
He's a natural leader and an all-around impressive young man who also has a high football IQ. I think he'll succeed in whatever he does in life, and coaching would be no exception if that's the route he chose.
I've said in the past that Auburn is college football's version of Kota Ibushi — an unpredictable championship contender with a great look, a fiercely loyal fan base, an interesting relationship with a higher power and a tendency to seriously hurt himself and others at any given moment.
You tell me there isn't anything more Auburn football than shooting yourself with fireworks and then hitting a moonsault off the top of a car: (language warning)
With that in mind, here is 2020 Auburn's floor, ceiling and most likely record based on recent moments in Ibushi's career:
Floor: It's another year of excellent defense and an offense that falls victim to some usual problems. It's like Ibushi recently losing the IWGP World Tag Team titles, thanks in large part to his Golden☆Ace partner Hiroshi Tanahashi's injury history rearing its ugly head again. Half of the formula just doesn't work right. It's still an above-average team, but it could be much better. 6-4.

Ceiling: Ibushi Auburn catches fire — not literally this time — and runs the table, like the man himself did in last year's G1 Climax tournament victory. The revitalized offense exceeds all expectations. The defense looks unbreakable. It's not a perfect season, but Auburn shows it has enough talent in a weird year to shock everybody and crash the Wrestle Kingdom-esque final four of the College Football Playoff. 9-1.

Most Likely: Auburn puts together solid performances throughout the year and gets a major scalp away from home, much like when Ibushi won the IWGP Intercontinental title on foreign soil. (This is comparable to a win at either Georgia or Alabama.) Yet it can't quite get to the promised land of competing for the biggest title, as it shows it still has work to do offensively in order to be a top contender. But Auburn shows promise and looks set for a big future push. 7-3.
It's gotta be a tiger, right? I'm not seeing many wildcats in zoos. Tigers are pretty good at relaxing, while wildcats would probably go crazy in quarantine.
I'm going with some high-quality honey mustard. I don't want, like, the overly sweet kind you get with your chicken nuggets. I want a deli style one, something that's got the heat and spice of a real-deal mustard. Give me the best of both worlds for what I think will be an elite offensive linem— uh, ham.
Come on. You know those Canadians would start punting on third down over here.
(On second thought, maybe Arkansas needs to try that.)
Next up on The Auburn Observer: It's finally game day. Look for postgame observations from the Tigers' opener against Kentucky, as well as a full recap of the action on the podcast, this weekend.