Discover more from The Auburn Observer
Deep dives into the stats, strategies and stories of Auburn football and basketball
Over 3,000 subscribers
Auburn has had several QB-to-WR success stories under Gus Malzahn. Caylin Newton is next.
'There's no doubt' the former dual-threat FCS star will contribute for the Tigers' offense this fall, thanks to his performances so far in fall camp.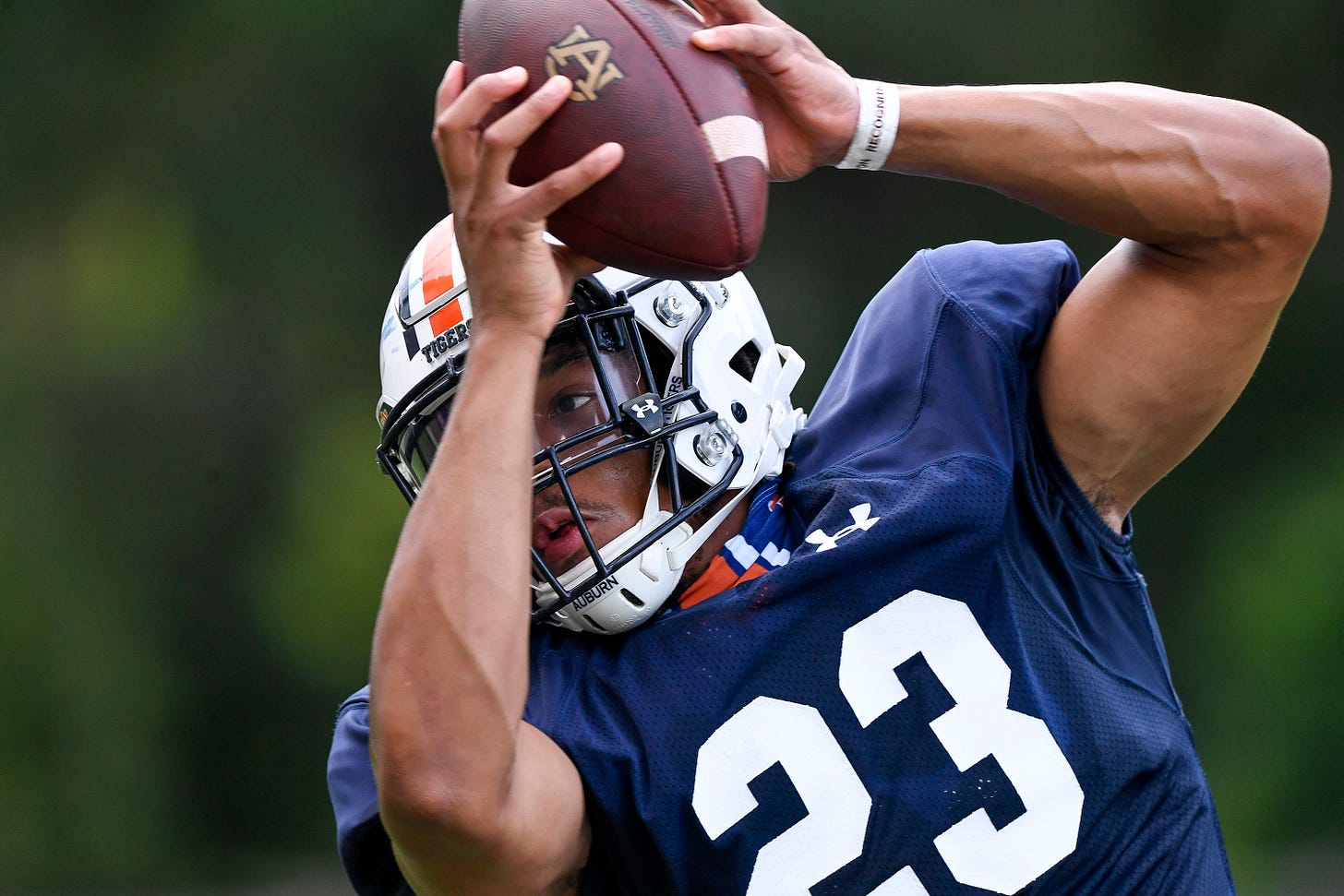 WR Caylin Newton (Todd Van Emst/Auburn Athletics)
---
Thanks for checking out The Auburn Observer. For the month of September, every story and podcast will be free. Starting October 1, The Auburn Observer will switch to a paid newsletter. If you haven't already, please subscribe using the button below to get new posts sent to your inbox. If you enjoy our work, make sure to tell all your fellow Tigers fans to join us.
The 2019 season was a rare one for a Gus Malzahn offense at Auburn, but not in the ways you might think.
It was the first time in Malzahn's 10-year tenure on the Plains in which he didn't have a former quarterback lining up at wide receiver.
Now, enter Caylin Newton, a former FCS quarterback who is catching passes instead of throwing them.
"He looks very natural as a receiver," junior wide receiver Anthony Schwartz said last week. "I thought he was a receiver beforehand, you would think, just based on how he's been practicing so far."
Newton's position coach, Kodi Burns, was the trendsetter for Auburn in the Malzahn era, switching from former starting quarterback to wide receiver after Malzahn's arrival ahead of the 2009 season. A year later, he scored a touchdown reception from the arm of Newton's older brother Cam in the BCS National Championship Game.
In 2011, Auburn signed C.J. Uzomah, who was a standout dual-threat quarterback during his high school days in the metro Atlanta area. Uzomah primarily played on special teams during his freshman season, but he did line up as a wide receiver on several occasions and even threw a trick-play touchdown pass to Philip Lutzenkirchen against Georgia. After Malzahn left for Arkansas State, Uzomah moved to tight end and became an NFL Draft pick in that role after Malzahn returned.
Malzahn's first season as a head coach in 2013 featured some clutch catches from a freshman wide receiver named Marcus Davis — who was listed by the 247Sports Composite as a low three-star defensive back but was also a quarterback who went 23-2 in his junior and senior seasons.
Davis played all four years at receiver for Auburn, becoming a reliable option for a number of Tigers' quarterbacks. His time on the Plains coincided with Ryan Davis, another South Florida product who put up incredible numbers as a high school quarterback but was viewed as too small to play the position at the major college level. Ryan Davis finished his career in 2018 as Auburn's all-time leader in receptions.
There were others who made the switch in the Malzahn era, including Stanton Truitt, John Franklin III and Jason Smith — the latter of whom finished third on the team in receiving in 2015 but ended his career at safety.
Malzahn had no such receiver on his roster in 2019. That won't be the case in 2020, though, thanks to a newcomer who is already a familiar name among Auburn fans.
Caylin Newton announced in May he would graduate from Howard, where he sat out the 2019 season, and transfer to his famous older brother's former home at Auburn. While there was speculation that Newton could remain at quarterback, the position where he was a former MEAC MVP, his position on the Plains would be wide receiver.
And Newton has wasted no time in making quite the impression there this fall.
"Yeah, there's no doubt that he'll be able to help us out," Malzahn said last Saturday. "It doesn't surprise me at all."
As a head coach, Malzahn has had a knack for taking sub-6-foot dual-threat quarterbacks such as the Davises and making them high-volume receivers at Auburn. (Burns, Uzomah and Smith were taller targets who played various roles in the offense.)
The 5-foot-11 Newton has the makings of a similar success story at receiver, especially with the Tigers searching for more playmakers to step up behind the established trio of Seth Williams, Anthony Schwartz and Eli Stove.
"He kind of came over here looking for a great opportunity, and I think he found one," sophomore quarterback Bo Nix said last month, per Phillip Marshall of Auburn Undercover. "So, I mean, knowing Caylin, he's going to do whatever he can to help the team. He's a great team player, great work ethic, great leader. So I'm really looking forward to seeing him on our team."
Switching positions at the college level can be a real challenge, even for players with the athletic talent of someone such as Newton. Burns, who has become Malzahn's wide receivers coach at Auburn, has experienced that firsthand.
"I had never played receiver in my life," Burns said last fall. "I would like to think you could put myself in a microwave and I would come out as a finished product, but it doesn't work like that. It takes time. It's a process. So I had to teach myself how to catch. I had to work at it. I had to study film. I had to watch receivers on film, on YouTube, just to understand how to play the position. 
"And to me, what I tell the guys, I think it's simply a mindset. It's a mindset. If you put your mind to something, you can do it. Obviously you have the talent to do it, but if you're at Auburn, you should have talent. I mean, that's why we recruit the best players in the country to come here and play, because you have talent. From there, it's about a mindset."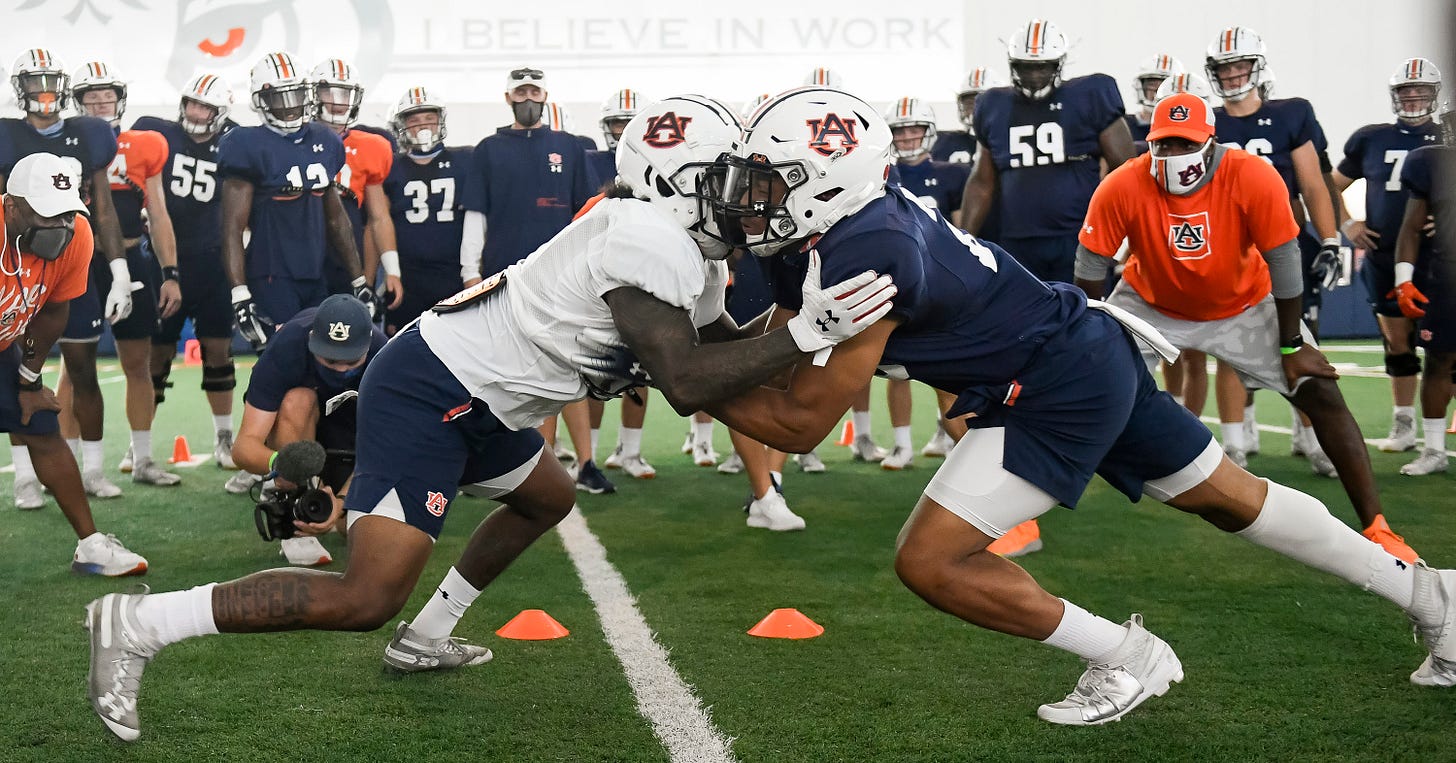 DB Christian Tutt and WR Caylin Newton (Todd Van Emst/Auburn Athletics)
According to his new head coach and teammates, Newton has already shown that mindset. Newton's drive and physical nature at wide receiver drew the attention of Schwartz early in camp.
"Caylin, that's a hard worker right there," Schwartz said last week. "He does everything the coach tells us to do. That's a tough man. I saw him a few practices ago — he just ran through one of the DBs. He wants to get open. Like, he wants the ball."
That toughness shouldn't be a surprise, coming from the younger brother of Cam Newton and a quarterback who has taken plenty of hits as a passer and a runner during his time at the FCS and high school levels.
Brennan Marion, Newton's offensive coordinator at Howard, had this to say about his former quarterback in an interview with Tom Green of AL.com last month:
I'd be hard-pressed to say he's not tougher than every dude that they got out there. He's a physical, violent kid, and then he's very quick. He's going to go at people and be aggressive in practice and show that he has that in him. I think that he'll be — if he gets the opportunity, I think he'll be dynamic and be tough. That's the one thing I can really, I can stand on the table for him on that one. That dude is tougher than Superman's belt buckle, you know what I mean? That man is tough.
Newton has the physical gifts to progress as a wide receiver. The other weapon working in his favor is his background as a quarterback.
"He studies the game," Malzahn said. "And he's been very physical, too. You're talking about a guy that actually played quarterback in college and was very successful. So, he's got a really good understanding of offenses, defenses (and) the big picture."
Those comments from Malzahn echoed ones he and other Auburn coaches made in previous years about Marcus Davis and Ryan Davis. The latter Davis, who moonlighted as Auburn's emergency backup quarterback during his record-breaking 2017 season, said his experience as a signal-caller made a huge difference as a college receiver.
"When I came into college, I thought it would translate pretty well for me going receiver because I kind of think how a quarterback would think — reading the zones, stuff like that, kind of the timing and where (the quarterback) wants me to be," Ryan Davis said in 2017.
Former quarterbacks who move to receiver under Malzahn also become go-to targets in high-leverage situations.
Ryan Davis had 11 catches for 139 yards in Auburn's 2017 win over Alabama, which set a school Iron Bowl record:
Marcus Davis had 23 receptions as a true freshman at Auburn in 2013, including a huge third-and-long conversion on the Tigers' game-winning drive at Texas A&M:
"We've had a lot of success with guys that played quarterback in high school," former Auburn offensive coordinator Rhett Lashlee said in 2016. "So typically, they're used to handling the ball. They're used to having all eyes on them. They're used to having the pressure on them. So you put them in positions on the field that, usually, the moment's not too big for them."
That should be the same case for Newton, who quarterbacked Howard to the biggest point-spread upset in modern college football history when he beat UNLV as a freshman in 2017.
And Newton won't be the only former quarterback lining up out wide for the Tigers this fall. Auburn also signed former four-star prospect Kobe Hudson, who had nearly 5,000 all-purpose yards and 56 touchdowns as a junior quarterback at Troup County (Ga.) High School in 2018.
It's a trend that has worked for the Tigers in the past, and Malzahn is comfortable with keeping that going in 2020.
Although Newton has made an early impact at Auburn, what Burns said about his own position change is important to remember — it's a process. 
So while Newton might not put up leading numbers this year, it's worth noting that he could theoretically play at Auburn for three more seasons. (He'll be a junior in 2020, which will not count toward players' eligibility clocks.)
Still, the early reviews have been fantastic for the latest former dual-threat quarterback who is now wearing No. 23 out wide for the Tigers.
"I've just been so impressed with his attitude, his physicality, and really, probably more than anything, his want-to," Malzahn said. "He's desperate to help the team, so that's been really good from him."
---
Later this week on The Auburn Observer: More insights from the Tigers' preseason football practices, a new episode of the podcast on Thursday and another Aubserver Mailbag on Friday — so send in your mailbag questions on Twitter @JFergusonAU or email them at the1andonlyJF@gmail.com.