Auburn wants to build its offense around Bo Nix's strengths. So what does that look like?
Two specific areas of the sophomore quarterback's game could be much bigger pieces of what the Tigers do offensively under Chad Morris.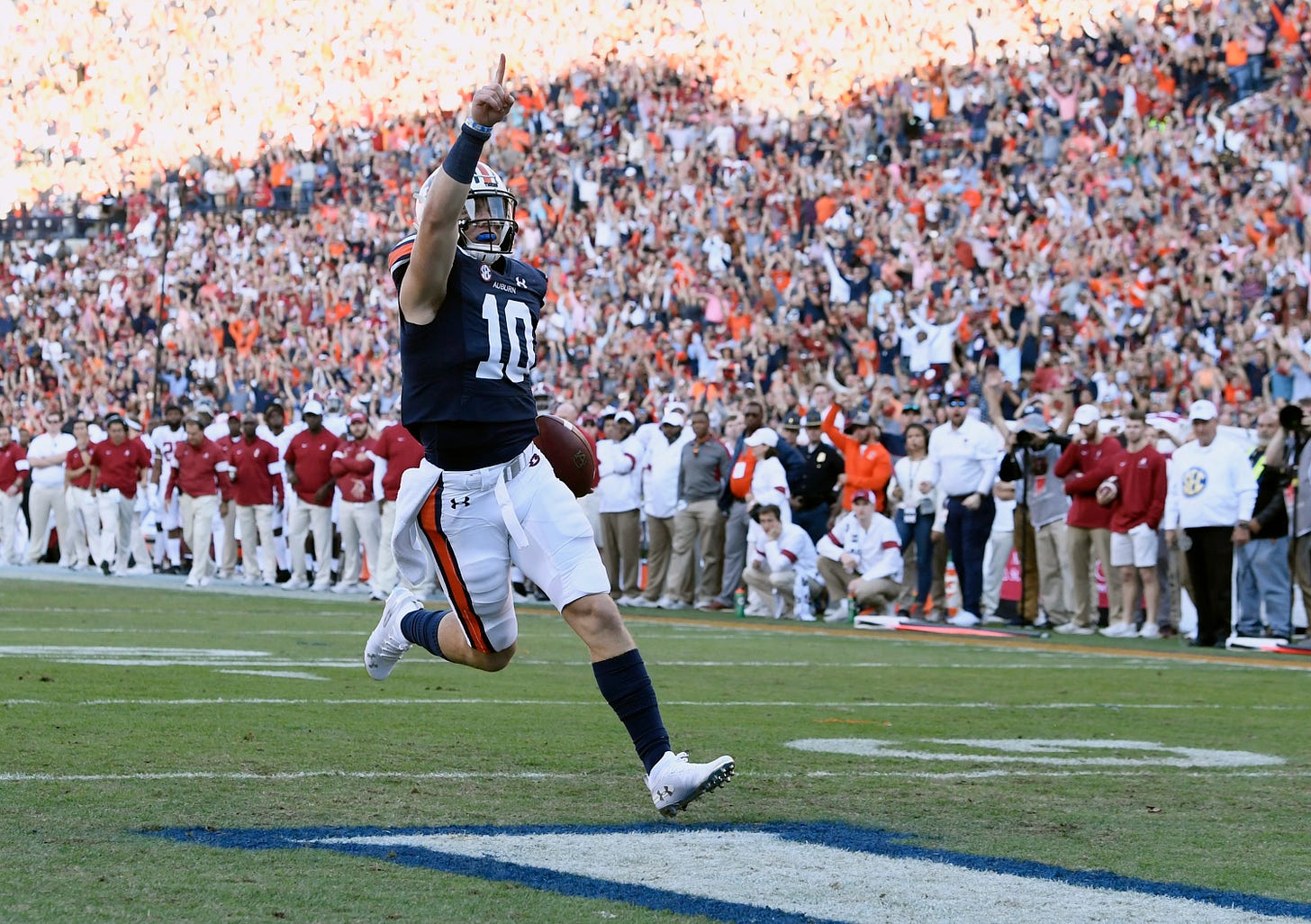 QB Bo Nix (Todd Van Emst/Auburn Athletics)
---
Thanks for checking out The Auburn Observer. For the month of September, every story and podcast will be free. Starting next Thursday (October 1), The Auburn Observer will switch to a paid newsletter. If you haven't already, please subscribe using the button below to get new posts sent to your inbox. If you enjoy our work, make sure to tell all your fellow Tigers fans to join us.
Bo Nix might be the most polarizing player in the SEC heading into the 2020 season.
Opinions on the Auburn quarterback vary greatly among fans and media members. This is a quarterback who was the conference's Freshman of the Year last season — and also rated as the nation's No. 95 overall starting quarterback heading into this season by Pro Football Focus.
And there's no easy conclusion to make from Nix's 2019 season. Nix was the SEC's first true freshman quarterback to start Week 1 in more than a decade. He led Auburn to nine wins, including a last-minute victory over an Oregon team that would later take home the Rose Bowl and a wild Iron Bowl win over an excellent Alabama team.
Nix also was a below-average FBS quarterback in terms of completion percentage, yards per attempt and passing efficiency in 2019. In the three conference games the Tigers lost, he had major struggles that played huge roles in the final results. Auburn's offense ranked 83rd nationally in yards per snap, which is a rough sign for a powerhouse program in this current age of big play-dominated college football.
The former five-star recruit did a lot of things that coaches want to see out of their starting quarterbacks, and he did them as a true freshman against an absolutely brutal schedule. He also, statistically speaking, has a massive amount of room to grow heading into year two.
After a second straight year of offensive regression, Gus Malzahn took advantage of the opportunity to hire his close friend Chad Morris to run his offense. Aside from his disastrous and entirely too brief tenure at Arkansas, Morris has a long track record of coaching strong passing attacks and — perhaps most importantly to Nix — helping his inherited quarterbacks make huge improvements in their first seasons under him.
"Bo's been looking very good," wide receiver Anthony Schwartz said. "I feel like this offense suits him a lot. He seems very comfortable. He seems relaxed. He seems like a whole different person."
The word around Nix during an offseason that was drastically altered by the ongoing COVID-19 pandemic has been one of confidence. Nix himself has admitted to losing his confidence during the low points of his first season, but coaches and teammates see a difference in him heading into Year 2.
"He's got a lot of confidence," Malzahn said Tuesday. "I know him and Coach Morris have worked extremely hard together. He's excited. Coach Morris is trying to build his thing around his strengths, too."
Building the Tigers' offense around Nix's strengths makes sense. Auburn no longer has its leading rusher from the last two seasons and had to replace four of its five starters on the offensive line. The Tigers also return their top three receivers from a season ago, which has historically been a good sign for year-to-year improvement for Malzahn teams.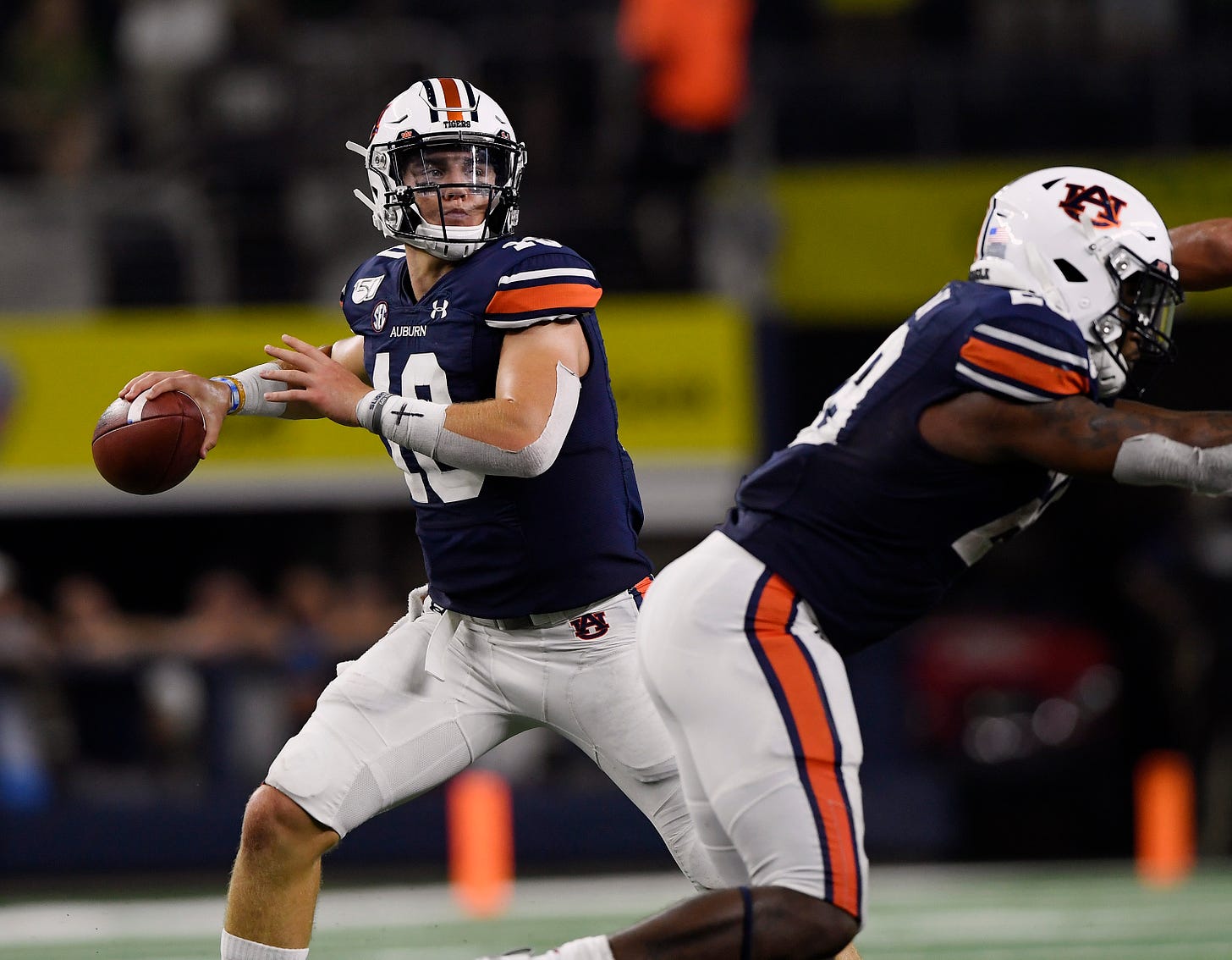 QB Bo Nix (Todd Van Emst/Auburn Athletics)
But that begs the question — after an up-and-down first season, what are Nix's strengths?
"I think one of my strengths is that I'm kind of dynamic, move around the pocket," Nix said. "I can extend plays and things like that, but at the same time I can sit in the pocket, make throws, quick game. I'm an effective runner at times."
His head coach agrees.
"You look at last year, he created a lot of things on his own with the scrambles and all that and the decision-making," Malzahn said. "He is a run threat, too. So we're going to play to his strengths and rely on him a lot."
The emphasis on Nix's ability to move stands out, especially considering Auburn is replacing the majority of an offensive line that was solid at pass protecting for him in 2019. He didn't make a ton of big plays through the air when scrambling last season — according to a film study of all 377 of his throws, he averaged just 4.53 yards per attempt outside the pocket, compared to 7.77 inside the pocket.
However, none of Nix's six interceptions last season came when he was under pressure. All of his fumbles, per SEC Statcat, came on true runs instead of scrambles. Last year, Nix avoided the huge negative results when he scrambled and kept plays alive. For a true freshman against a gauntlet of SEC defenses, that's quite the accomplishment.
"Bo is like a coach on the field," Morris said earlier this month. "When things break down, Bo is usually really good when those things happen. He's able to make plays with his feet. So I've been pleased with him."
One of the areas in which Auburn could use Nix more is his ability to run the ball. He doesn't have gamebreaking top speed, but he's quite effective when he tucks it and goes. On his designed runs in 2019, Nix was Auburn's top rusher in terms of success rate, yards before contact and first down rate, among those who carried the ball more than 25 times.
Auburn won't want to open Nix to excess contact by running him a ton in 2020, but establishing him as a real danger to make things happen with his legs would be a huge boost for the offense as a whole. It makes the defense think a little more on plays such as zone reads, which could create more opportunities for the running backs alongside Nix to create big plays.
That threat also feeds into run-pass options, which were a foundational part of Auburn's offense in 2019 and should be again with Morris running the show in 2020. Last season, Auburn ran RPOs 32.59 percent of the time, which was second-most in the SEC.
On most RPOs, the quarterback has the option to hand the ball off, keep it himself or pull it back for a quick throw. The decision depends on what a particular player in the defense — usually a linebacker — is doing, much like reading a defensive end on the more traditional option plays.
Those quick downfield throws are both a staple of Morris' past offenses and the one Nix ran under his father Patrick en route to two Alabama state championships at Pinson Valley. As Nix himself said Tuesday, the "quick game" is something he considers a strength.
That was evident during the 2019 season. On RPO throws that went fewer than 10 yards downfield last season, Nix averaged nearly 7 yards per attempt and had a completion rate of 75 percent. Short, inside-the-pocket passes toward the middle of the field — ones that are often targeted in RPOs — made up his most efficient area for passing.
Morris' most recent offenses have a much lower rate of screen passes than Malzahn's offense. Instead, the short- to intermediate-range throws are much more prevalent. While Nix has to make some serious improvement on the intermediate ones, as he completed just 37 percent of them in 2019, his work with the shorter ones bodes well for his chances in a Morris scheme that wants to spread the wealth quickly.
"(Morris) allows the players around me to do what they do best and get those guys the ball," Nix said. "And a quarterback's only as good as the guys around him. And so any quarterback looks really good, if they can get other guys the ball and they're dynamic with it."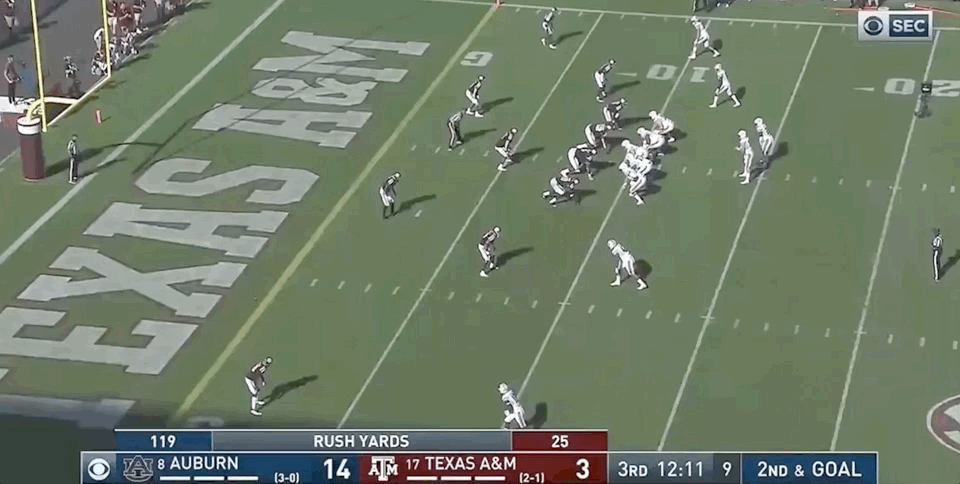 The more Nix feels comfortable now as a second-year starter instead of a fresh-faced newcomer, the more he has a chance to build even further on what worked for him in 2019.
Teammates say the rhythm between him and his targets — from the veteran trio at wide receiver to the expanded casts at running back and tight end — has been evident.
"I think this year he's settled down," tight end John Samuel Shenker said. "He's starting to feel like himself again, I believe. And yeah he's playing really well. He's got his timing down. It's looking good for him. He's worked super hard to get to this point with all of us, and just ready to show it on Saturdays."
With increased confidence and a better vision for the game inside the pocket, Nix has an opportunity to take a major step forward in his problem areas of accuracy.
For Morris, that improvement hinges on one important aspect of his game.
"I've challenged him this offseason to see if we can't make the game slow down even more than what it did toward the end of last year," Morris said. "All the great quarterbacks I've coached, that's one of the big characteristic traits that they had — the game slowed down. They anticipated the throws, they anticipated the windows coming open. And I think he's done a good job of that."
Auburn will put a lot on the shoulders of Nix in his sophomore season. The Tigers have an offensive coordinator who has a close relationship with Malzahn and a track record of getting more out of his quarterbacks quickly.
The use of RPOs and quick passes, as well as expanded concepts and strategies on the intermediate and deeper throws downfield, seem to be a good fit for Nix. The efficiency he's shown in making plays with his legs appears to be a point of emphasis, too.
Now it's time for him to put it all together, starting with a Week 1 matchup against a veteran Kentucky defense that didn't allow many big plays last fall. And according to his top receiver from last season, Nix is ready to lead the way for the new-look offense.
"Stay tuned," wide receiver Seth Williams said. "We got nothing to talk about. We're not going to talk about anything. We're just going to show it first day, coming up. So just be tuned to watch it."
Up next on The Auburn Observer: A new podcast episode previewing the Tigers' opener against Kentucky will drop later today. On Friday, it's a game week edition of the Aubserver Mailbag.