Discover more from The Auburn Observer
Deep dives into the stats, strategies and stories of Auburn football and basketball
Over 3,000 subscribers
Auburn's defensive line passed its first big test. Now it faces another one at Georgia.
The Tigers stunned Kentucky with a dominant second half up front. Judging by the way UGA matches up, they could really use a repeat of that performance.
Starting tomorrow, October 1, The Auburn Observer will switch to a paid newsletter — $6 per month or $60 for a full year. This is the final free story in the September preview.
In order to make a smooth transition to the new format, you can go ahead and switch over to a paid subscription today — it will ensure that you will get a new story Thursday and a new podcast episode still sent directly to your email inbox.
Just hit the button below to setup your subscription plan, whether you have signed up for free emails already or would like to join for the first time now.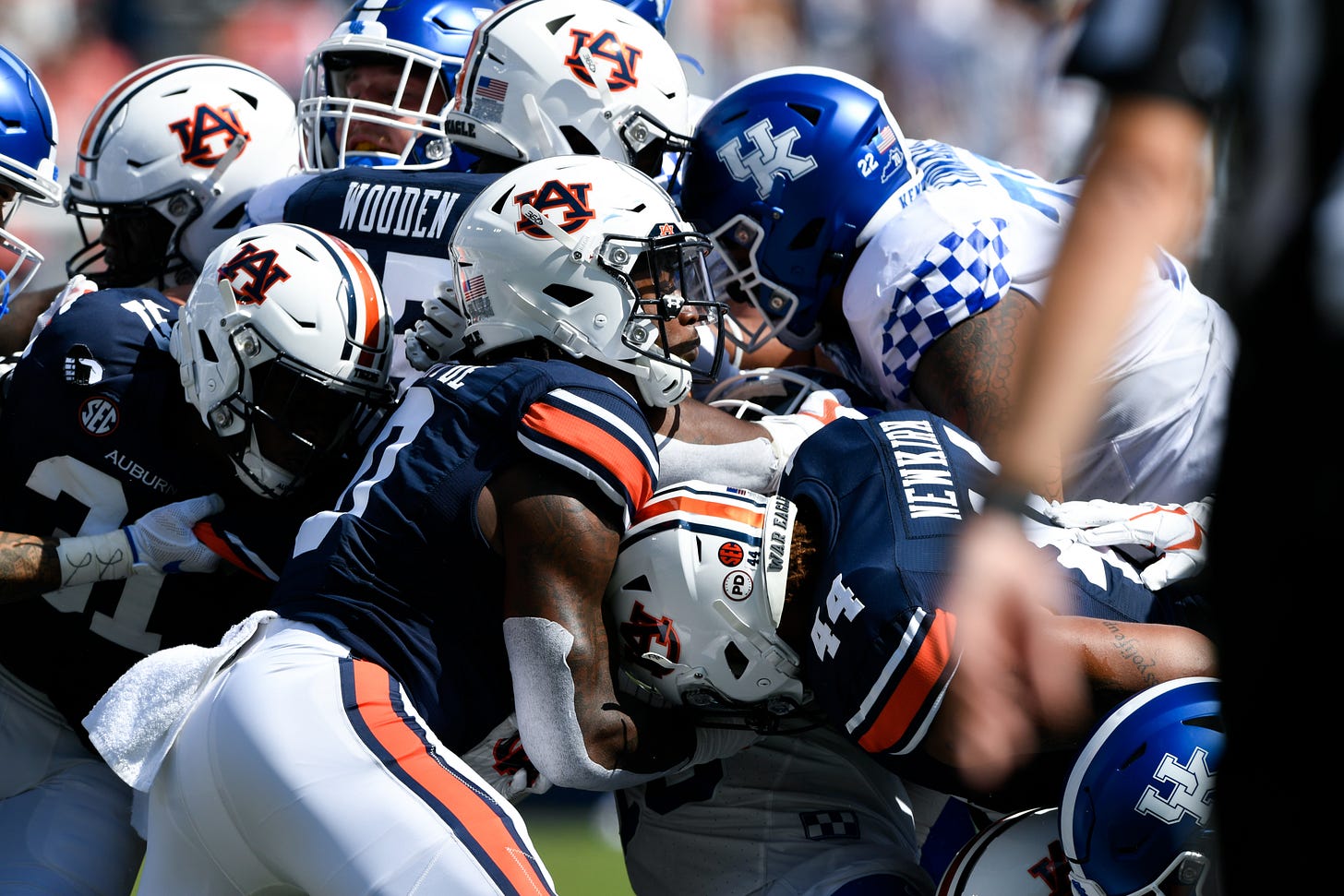 Auburn's defense vs. Kentucky (Todd Van Emst/Auburn Athletics)
Daquan Newkirk couldn't help but smile Sunday night.
Newkirk was a little more than 24 hours removed from Auburn's 29-13 win over Kentucky, where he and his fellow Tigers pulled away from the Wildcats after halftime with strong execution on both sides of the ball.
Up front, where Newkirk plays, Auburn won the war of attrition — and the senior defensive tackle looked quite pleased when he got to recall the details of that victory.
"We could see it on their face, they were tired," Newkirk said. "They were actually shocked, honestly. I could say they were shocked, because they thought we were going to be nothing. We definitely proved them wrong."
Auburn absorbed the punches from Kentucky at first. The Wildcats averaged 4.8 yards per carry in the first half and gashed the defense with a 35-yard touchdown run on their opening drive.
In a highly anticipated and potentially game-deciding matchup between an elite Kentucky offensive line and an Auburn defensive front now without superstar talents Derrick Brown and Marlon Davidson, Kentucky had control early.
Then, at halftime, Auburn defensive coordinator Kevin Steele made some adjustments.
"The first half was pretty shaky," Newkirk said. "We went in the locker room and came out for the second half — and it was more just guys being where they were supposed to be and doing all their assignments. Coach Steele got through to us, and that's what we did."
Auburn allowed just 25 rushing yards on 15 carries after halftime. A Kentucky offense designed to dominate on the ground could only muster one successful drive. The Wildcats were forced to lean on a passing attack that just wasn't their strength.
Kentucky's experienced offensive line was neutralized by Auburn's defensive line, which had to overcome the loss of two different starters in the game — an ankle injury that kept defensive end Big Kat Bryant out for the first half, and a targeting ejection that kept Buck edge rusher Derick Hall out for the second half.
"Fight — that's all I saw," safety Smoke Monday said Saturday. "I saw them fight. At the end of the day, everybody counted them out, but once they got put in the opportunity to make plays, they made plays."
As SEC StatCat noted Saturday night, Kentucky's offensive line had a surprisingly small amount of push against Auburn's defensive line:
"I was impressed," head coach Gus Malzahn said Tuesday. "We were concerned. (Kentucky) had four returning starters, and they led the league in rushing last year. We had our concerns. I was impressed with our guys, and we played a lot of different guys."
While Bryant's return to halftime — as he put it Tuesday night — seemed to lift everybody up front in the second-half surge, there was plenty of four-quarter work done by the defensive tackle trio of Newkirk, Colby Wooden and Tyrone Truesdell.
Wooden set the tone immediately in the second half, beating his blocker up front and sticking Kentucky running back Asim Rose on the Wildcats' first snap. That tackle for loss went a long way in Auburn getting its first three-and-out of the day.
"There was a question mark in that room," linebacker K.J. Britt said. "How do you feel with the legacy that Derrick Brown and Marlon left? It was the next man up. That was the mentality. There's no pressure, just play ball. That's why you came here, to play ball. That's something those guys really did."
After emerging victorious in Week 1, Auburn's defensive line now has to turn the page and take on a rival that doesn't have the experience up front of a Kentucky — but one that has more talent and a similar tradition of attacking with the ground game.
Georgia's offense got off to a rocky start in Week 1 against Arkansas, a team that has now lost 20 straight SEC games. The Bulldogs didn't score a touchdown until there were six minutes left in the third quarter, after they benched starting quarterback D'Wan Mathis for Stetson Bennett IV.
Under new offensive coordinator Todd Monken, Georgia ran the ball with its running backs 25 times for 111 yards. However, a new-look offensive line that had just one returning starter had a hard time moving Arkansas up front.
According to SEC StatCat, Georgia's rushing attack averaged only 1.19 yards before contact per carry against Arkansas. Last season, the Bulldogs averaged 2.49 yards before contact per carry, which ranked fifth in the SEC.
Georgia tried to establish the run early, but it went to the halftime locker room with only 48 rushing yards. The Bulldogs found more room on the ground after Bennett opened things up through the air in the second half, yet the final stats weren't kind to an offense that has been known for big-time production out of the backfield.
As friend of the newsletter Seth Emerson wrote at The Athletic earlier this week, Georgia's Week 1 performance up front left a lot to be desired:
"The vision for the Monken offense is spreading the defense around and then gashing them with the run. It didn't work that way in the first half: Georgia couldn't run up the middle because it didn't control the line of scrimmage. The Bulldogs didn't even try to run to the outside because they didn't have confidence in the perimeter blocking yet."
Yet that underwhelming performance from Georgia's offense won't affect Auburn's respect for what will be coming Saturday night in Athens.
"Everybody knows (the running game) is what Georgia is built on, that's what they love to do," Bryant said Tuesday night. "So stopping the run is definitely going to be the main focus for us. Because I know if we make it difficult for them first and second down, third down is definitely going to be up and the air — definitely with the new offensive line and the new quarterback."
And the "new quarterback" throws another unpredictable element into the equation for Auburn. Mathis was benched for Bennett but came back in the game late against Arkansas. Then there's former USC quarterback J.T. Daniels, who wasn't medically cleared in Week 1 but will be available for Georgia against Auburn.
Georgia head coach Kirby Smart hasn't, and most likely won't, revealed who will start at quarterback. Malzahn said Tuesday that the Tigers' defense will have to be ready to adjust.
With all the uncertainty at quarterback, Georgia's running backs could be X factors against Auburn.
Former five-star recruit Zamir White averaged 5.5 yards per carry and had three explosive runs against Arkansas, despite the Bulldogs' early blocking woes. Five different running backs carried the ball, which is a sign that the deep rotation Georgia has had for years should still be going strong in 2020.
Slowing down a strong Kentucky running game was a huge difference for Auburn in its opener. It forced the Wildcats to go away from their strengths, and it put them in unfavorable situations.
A similar result would do wonder for the Tigers in their second game.
"That's what we're going to try to do — just try to limit those big runs, stop them and have them in third and long," Bryant said.
Georgia's offense could look totally different Saturday night, depending on who starts at quarterback and how much the players around him have learned from their crucial first starts under a new offensive coordinator.
But it's worth noting that Georgia was 1 for 7 on third-and-long against a woeful Arkansas team. Auburn was able to turn the corner against Kentucky with its third-down stops, and several long-yardage situations created opportunities for a new-look pass rush to get to the quarterback.
Auburn will try to counter Georgia's rotation with one of its own — and one that was boosted by how the first game against Kentucky went.
The Tigers played 10 different defensive linemen last Saturday, with several underclassmen having to step up in place of Bryant and Hall. If it wasn't for a couple of other injuries, they could have seen more get snaps.
"Big Kat just played a couple of plays in the second half," Malzahn said. "And not having Jay (Hardy) — which, Jay had a good fall camp — he got injured last week. Dre Butler is nursing an injury. We're hoping we'll get those guys back here pretty quickly. The good thing is that a lot of guys got a chance to play… We're always talking about developing depth, and we got a chance to do that on Saturday."
Auburn won its matchup against Kentucky on Saturday at the line of scrimmage. Its defensive front did more than just hold its own against an offensive line that was projected to be one of the best in college football in 2020.
Now it has to do the same Saturday, away from home, against a talented offensive line that just got a major wake-up call.
At least the Tigers will get to do it with plenty of encouragement from their last outing.
"It definitely was a big confidence booster, honestly, because (Kentucky's offensive linemen) were projected so high, first-team all-SEC, second-team all-SEC," Newkirk said. "I mean, we played pretty well against them. I think we won the battle against them up front. I can definitely say that.
"And it definitely will help us going on the road coming next week, give them some good feels."
Up next on The Auburn Observer: It's the first premium podcast episode — a preview of the Auburn-Georgia game with a special guest — and the first story for paying subscribers. The Aubserver Mailbag will follow on Friday, so send in your questions for it on Twitter @JFergusonAU or via email at the1andonlyJF@gmail.com.