Discover more from The Auburn Observer
Deep dives into the stats, strategies and stories of Auburn football and basketball
Over 3,000 subscribers
Bonus: How would an All-Auburn fantasy football team have done in Week 1 of the NFL season?
Cam Newton, Peyton Barber and Darius Slayton all found the end zone twice this past weekend. What if they were all on the same fantasy football team — and how would that compare to other SEC programs?
So this is the first of what I'm calling a bonus post here at The Auburn Observer. Every now and then, I might get some idea I want to do that isn't exactly the same type of Auburn football and basketball writing you usually get here — like this one about a hypothetical fantasy football league.
(Don't worry, these types of bonus posts won't be paywalled once that starts at the end of the month — and they won't be emailed to your inboxes. This is just me taking advantage of a space of the Internet that I have and a system that makes things easy to post. This first one was purely a fun way to spend a Tuesday afternoon before media availability returned on Wednesday and Thursday.)
While Power 5 college football made its big return last Saturday, Auburn fans knew they still had to wait two more weeks before the Tigers open their 2020 season.
Fortunately, a few familiar faces provided some impressive football fireworks to pass the time on Sunday and Monday.
In the early NFL slate on Sunday, Cam Newton made his debut as the new starting quarterback of the New England Patriots — and he turned back the clock with a pair of rushing touchdowns in a victory over the Miami Dolphins.
And while that was happening, Peyton Barber punched in two rushing touchdowns with his new team in Washington to pull off a huge comeback win over the Philadelphia Eagles.
Then, in the first game of Monday Night Football, Darius Slayton caught two touchdown passes for the New York Giants.
As ESPN's Field Yates pointed out on Twitter, Slayton has been no stranger to the end zone since emerging as a starter:
The multi-touchdown explosions for the trio of Newton, Barber and Slayton would have made for quite a weekend of fantasy football for any Auburn fans that had all three of them in their lineups.
That thought sparked a Twitter DM conversation with friend of the newsletter Justin Lee, who came up with this idea for a post — if alumni for each SEC team made up their own fantasy football teams, who's winning?
So, in light of that big weekend from the Auburn trio, that's what we're going to answer here.
I couldn't have done any of this without the great help of my brother and go-to fantasy expert Tyler Ferguson, who crunched a lot of these numbers.
The following Week 1 scores are based off half-point PPR scoring from FantasyPros. The team formats are the standard QB-RB-RB-WR-WR-TE-FLEX-K, since we can't count D/STs here. (Let's just say you're streaming those.)
Each squad is a "best ball" lineup, which means that the most possible points when filling out that team format — so no more than three running backs, three wide receivers or two tight ends using that flex — is listed for each SEC team.
A 0.0 means a player played at least one snap in Week 1 but didn't record any offensive fantasy stats. DNP means a player was active but did not play a snap. INJ means a player was inactive due to injury, and OUT means a player was a healthy inactive. If a team doesn't have a position listed, that means it doesn't have a player for that position on an active NFL roster right now.
Now, in alphabetical order, here are the fantasy best ball scores for each SEC school during Week 1 of the NFL season:
Alabama
QB: Tua Tagovailoa (Dolphins) - DNP
RB: Josh Jacobs (Raiders) - 33.9
RB: Derrick Henry (Titans) - 14.6
WR: Calvin Ridley (Falcons) - 29.4
WR: Julio Jones (Falcons) - 20.2
TE: O.J. Howard (Buccaneers) - 11.6
FLEX: Kenyan Drake (Cardinals) - 13.5
TOTAL = 123.2
Jacobs' monster day for the Raiders and the Falcons' mega-yardage loss to the Seahawks put the usual suspects on top for this week. Alabama doesn't have an NFL kicker, but that's not going to be a problem for its fantasy production — especially if Tagovailoa gets the call later this season for the Dolphins.
Arkansas
WR: Cody Hollister (Titans) - DNP
TE: Hunter Henry (Chargers) - 9.8
FLEX: Jeremy Sprinkle (Redskins) - 0.0
TOTAL = 9.8
Yeah, Henry is going to have to do all of the heavy lifting this season for the Hogs.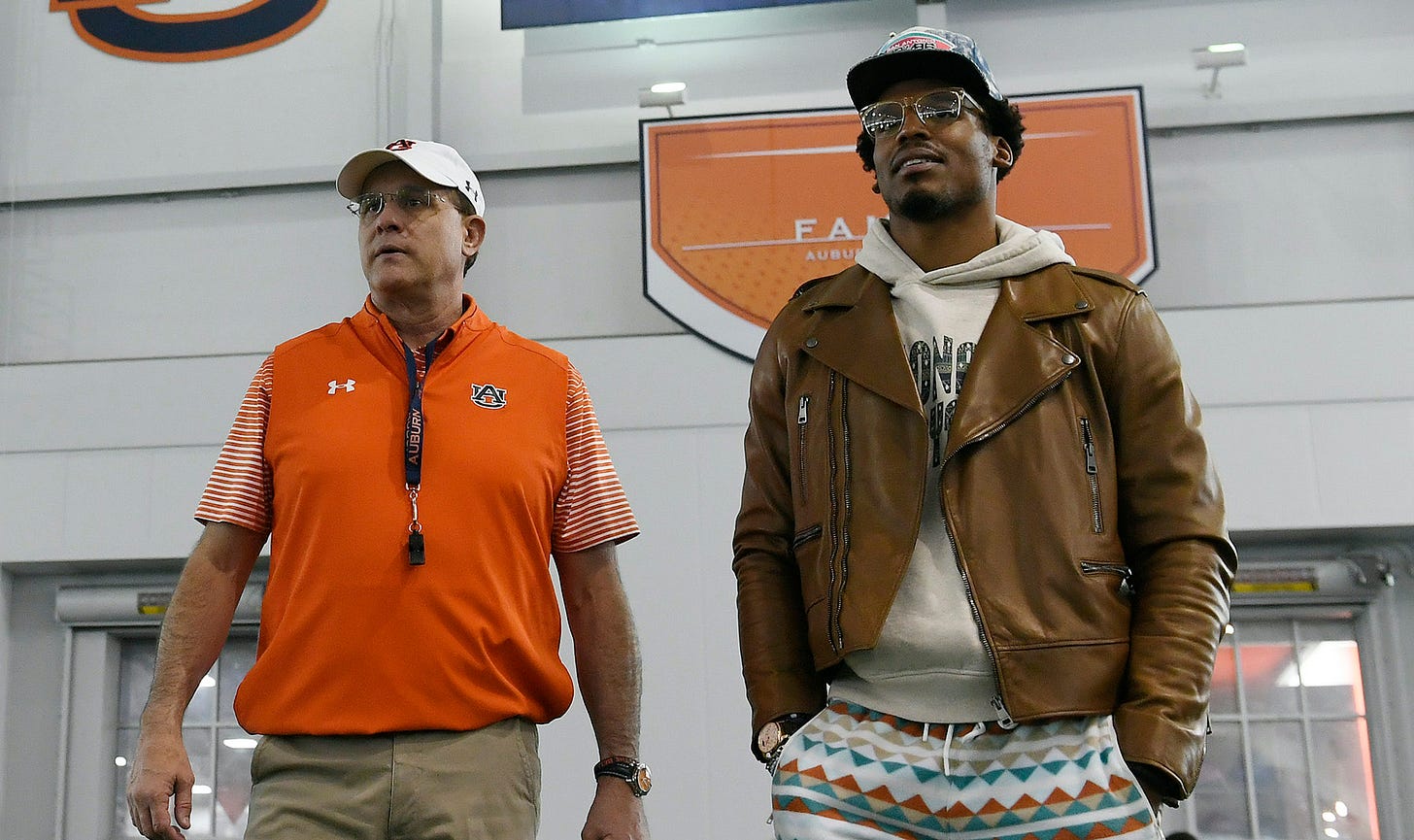 HC Gus Malzahn and former QB Cam Newton (Todd Van Emst/Auburn Athletics)
Auburn
QB: Cam Newton (Patriots) - 25.7
RB: Peyton Barber (Football Team) - 14.9
RB: Kerryon Johnson (Lions) - 1.4
WR: Darius Slayton (Giants) - 25.2
TE: C.J. Uzomah (Bengals) - 6.5
FLEX: Chandler Cox (Dolphins) - 0.0
K: Daniel Carlson (Raiders) - 12.0
TOTAL = 85.7
Auburn was a three-headed monster in fantasy this week, with Newton, Barber and Slayton all recording two-touchdown games to open the season. Carlson was solid in his contributions as a kicker, too. Not bad for a program that doesn't have a ton of skill position depth in the NFL.
Florida
RB: La'Mical Perine (Jets) - INJ
WR: Van Jefferson (Rams) - 3.6
WR: Demarcus Robinson (Chiefs) - 3.5
TE: Jordan Reed (49ers) - 2.2
FLEX: Freddie Swain (Seahawks) - 2.2
TOTAL = 11.5
To be completely fair, Florida has developed a reputation of putting great defensive players into the league, and it'll take a while longer for Dan Mullen's offensive products to make their mark at the next level. The Gators will have several receivers who could pop off for touchdowns at any moment, so this quiet week shouldn't be the norm.
Georgia
QB: Matthew Stafford (Lions) - 17.2
RB: Todd Gurley II (Falcons) - 12.7
RB: D'Andre Swift (Lions) - 9.8
WR: A.J. Green (Bengals) - 7.6
WR: Javon Wims (Bears) - 6.6
TE: Charlie Woerner (49ers) - 0.0
FLEX: Sony Michel (Patriots) - 9.7
K: Rodrigo Blankenship (Colts) - 8.0
TOTAL = 71.6
Counting the stats-less Woerner, Georgia is one of two SEC teams that could fill out a fantasy roster with its own alumni. It was a good Week 1 for the Bulldogs in the league, but that OPI call against Green and that drop from Swift kinda loom large, don't they?
Kentucky
RB: Benny Snell Jr. (Steelers) - 11.3
WR: Randall Cobb (Texans) - 3.3
WR: Lynn Bowden Jr. (Dolphins) - OUT
TOTAL = 14.6
Snell's breakout Monday Night Football performance pushed the Wildcats up the list, which helped after Cobb's quiet Thursday night and Bowden's less-than-ideal start to NFL life.
LSU
QB: Joe Burrow (Bengals) - 17.3
RB: Clyde Edwards-Helaire (Chiefs) - 19.8
RB: Darrel Williams (Chiefs) - 4.0
WR: Russell Gage Jr. (Falcons) - 15.9
WR: D.J. Chark Jr. (Jaguars) - 10.0
TE: Foster Moreau (Raiders) - 0.0
FLEX: Jarvis Landry (Browns) - 8.6
TOTAL = 75.6
LSU is just a kicker away from a full squad, but it'll manage just fine. The Bayou Bengals were paced by their rookies instead of their veterans — no OBJ on here — this week. The competition for this FLEX spot week in and week out should be fierce.
Mississippi State
QB: Dak Prescott (Cowboys) - 17.6
TOTAL = 17.6
Another team that puts mostly defensive guys into the league, Mississippi State should keep itself firmly out of the cellar each week thanks to its famous quarterback.
Missouri
QB: Drew Lock (Broncos) - 13.1
TE: Albert Okwuegbunam (Broncos) - OUT
TOTAL = 13.1
Like Mississippi State, Missouri will be rallying completely behind its quarterback — unless Okwuegbunam breaks into a deep tight end rotation for Lock in Denver.
Ole Miss
RB: Jordan Wilkins (Colts) - 0.0
WR: D.K. Metcalf (Seahawks) - 17.5
WR: A.J. Brown (Titans) - 6.4
TE: Dawson Knox (Bills) - 3.6
FLEX: Evan Engram (Giants) - 1.9
TOTAL = 29.4
The famed NWO duo and a couple of tight ends now stationed in the northeast put Ole Miss inside the top half of SEC programs in Week 1 fantasy production. The Rebels could pop any given week thanks to the touchdown potential of these four.
South Carolina
RB: Mike Davis (Panthers) - 0.0
RB: Rico Dowdle (Cowboys) - 0.0
WR: Bryan Edwards (Raiders) - 1.4
WR: Pharoh Cooper (Panthers) - 0.0*
TE: Jared Cook (Saints) - 10.5
FLEX: Hayden Hurst (Falcons) - 5.3
K: Ryan Succop (Buccaneers) - 5.0
TOTAL = 22.2
Raise your hand if you also forgot that Jared Cook went to South Carolina. The Gamecocks will rely on their tight ends at the next level, and they also have a kicker. Also, let's make a special note that Cooper had a good day as the Panthers' top return man — that just doesn't carry over into standard fantasy football stats.
Tennessee
QB: Joshua Dobbs (Steelers) - OUT
RB: Alvin Kamara (Saints) - 21.2
RB: Jakob Johnson (Patriots) - 0.0
WR: Cordarrelle Patterson (Bears) - 3.6
WR: Marquez Callaway (Saints) - OUT
TE: Jason Witten (Raiders) - 0.7
FLEX: Luke Stocker (Falcons) - 0.0
TOTAL = 25.5
The Volunteers have some room to grow here, but they'll have to rely mostly on Kamara's big-number potential in New Orleans. You could say Witten's lone catch was the difference in beating out South Carolina this week, though!
Texas A&M
QB: Ryan Tannehill (Titans) - 19.4
RB: Trayveon Williams (Bengals) - OUT
RB: Cullen Gillaspia (Texans) - INJ
WR: Mike Evans (Buccaneers) - 6.7
WR: Josh Reynolds (Rams) - 2.2
TE: Jace Sternberger (Packers) - 0.0
FLEX: Christian Kirk (Cardinals) - 0.5
K: Josh Lambo (Jaguars) - 12.0
TOTAL = 40.8
Texas A&M is the only other team in the SEC that could fill out an entire fantasy roster with alumni during Week 1, even though several players were inactive. You have to think this was a rare cold weekend for former Aggie pass-catchers. Well, the ones not named Ryan Tannehill.
Vanderbilt
RB: Khari Blasingame (Titans) - 1.0
RB: Ke'Shawn Vaughn (Buccaneers) - DNP
WR: Trent Sherfield (Cardinals) - 0.0
TOTAL = 1.0
Vanderbilt's best shot at seeing points on a week-to-week basis is a fullback. Yep.
FANTASY STANDINGS THROUGH WEEK 1
Alabama: 123.2

Auburn: 85.7

LSU: 75.6

Georgia: 71.6

Texas A&M: 40.8

Ole Miss: 29.4

Tennessee: 25.5

South Carolina: 22.2

Mississippi State: 17.6

Kentucky: 14.6

Missouri: 13.1

Florida: 11.5

Arkansas: 9.8

Vanderbilt: 1.0
WEEK 1 ALL-SEC FANTASY TEAM
QB: Cam Newton (Auburn/Patriots) - 25.7
RB: Josh Jacobs (Alabama/Raiders) - 33.9
RB: Alvin Kamara (Tennessee/Saints) - 21.2
WR: Calvin Ridley (Alabama/Falcons) - 29.4
WR: Darius Slayton (Auburn/Giants) - 25.2
TE: O.J. Howard (Alabama/Buccaneers) - 11.6
FLEX: Julio Jones (Alabama/Falcons) - 20.2
K (tie): Daniel Carlson (Auburn/Raiders) and Josh Lambo (Texas A&M/Jaguars) - 12.0
TOTAL = 179.2
So, there you have it. Unsurprisingly, Alabama is on top in Week 1, but Auburn's touchdown trio plus Legatron were enough to put it in a firm second place in the league.
LSU and Georgia will always be in the hunt for a better spot in the standings, and don't sleep on Texas A&M's chances to make a run.
Also, just imagine how terrifying that All-SEC lineup would be in real life or fantasy. You could have even had the Vikings defense, and it still wouldn't have mattered!
Not like anyone would have played the Vikings defense against Aaron Rodgers, right? Right. Because that totally not-real person would deserve to be ridiculed, right? Right.
(Sigh.)
Thanks for checking out this first bonus post at The Auburn Observer. This might become a recurring series during the rest of the NFL season, especially if my brother will continue to crunch the numbers for me.
Look for a new Auburn football story on Thursday morning, a fresh podcast episode later this week and the Aubserver Mailbag on Friday. Send in your questions for the mailbag on Twitter @JFergusonAU or via email at the1andonlyJF@gmail.com.