Discover more from The Auburn Observer
Deep dives into the stats, strategies and stories of Auburn football and basketball
Over 3,000 subscribers
Film Room: Inside the new-look passing attack from Auburn's win vs. Kentucky
A dominant Seth Williams, a confident Bo Nix, an ultra-reliable Eli Stove and an innovative Chad Morris laid a fresh foundation for the 2020 Tigers.
Before we begin, some housekeeping: Starting this upcoming Thursday, October 1, The Auburn Observer will switch to a paid newsletter — $6 per month or $60 for a full year. This Film Room, along with one story Wednesday, will be free to everyone. Thursday's story, along with the preview podcast episode for the Georgia game, will only be available to paid subscribers.
In order to make a smooth transition to the new paywall, you can go ahead and switch over to a paid subscription — it will ensure that you will get Thursday's story and podcast episode still sent directly to your email inbox.
For those who have already signed up for the newsletter during the month of September, go to the website and log into your account in the top right corner. After logging in, click on the "My Account" option in the dropdown menu. From there, you will have the option to set up a paid subscription.
For those who haven't signed up yet, click the button below to set up your account.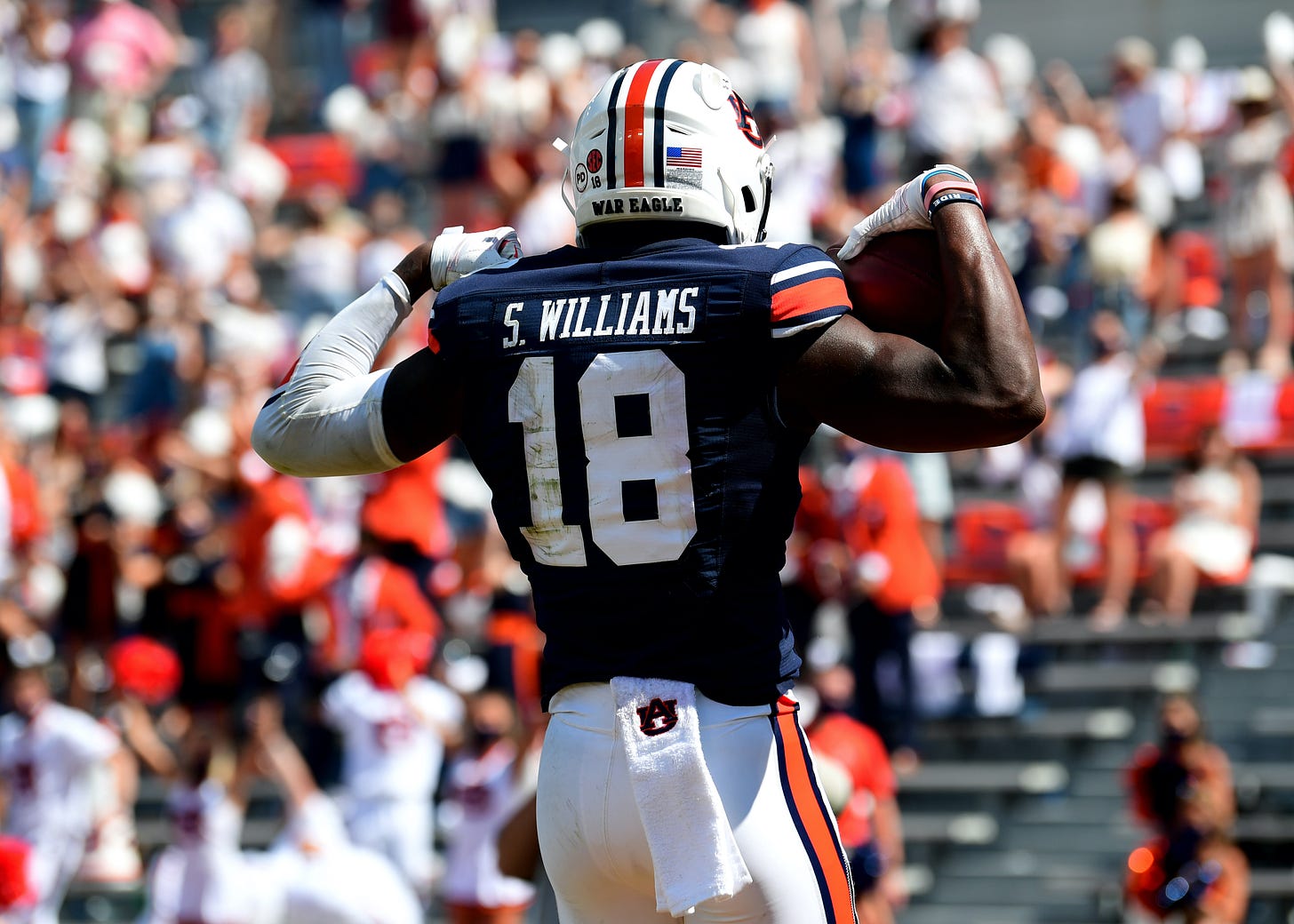 WR Seth Williams (Shanna Lockwood/Auburn Athletics)
It wasn't K.J. Costello's 630-yard debut torching of LSU. It wasn't Kyle Trask's six-touchdown showing against Ole Miss. It wasn't Matt Corral's gaudy 12.7 yards per attempt mark in that same game. It wasn't Mac Jones' 75 percent completion rate in a breezy win over Missouri.
But Bo Nix's passing performance in a 29-16 win over Kentucky on Saturday had just as much impact to Auburn as those massive statistical showings did elsewhere in the SEC.
And that's not counting what Seth Williams did, too.
After an up-and-down first season on the Plains in 2019, Nix needed to make a statement in the opener of his sophomore campaign. For more than nine months, the talk surrounding Auburn football focused on whether Nix would take the necessary step forward.
Plenty of words were also said about Nix's teammates at wide receiver. The Tigers returned three veterans — Williams, Anthony Schwartz and Eli Stove — and the pressure was on to perform early.
Putting it all together was Chad Morris, the former Arkansas head coach who was hired by close friend Gus Malzahn to revamp the Tigers' offense. Morris' disastrous tenure at Arkansas and move to Auburn generated plenty of critics and doubters. How much impact could he really have under Malzahn, especially in the first week of a pandemic-affected season and against an experienced Kentucky defense?
The Tigers answered those questions emphatically Saturday, even if they didn't produce the most eye-popping passing stats in the league.
In the final box score, Nix is listed as having 16 completions on 27 attempts for 233 yards and three touchdowns. His 8.63 yards per attempt marked only the fourth time in which he exceeded 7 yards per attempt in a single game. It was also only the second time he had thrown for three scores.
But take away his throwaways and a few drops by his receivers, and Nix finished with an impressive adjusted completion percentage of 75 percent — a real improvement for a passer who struggled with accuracy last fall.
One of the criticisms of Auburn's passing attack in recent years was the lack of variety in the throws. Too often, it could feel like the Tigers were either going for screen passes or deep shots downfield. Morris' track record suggested a shift away from that in 2020.
On Saturday against Kentucky, Nix spread the ball all over the field. Take a look at his passing chart, which excludes his throwaways: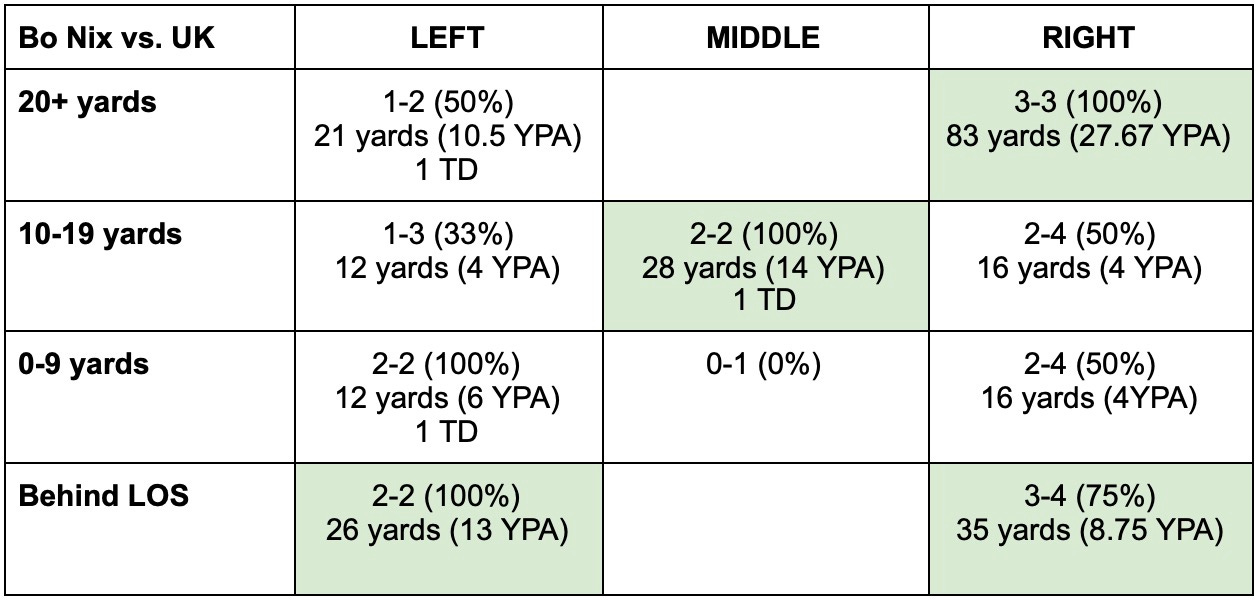 Nix attempted six passes behind the line of scrimmage, seven short ones, six intermediate ones and five deep ones. (There was also a quick screen to Stove early in the game that went backwards, technically making it a running play.)
Nix got to show off his arm at all levels of the field, and he completed at least half of his passes in all but one area — intermediate left, which had two incompletions heavily affected by pressure from Kentucky.
"I was real pleased," Malzahn said Sunday night. "He made a couple of really tough throws on his back foot. I thought he protected the football. That was the main thing. … He made some short ones, some deep ones, some medium ones. And he spread the field and got it to different guys, which was helpful."
Seth Williams: 6 catches on 11 targets for 112 yards and 2 TD (10.18 yards per target)

Eli Stove: 4 catches on 4 targets for 55 yards and 1 TD (13.75)

Anthony Schwartz: 2 catches on 4 targets for 32 yards (8.00)

Ze'Vian Capers: 1 catch on 2 targets for 17 yards (8.50)

John Samuel Shenker: 1 catch on 1 target for 2 yards (2.00)
No one showcased the variety of Auburn's revamped passing game under Morris more than Williams, who was targeted 11 times by Nix — on four short attempts, three intermediate ones and four deep ones. The only type of route Williams ran more than once was a fade, which he caught for his second touchdown of the game.
Auburn went to Williams several times on intermediate passes that attacked the gaps between the levels of Kentucky's defense. His first catch of the game, on the Tigers' second drive, came on a slant that he extended all the way into some open space on the other side of the field.
Williams caught another type of pass like that from Nix in the second half. A Kentucky defensive end lined up offsides, giving Nix a shot at a free play downfield. Following a pump fake and fading on his back foot, Nix looped an impressive, long pass to Williams in stride on the sideline — as the receiver had once again exploited some open space he found in the Kentucky defense.
Both of those above completions to Williams came on first down, which became a running theme Saturday.
In 2019, Auburn ran the ball 62.7 percent of the time on first downs. Against Kentucky, it ran the ball just 43.5 percent of the time on first downs — with only five of those 10 calls being predetermined runs. The Tigers went with the RPO frequently, and Nix pulled the trigger through the air more often than usual.
Auburn showcased some new tweaks in the RPO under Morris on Saturday. Early in the second quarter, Nix hit Williams on an out route out of a first-down RPO call. In recent years, the Tigers' have stuck to screens or fly routes on RPO calls. This was a new wrinkle that the Tigers went back to a few times for good gains.
One of the more intriguing RPO designs came shortly after the first completion to Williams.
Out of a two-tight end formation — more on those later — Auburn motioned the 300-pound J.J. Pegues to the outside on the right. At the snap, right tackle Brodarious Hamm and right guard Brandon Council pulled toward the left, and the rest of Auburn's offensive line blocked as if the call was a power run for D.J. Williams.
But Nix, having made his read before the snap, pulled the ball back and fired a quick screen pass to Schwartz. Most of the Kentucky players inside the box were focused on the run, leaving space on the outside. Williams sealed his man, and Pegues led the way to block downfield for what would be a near-touchdown from Schwartz.
As Auburn's offense struggled to get anything going in the ground game on zone plays, Morris opted for more man- or gap-blocked runs like the power one from above.
The pulling linemen can draw the attention of the linebackers and get them leaning toward one side, making things easier for Nix to hit the screen on the other side. Here's another power RPO screen from later in the game, this time out of a trips formation.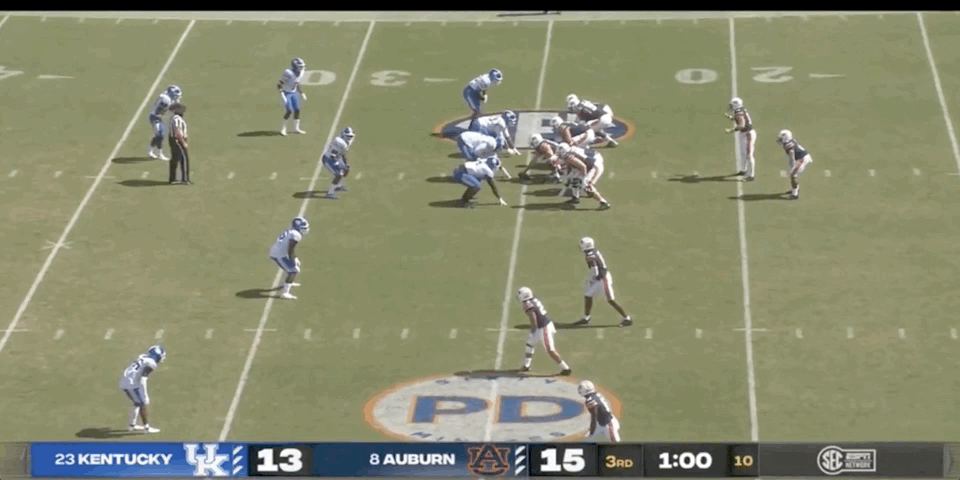 Nix's final touchdown of the day, a deep ball to the deadly efficient Stove, was another example of Morris' fingerprints on a brand-new offensive attack.
Two plays after getting the ball off a failed fake punt from Kentucky, Auburn went for the kill by running a switch concept — Williams ran a post from the outside, while Stove went with a wheel-like out-and-up from the inside. It's a Morris staple, and it worked to perfection.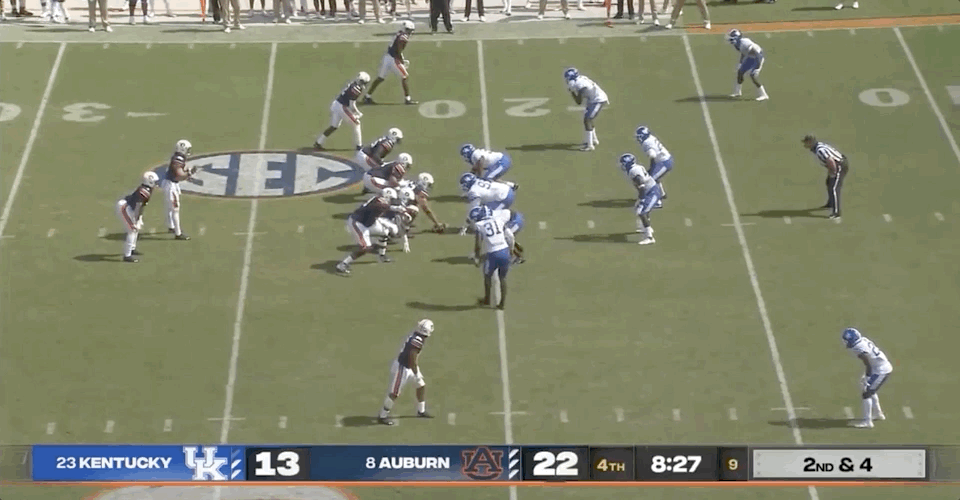 "We've been working that play for a long time," Stove said Saturday. "When it came to that coverage — it was perfect coverage. That's how we've been practicing it every day. So, it just was wide open."
It helped that Nix had a clean pocket to spin the ball downfield for Stove. On his 17 dropbacks Saturday, Nix was 7 for 11 for 139 yards and two touchdowns when he wasn't pressured. On the remaining six dropbacks, he went 1 for 4 for 12 yards — including two throwaways — and was forced to scramble twice.
That lone completion was a rather impressive one, as Nix fired a ball to Stove while a defender was draped around his knees.
Nix did a solid job of managing pressure and fighting through the times it came his way behind a nearly brand-new offensive line. But his best work came when he wasn't affected at all by the pass rush and he had time to pinpoint passes.
The best example came on Nix's first touchdown pass to Williams, where he put the ball where only his rangy receiver could get it — after a beautifully run post route in which he created space with a subtle fake to a corner route.
"The safety kind of squared, so I moved to the right a little bit and saw him in the back," Nix said. "They did actually a good job of covering it, and Seth just made a great catch."
All three of Nix's touchdown passes came on plays in which the Tigers utilized 11 personnel, which consists of one running back, one tight end and three receivers. On all of Auburn's 10 non-kneel possessions against Kentucky, only three snaps were taken in 10 personnel — that is, one running back and zero tight ends. The Tigers also ran 12 different plays in the two-tight end 12 personnel.
The tight end rotation of John Samuel Shenker, Luke Deal and Pegues were in constant movement Saturday. Shenker and Deal each got double-digit snaps out wide. Pegues, who often played with Deal in the 12 personnel, motioned outside a few times as well. Although Shenker was the lone one with a catch against Kentucky, the tight ends were a key part of what the Tigers wanted to do.
"I feel like tight ends are the biggest mismatches for any defense," Schwartz said Sunday night. "Tight ends are too big for a normal DB to cover and they're too fast and quick for a linebacker or defensive end to cover. … I'm glad to see them finally getting rewarded with passes, being able to run routes. They jump on every opportunity."
The Kentucky game laid a strong foundation on what the Tigers could do with Morris at the controls and Nix behind center in 2020.
Some of the differences expected in a Morris offense, like the new combinations and heavy tight end usage, were evident early. Others, such as targets for the running backs and attacking the middle of the field, will be looked at closely in the coming weeks.
But as a young offense continues to grow with a new coordinator, a different rotation at running back and a still-shifting offensive line after a heavily affected offseason, the Tigers showed Saturday they can lean on the likes of Nix, Williams, Stove and Schwartz to win games against quality opponents.
This week on The Auburn Observer: On Wednesday, it's a look ahead to the Tigers' massive top-10 showdown at Georgia after Gus Malzahn and players speak with the media on Tuesday.
Then it's the first premium story and podcast episode on Thursday, followed by The Aubserver Mailbag on Friday. Send in your questions now to @JFergusonAU on Twitter or via email at the1andonlyJF@gmail.com.