Discover more from The Auburn Observer
Deep dives into the stats, strategies and stories of Auburn football and basketball
Over 3,000 subscribers
Film Room: The strength vs. strength matchup that could decide Auburn's opener against UK
Inside what makes the Wildcats' run game so effective — and why the Tigers should still be confident against it, even without Derrick Brown and Marlon Davidson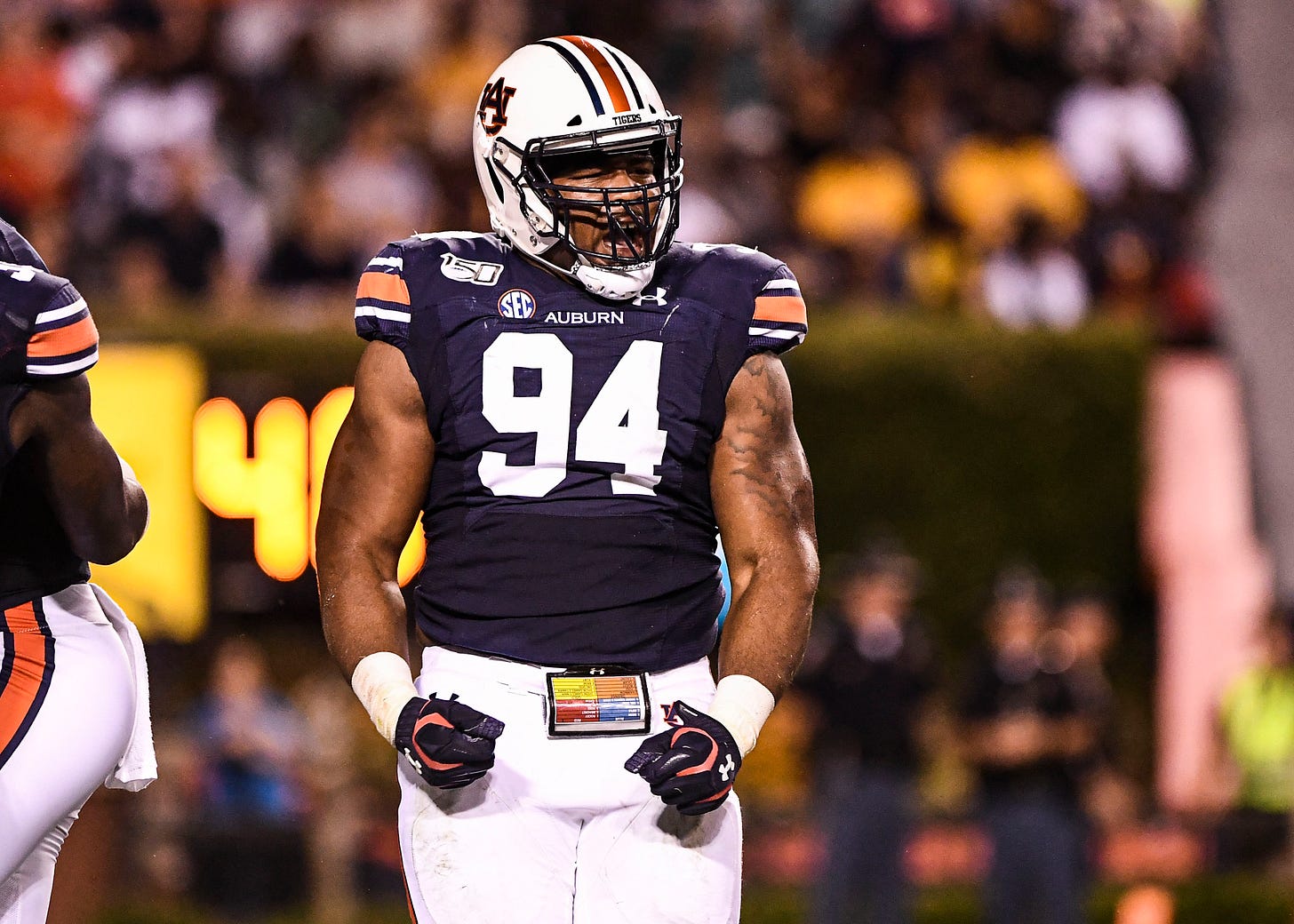 DT Tyrone Truesdell (Cat Wofford/Auburn Athletics)
---
Thanks for checking out The Auburn Observer. For the month of September, every story and podcast will be free. Starting next Thursday (October 1), The Auburn Observer will switch to a paid newsletter. If you haven't already, please subscribe using the button below to get new posts sent to your inbox. If you enjoy our work, make sure to tell all your fellow Tigers fans to join us.
On Saturday, for the first time since the 2015 Birmingham Bowl, Auburn will go into a game without having either the generational defensive tackle talent Derrick Brown or four-year starting defensive end Marlon Davidson.
It'll be the start of a new era for a defensive line that has come to define a lot of Auburn's success under coordinator Kevin Steele. There's still plenty of quality up front, with seniors Big Kat Bryant and Tyrone Truesdell leading the way for a deep line stocked with former blue-chip prospects — but there's still the big challenge of replacing two of the best defensive players to ever come through the program.
Then there's the added difficulty of the Week 1 matchup itself. Originally, Auburn was supposed to start life without Brown and Davidson with an easy paycheck game against FCS program Alcorn State.
Instead, in an altered SEC-only schedule due to the ongoing COVID-19 pandemic, it will face a Kentucky team that boasts one of the best offensive lines in all of college football. 
Over the last several years, Mark Stoops and his staff have constructed a formidable "Big Blue Wall" in Lexington. Kentucky football is now synonymous with a tough, run-first offense that operates behind a top-tier front five. 
Last season, Kentucky was a semifinalist for the Joe Moore Award, which goes to the best offensive line in college football. Pro Football Focus later rated the Wildcats as having the FBS' No. 5 offensive line.
According to Football Outsiders, the 2019 Wildcats ranked No. 18 nationally in line yards per carry (an advanced metric that looks to separate the ability of the offensive line from the running backs), No. 10 in opportunity rate (the rate of carries in which the line "does its job") and No. 29 in stuff rate (percentage of carries stopped at or behind the line of scrimmage). On film and in the advanced numbers, Kentucky's offensive line looked nothing short of elite.
In 2020, Kentucky loses just one of those starting offensive linemen, All-SEC guard Logan Stenberg, from a season ago. Former Auburn offensive lineman and current ESPN analyst Cole Cubelic named Landon Young and Darian Kennard two of the top three offensive tackles in the SEC for the upcoming season. Center Drake Jackson was named to the coaches' All-SEC first-team offense last week. PFF's numbers say the Wildcats have the most valuable line in college football this year:
Perhaps the most impressive aspect of Kentucky's offensive line is that it created so much success for an offense that was quite limited strategically in 2019.
An early-season injury to starting quarterback Terry Wilson and struggles from backup Sawyer Smith forced the Wildcats to move wide receiver Lynn Bowden Jr. to quarterback midway through the year. According to SEC Statcat, Kentucky only called passing plays on 36.13 percent of its snaps last season, which was by far the lowest rate in the conference. By the end of the season, more than a quarter of Kentucky's offensive plays had been inside zone reads.
Even though it faced stacked boxes — Kentucky didn't throw more than 16 passes in a single game after Bowden took over — the Wildcats were still incredibly successful on the ground. Only Clemson averaged more yards per carry as a team in 2019.
And, as a testament to its offensive line success, Kentucky led the SEC in yards before contact per carry at 3.31 and had the lowest rate of havoc (that is, negative plays allowed) in the ground game at 21.9 percent.
Kentucky's offensive line won't be blocking for exactly the same type of offense in 2020. Bowden is now in the NFL, and Wilson has made his return from the injury that cost him almost all of the 2019 season. (Former Auburn quarterback Joey Gatewood still hasn't been cleared to play this fall by the NCAA. If he's cleared before Saturday, he could see the field, but he most likely will not be a major piece of the offense.)
The Wildcats should still be a run-first club, though. In 2018, with Wilson at quarterback, they called pass plays on only 43.48 percent of their snaps. The inside zone read took up 18.89 percent of their play calls, while the standard inside zone was at 12.39 percent.
The offense will look different in some regards. Wilson is not the same type of runner that Bowden was. He averaged just 4.05 yards per carry and scored four times on the ground as a regular starter in 2018. But his mobility worked well in a combination with prolific running back Benny Snell Jr., who is now with the Pittsburgh Steelers.
In 2019, Bowden shared the backfield with a three-headed monster of Asim Rose, Kaviosey Smoke and Chris Rodriguez Jr. Each one of those running backs scored six touchdowns apiece on the ground and rushed for more than 500 yards. They're all back for 2020.
That amount of running back experience will be huge for Kentucky this season, as its passing game doesn't look like it will be a massive strength on paper. Wilson was solid in 2018, completing 67 percent of his passes. But he averaged only 7.0 yards per attempt and threw 11 touchdowns to eight interceptions. 
And, with a Bowden option-heavy attack becoming the primary focal point of the offense in 2019, none of the Wildcats' receivers have a ton of past production to their name. Kentucky's top returning receiver, Josh Ali, had only 23 catches for 233 yards last season. 
Look for Kentucky to go right at Auburn's defense on the ground. The strength of the Wildcats' rushing attack over the last two seasons, whether it was with Snell in 2018 or Bowden and company in 2019, has been its ability to create big holes up front with that "Big Blue Wall."
The Wildcats' running backs have a tendency to cover quite a bit of ground before even getting touched. Here's Smoke taking advantage of a massive lane created by the left side of the line for a touchdown against Tennessee:
Much like Auburn under Gus Malzahn, Kentucky mixes in gap/man-blocked plays throughout the game, but its bread and better is attacking defenses with zone plays. (For those who might not know, the Wildcats' offensive coordinator is Eddie Gran, who was Tommy Tuberville's longtime running backs coach at Auburn.)
It's an ideal formula for a physically gifted, veteran offensive line. The Wildcats have great chemistry up front from all that combined experience, knowing when to pull off of double teams and when to stay a little while longer to secure blocks.
The result is an offensive line that can get into the second level in a hurry to spring huge runs. Keep an eye on the left guard in the above GIF from the Tennessee game, and then check out the center and right tackle here:
Then there's the pure ability of the individual linemen themselves. All of Kentucky's returning starters grade out as strong blockers in their own right. Watch Jackson take out a linebacker while staying engaged with a defensive tackle from his center spot on this touchdown run against Missouri: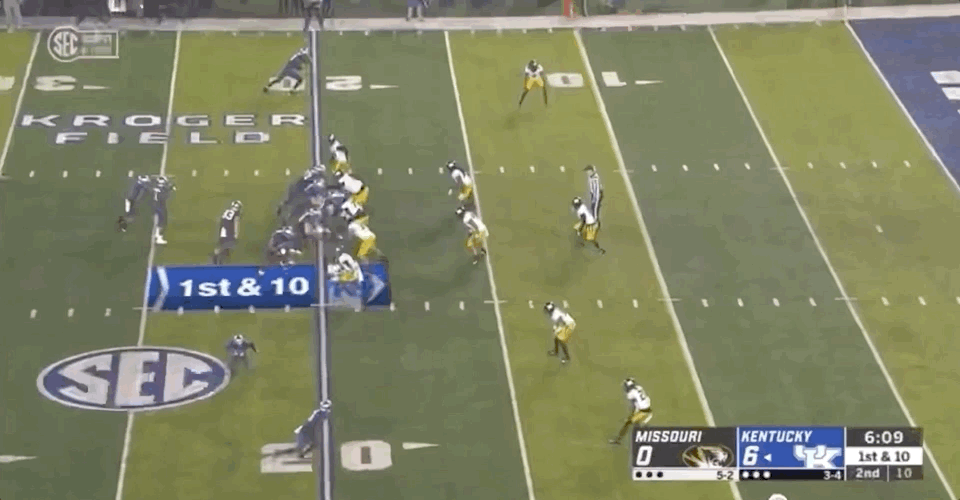 The showdown between Kentucky's offensive front and Auburn's defensive front will be a true strength vs. strength matchup that should go a long way in determining who wins Saturday in Jordan-Hare Stadium.
Although Auburn will be without two outstanding run-stoppers in Brown and Davidson for the first time in a while, the Tigers should be confident in what they have to combat Kentucky's ground game. And a lot of that has to do in the trust generated by a stacked linebacker unit that will be behind the new-look defensive line.
In 2019, PFF graded Auburn middle linebacker K.J. Britt as the No. 1 run-stopping linebacker in college football, with 31 stops and two forced fumbled on 227 snaps. He was a major piece of a Tigers defense that ranked inside the top-25 nationally in rushing yards allowed per carry, line yards allowed per carry, opposing opportunity rate and stuff rate.
Britt has worked hard to become a complete inside linebacker for the Tigers, but he reminds people often of why he was nicknamed "Downhill" by his position coach Travis Williams early in his Auburn career. Britt's instincts and consistency in run fits are remarkable. He's also a ferocious tackler who doesn't shy away from delivering a big hit when given the opportunity.
As the Tigers look to replace the impact of Brown and Davidson in run defense, Britt will be a valued weapon, especially against Kentucky's efficient zone usage.
He'll be joined by athletic playmaker Zakoby McClain, who graded out as one of the Tigers' best run-stoppers in 2019 — not too far behind Britt and nearly on level pegging with the likes of Brown and Davidson in terms of creating stops. In their first season together as starters, McClain and Britt made for a fearsome combo in attacking running backs quickly:
Throw in the elite range of the ultra-athletic Owen Pappoe, and Auburn has an established linebacker trio that will garner plenty of attention in this matchup with Kentucky's big-play running game. They'll provide the necessary support for a defensive line that returns one of its major run-stopping pieces from 2020.
Defensive tackle Tyrone Truesdell proved to be a sure tackler next to Brown and Davidson in 2019 and will return for another season as a consistent space-eater up front. Steele recently called Truesdell a defensive tackle who "does not make mental errors" and can "hold the point, command double teams and keep people out of the linebackers."
That last aspect of Truesdell's game is crucial. Brown and Davidson made plenty of wow plays last year, but if the Tigers were able to cut down a run, Truesdell most likely had something to do with it. Watch how much his penetration against Oregon's All-American left guard Shane Lemieux affected this massive fourth-down stop:
The question for Auburn here is whether the run defense will play like an elite unit from the beginning against a Kentucky offense that returns massive amounts of experience and production in its line and running backs.
Despite their gaudy overall numbers, the Wildcats didn't run wild on just everyone in 2019. The two ranked teams they faced, Georgia and Florida, held them to an average of 150 rushing yards per contest and allowed zero touchdowns on the ground. To be fair, the Florida loss was a close one in the first game after Wilson's injury, and the Georgia game was a shutout loss early in the Bowden experiment.
But Kentucky's ground game isn't unstoppable. Back in 2018, all three of the teams that beat Wilson and Kentucky — Texas A&M, Georgia and Tennessee — all held the Wildcats to fewer than 85 rushing yards. No disrespect to Wilson and his receivers, but making Kentucky one-dimensional in that regard has been its opponents' best chance at getting the victory.
In 2019, Auburn only allowed more than 4 yards per carry in three games — losses to LSU and Minnesota, plus the wild win over Alabama. The run-heavier SEC teams of Ole Miss, Mississippi State and Georgia only averaged a combined 3.67 yards per carry against the Tigers.
Slowing down the ground game has been a key to Auburn's consistent defensive success under Steele. The question, though, is whether those top-tier numbers will be replicable early without Brown and Davidson.
The Tigers will need the likes of Daquan Newkirk, Derick Hall and Jaren Handy — along with a deep cast of newcomers who have impressed in fall camp — to click right away next to Truesdell and Bryant on the defensive line in what will be a critical aspect of the action Saturday. They'll also need a strong linebacker unit to play like it early, especially coming off an offseason without spring practices.
Kentucky would love nothing more than to control the clock away from home and further limit the chances for an Auburn offense that will be figuring things out early with a new coordinator and an almost brand-new line. With their highly touted offensive line and trio of big-play backs, the Wildcats have proven they can strike for devastating gains at any moment.
On paper, there are fewer tests in college football this year tougher than Kentucky's rushing attack. If this front can pass it in Week 1, it would be a huge sign for Auburn's chances at having yet another elite defense under Steele.
Next on The Auburn Observer: A new game week edition of the podcast drops, diving deeper into this Film Room and looking ahead to other matchups in the Tigers' season opener against Kentucky. Look for it here on the website or wherever you listen to podcasts later in the day Monday.