Discover more from The Auburn Observer
Deep dives into the stats, strategies and stories of Auburn football and basketball
Over 3,000 subscribers
Observations: Auburn 29, Kentucky 13
What was the big difference for the Tigers in their season-opening win? It's an aspect of the team that might not have been expected heading into Saturday.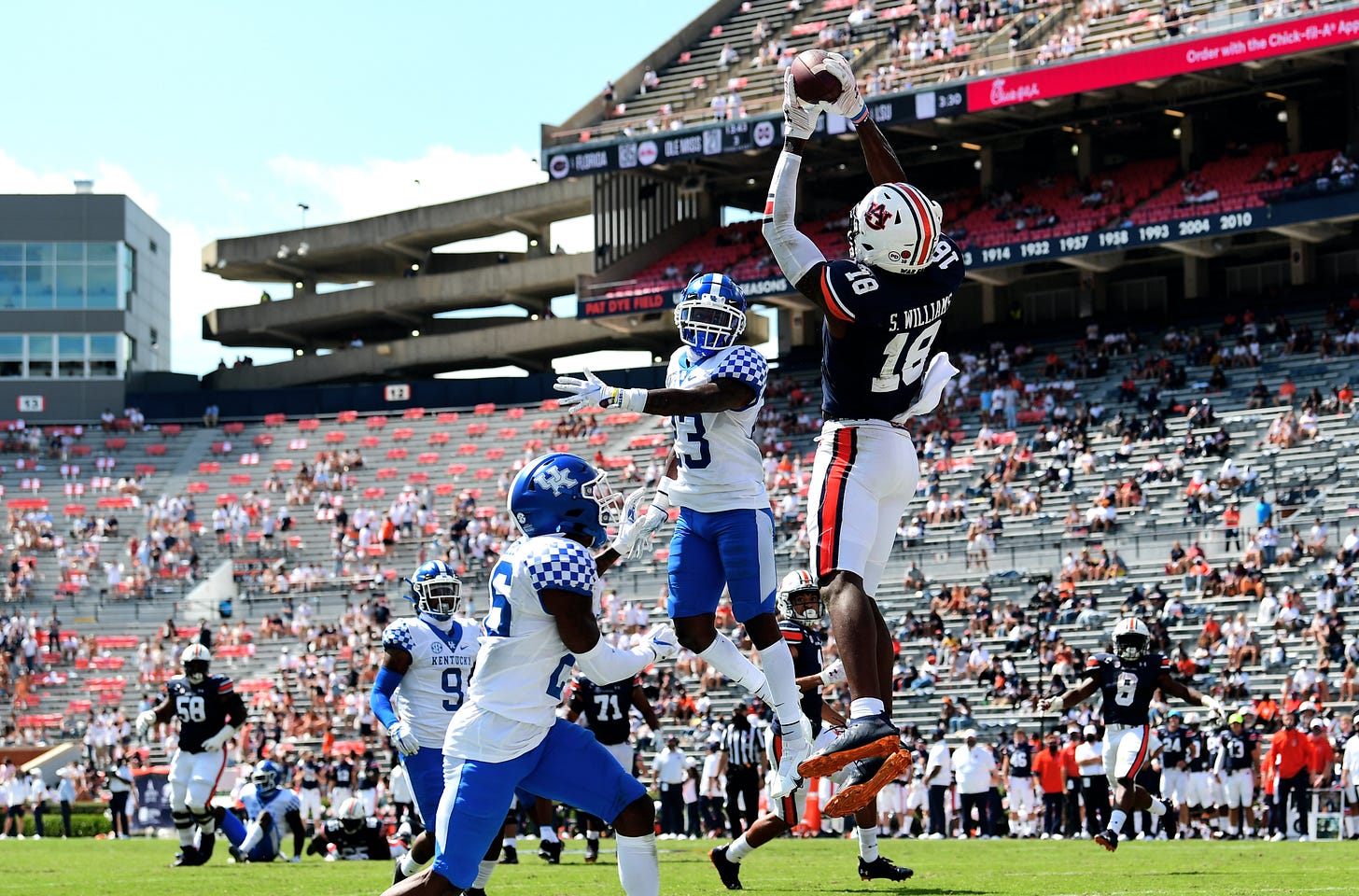 WR Seth Williams (Shanna Lockwood/Auburn Athletics)
---
Thanks for checking out The Auburn Observer. For the month of September, every story and podcast will be free. Starting this upcoming Thursday, October 1, The Auburn Observer will switch to a paid newsletter. If you haven't already, please subscribe using the button below to get new posts sent to your inbox. If you enjoy our work, make sure to tell all your fellow Tigers fans to join us.
After an offseason that was marked by so many unexpected developments and pure chaos in college football, Auburn was there to reinforce a crucial constant Saturday.
And that constant, of course, is that the Tigers are the kings of unexpected developments and pure chaos.
Sometimes, those can be good things for Gus Malzahn and his team. They mostly were in their 2020 season opener, as Auburn defeated Kentucky, 29-13, in a hard-fought contest inside Jordan-Hare Stadium.
While a lot of attention will go on wild turnovers, controversial calls and highlight-reel plays, perhaps the biggest surprise was how this particular Auburn roster was able to defeat that Kentucky roster.
Here's more on that, along with several other key observations and quick takeaways from the Tigers' successful four quarters against the Wildcats.
60 minutes of (clean) Auburn football
Auburn chose to honor the legacy of Pat Dye on Saturday in several ways. Commemorative logos were painted onto the field that bore his name. His son spoke to the team before kickoff. Gus Malzahn even dressed like him.
On the field, the Tigers honored Dye by holding onto one of his most famous quotes about playing for all 60 minutes — and that was the difference in the game.
"I felt like we did a good job of playing 60 minutes, like (Dye) always talked about," quarterback Bo Nix said afterwards. "That was a big emphasis for us this week was we wanted to play 60 minutes… It was important that it came back, and it became a saying for us."
There were stretches where Kentucky looked like the better team, especially in the first half. The Wildcats converted on 8 of their 10 third-down tries. The Tigers were stuffed on short-yardage situations multiple times.
But, in its first game after an abnormal offseason due to the ongoing COVID-19 pandemic, Auburn won because it was the better team at the end of those 60 minutes.
After having a hard time with Kentucky's feared ground game early, Auburn only allowed 1.7 yards per carry in the second half. The Wildcats also had three turnovers — two of them in the red zone, including one in the actual end zone — to the Tigers' zero. Kentucky also had two turnovers on downs, including a fake punt that was quickly called out by the Auburn special teams unit.
"When you look at it that way, it was four turnovers," Malzahn said. "And that was huge. All the hidden things that don't show up, maybe, in the stats. Our guys played extremely hard. You look at matchups, I mean, they were very veteran up front on both sides of the football and we weren't."
And yet a younger Auburn team played the more composed game at home. Outside of a couple of drive-killing bad snaps and a few too many plays, this was a clean opener for the Tigers in a season in which so many powerhouse teams have looked sloppy early.
On red-zone trips Saturday, Auburn outscored Kentucky, 22-6. The Tigers iced the game two plays after a Wildcats fumble. They won't get a lot of style points for their victory, but they should get plenty of credit for avoiding — and causing — the back-breaking mistakes.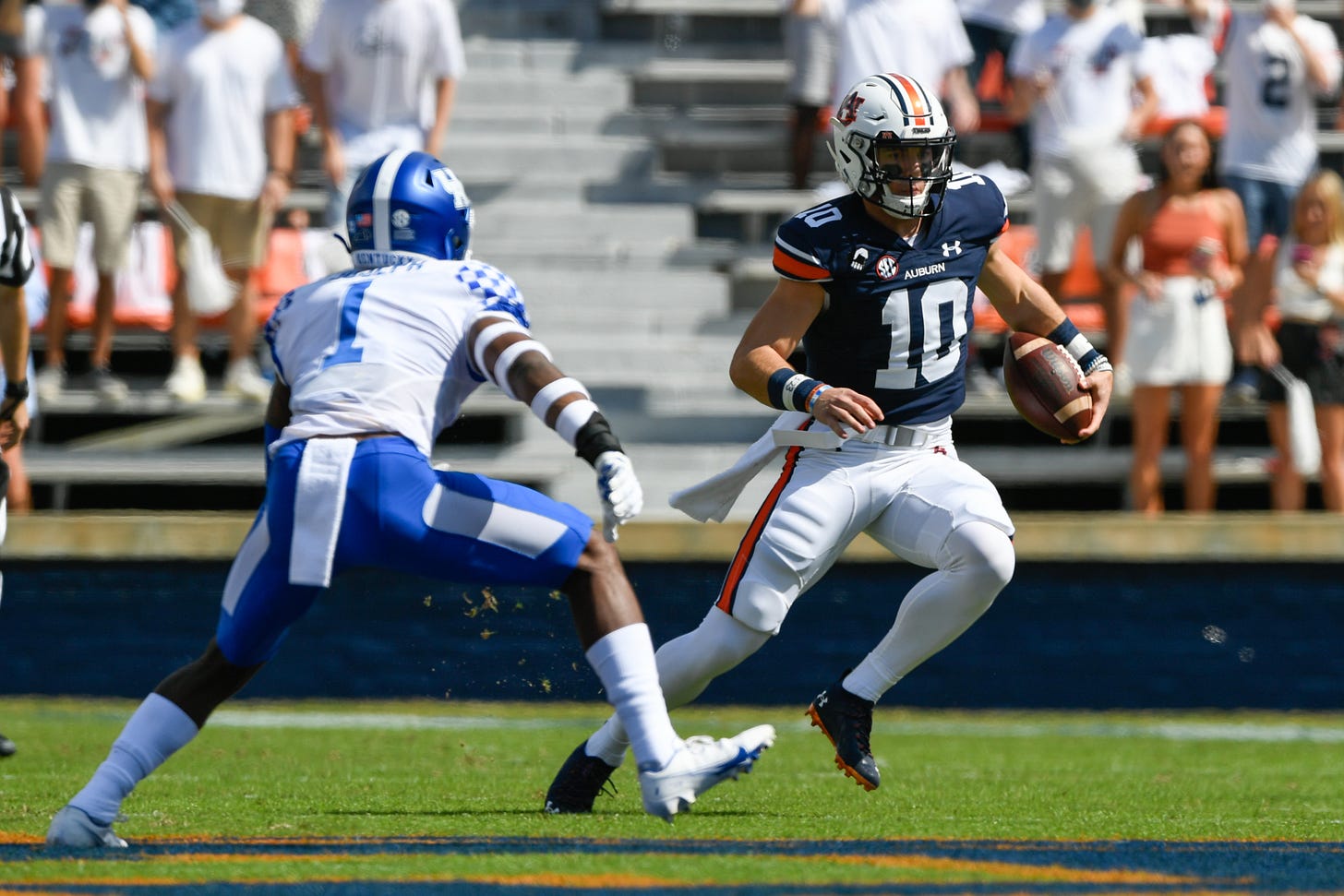 QB Bo Nix (Todd Van Emst/Auburn Athletics)
Bo and Seth, back and better than ever
The story of the offseason for Auburn football was, undoubtedly, the need for improvement from sophomore quarterback Bo Nix under new offensive coordinator Chad Morris.
On Saturday, Nix had the best game of his career against a quality opponent. He averaged 8.63 yards per pass attempt, had an adjusted completion percentage of well over 60 percent and had three touchdown passes. Nix only exceeded those marks last season in games against Kent State, Arkansas and Mississippi State — three bad defenses. Kentucky, on the other hand, had a good and experienced defense.
"I think (Nix) made some outstanding throws," Malzahn said. "… And the thing about the offense, they've been with Coach Morris, really, for six weeks. We didn't go through spring. For them to go out there against a very good defense — and you're talking about a defense that had most of their guys back and they were one of the best in the country last year in pass defense — and get the passing yards, and I thought Chad did a really good job."
Of course, it helped Nix to have Seth Williams.
In the first game of his junior season, Williams had 112 yards on six catches and two incredible jump-ball touchdowns. Nix had plenty of faith in his go-to target, as both of his scores came while throwing into some tight coverage situations.
"This offseason, we've just practiced and practiced," Nix said. "We've got a bunch of connections, just throws and catches together, and obviously that kind of came in clutch today. Seth is always a guy that will go up and make a catch for you. He'll go up and make plays… Today, we just put him in position to do that."
The second touchdown, which put Auburn up by two scores early in the fourth quarter, just oozed complete and utter disrespect for the defender:
"Once I started playing receiver and catching the ball, my coaches instilled in me that once the ball goes up, it's your ball," Williams said. "Don't let anybody take it from you. It's your ball."
Auburn's offense has plenty of room to improve coming off of this first game. But, if Saturday was any indication, the Tigers will be able to lean on the connection between Nix and the man who former Auburn star Darius Slayton called "the best 50/50 receiver in all of college football."
And who's going to argue with him after that performance?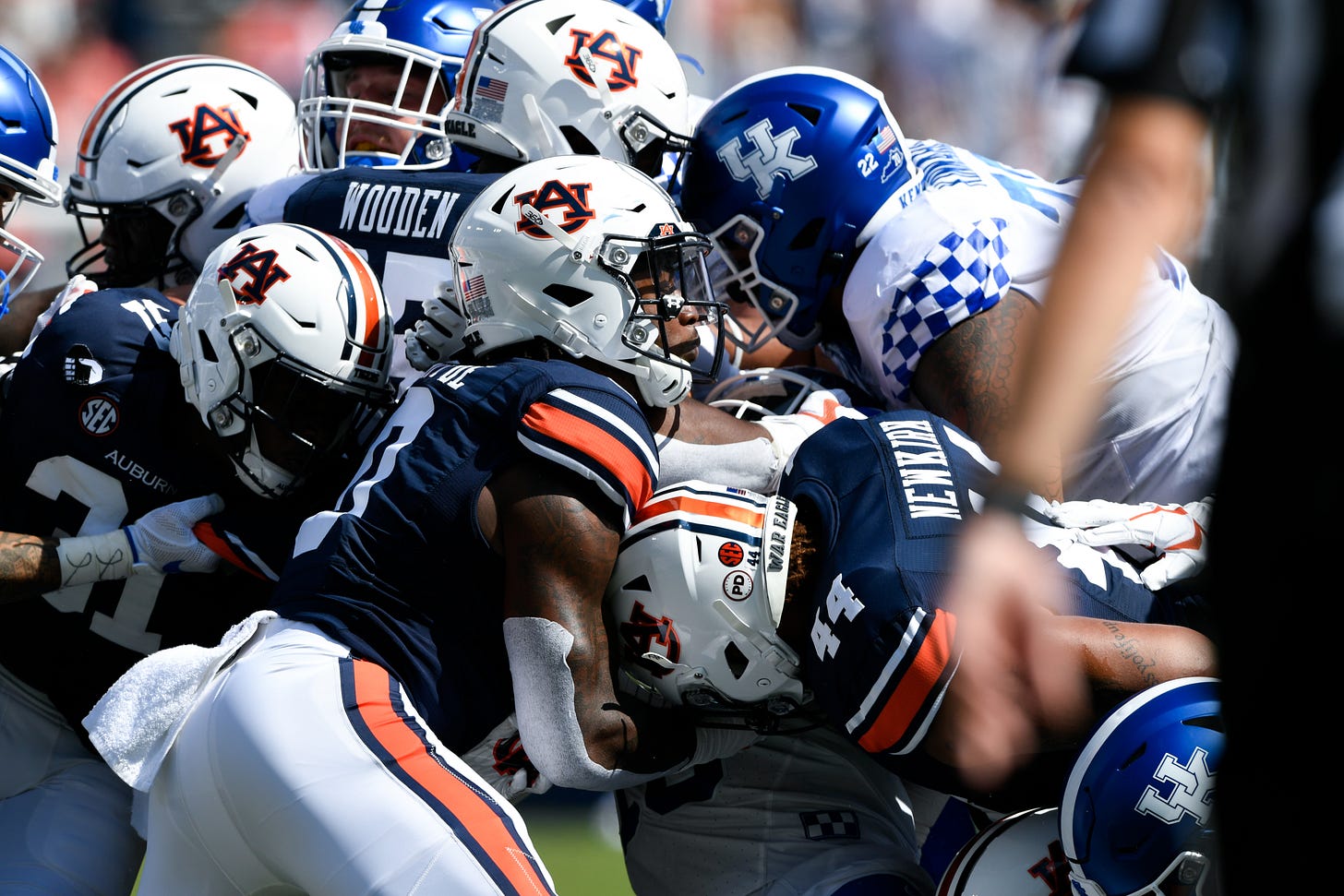 Auburn's defense (Todd Van Emst/Auburn Athletics)
Auburn's defense is different, but two big strengths remain
In the first half, Auburn looked like a defense that was missing two all-time greats in Derrick Brown and Marlon Davidson. A practice injury that limited senior defensive end Big Kat Bryant didn't help matters, either.
Kentucky was able to move the ball on the ground, get to the second level in run-blocking and create a few big plays through the air.
But the whole tenor of the game shifted for the Tigers' defense late in the first half. After officials ruled that Kentucky did not score on a first-down handoff close to the goal line, senior defensive tackle Daquan Newkirk stuffed Wildcats quarterback Terry Wilson on second down.
Then Kentucky opted to throw the ball on third down, with pressure from Derick Hall forcing Wilson to throw an interception right to Roger McCreary.
While McCreary's 100-yard interception return for a touchdown would get called back for a targeting call on Hall, the stop had a huge effect on the game. In the locker room at halftime, Kevin Steele and his staff made some necessary adjustments.
"We picked up on their tendencies at halftime," safety Jamien Sherwood said. "Some plays and formations that they liked to run. Coach Crime and Coach Steele just made some quick adjustments where people needed to be and who needed to be in those spots. We just talked to each other.
"Our biggest thing was getting the turnovers. We're big on turnovers at practice. Roger had that one in the first half. We just said we needed one more, and we got one more. Then we said we need another one. We picked up on their tendencies and tried to put people in the right spots."
What Sherwood said underscored the difference for the Tigers in the second half — even though they're breaking in new talent up front and in the secondary, they're still going to adjust well on the fly and create plenty of havoc.
Sherwood played a third-down draw from Wilson perfectly and landed on the ball when the Kentucky quarterback lost it. McCreary then forced a fumble that Owen Pappoe landed on when the Wildcats threatened late.
"We knew we had some mistakes, some misfits, busted coverages and all of that in the first half, but in that second half we've got to come out even stronger," said Pappoe, who had an excellent outing. "Nobody panicked. We got on the board, saw what we needed to fix, went out there and executed."
By making those adjustments, Auburn was able to choke out Kentucky's rushing attack and force turnovers. The Wildcats opened the third quarter with back-to-back three-and-outs and only had one touchdown drive for the entire second half. The interior of the line played especially well, with tackles Daquan Newkirk, Colby Wooden and Tyrone Truesdell leading the way while the edge rushers adjusted to absences.
Things are going to look different without Brown and Davidson up front. But if the Tigers can keep doing those two things well, this has all the makings of another excellent Steele defense.
The offensive line — and the running game — will continue to be a work in progress
For the first time in the Malzahn era, the Tigers used a rotation up front with their offensive line. Alec Jackson and Austin Troxell shared time at left tackle, with Troxell coming on in the second half. Brandon Council, Tashawn Manning and Keiondre Jones mixed and matched at guard.
"That's extremely tough, but we felt like it was the right thing to do," Malzahn said. "We've not had the same five all six weeks. So we felt like everybody deserved a chance to play. This will be a really good measuring stick for the offensive line, to kind of see how we did against a really solid defensive line. Hopefully we'll be able to get some more continuity, so we don't have to have rotations."
With all that change up front, Auburn's rushing attack had a harder time Establishing It™ on Saturday.
Starting running back Shaun Shivers averaged more than 5 yards per carry in the first half, but it felt like he was having to do a lot of that work after contact. D.J. Williams, who had an early touchdown, averaged just 2.6 yards per carry. Freshman Tank Bigsby rounded out what was a nearly even split for the Tigers' trio with six carries for 15 yards in the second half.
"Worm did a really good job early, and Tank came on, and D.J. did his thing, too," Malzahn said. "We were able to hit a couple of gap schemes and go downhill a few times. They were really good against the zone schemes. They're really held the point when we got big sets in, and they were really pressuring us."
Take out the two botched snaps, kneels and the lone sack against Nix, Auburn actually averaged 4.28 yards per carry against Kentucky. That's not a great number, sure, but it showed that the Tigers had a little bit of life on the ground — especially in a game in which its defense slammed the door on the other rushing attack after halftime.
Auburn will evaluate the film from Kentucky to see which combination worked best up front. The rotation might continue, but the tape will go a long way in sorting out an offensive line that will need some more time. When that happens, expect the ground game to improve.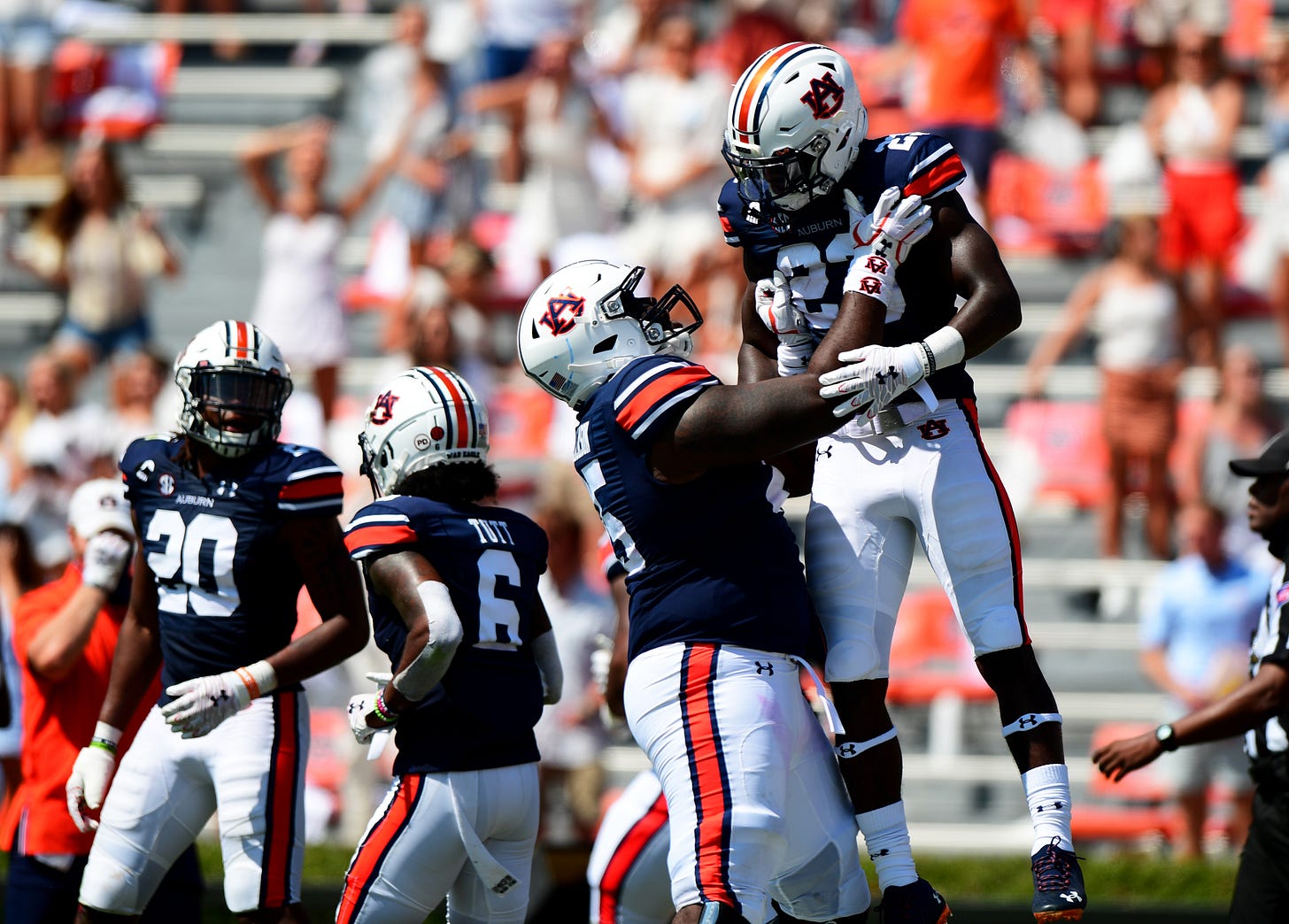 Auburn's defense (Shanna Lockwood/Auburn Athletics)
Quick reads
Auburn was only missing a few players due to injury Saturday — cornerback Marco Domio, defensive tackle Jay Hardy, defensive end Daniel Foster-Allen and the previously reported absences of linebacker O.C. Brothers and defensive end Romello Height. There were no absences due to COVID-19, which Williams credited to the accountability of the team: "That's what we think about all the time. Be there for your brother. Don't go do anything that sacrifices the team. Like, it's not worth it. It's not worth it."

Senior wide receiver Eli Stove had a strong performance of his own, catching all four of his targets for 55 yards and the game-sealing touchdown in the fourth quarter on a superb pass from Nix: "When it came to that coverage — it was perfect coverage. That's how we've been practicing it every day. So, it just was wide open."

According to Jordyn Peters, Auburn recognized the late fake punt from Kentucky before the snap: "We talked about it all week, 'Watch for the fake,' because their punter, he won the Ray Guy Award last year, too. He's really, really good. We were tuned in on him all week in practice, watching film, learning his habits."

With that fake-punt stop, the early two-point conversion out of the swinging gate formation from backup quarterback Grant Loy and the consistently effective punts from a trio of Oscar Chapman, Aidan Marshall and Bo Nix, the Tigers' special teams deserve a lot of credit for the victory, too.

Auburn didn't have many missed tackles Saturday, which was a point of emphasis for the team throughout the offseason. Malzahn: "We tackled more than we had any fall camp since we've been here, and it paid off. That was a big key. They started hitting checkdowns in the two-minute situations, and we were able to tackle and keep the clock running. I thought that was huge toward the end of the game."

Here's your weekly Owen Pappoe hype train quote, this time from K.J. Britt — who had a team-high 11 tackles himself: "He has all the talent to be one of the greatest ever to play here. Just looking at how he approaches the game is so encouraging and it's so contagious. His work ethic is so contagious. He makes people really want to match it."
Quote of the game
I love those guys, man. Just what they've been through. You know, I'm close with both of those guys, man. Just for them to be able to start a game like that, in a big-time game against Kentucky in a season opener, it's huge. They've battled so hard. I remember Brodarious used to get checked up on before we go to practice, just from his cancer stuff to make sure he's all good. That was back in the day, but I just remember it. They've been through a lot, and I'm proud of them for overcoming that and contributing to the football team.
-Nick Brahms on the first career starts for fellow offensive linemen and cancer survivors Brodarious Hamm and Tashawn Manning
Up next on The Auburn Observer: We recap all the action from the Tigers' win over Kentucky with a new podcast episode on Sunday afternoon. On Monday, it's the first postgame edition of the Film Room for the 2020 season.