Discover more from The Auburn Observer
Deep dives into the stats, strategies and stories of Auburn football and basketball
Over 3,000 subscribers
Observations: What we learned from Auburn's week of practices and the second fall scrimmage
One line comes more into focus while another loses a potential starter. Meanwhile, the Tigers' passing game gets a boost from two noteworthy developments.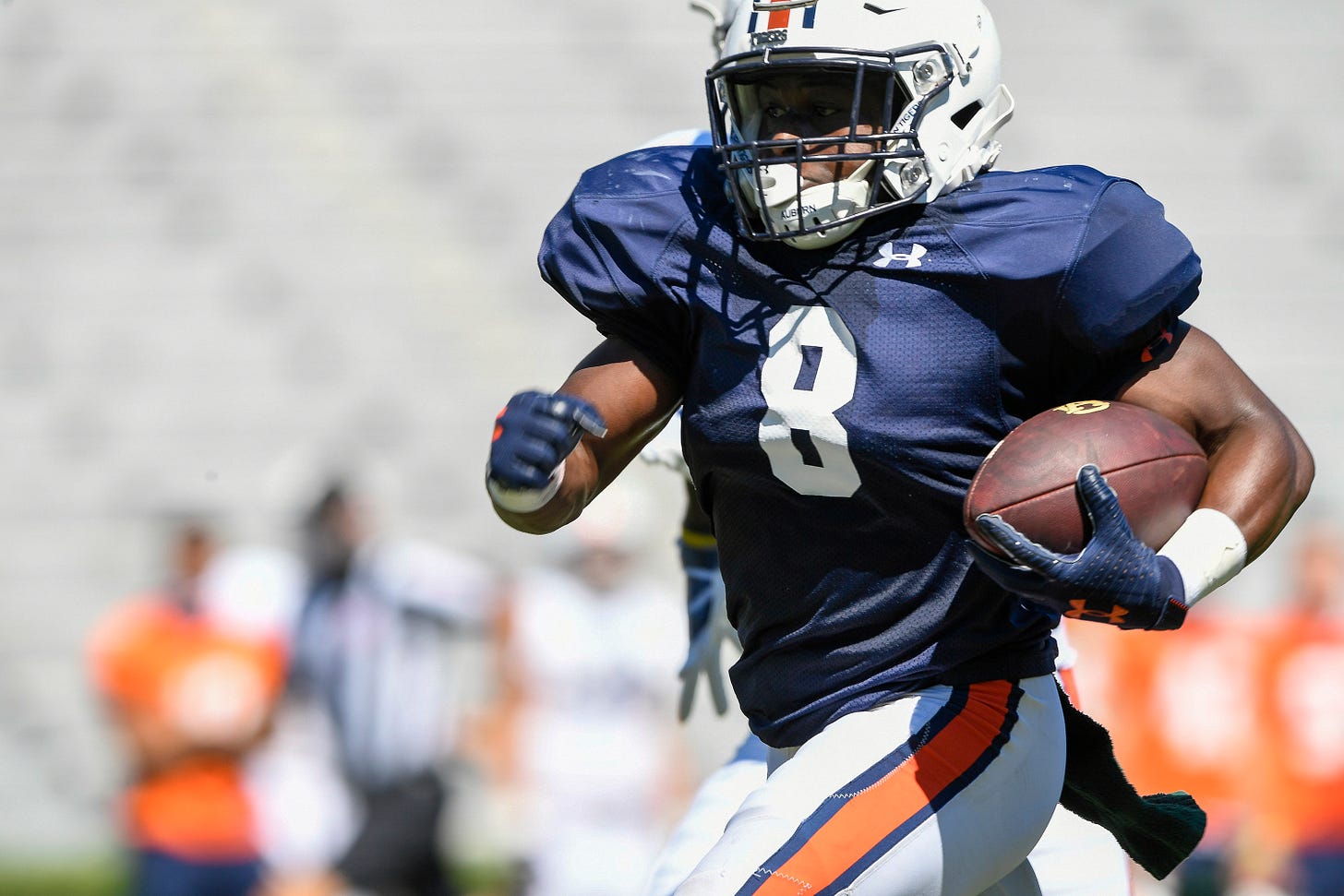 RB Shaun Shivers (Todd Van Emst/Auburn Athletics)
---
Thanks for checking out The Auburn Observer. For the month of September, every story and podcast will be free. Starting October 1, The Auburn Observer will switch to a paid newsletter. If you haven't already, please subscribe using the button below to get new posts sent to your inbox. If you enjoy our work, make sure to tell all your fellow Tigers fans to join us.
After a week-long pause, Auburn football finally got back to work this week with four practices, including its second scrimmage of fall camp inside Jordan-Hare Stadium.
The Tigers are still having to deal with some notable, if specifically unconfirmed, absences on the roster due to positive COVID-19 tests and contact tracing. But the news on that important front was much better this week, which puts Auburn right back on track to get its preseason work done before the SEC schedule opens in 20 days.
Here are five key observations from this past week of practice for the Tigers — including the offensive line battles and the most recent roster news — and some bonus takeaways.
A positive week of negatives
Let's start with the most important development of the week for Auburn football — the Tigers were able to practice on all of their scheduled days, and they got through two more rounds of testing with zero positive COVID-19 tests after experiencing nine last week.
Sixteen players had to miss the week of practice due to those tests and the contact tracing to go with it. Malzahn said Saturday that "a lot of them are guys that are starters," which meant the clean Sunday and Wednesday tests were especially huge for the program. (Additionally, Auburn got through its second scrimmage Saturday with zero major injuries.)
"The first two weeks, we didn't adjust great with students being back," Malzahn said. "The third week, we did. So hopefully that will be in a routine, knowing how we need to handle the situation. Just be accountable to each other."
Auburn will test Sunday and Wednesday again this week. It has three weeks left to get through 15 more practices. There will be another scrimmage this upcoming Saturday, and the Tigers will see where they're at when it comes to what they want to do with the final Saturday before the season opener against Kentucky.
After a rough stretch that forced a week of missed practices, Auburn appears to have avoided a full-blown outbreak. That's a massive victory for its chances at playing football this fall and, most importantly, the health and safety of everyone affiliated with the program.
Now, to the football.
The offensive line is taking shape
Malzahn said last Sunday he wanted to see the Tigers get a top 10 on the offensive line in time for the Kentucky game. As I wrote in the Mailbag on Friday, that makes plenty of sense, considering the unpredictability of player availability this fall due to COVID-19 protocols.
From what all has been said about the offensive line, it looks like Auburn is getting closer to that starting five, with some additional key pieces battling for spots. 
This is what the projected offensive line would look like right now, from left to right: Austin Troxell, Tashawn Manning, Nick Brahms, Brandon Council and Brodarious Hamm. Keiondre Jones and Alec Jackson have both been rotating at guard with Manning, and the ultra-versatile transfer Council has moved to different spots on the line.
As for other candidates, it sounds like Brendan Coffey has plenty of skill but could use some more time to develop into a starter. Also, fellow JUCO transfer Kilian Zierer might not be fully 100 percent from the knee injury he suffered last fall. Since the 2020 season won't count toward anyone's eligibility, Coffey and Zierer could still be important pickups, even if they don't crack the main starting lineup this fall.
Council got a rave review from Brahms, who will be the Tigers' lone returning starter on the offensive line. His FBS experience at multiple positions should be huge for Auburn in 2020.
"It's pretty impressive to watch," Brahms said Friday. "He's really quick. I think that's what really makes the difference with him. And getting off the ball. I think that's a key for offensive linemen, getting off the ball, really, before the defense sets. If you can time it up before even the center starts to snap the ball, that's perfect, and I think he does a good job of that."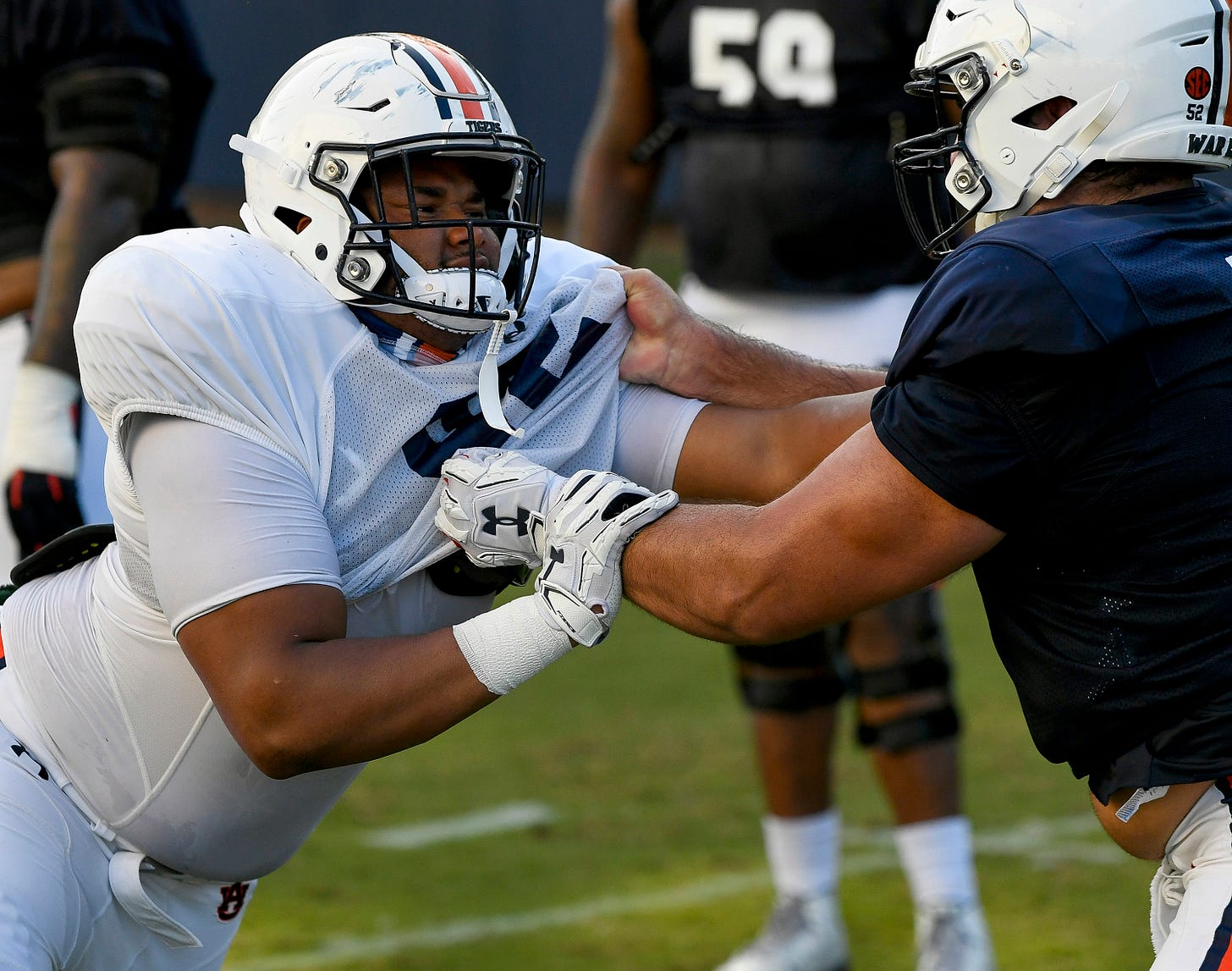 Marquis Burks and C Nick Brahms (Todd Van Emst/Auburn Athletics)
Defensive tackle depth still solid after Coynis Miller's departure
Junior defensive tackle Coynis Miller Jr. is no longer with the team, according to Malzahn. Phillip Marshall of Auburn Undercover reported Thursday that Miller had an altercation on the practice field Wednesday and was asked to leave. Auburn and Miller reportedly parted ways Thursday.
Miller had a legitimate shot at becoming a defensive line starter in 2020, and he appeared in videos as a member of the first-team defense earlier in the week. Now the Tigers will look to fill the vacancy left by Derrick Brown with a smaller group of candidates.
The true defensive tackles still on Auburn's roster are Daquan Newkirk, Marquis Burks, Dre Butler and true freshman Jay Hardy. And while Jaren Handy is a defensive end, he could have the ability to kick inside to tackle in certain situations. (It's worth noting that Handy is the only defensive lineman on the 2020 roster whose position is just "defensive line" instead of end, tackle or Buck.)
"We really feel like we've got a bunch of young guys, inexperienced guys that are getting the chance to do their thing and show what they can do," Malzahn said. "I will tell you something about the new group that came in — they are talented and getting a lot of reps in practice. Rodney (Garner) likes to play 10 guys a game anyway. We'll be rotating and we feel good about where we're at with the guys we've got. We've still got good numbers."
Auburn's push to get more tackles in the 2020 class has paid off, in light of Miller's departure. By landing Burks, Butler and Hardy, the Tigers should be fine in their search for a new tackle to start next to Tyrone Truesdell and have enough depth to have their usual rotation up front.
Throw the dang ball (to the running backs)
Malzahn said the 90-play scrimmage Saturday was a 50-50 split between rushing and passing after a run-heavy first scrimmage last month. 
The major highlight of the scrimmage was an 80-yard touchdown reception by Shaun Shivers. In his Auburn career so far, Shivers has recorded just six catches for -7 yards. According to MaxPreps, Shivers caught just 10 passes in his final two seasons of high school.
Getting the ball to the running backs in the passing game has been a point of emphasis for new offensive coordinator Chad Morris. Over the last two seasons, Auburn's top leading receiver at running back was Boobee Whitlow at 21 catches. At Arkansas, starting running back Rakeem Boyd had 45 receptions in his two seasons under Morris.
Malzahn said both freshman running backs, Mark Antony-Richards and Tank Bigsby, have shown the ability to create big plays and be good receiving options. He also mentioned that Shivers has been running with the first-team offense and that sophomore D.J. Williams has spent time with the first and second units. Expect running backs coach Cadillac Williams to keep the committee approach going as the Tigers get closer to the season.
"I think Cadillac is really impressed with the group as a whole, with just their attitude, their work ethic," Malzahn said. "Right now, he's rotating a lot of them… he likes the overall depth he has."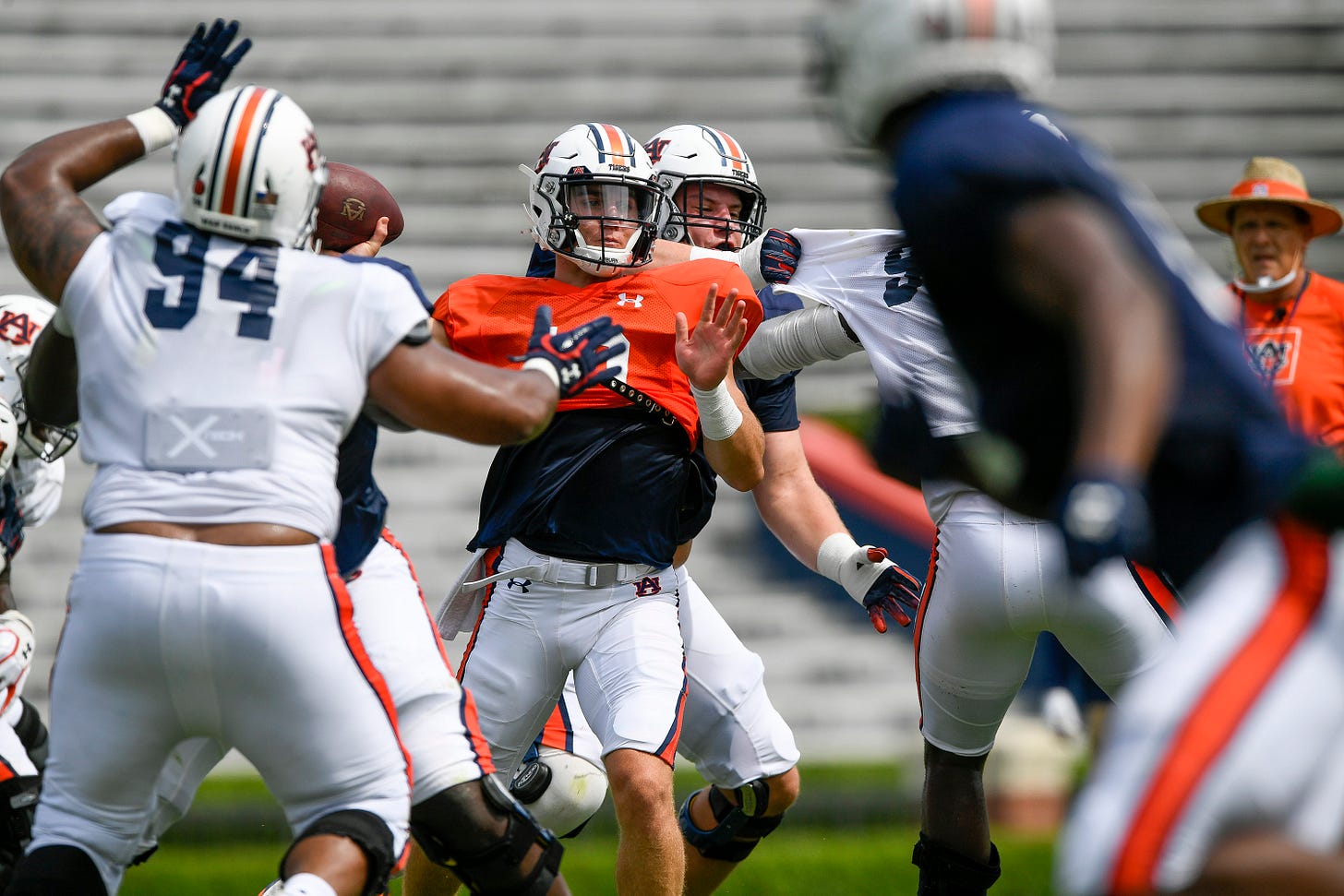 QB Bo Nix (Todd Van Emst/Auburn Athletics)
Bo knows confidence
One recurring theme from interviews this week was, unsurprisingly, the growth of sophomore quarterback Bo Nix. Malzahn and players both mentioned how the confidence level looks different out of the Tigers' signal-caller after his trial-by-fire first season as an SEC starter.
"He looked composed last year, but this year, he just looks way more confident," junior wide receiver Anthony Schwartz said. "He's talking way more. He's been going back and forth with the defense, just talking talking. But it's just all fun for him, and he just looks like he's enjoying himself right now."
Brahms said that, as the starting center, he's noticed how much Nix has taken command when dealing with the offensive line. Nix is more quick to flip protections, make important pre-snap reads and diagnose where the pressure will be.
On the coaching side, Nix's development has helped the Tigers speed up their offensive installation — which is important, considering they weren't allowed to go through spring practice and are now under a new coordinator.
"He's got a lot better understanding of not only defenses, but the college game and everything that goes with it," Malzahn said. "You can tell he's more confident. From an offensive standpoint, and not just Bo, there has been an acceleration of install. We've installed a whole lot faster than we normally would. I think he's got a good grasp of what Coach Morris is asking."
Quick reads
Anthony Schwartz said Friday he is "locked in 100 percent on football right now." Schwartz said after the Outback Bowl that 2020 would be a big year for him to decide between football and track. Following track season's cancelation due to COVID-19, it's been easier for the junior world-record holder to concentrate on football. Read more about his potential to explode in Morris' offense this fall.

Junior cornerback Roger McCreary continues to get glowing reviews from his teammates and coaches heading into the 2020 season. "You can just tell his confidence level is at a different level," Malzahn said. "He's had an excellent camp so far. He's one of our leaders. He's not a real vocal guy, but he does it more by example. He's really taken over that role for Noah (Igbinoghene) real well so far." Read more about why McCreary seems destined for stardom this fall.

Freshman wide receiver Malcolm Johnson Jr., who reclassified to the 2020 class following the cancelation of his high school football season, and new Australian punter Oscar Chapman will both start practicing with the Tigers this week.

Bowling Green graduate transfer quarterback Grant Loy appears to have taken the No. 2 role behind Nix at the moment. Cord Sandberg and Chayil Garnett also got drives in the scrimmage Saturday.

Jay Hardy received another lofty comparison this week, this time from Tyrone Truesdell: "I feel like he's going to be very versatile and there's going to be a lot he can bring to the team. He reminds me a lot of how Derrick (Brown) was when he came in freshman year, just seeing how he plays. Certain things really stand out to me, like how fast he can catch on."

Senior T.D. Moultry has impressed coaches and teammates early in his battle with sophomore Derick Hall for the starting Buck job. "I feel like he's definitely coming a long way," Truesdell said. "The way he's coming with it and how focused he is, how hard he works, I highly doubt that I'll see anybody work that hard. He really lays it all out there. Like if you're going 100, he's going to go 110."

Sophomore Nehemiah Pritchett and JUCO transfer Marco Domio have been the top two names connected to the starting cornerback job across from McCreary this fall, but Malzahn said redshirt freshman Jaylin Simpson is receiving some first-team reps there. Matthew Hill, recently converted from wide receiver, has also been mentioned as a possibility at corner.

Junior safety Jamien Sherwood and senior walk-on cornerback Devin Guice were responsible for two of the defense's three forced turnovers Saturday with their interceptions.

Christian Tutt, Ja'Varrius Johnson, Mark-Antony Richards and Eli Stove worked out as punt returners during practices. (Tutt is the returning starter there.) It's not clear who will emerge as the favorites at kickoff return, but Malzahn said that was an emphasis during Saturday's scrimmage.
Quote of the week
A lot of people, they kind of understand it. We've got to kind of chill because I want to play bad, the whole team wants to play bad. But we can't play unless the students do their part, and their part is at least wearing a mask. If you want to go downtown, at least have a mask on. At least try social distancing. Don't be all up partying, no mask on, breathing, spitting, throwing up on each other. We all want to play.

We need their help to play because if our campus — if half the students get it or something like that, I don't think that's good for us… The school is understanding. The school has a mandatory mask mandate now everywhere, so that's improvement. I think students are starting to take it more and more seriously.
-WR Anthony Schwartz on the campus' recent response to COVID-19
---
Up next at The Auburn Observer: It's a special Labor Day edition of the podcast, as Justin and Painter break down all the news and notes from Saturday's scrimmage and look ahead to the upcoming week of practice. Check it out wherever you listen to podcasts on Monday morning.