Discover more from The Auburn Observer
Deep dives into the stats, strategies and stories of Auburn football and basketball
Over 3,000 subscribers
Observations: What we learned from the final week of Auburn's preseason camp
The Tigers are nearing full strength after weeks of challenging absences, while the close-knit backfields on both sides of the ball get their time in the spotlight.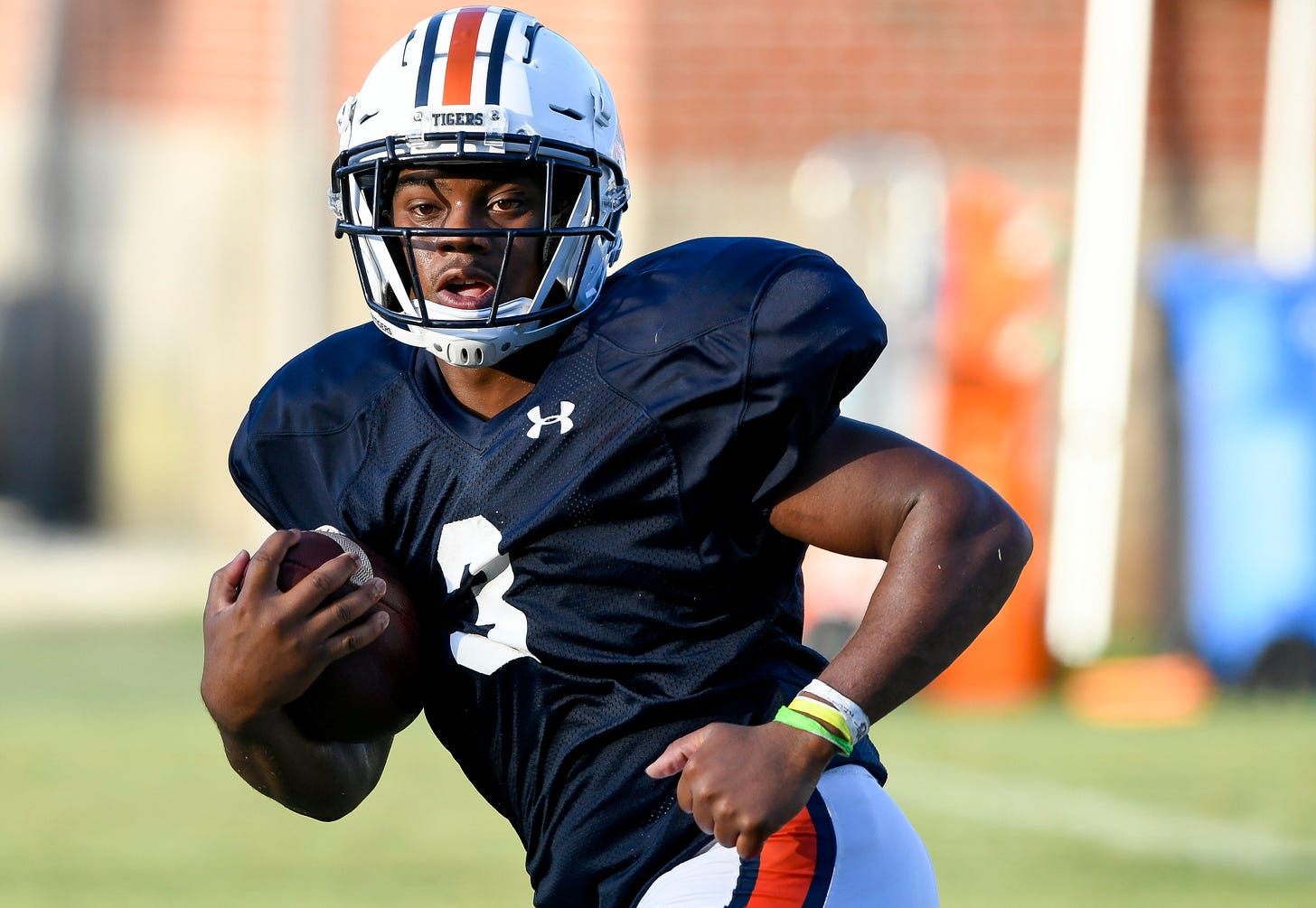 RB D.J. Williams (Todd Van Emst/Auburn Athletics)
---
Thanks for checking out The Auburn Observer. For the month of September, every story and podcast will be free. Starting October 1, The Auburn Observer will switch to a paid newsletter. If you haven't already, please subscribe using the button below to get new posts sent to your inbox. If you enjoy our work, make sure to tell all your fellow Tigers fans to join us.
Preseason, as we know it, is finally over.
Auburn is now one week away from its long-awaited season opener against Kentucky, and the program's full attention this week has been on preparations for the stiff challenge it will face from the veteran Wildcats. The final week of fall camp featured some much-needed good news — especially as it relates to a position group that needs all the boosts it can get — and more attention on the skill players on both sides.
Here are five key observations from this past week of practice for the Tigers, along with some bonus takeaways.
Auburn could get everybody back by Tuesday
Once again, let's open the observations from the week with the most important news. Auburn had zero positive COVID-19 tests this week, even with testing bumping up to three rounds to meet the SEC's guidelines heading into game week.
Auburn didn't have eight players practice during the week, which was a result of the positive tests and contact tracing from the previous week. According to Malzahn, all eight of those players should be able to return to practice Tuesday.
This is, obviously, fantastic news for Auburn. At a time when college football games are getting postponed or canceled due to outbreaks on other teams, having zero positives heading into game week is massive. If these results hold, the Tigers will not only be able to play next Saturday against Kentucky — they could be close to a full squad, because the major injury bug has been avoided in camp.
"We've been very fortunate, I think, as far as any major injuries," Malzahn said Friday afternoon. "We've put the ball down and we've played old-school football a whole lot, so we've been pretty fortunate as far as that goes. We are pretty banged up in a few areas, but our goal has been, by Tuesday of next week, hope everyone is healthy and ready to go. Hopefully that will happen."
Auburn won't be firing on all cylinders from the beginning, as the absences from COVID-19 and minor injuries have impacted certain position groups more than others. Still, the week's news was a victory for the Tigers' chances to play a game relatively safely next Saturday inside Jordan-Hare Stadium.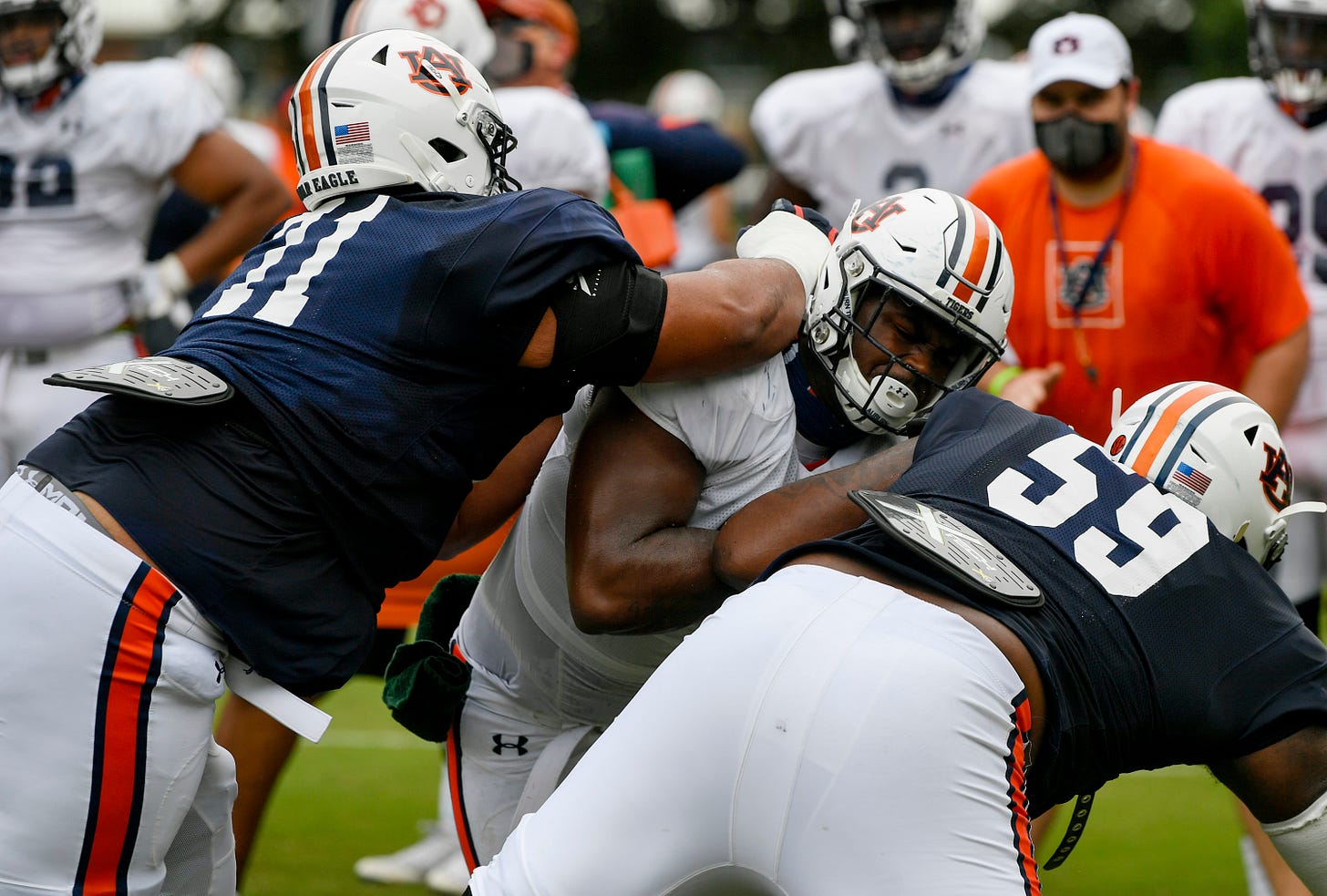 OL Brandon Council, DE Colby Wooden and OL Brodarious Hamm (Todd Van Emst/Auburn Athletics)
The offensive line is still a major work in progress
One of those position groups that seems to have been adversely affected by absences during fall camp is the Tigers' inexperienced offensive line. Malzahn said after Auburn's third scrimmage last Saturday that he wanted to get close to a starting five this week. Those plans were put on hold.
"We're still sorting some of it out," Malzahn said. "We've had some guys that were out this week, so we're still sorting that out. Hopefully this next week, we'll get into a routine. One thing I will tell you is that this offensive line will have a chance to grow each week. But we're just trying to get the right five guys, get them beside each other, get them used to communication, get them used to playing beside each other."
It sounds like the biggest holdup for Auburn's offensive line right now is at left tackle, where Austin Troxell and Alec Jackson have been battling it out. When asked about the offensive line earlier this week, tight end John Samuel Shenker mentioned Nick Brahms, Brodarious Hamm, Tashawn Manning and Brandon Council in his answer.
The uncertain situation up front for Auburn's offensive line is a red flag of sorts, considering Brahms is the only returning starter. As Malzahn said, the line will have to grow each week — so patience might be necessary from the fan perspective. Still, Malzahn likes the number of linemen who have practiced with the first-team offensive line in camp, as that could be a benefit in a season in which depth will be tested a lot.
"You have to have the mind-set that you don't just have five starters," Malzahn said. "You have to have eight or nine guys, the way I look at it, and possibly even 10 that have that ability — to not only play, but really play multiple positions. The good thing is we've done a whole lot of that up to this point because of the situations we've been in. We've got some tackles that have played guard and tackle (note: Jackson and Hamm), and we've had one player (note: Council) that played center, guard and tackle. … Hopefully we can get some consistency and keep more players out on the practice field."
So what's happening on Saturday?
Malzahn didn't have his usual Saturday post-scrimmage press conference and spoke to the media Friday instead. That's because the Tigers won't scrimmage again before the Kentucky game and are going to Jordan-Hare Stadium on Saturday night for special situational work.
Auburn will get to practice under the new LED light system inside Jordan-Hare Stadium and experience some added crowd noise. While Auburn's opener against Kentucky is at 11 a.m. CT at home, getting used to the lights and noise will be beneficial, considering the Week 2 game will be a Saturday night trip to Georgia.
"We're not going to actually scrimmage, but we are going to do some good-on-good situation stuff," Malzahn said. "But we are going to turn the lights on so they'll have a good understanding of what that will look like. It'll be different.
"I know there's a couple opponents on the road that have similar lighting systems, so we're going to pump in some crowd noise, so that'll be happening this year too. Our guys will understand what that will be like, how loud it will be for our defense at home and our offense on the road."
Malzahn also said that, despite it not being a scrimmage, Saturday night would be big for the position battles that need to be "ironed out." Those include the offensive line situation, the massive five-way cornerback battle opposite Roger McCreary and the punter competition between Aidan Marshall and Australian newcomer Oscar Chapman.
Auburn's backfield: When you're here, you're family
Running back D.J. Williams came in just under the gun for the most wholesome quote of preseason camp.
"This year, I feel like we're going to be very explosive getting the ball to the backs, just from different routes and stuff like that," Williams said. "And looking at the battle in the running back room, I don't really see it as a battle. We're all family here to make each other better, so it's pretty good."
That message of cooperation over competition is not a new one, especially in Auburn preseason camps. But it seems to really fit this Tigers' backfield more than others who might have claimed the same in the past. Without a returning starter and with a deeper group of backs who all each bring something unique to the table, the setup is there for an even stronger rotation approach from Auburn in 2020.
"I think we're all pretty valuable," Williams said. "Everybody has their own style, of course. I feel like my style is more downhill. You know, Worm (Shaun Shivers), he gets on the outside and he is gone. Tank (Bigsby) is the same way, but he can also run inside. I feel like Mark (-Antony Richards) is the same way too. He can run inside and he also has speed too. And Harold (Joiner), he can catch out of the backfield, so it's pretty good. It's all a good mix."
Malzahn said Friday he feels like all five of Auburn's backs are capable of helping the offense this season but that the newcomers, Richards and Bigsby, "just need more game reps." With Auburn asking its backs to do more in 2020 under new offensive coordinator Chad Morris, don't expect it all to be condensed into one or two players.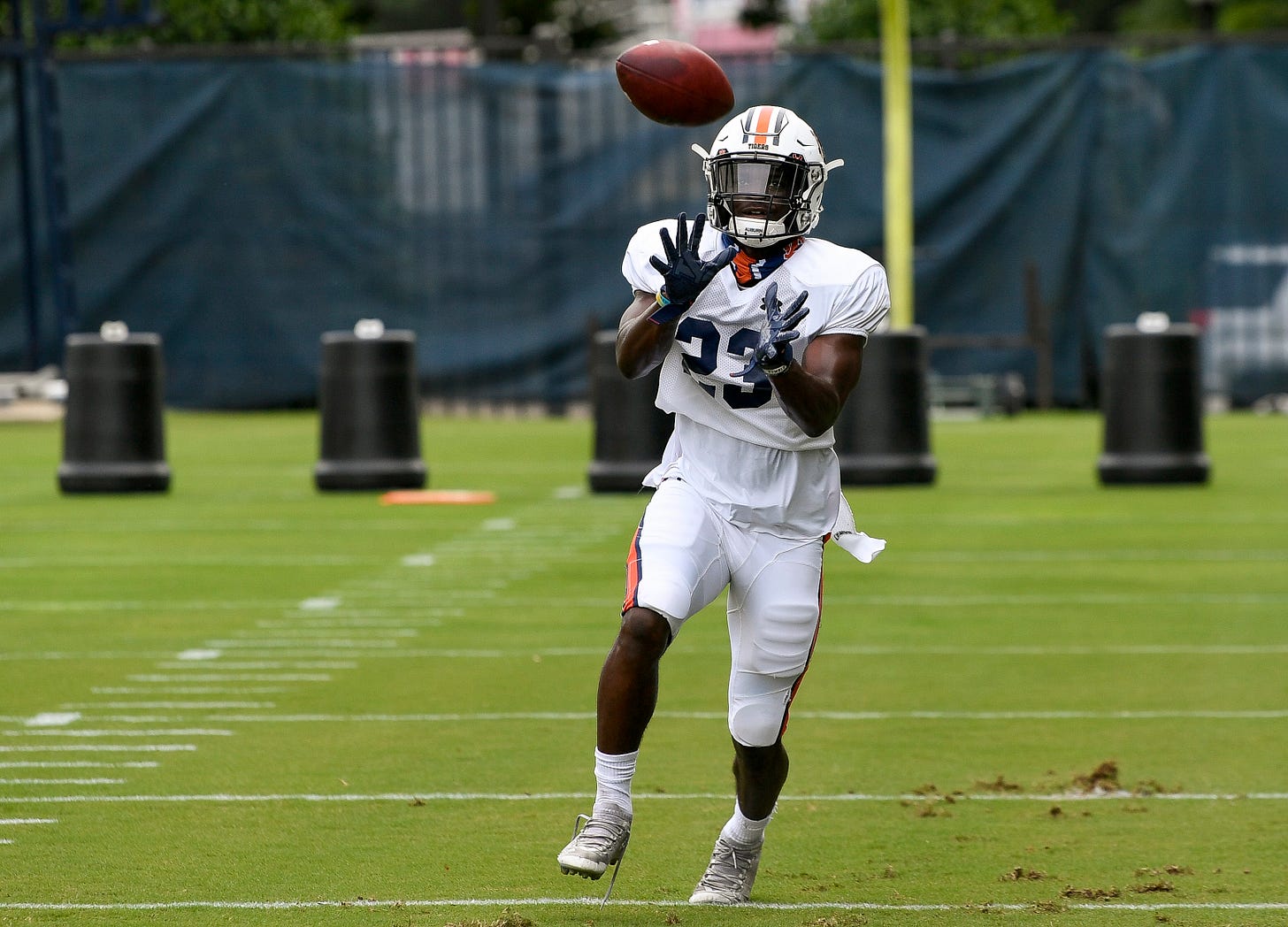 CB Roger McCreary (Todd Van Emst/Auburn Athletics)
The junior wave in the secondary is ready to roll
The Tigers still have to figure out exactly how the cornerback snaps will be rotated opposite Roger McCreary. Yet for a group that lost four of its regular starters — although Kevin Steele would be quick to point out that Auburn's defense has much more than 11 of those each year — there's an incredible amount of confidence from the secondary heading into the season.
"The group now as starters, I feel like we have a good chance as a whole DB group — because me, (Christian) Tutt, Smoke (Monday) and Jamien (Sherwood), we've all been together since we were freshmen," McCreary said Wednesday. "It's, like, a good team chemistry between us. I feel like it's going to be great on the field, with us communicating and everything."
The secondary is a perfect example of the way Auburn has recruited, developed and trained its defense under Steele. All four of those first-teamers joined in the class of 2018. All four played in their freshman year, with Monday and Sherwood even making big plays in the season opener against Washington. Now they're all becoming first-choice stars together.
"We're very excited," McCreary said. "We talk about it every day, how we're finally starters. We came all in together, so we just feel like we all can show what we're really about as the junior class. So I feel like it's good that we all came in together and all are on the field together at the same time."
McCreary already got starter-quality reps last season behind Noah Igbinoghene and Javaris Davis. Monday and Sherwood have rotated extensively behind Jeremiah Dinson and Daniel Thomas for each of the last two years. Tutt is already an established starter at nickel. While some will point to that new-look secondary and call it a potential problem for Auburn's defense, that doesn't line up with what's been said about this junior-heavy crew all camp long.
Quick reads
According to Malzahn, Auburn will release an official depth chart Tuesday. That gives you a few more days to read the projections here before they become old news.

For those buying stock in Anthony Schwartz and his potential fit in Morris' offense, Malzahn said Friday the junior speedster has had a "very good fall camp" and has been able to stay healthy: "Chad has done a super job with moving him around and helping him be more of a complete receiver. I think you'll see that. You can just tell his confidence level is very high right now. The thing about him is he's extremely smart and very coachable. You can do a lot of different things with him. We're looking for big things out of Anthony this year."

Roger McCreary had a massive comparison for fellow junior secondary starter Jamien Sherwood earlier this week: "When I look at Jamien, I see Jamien playing all three positions. He can play cornerback, safety, linebacker — even Buck. Jamien, he's got the size for every position. Like, that boy's a beast on the field. I look at him like Isaiah Simmons because that's how great he is. He can do all those things, and I'm happy I'm playing on the side with him." Sherwood, by the way, is now listed at 220 pounds on Auburn's roster.

John Samuel Shenker shared two stories about big plays in camp from true freshman tight ends Brandon Frazier and J.J. Pegues. Frazier made a one-handed touchdown catch in traffic on a corner route during one of his first days of practicing with the team, while Pegues — who he said "wasn't a loose 300 pounds" — had an impressive collision over the middle with All-SEC linebacker K.J. Britt "and didn't buckle."

Here's another vote of confidence in quarterback Bo Nix from one of his teammates, via Shenker: "He's starting to feel like himself again, I believe. And, yeah, he's playing really well. He's got his timing down. Everything is looking good for him. He's worked super hard to get to this point with all of us, and just ready to show it on Saturdays."

Shenker also summed up a lot of feelings on the Plains about the changes coming at tight end with Morris' offense: "Yeah, it's been awesome getting in the passing game a little bit more, not having to block all the time."

When asked about the five-man battle at cornerback, Malzahn pointed to LSU's success with empty formations last season and said that he could see more teams trying that in 2020. So, even though one or two might be "starters" in the secondary, that quality depth will be important.

According to Malzahn, no Auburn player has suffered any season-ending injury during preseason camp.

D.J. Williams revealed that he trained during quarantine back home in Florida with Kansas City Chiefs wide receiver Sammy Watkins, who played under Morris at Clemson.

Auburn has stressed the importance of building depth on special teams during fall camp. Malzahn was particularly struck by the deep-snapping woes that Austin Peay had during the first college football game of the season last month in nearby Montgomery. The Tigers have also rotated three to five players at both kick return and punt return during practices.
Quote of the week
It's kind of funny during that time when we were all isolated at home, for me, life wasn't that different. Typically, I'm out on the field by myself anyway. So, yeah, life wasn't too different.
— Anders Carlson on the lonely life of a kicker (and for a lot of us during quarantine, really)
Up next at the Auburn Observer: It's game week, which kicks off Monday with a new episode of the podcast. Also, keep an eye out for plenty of pregame analysis here as the Tigers prepare for the Wildcats.