Discover more from The Auburn Observer
Deep dives into the stats, strategies and stories of Auburn football and basketball
Over 3,000 subscribers
Observations: What we learned from Auburn's week of practice and the third fall scrimmage
The Tigers look to build even more starter-quality depth after the latest round of COVID-19 tests, and several position battles take center stage.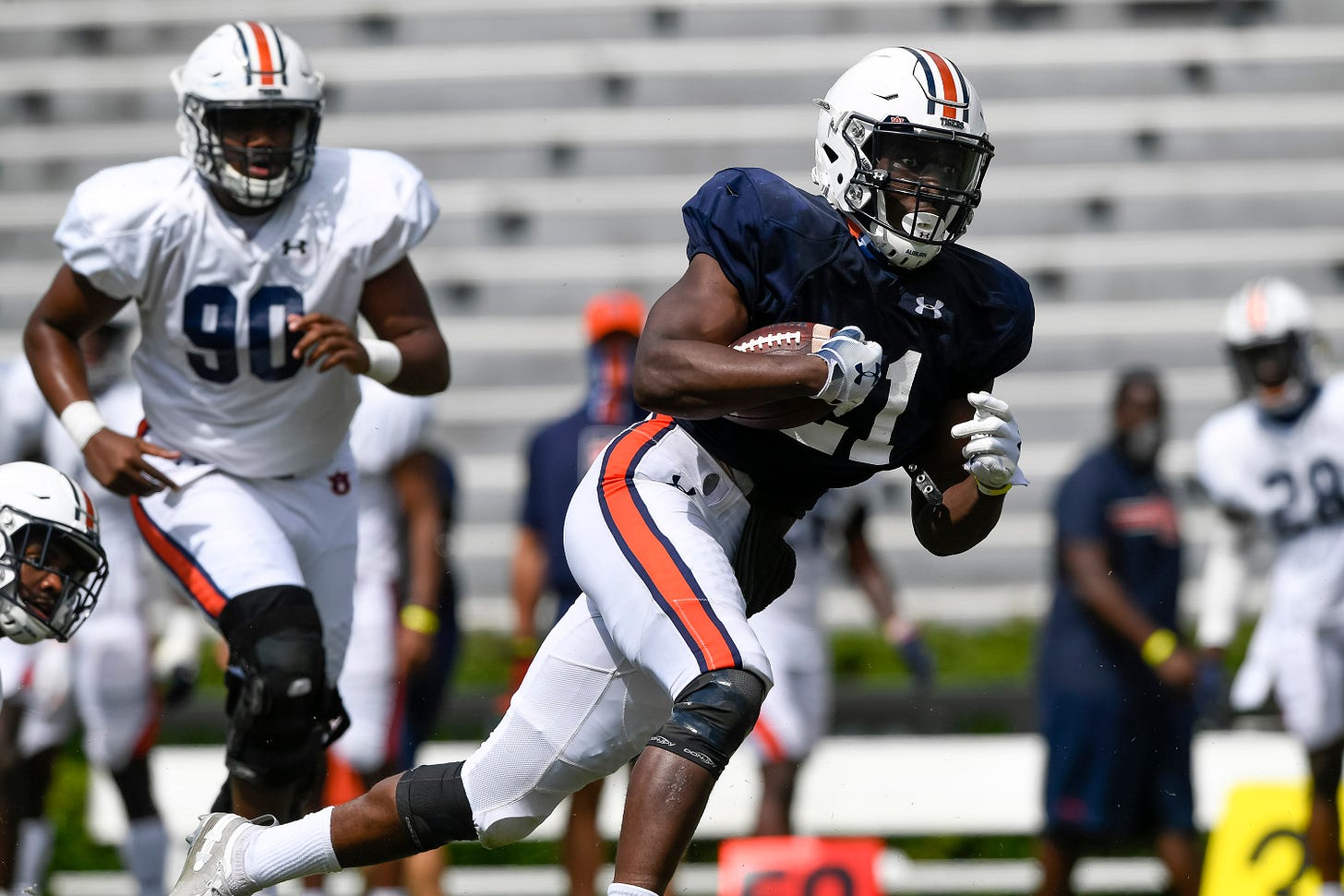 RB Mark-Antony Richards (Todd Van Emst/Auburn Athletics)
---
Thanks for checking out The Auburn Observer. For the month of September, every story and podcast will be free. Starting October 1, The Auburn Observer will switch to a paid newsletter. If you haven't already, please subscribe using the button below to get new posts sent to your inbox. If you enjoy our work, make sure to tell all your fellow Tigers fans to join us.
Auburn's season opener against Kentucky is now less than two weeks away, and the Tigers will start game preparation for the Wildcats on Sunday.
Before the team reached that important preseason milestone, though, it had to go through its latest week of fall camp — one that featured some tough news regarding COVID-19, another scrimmage inside Jordan-Hare Stadium and more movement along a constantly shifting depth chart.
Here are five key observations from this past week of practice for the Tigers, along with some bonus takeaways.
The growing importance of building quality depth
After zero positive COVID-19 tests two weeks ago, Auburn had two positives from its testing last Sunday and Wednesday. (The SEC's three times per week schedule goes into effect this week.) Due to contact tracing regulations, that knocked out a total of 10 players from the week of practice — including five starters, according to Gus Malzahn.
It's definitely tough news for the program, especially following a perfect week of negative tests. However, 10 missing players isn't exactly the same massive amount of roster impact that was seen Saturday in college football from teams such as Georgia Southern and potential playoff contender Oklahoma.
Malzahn said Saturday that those who missed the previous week of practice should be able to return for the opener against Kentucky. The changing number of absences has also pushed the Tigers to work out more players with the first-team offense and defense, which could turn out to be a small silver lining.
"I'll tell you this, we've had a whole bunch of guys out, like I've told you, in the last month," Malzahn said Saturday. "When you've got guys out, specifically starters out, it gives other guys opportunities. So on the positive end of it, our other guys got more reps than they've ever got. And if you've got a veteran guy that has a lot of experience that was not able to practice because of a COVID-related issue, then it's going to give you an opportunity to develop more quality depth, especially the ones you're talking about with your (starters)."
Defensive coordinator Kevin Steele made similar comments earlier in the week, and he sounded confident in his unit — which usually considers 18 or 19 players to be "starters" in normal seasons — getting the depth it will need to make it through such an unpredictable fall.
"We've had a moving depth chart every day," Steele said. "And that could be looked at as a negative. But it's going to happen all season long. That's just the way it's going to be. So it's forced us to make sure that we're developing everybody, not just the first two or the first two and a half groups."
As expected, Auburn coaches won't reveal who has missed time due to COVID-19 issues or name position groups that have been adversely affected. But they've made it clear that they've had to constantly adjust during preseason camp, and that's something that will continue into the actual schedule. Developing that depth in practice is getting more important by the day.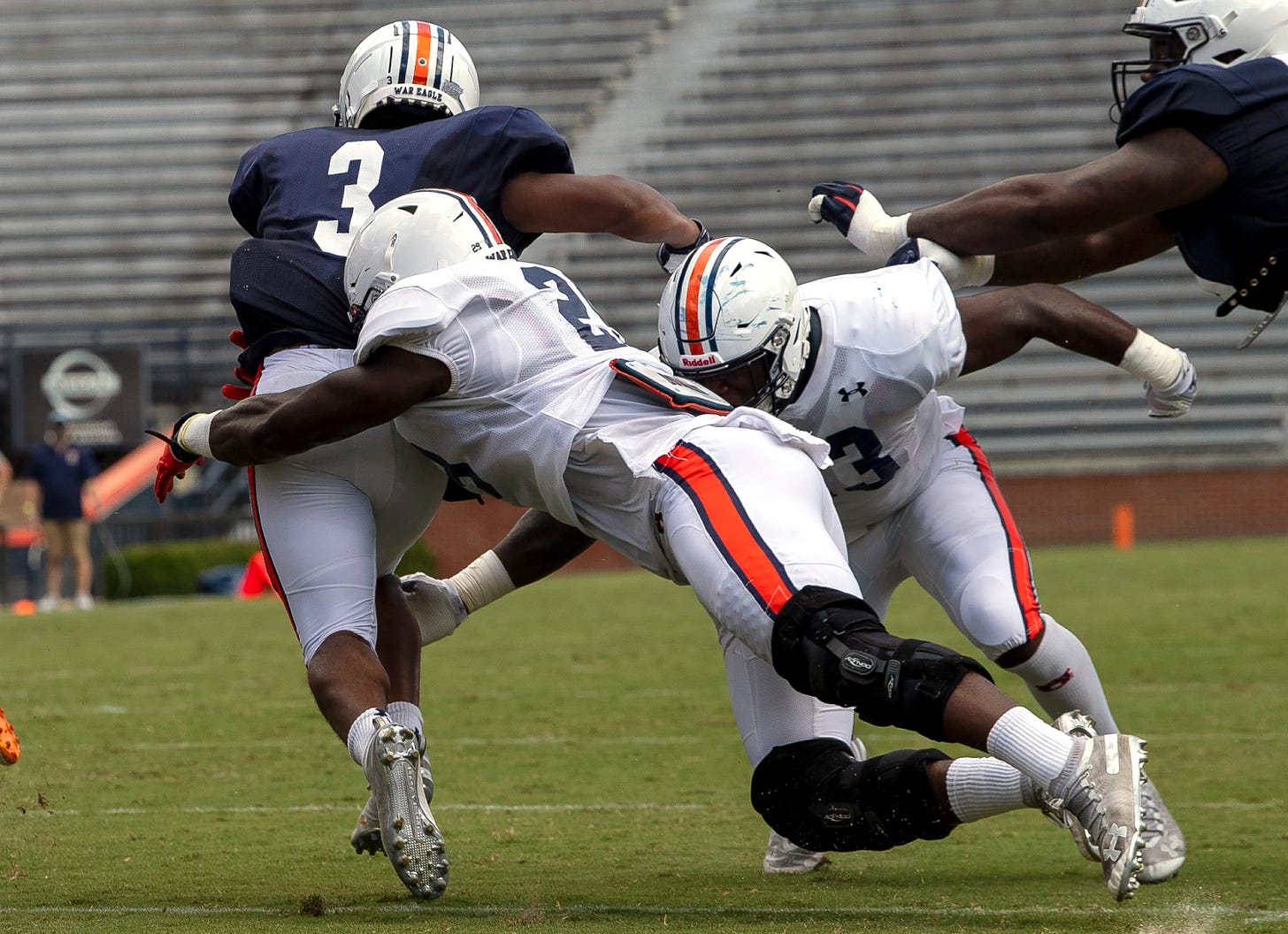 RB D.J. Williams, DE Derick Hall and LB K.J. Britt (Todd Van Emst/Auburn Athletics)
Tigers 'still got work to do' after scrimmage impacted by penalties
Auburn's Saturday at Jordan-Hare Stadium started with plenty of work in two-minute situations and special teams drills. Then the Tigers switched to a 60ish-play scrimmage that was mostly focused on the first- and second-team units. 
After three turnovers in the second scrimmage, Malzahn said Auburn was turnover-free this time around. However, he was not pleased with all the flags that were thrown.
"The thing that stood out to me is we had more penalties today that we had the two previous (scrimmages) combined," Malzahn said. "Being two weeks away, that's very concerning. We've gotta get that cleaned up. We're going to start transitioning the next two weeks to Kentucky. We've got 15 practices under our belt and we've got 10 left. We need to improve, and we need to get better in the next two weeks."
On a Saturday of college football that was marked by poor tackling and woeful turnovers elsewhere, Malzahn praised his team for its work in those two areas this offseason. The penalties, though, stuck out to the Tigers' head coach.
"I talked to the guys right after the scrimmage and felt our urgency has to get better and better every single day leading up to game time," Malzahn said.
Auburn will return to Jordan-Hare Stadium next Saturday night for a practice that Malzahn said wouldn't be a walkthrough nor a full-blown scrimmage. Malzahn wants to get his team used to the new lighting in the stadium and go through more situational work.
"In the past, the week before and really the Saturday before (the first game) has been almost like a dress rehearsal," Malzahn said. "We've still got work to do, so I have not decided exactly what that's gonna like, but it'll be good."
Position battle updates, including a 'fun' one in the secondary
Here's the latest on several battles for starting jobs across Auburn's depth chart with just one more stretch of practice left before game week:
Offensive line: Expect junior Brodarious Hamm and senior graduate transfer Brandon Council to be part of the first-team offensive line for Week 1 against Kentucky, along with returning starter Nick Brahms at center. Hamm has been praised throughout what has been a strong camp for him and should be locked in at right tackle. Council can play all across the line, but one of the guard spots will most likely be his home. Left tackle will come down between juniors Austin Troxell and Alec Jackson. The two other names that have been most talked about at guard are junior Tashawn Manning and redshirt freshman Keiondre Jones. Auburn hoped to have a better idea of the starting five coming out of the scrimmage, and that will most likely come after film review early this week.

Running back: Offensive coordinator Chad Morris said Thursday he feels like a team should have four reliable running backs to make it through a season in SEC play. The one who has been talked about the most during fall camp is junior Shaun Shivers. (Look for a story on Shivers later this week here on The Auburn Observer.) There will most likely be a solid rotation early in the season, as the likes of sophomore D.J. Williams, redshirt freshman Mark-Antony Richards and true freshman Tank Bigsby have all gotten their turns in the spotlight during practices.

Defensive line: The Buck battle between senior T.D. Moultry and sophomore Derick Hall continues, and it won't be surprising at all to see both of them play important roles this fall. Senior Daquan Newkirk sounds like the man to beat at defensive tackle next to returning starter Tyrone Truesdell. There's also a lot of confidence in the depth that will be provided by JUCO transfers Dre Butler and Marquis Burks, along with true freshman Jay Hardy.

Cornerback: Perhaps the biggest surprise from Steele's comments Thursday, five different cornerbacks have worked with Roger McCreary on the first-team defense — sophomore Nehemiah Pritchett, JUCO transfer Marco Domio, senior Devan Barrett, sophomore position-changer Matthew Hill andredshirt freshman Jaylin Simpson. Steele said he couldn't pick a leader out of that group and that all five of them "have been very productive in terms of keeping the top on the coverage" during camp. Pritchett and Domio might still be the best bets here, but Steele sounds quite confident in the depth that has been established in his secondary this fall.

Special teams: Auburn is working out Shivers, Richards and senior wide receiver Eli Stove at kick returner. One notable absence so far: junior speedster Anthony Schwartz, but Malzahn left the door open for him to possibly work there at some point. The Tigers still have a battle at punter between the returning Aidan Marshall and Australian newcomer Oscar Chapman, who just started practicing this past week.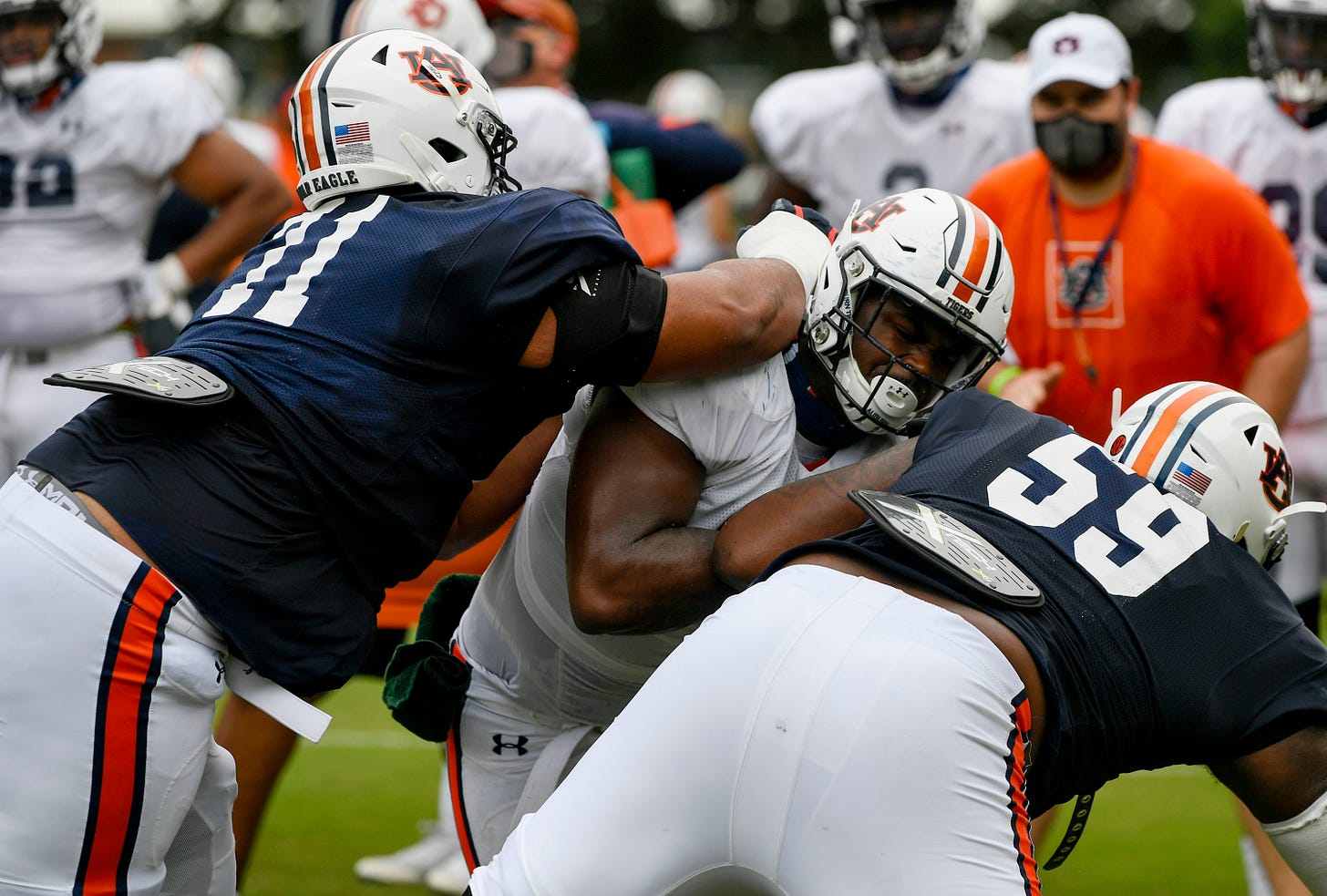 DE Colby Wooden (Todd Van Emst/Auburn Athletics)
Two under-the-radar names making moves
Heading into fall camp, it felt like junior Shedrick Jackson might have been the forgotten man at wide receiver. He doesn't have the career numbers of Schwartz, Stove or Seth Williams, and he hadn't gotten the buzz like the massive freshman class of wideouts.
Yet Jackson, a player who has gotten on the field early in his career because of his blocking and quick learning, was tabbed by both Williams and Malzahn as a confident player who has made great strides this offseason.
"He's a crisp route-runner, and he's learned how to catch the ball now," Williams said Wednesday. "So I feel like he's going to be a good contributor this year for us. I feel like he improved a lot."
Among the edge rushers, Colby Wooden didn't exactly have the ideal first year at Auburn after contracting mono and losing considerable weight before the start of the 2019 season. Wooden has had a strong offseason, though, and Steele raved about him as a player who could help the Tigers' pass rush after the departures of Brown and Marlon Davidson.
"Colby Wooden is a guy that you would have to say — not the star, but you would have to say that he's one of the guys that has taken a big jump from last year to this year," Steele said. "He's playing really well. Very mature… He's a smart guy. He's worked hard in the weight room. He's done all the little things. He's very, very competitive. Very competitive. He realizes every play has a life of its own."
According to Steele, Wooden has the frame to play either Buck or strongside defensive end this season, and he's also started to get some work at tackle in certain situations. Keep an eye on him as a potential breakout player this fall.
'Special' true freshmen to watch
In addition to the aforementioned Bigsby and Hardy, Auburn could have several more true freshmen make an impact early this season. Malzahn, Morris and Steele all praised the newcomers for their work in what has been a strange offseason so far.
"I think this freshman group's got a chance to be special," Malzahn said Saturday. "They're all off to a great start, really, in the classroom. They're all off to a great start with (strength and conditioning coach Ryan Russell) working out and the transition on the field, too."
On offense, the two big names to watch with Bigsby are wide receivers Ze'Vian Capers and Kobe Hudson. Both of them have gotten snaps with the first-team offense and should be candidates to take roles behind the veterans.
Morris said the 6-foot-4 Capers has the length and speed that the Tigers are looking for at the position, while Hudson — the lone early enrollee of the position group — has picked up things quickly out wide. Morris also likes the potential of Brandon Frazier and J.J. Pegues at tight end, a position he's used extensively during his college coaching career.
On defense, Hardy has received several comparisons to what Derrick Brown looked like as a true freshman, which bodes quite well for the future. Zykevious Walker has already shown the ability to play both outside and inside on the defensive line. 
At linebacker, Wesley Steiner and Cam Riley have emerged as potential No. 4 options behind the veteran trio — and Desmond Tisdol would have been too, according to Steele, if it wasn't for some missed time in camp. Finally, in the secondary, Chris Thompson Jr. has turned heads at safety with his skill set, and the emergence of Ladarius Tennison at nickel/Star has given the Tigers the security to push senior Jordyn Peters to a much-needed backup safety role.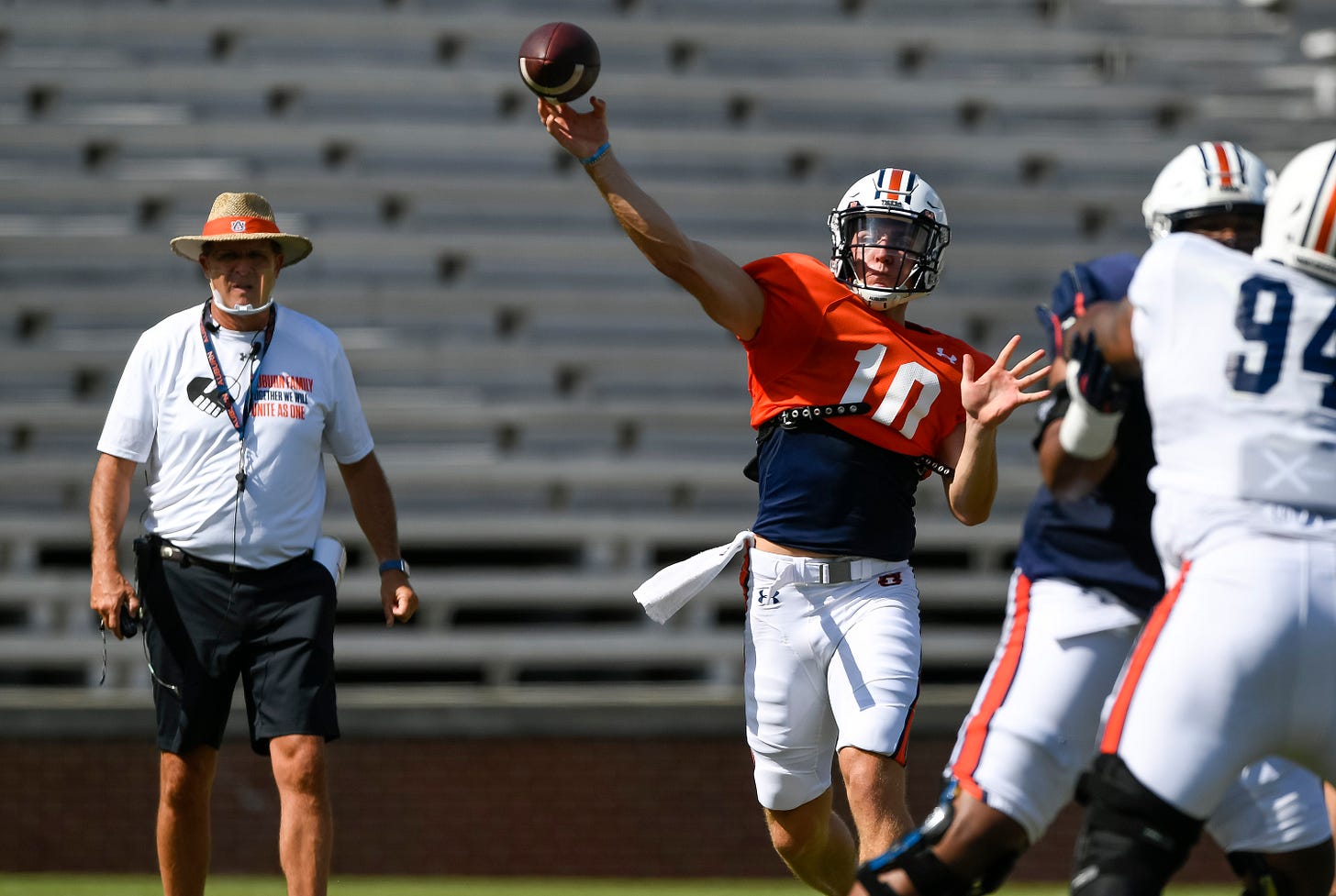 HC Gus Malzahn and QB Bo Nix (Todd Van Emst/Auburn Athletics)
Quick reads
Morris said his challenge for sophomore quarterback Bo Nix this offseason is to "make the game slow down even more than what it did toward the end of last year." Part of that is doing a better job of anticipating throws, which Morris said has been a hallmark of his successful quarterbacks in past stops. He also praised Nix for his ability to make plays when things break down and turn into a weapon as a runner so far in camp.

Wide receiver Seth Williams said he didn't plan on losing as much weight as he did this offseason — he's down 13 pounds from last year, according to the official roster — but he felt like he has been able to gain it back with good muscle. "I've been good, looking good, feeling good," Williams said. "Lighter on my feet, that's good. I'm trying to get like Flash (Schwartz) out there and run fast, but you know, that can't happen. He's the fastest man in the nation."

Steele called sophomore safety Jamien Sherwood "one of the best tacklers" he's ever seen at defensive back. For someone who has been in coaching as long as Steele, that's extremely high praise.

Steele also said his defense is "still in the process" of finding out how Auburn will look in terms of the pass rush this season. But that isn't a cause for any alarm, as it was a similar situation where the Tigers were before their SEC West-winning 2017 season: "Three years ago, we were still trying to figure out, OK, are we going to have to be a pressure team to generate pass rush? Are we going to be able to generate it with a four-man rush? Who's going to be the speed rusher, who's the inside guys to get on the field for pass rush? And Jeff Holland was not the guy we picked, that we thought was going to be that guy. And, obviously, he was."

During an interview session Wednesday, Sherwood noted how much Morris' new-look offense uses "motions and shifts" during practices. Sherwood said he believes those "moving parts" will help both sides of the ball improve as they go head-to-head in practices.

Malzahn said he's already thought about a plan for what he would do if he contracted COVID-19 and wasn't able to coach on the sidelines for a game: "One thing that I've already kind of got my mind on is, if I did, figure out a way in an isolated place in the stadium or Zoom in. I know my buddy Hugh Freeze coached last year laying down in a hospital bed. That's the way I'm looking at it. I'm going to figure out a way either through technology or isolation to still do it."
Quote of the week
From the football part of it, it has been a day-to-day adjustment all the way back to last March when they cancelled spring practice to the Zoom meetings that we had, extensive Zoom meetings. That was uniquely different to say the least. Fast-forward to now, and even today we're still not all in one room when we meet. It's by Zoom. It's a lot of challenges, but our guys have responded phenomenally. Their attitude has been great. They have been resilient. 

Then we start football practice… you know, the three things we start each practice with is: we're going to play with relentless effort, we're going to be physically and mentally tough, and we're going to tackle. 

We looked and we studied, but we couldn't find a way to get that done on Zoom.
-DC Kevin Steele on the offseason
Up next at The Auburn Observer: A new episode of the podcast drops Monday, and be sure to check out a story on Shaun Shivers' potential breakout 2020 campaign Tuesday.