Discover more from The Auburn Observer
Deep dives into the stats, strategies and stories of Auburn football and basketball
Over 3,000 subscribers
Projecting Auburn football's 'moving' 2020 depth chart
A season unlike any other needs a depth chart projection unlike any other. Here are the leaders, the next men up and the reserves you shouldn't forget at each position.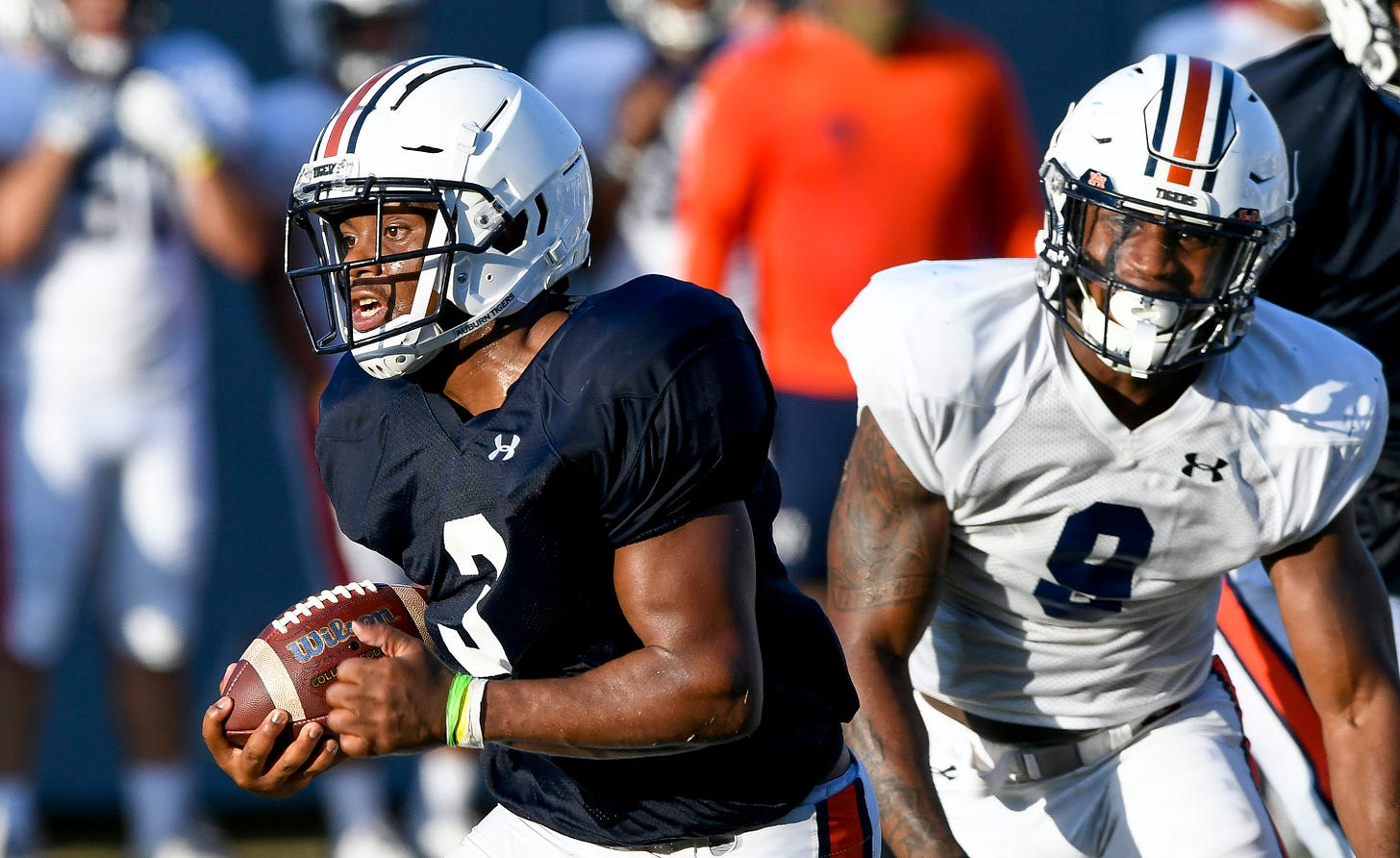 RB D.J. Williams and LB Zakoby McClain (Todd Van Emst/Auburn Athletics)
---
Thanks for checking out The Auburn Observer. For the month of September, every story and podcast will be free. Starting October 1, The Auburn Observer will switch to a paid newsletter. If you haven't already, please subscribe using the button below to get new posts sent to your inbox. If you enjoy our work, make sure to tell all your fellow Tigers fans to join us.
The countdown to the start of Auburn football's 2020 season is officially in the single digits.
Auburn will face Kentucky in Jordan-Hare Stadium in nine days, kicking off what will be undoubtedly the weirdest and most unpredictable season for a program that has been defined by weirdness and unpredictability.
But the chaos involving the Tigers won't be for normal reasons. Auburn, like many other schools across the country, are trying to play a college football season during the middle of a global pandemic — and one that could drastically affect rosters at any moment.
Auburn defensive coordinator Kevin Steele said it best last week when he said the team was working with "a moving depth chart every day." Due to COVID-19 protocols for positive tests and contact tracing, the players who have missed time during fall camp are firmly in the double-digits. A good portion of them, according to Gus Malzahn, have been starters.
This is usually the time of the preseason where the final depth chart projections are posted. That's what these will be, but it's apparent that an abnormal season calls for an abnormal set of projections.
Here's a position-by-position look at Auburn's current roster, separated into three distinct groups.
Leaders would be the projected starters if everyone was healthy and available. Next ones up are the players who might not be listed as starters, but they'll play increasingly important roles in this uncertain season. Then there's the keep an eye on group, which are players who might not immediately challenge for a ton of snaps this season but will have to be ready.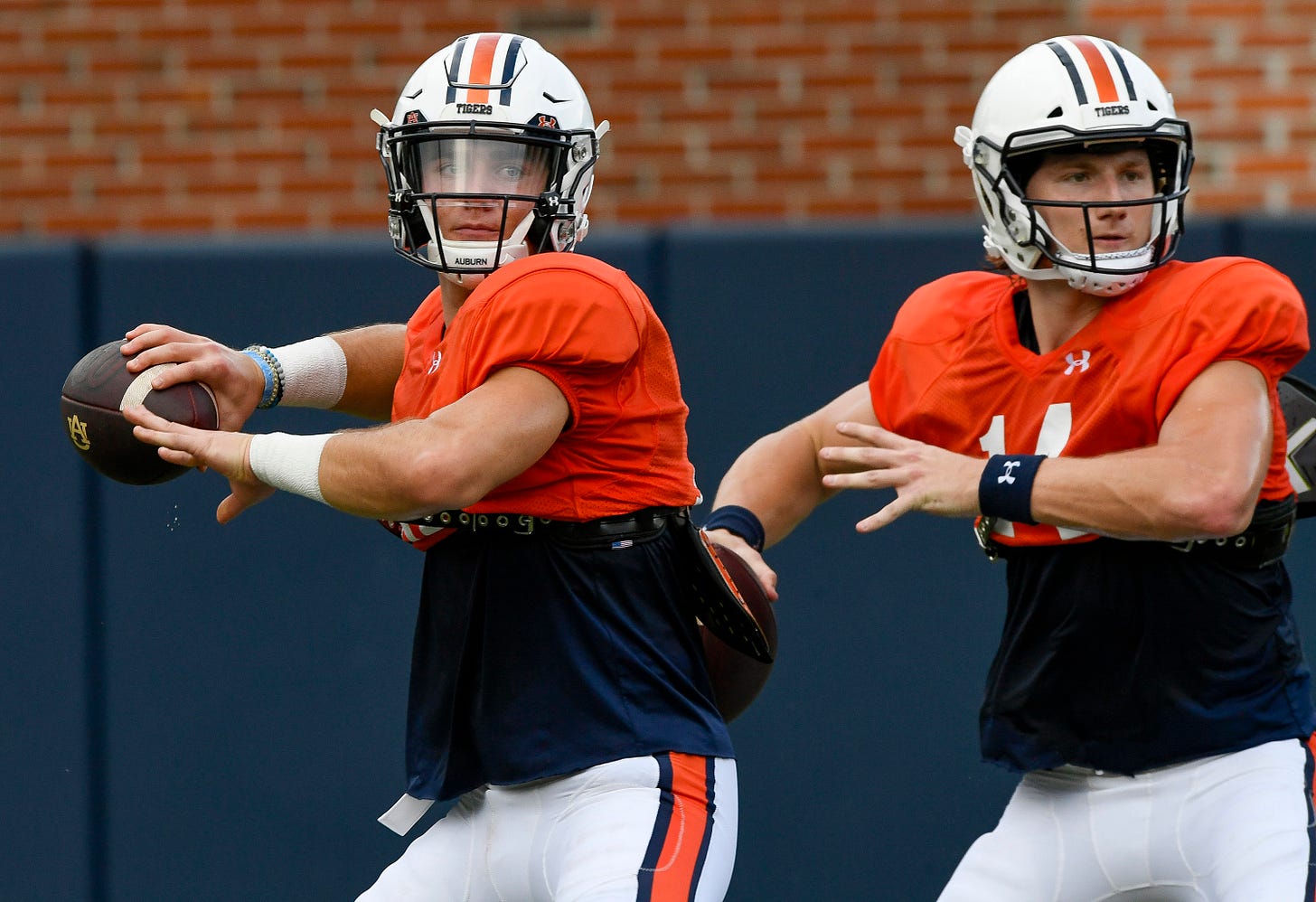 QB Bo Nix and QB Grant Loy (Todd Van Emst/Auburn Athletics)
OFFENSE
Quarterback
Leader: Bo Nix
Next ones up: Grant Loy or Cord Sandberg
Keep an eye on: Chayil Garnett
Nix is the unquestioned starting quarterback and leader of Auburn's offense in 2020. The word on him during fall camp is his increased confidence and command, which should come in handy as he looks to improve on his rough 57.6 percent completion rate from a season ago. This is Nix's show, and a lot of how far the Tigers go in their quest to become a more explosive offense under Chad Morris will be on his shoulders.
The real intrigue at this position has to do with what would happen if Nix had to miss time. Auburn got Loy as a graduate transfer who had decent FBS experience at Bowling Green, and he seemed to make a good move up the depth chart during camp. Would he be the new quarterback if Nix was out, or would that go to Sandberg — someone who has spent more time at Auburn? Also, watch out for what happens at the position if Auburn is winning big and wants to pull Nix, as Garnett is more important to the Tigers' longterm future than the older backups.
Running back
Leaders: Shaun Shivers and D.J. Williams
Next ones up: Mark-Antony Richards and Tank Bigsby
Keep an eye on: Harold Joiner
This is the ideal time for Auburn to go all-in on the committee approach that other powerhouse programs have deployed in recent seasons. Morris said recently he thought an SEC team should have four reliable running backs to get through a season, and there are four easy-to-pick ones in the post-Boobee Whitlow room.
Shivers has been the most talked-about back in fall camp, especially for his development as a weapon in the passing game — a staple of Morris offenses. Williams didn't have a ton of big-play success against SEC defenses last season outside of two long runs against LSU, but he has experience, power and the look of an every-down back. Richards was a hot name early through camp, and he provides the home run threat and versatility the Tigers need at the position along with an elite newcomer in Bigsby.
Shivers and Williams would be the leaders for the most touches early, but this has the feeling of a deep rotation. Perhaps the big question will be what happens to Joiner, who has already been in a pass-catching role for the Tigers but doesn't fit the mold of a traditional running back. Morris said recently he wants to see more consistency from Joiner, who could have a unique role or position carved out for him in 2020.
Wide receivers
Leaders: Seth Williams, Anthony Schwartz, Eli Stove and Shedrick Jackson
Next ones up: Caylin Newton, Ze'Vian Capers, Kobe Hudson and Ja'Varrius Johnson
Keep an eye on: J.J. Evans, Elijah Canion and Malcolm Johnson Jr.
The lines between roles at wide receiver should be more blurred than ever in the Malzahn era. Morris likes to use a lot of pre-snap motion in his offenses, and matchup situations might call for bigger targets such as Williams to play in the slot or spring smaller ones such as Stove out wide. Instead of trying to figure out who is playing what exact role — a feat that's much more challenging without practice access during camp — just know that there will be a lot of moving parts here.
Williams is lighter and faster than he was a season ago, and the word out of fall camp is that he's even better following an injury-impacted season where he still reached 830 yards. Schwartz has fully committed to football and has the potential to be a star in an all-around role for Morris. Stove is a much-needed veteran presence that can play anywhere, and Jackson has taken a massive step forward in preseason camp. If the Tigers list four starters at receiver, this veteran quartet would be the ones to watch.
Auburn will need more wideouts, though, to reach its ceiling in the passing game. Newton may need some time to develop into a receiver but has already turned heads with his toughness and playmaking ability. Capers brings more length and speed to the offense, while Hudson has been plugged into the team longer than any other newcomer. Johnson hasn't been talked about quite as much in camp but looks like the ideal breakout star in a Morris scheme. And, since no one should be counted out this season, don't forget about the diverse physical gifts of Evans, Canion and Johnson.
Tight end/H-back
Leader: John Samuel Shenker
Next ones up: Luke Deal and Tyler Fromm
Keep an eye on: Brandon Frazier and J.J. Pegues
Morris offenses have been known to put the ball in the hands of their tight ends much more than Malzahn ones, so a lot of attention will be on this position. Shenker is the lone non-freshman of the group and found ways to make some impact in past seasons behind older veterans. He should be viewed as the No. 1 option heading into the season.
However, any of the freshmen could get into the mix early. The massive Deal saw the field a decent bit off the bench last season, giving him a possible edge over the rest. Fromm has some of the receiver versatility that Auburn has craved at the position. Frazier is 6-foot-7, which might make him a favorite to get into red-zone packages. Then there's Pegues, a 300-pound marvel who can do a wide range of things for an offense. Fans shouldn't expect an All-SEC tight end out of this group, but they should get reasonably excited about the potential here.
Offensive tackles
Leaders: Austin Troxell (LT) and Brodarious Hamm (RT)
Next ones up: Alec Jackson and Prince Micheal Sammons
Keep an eye on: Brenden Coffey and Kilian Zierer
Hamm is a stone-cold lock at right tackle and has the talent to become a household name quickly. As of last week, Troxell and Jackson were still battling it out at left tackle. If Troxell is healthy — and stays that way, given his injury history — he has the look of a starting left tackle in Auburn's offense. Jackson has also moved inside to guard some as well, so he might easily be a next man up for several positions if he doesn't win the starting job.
Prince Micheal Sammons is a fifth-year senior who isn't talked about as much as other offensive linemen but could be helpful in case of absences up front. It also sounds like Coffey and Zierer might need some more time to develop as starter-quality options, given the bizarre offseason transition for JUCO transfers. Still, they might be called upon this season, so that added depth from the 2020 recruiting class was huge.
Interior offensive line
Leaders: Nick Brahms (C), Tashawn Manning (LG) and Brandon Council (RG)
Next ones up: Jalil Irvin (C), Keiondre Jones and Kam Stutts
Keep an eye on: Kamaar Bell, Avery Jernigan, Jeremiah Wright and Tate Johnson
Brahms is back as the lone returning starter, and he might be one of the most valued members of the entire roster in 2020. Council has played virtually everywhere since arriving at Auburn as a graduate transfer from Akron — he even snapped at center some when Brahms had to miss practice time — and he's close to a sure thing in the first starting lineup. It's just a matter of where. He's on the right side in this projection because Manning has experience as the backup left guard for the last couple of seasons. Either side for either guard works.
The highly regarded redshirt freshman Jones should be viewed as the next guard up, and he was rotating with Manning and Council with the first-team offense recently. Irvin is set as Brahms' backup center, while Stutts shouldn't be overlooked as a third-year sophomore on the interior. Bell, Jernigan, Wright and Johnson all have positional versatility but seem to be more developmental pieces for the line right now.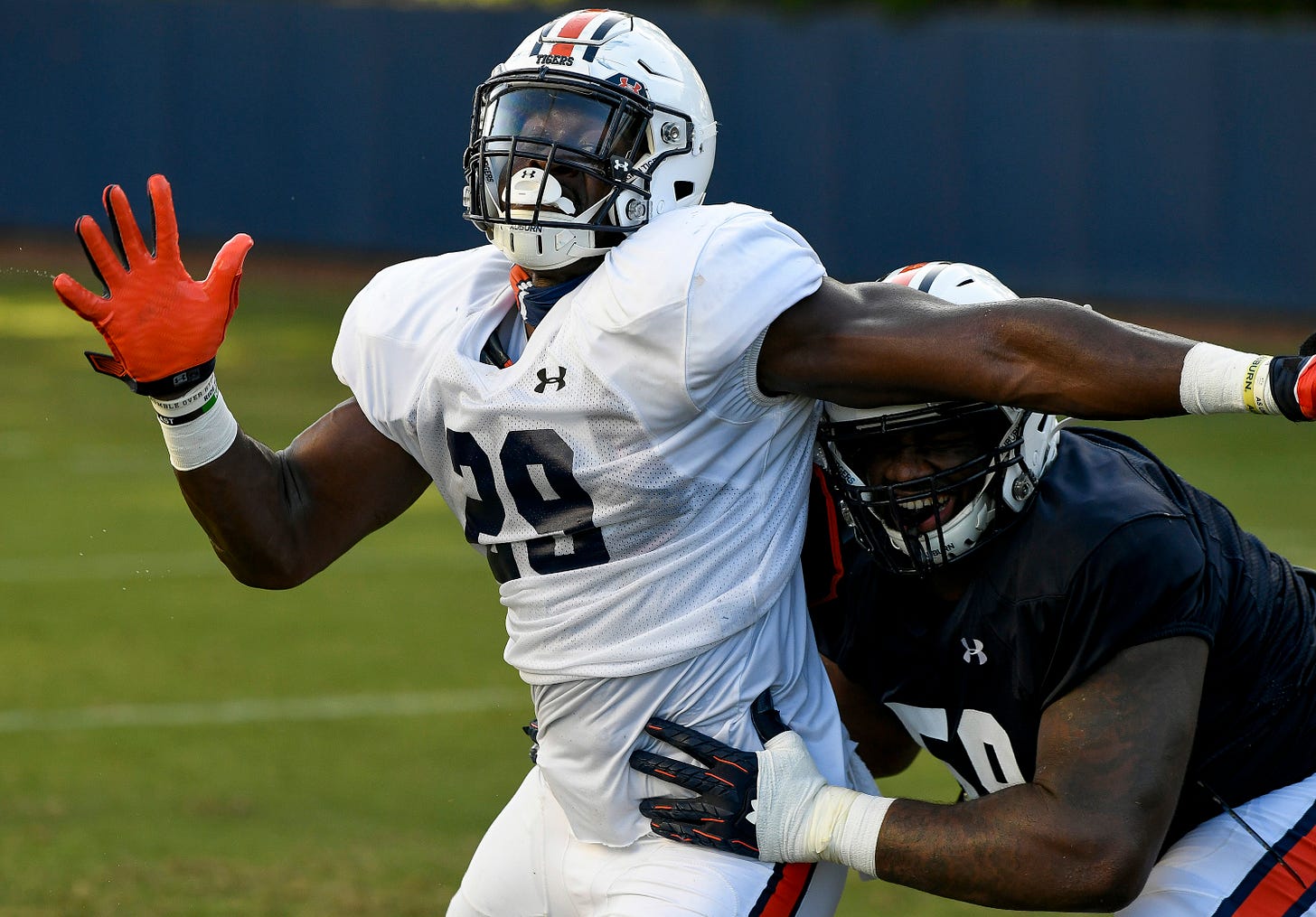 DE Derick Hall (Todd Van Emst/Auburn Athletics)
DEFENSE
Edge rushers
Leaders: Big Kat Bryant (DE) and Derick Hall or T.D. Moultry (Buck)
Next ones up: Jaren Handy, Colby Wooden and Caleb Johnson
Keep an eye on: Romello Height and Daniel Foster-Allen
Bryant didn't have eye-popping stats last season — playing with Derrick Brown and Marlon Davidson will do that — but he's been on the field so much for the Tigers in the last few seasons that he'll be the unquestioned leader up front in 2020. Don't be surprised if he makes a run at All-SEC honors this season. Behind him at the strong-side defensive end position, Handy is a physically imposing presence who saw the field a decent bit as a freshman last fall, and Foster-Allen has good upside for the future.
The Buck spot is down between Hall and Moultry. Hall would have been the runaway favorite for most of the preseason after flashing incredible skills as a freshman last fall, but Moultry has turned the corner in a huge way during fall camp. Expect both of them to play, and play a lot. Steele raved about the progression of the talented redshirt freshman Wooden, who could play anywhere up front, recently — along with Johnson, who shouldn't be overlooked. Height has had to battle an injury this offseason but has a lot of potential as a speed rusher.
Defensive tackles
Leaders: Tyrone Truesdell and Daquan Newkirk
Next ones up: Marquis Burks, Dre Butler, Jay Hardy and Zykevious Walker
Derrick Brown has left the building, which would be a massive challenge for any defense. Yet there's plenty of confidence for the Tigers on the interior of their defensive line, and a lot of that has to do with the experience of returning starter Truesdell as the effective space-eater. And while Newkirk has had the worst injury luck since arriving on the Plains, there's a lot to like about a former high school running back and speed rusher who now weighs 317 pounds attacking the middle.
It's tough to separate the "backups" at this position, as Rodney Garner's preference to rotate quite a bit in the trenches should get all four of these players on the field early. Burks and Butler wasted no time in making their presence felt as JUCO transfers in fall camp. Hardy keeps getting compared to a young Brown, and Walker could be the new Marlon Davidson-esque Swiss Army knife that plays virtually everywhere up front. Coynis Miller's departure took away a potential starter for the Tigers, but they have more than enough talent to fill in up front in the post-Brown era.
Linebackers
Leaders: K.J. Britt, Zakoby McClain and Owen Pappoe
Next ones up: Wesley Steiner and Cam Riley
Keep an eye on: Desmond Tisdol, O.C. Brothers and Kameron Brown
The "core four" at linebacker from last year is down to a trio after Chandler Wooten opted out this season. That won't be a problem for a unit that normally runs just two players at a time, with All-SEC inside linebacker and face of the defense Britt running it back in 2020 alongside the freakishly athletic Pappoe and the constantly productive McClain. With several new starters on the line and in the secondary, Auburn's top three linebackers will be crucial pieces this season.
Steiner and Riley, two-thirds of the 2020 class at the position, have emerged as possible replacements for Wooten in the four-man rotation. Steiner is eerily similar to Pappoe in style, and Riley fits the McClain and Darrell Williams archetype quite well. Tisdol, the remaining freshman, missed time in camp but could fight his way into the rotation. Brothers and Brown will push the newcomers for opportunities after redshirting in 2019.
Cornerbacks
Leaders: Roger McCreary and Nehemiah Pritchett
Next ones up: Marco Domio, Devan Barrett, Matthew Hill and Jaylin Simpson
Keep an eye on: Eric Reed Jr.
Don't view McCreary as a new starter, because Steele and the rest of Auburn's defense don't. Quite a few signs point toward his potential as a star cornerback in 2020. The real intrigue at the position is the other corner spot, which has had an incredible five players battle it out rather equally on the first-team defense. Pritchett sounds like the favorite as Domio continues to make the transition from JUCO ball, but the most likely scenario is that both play a good bit with McCreary. Auburn likes to have three "starters" at corner, anyway.
Barrett is firmly established on defense and is a team veteran who will be helpful if depth is adversely impacted. Hill has made a quick transition to cornerback from wide receiver and can help right away. Simpson was a safety as a true freshman last year but has found a home as a competitive cornerback, so there's a chance he sees good playing time in 2020. There's a lot of depth here, but there's also a lot of reason for fans to get excited about Reed as a cornerback of the future, too.
Nickel/Star
Leader: Christian Tutt
Next ones up: Zion Puckett
Keep an eye on: Ladarius Tennison
Tutt is back for another season as Auburn's starting nickel back, which is a part of its base defense under Steele. He has great chemistry with McCreary and the starting duo at safety, so there's a good chance he takes another step forward this fall. Tutt is the team's returning leader in interceptions and could easily replace some of the playmaking stat production of Javaris Davis and Daniel Thomas.
Steele praised Puckett for his return from an injury and the physical transformation he's made over the course of the offseason. He's had an excellent fall camp, as well as Tennison — an explosive, dynamic athlete at nickel who just needs some more time to grow into Auburn's defensive scheme. Puckett and Tennison's emergence this offseason gave the Tigers enough confidence to move a veteran back to safety, so that bodes well for their chances this upcoming season.
Safeties
Leaders: Jamien Sherwood and Smoke Monday
Next ones up: Jordyn Peters and Malcolm Askew
Keep an eye on: Chris Thompson Jr.
Auburn's outgoing safety duo said Sherwood and Monday had the potential to be better than they were, and they'll get a chance to prove it rather quickly. Sherwood — who is now listed at 220 pounds — might need to be talked about in the same vein as Pappoe more, as Steele called him one of the best tacklers he's ever seen in the secondary and McCreary compared him to former Clemson star Isaiah Simmons. Monday has developed a great connection with Sherwood over the last couple of seasons, and his nose for the football should serve him well as a first-choice safety.
The versatile Peters has moved from nickel to safety, where he's in a solid three-man rotation with Sherwood and Monday. Peters' veteran presence has been immense for Auburn this offseason, and this is the time for him to shine following some previous injury issues. Askew has a lot of experience as a reserve safety, so he could be a valuable piece this season. And while Thompson has a few names ahead of him at the position, he's already made quite an impression on his teammates with his skill set and maturity level.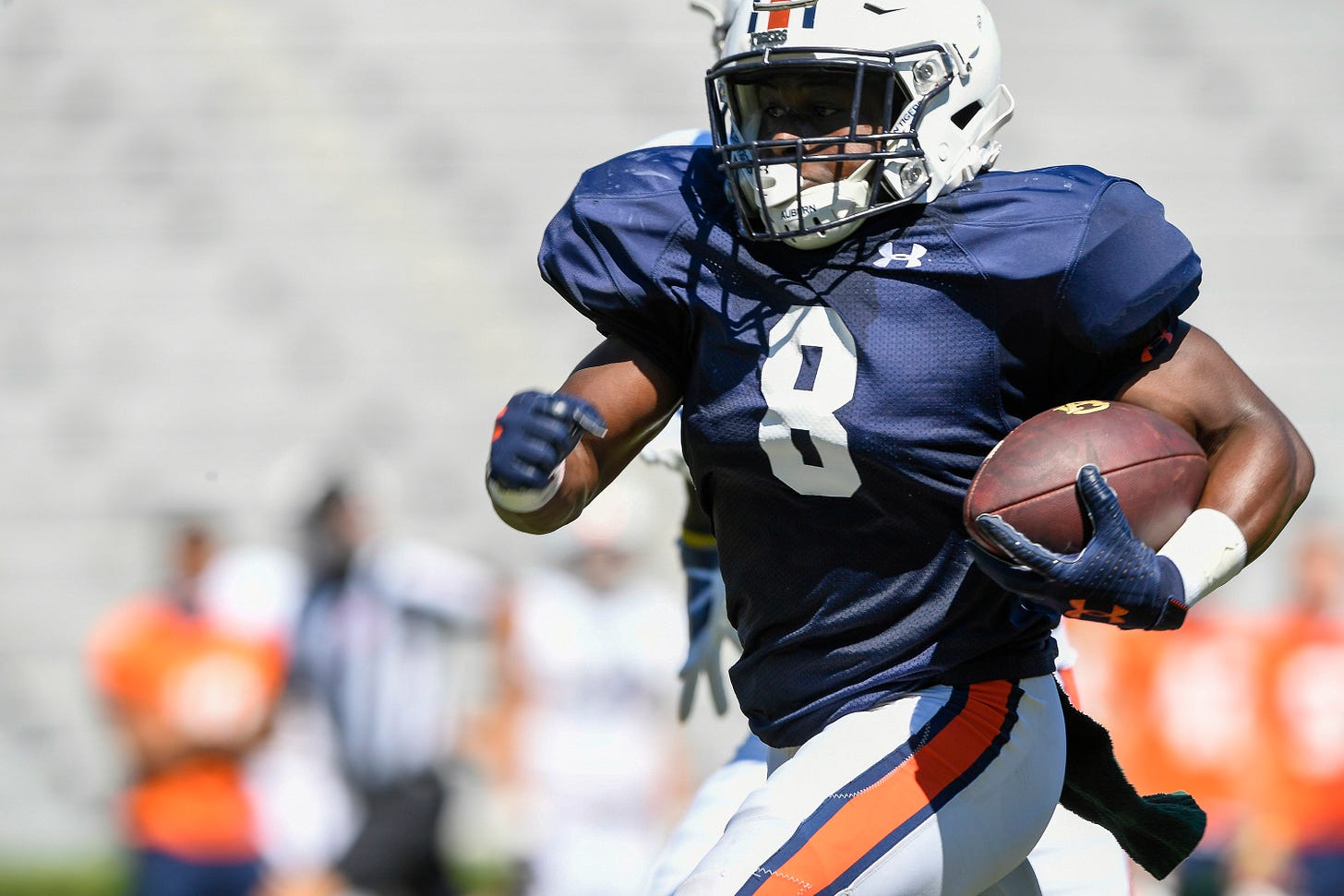 RB/KR Shaun Shivers (Todd Van Emst/Auburn Athletics)
SPECIAL TEAMS
Kicker
Leader: Anders Carlson
Next ones up: Evan McGuire and Ben Patton
The Bookstore is back for another season as a starter. He's looked more confident in camp, according to Malzahn, after a 2019 season that featured some low moments but ended with a game-changing bang in the Iron Bowl. McGuire, a powerful 6-foot-5 preferred walk-on, could take over kickoff duties. Patton also got some work last season in the win over Samford, just in case anything happens to Carlson.
Punter
Leaders: Oscar Chapman or Aidan Marshall
Keep an eye on: Marshall Meyers and Crimmins Hankinson
Malzahn said last Saturday the punter battle between the newly arrived Australian import Chapman and the returning Marshall is still ongoing. Marshall has previous starting experience, in case it takes a while longer for Chapman to establish himself in his new home. Auburn has depth in case of absences, too, with Meyers and the incredibly named Hankinson.
Long snapper
Leaders: Bill Taylor
Next one up: Clarke Smith
Keep an eye on: Reed Hughes
There's not much to say here. Taylor is the returning starter, Smith is the veteran backup, and Hughes is the newcomer.
Holder
Leaders: Grant Loy, Jackson McFadden and Ben Patton
Malzahn also said the holder situation has to be settled. Judging by videos that Auburn has released from practices, Loy and McFadden have gotten reps at the position. Your guess at who wins the job is as good as mine.
Update: On Thursday morning, Carlson said Patton is also rotating with Loy and McFadden at the position.
Kick returners
Leader: Shaun Shivers
Next ones up: Eli Stove and Mark-Antony Richards
Keep an eye on: Anthony Schwartz
Shivers should be the primary kick returner following Igbinoghene's departure, as he has had two years of experience as a backup there. Malzahn also mentioned Stove and Richards as players who have also gotten chances back there. Schwartz hasn't yet, but there's always a chance for that to happen, given his world-class speed.
Punt returner
Leader: Christian Tutt
Next ones up: Ja'Varrius Johnson
Keep an eye on: Mark-Antony Richards and Kobe Hudson
Tutt has a hold on his second starting job, as he finished No. 3 in the SEC in punt return average last season. Johnson got some work at punt returner last fall before injuries cost him his true freshman season, so he's a prime candidate to back up Tutt. Richards and Hudson have also gotten reps there in fall camp.
---
Up next on The Auburn Observer: A new podcast episode on this projected depth chart, some former Tigers in the NFL and more drops later today. On Friday morning, it's another edition of The Aubserver Mailbag.