Discover more from The Auburn Observer
Deep dives into the stats, strategies and stories of Auburn football and basketball
Over 3,000 subscribers
Roger McCreary already has what it takes to shine as Auburn's new top cornerback
The Tigers have gone 3-for-3 in turning their No. 1 corners into early-round NFL Draft picks. The numbers say the next man up is fully prepared to step into that spotlight.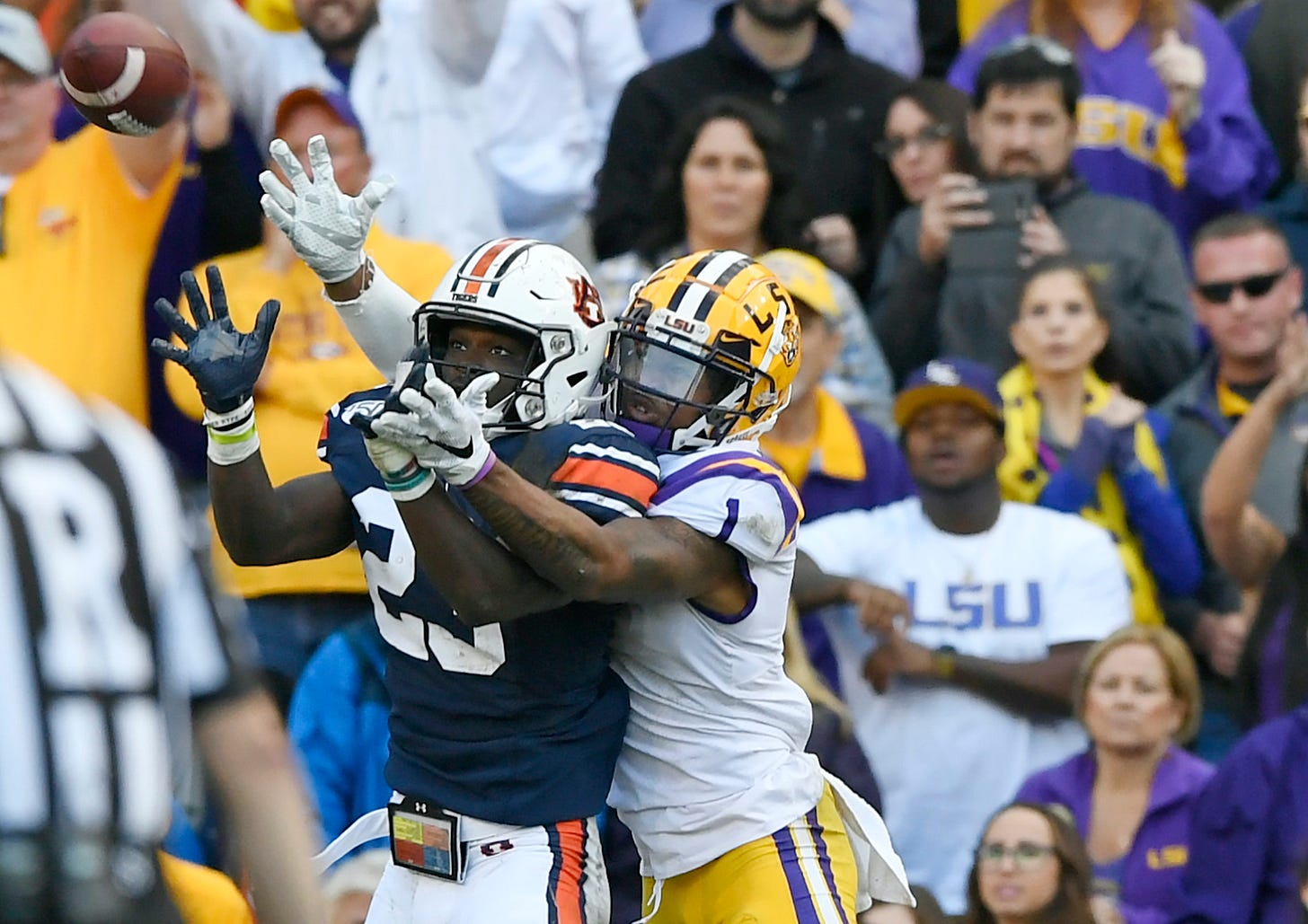 (Photo credit: Todd Van Emst/Auburn Athletics)
Thanks for checking out The Auburn Observer. For the month of September, every story and podcast will be free. Starting October 1, The Auburn Observer will switch to a paid newsletter. If you haven't already, please subscribe using the button below to get new posts sent to your inbox. If you enjoy our work, make sure to tell all your fellow Tigers fans to join us.
---
(Statistical Data provided by Sports Info Solutions and their DataHub Pro, unless otherwise linked.)
A month and a half before his stunning rise up to a first-round selection by the Miami Dolphins in the 2020 NFL Draft, Noah Igbinoghene had his last interview session in Auburn.
Toward the end of the Tigers' annual Pro Day, a reporter asked Igbinoghene about the future of Auburn's secondary — one that would have to not only replace him, but three more starters in Javaris Davis, Jeremiah Dinson and fellow draft pick Daniel Thomas.
Igbinoghene didn't dial down the projections for his successor at cornerback, Roger McCreary.
"I expect big things for Roger," Igbinoghene said. "He had a great season last year. Kind of the same spot I was (in) my sophomore year… it's kind of crazy. I expect big things out of him. I expect him to have an interview with you next year as well."
Igbinoghene took a nontraditional route to becoming one of the first 32 picks in the draft, starting his career as a reserve wide receiver before quickly turning into a multi-year starter at cornerback.
McCreary's rise would also be an unexpected one, considering his own start. A former South Alabama commitment, McCreary was the No. 989-ranked player nationally in the class of 2018 by the 247Sports Composite. And even though he had the second-lowest overall ranking in the Tigers' 2018 signing class, he broke into the cornerback rotation as a true freshman — playing well beyond the redshirt limit.
In 2019, McCreary was the No. 3 cornerback on Auburn's depth chart, sitting behind Igbinoghene and Davis. But due to Davis' versatile usage in different packages, McCreary saw plenty of playing time at cornerback as a sophomore.
McCreary led the team with 11 pass breakups and was one of only six players to intercept LSU quarterback Joe Burrow in his record-obliterating run to the Heisman Trophy and the national championship.
McCreary's interception was an impressive play even before the turnover itself, as he was able to blanket eventual Biletnikoff-winning receiver Ja'Marr Chase in coverage and cut off a back-shoulder effort from Burrow.
As Igbinoghene emerged as a lockdown cornerback last season for the Tigers and Davis moved around the secondary, opposing quarterbacks challenged McCreary more often.
And that didn't come at any detriment to the Auburn defense, which finished the 2019 season tied for No. 8 nationally in passing yards allowed per attempt. McCreary quickly showed he could hold his own.
"He's grown up, for real," Igbinoghene said of McCreary late last season. "I know y'all have seen that. People started targeting him more now, and he's showing why you shouldn't."
Now McCreary is stepping into a starting job following the departures of Igbinoghene and Davis. Although defensive back is statistically an area in which teams would prefer to avoid a lot of turnover, there's an air of confidence surrounding the Tigers when it comes to the position group — and McCreary is at the center of it.
"One thing I can say about Rog is I know he's going to have my back," safety and fellow projected starter Smoke Monday said recently, per Josh Vitale of the Montgomery Advertiser. "I feel like his technique is one of the best in the country, and I feel like when he's on that island alone, I'm not worried about him. Rog is going to do his job. Rog is going to lock that receiver down."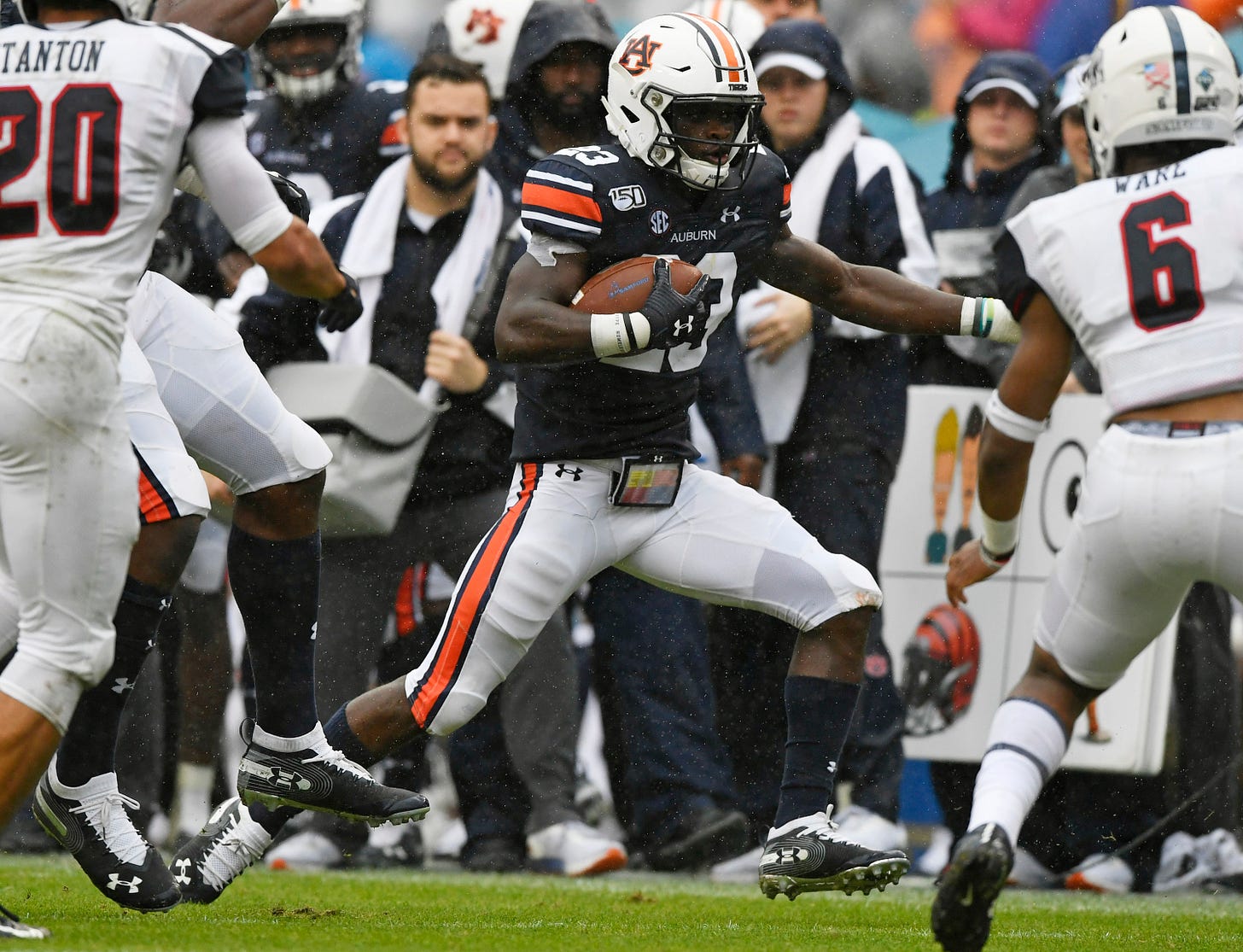 (Photo credit: Todd Van Emst/Auburn Athletics)
That level of faith in a new starter might seem high, but it's warranted. For a cornerback who wasn't an everyday first-teamer, McCreary got a lot of traffic pointed in his direction last season. He was targeted 55 times in coverage, just two fewer than Igbinoghene and 11 more than Davis.
And with that large number of opportunities, McCreary produced at a level that rivaled some of the SEC's best cornerbacks.
McCreary allowed an average of only 6.07 yards per pass attempt last season, which was better than the mark set by Igbinoghene (6.40) and ranked sixth among SEC defensive backs that were targeted at least 40 times. Opponents had a quarterback rating of 64.58 and a completion rate of 46.43 percent against McCreary, which ranked eighth and 10th in the conference, respectively.
He was also one of just three defensive backs in the league who faced 40-plus targets but allowed fewer than two touchdowns in coverage, joining Texas A&M's Charles Oliver and Alabama's Trevon Diggs.
The numbers show that McCreary played like a top-10 SEC cornerback last season. And, according to Anthony Treash of Pro Football Focus, McCreary also graded out as one of the country's best cornerbacks:
In his first season with considerable reps, Roger McCreary clearly did not disappoint. His PFF coverage grade sat at 81.1, which was 33rd of 419 qualifying cornerbacks. McCreary's ball skills were exceptional — he consistently forced tight coverage and hardly lost at the catch point. He actually forced a contested target at one of the three highest rates on the outside (23 targets in total) and he allowed just nine to be caught while making 11 total plays on the ball.
McCreary posted several coverage stats in 2019 that were even better than the ones Carlton Davis had in his 2017 All-SEC campaign. He was also just one of five Auburn defensive backs under Steele to have double-digit pass breakups in a single season.
"He's another guy, a freak of nature, that puts the work in," Dinson said last December. "Puts the work in — a quiet guy — who watches a lot of film and things like that. When he gets to Saturday, it shows. It shows the work he puts in.
"That's another guy, when he gets it all figured out a year from now, gets deeper in the playbook and things like that… he's another guy that's going to be a high draft pick."
Carlton Davis turned that All-SEC season into a second-round pick by the Tampa Bay Buccaneers in the 2018 NFL Draft. Jamel Dean became his pro teammate a year later as a third-round selection by the Bucs. Igbinoghene then became the second cornerback in Auburn history to go in the first round of the NFL Draft, joining former Thorpe Award winner Carlos Rogers.
Auburn is currently on a remarkable run right now when it comes to developing cornerbacks — a position that was criticized early in Malzahn's tenure — into high-level pro prospects. It's unclear how much the COVID-19 pandemic will impact draft-eligible players who play in 2020, since the season won't count toward their eligibility.
But no matter when he makes his move, McCreary should be next in the Tigers' new cornerback pipeline to the pros. If he can build on his already impressive production in coverage as a leader in the secondary, it won't be surprising at all to see Auburn go 4-for-4 with its CB1s.
---
Friday on The Auburn Observer: It's the first edition of the Aubserver Mailbag, and the second episode of the podcast — featuring a familiar guest — drops on all your major platforms.