Discover more from The Auburn Observer
Deep dives into the stats, strategies and stories of Auburn football and basketball
Over 3,000 subscribers
SEC In Fantasy, Week 14: Let's talk about NFL playoff hopes for Auburn players
Since it was a down week for former Tigers, here's a look at what needs to happen for those Auburn alums to get into the postseason.
Thanks for checking out The Auburn Observer. This is a bonus post in a fun weekly series about Auburn players in the NFL and how they compare to their SEC counterparts. If you haven't already, please subscribe using the button below to get regular posts sent to your inbox. If you enjoy our work, make sure to tell all your fellow Tigers fans to join us.
There is not a more exciting phrase in all of NFL football than "In the Hunt."
Sure, the standings graphic will pop up with those words hovering over a 1-2 team during a lull in late September broadcasts, but they carry weight now. Deep into December and with just three weeks remaining on the NFL regular season calendar, being "in the hunt" means that, no matter how slim the odds or how much help you may happen to need — like having four other teams lose out and a fifth and sixth team tie — there is some glimmer of hope, something to strive for.
Most likely, the goal of getting to the postseason was given to the team before their masking tape donned helmets glimmered in the summer sun of training camp. And here we are, heading into Week 15, with that hope still burning alive for many.
This is the case for every single active fantasy player from Auburn: Peyton Barber, Daniel Carlson, Chandler Cox, Kerryon Johnson, Cam Newton, Cody Parkey, Darius Slayton, and Jarrett Stidham. None of their teams have clinched playoff berth, none have been eliminated from contention.
Though we will be focusing on those eight as we have here all season, let's also mention the rest of the Tigers who find themselves deep in the hunt: Daren Bates (Titans), Angelo Blackson (Cardinals), Derrick Brown (Panthers), Carlton Davis and Jamel Dean (Buccaneers), Jack Driscoll and Rudy Ford (Eagles), Noah Igbinoghene (Dolphins), Jonathan Jones (Patriots), and Braden Smith (Colts).
Now let's lay out the roadmap for each member of our fantasy squad to extend their season beyond Week 17.
We will start in the obvious place: the New England quarterback room. Look, it is no secret that the odds are stacked tall against Newton and Stidham's Patriots, especially after the midweek thrashing they suffered at the hands of the Rams in Week 14. However, there is still a path to keep the NFL's longest playoff streak alive.
The beginning is simple: The Patriots must win out to get to the postseason. The rest of their schedule is comprised of AFC East foes, visiting Miami before hosting the division-leading Bills and Jets to close out the season.
The Pats are 2-1 against those teams, with a narrow Week 8 loss to the Bills as the only blemish. So while not impossible, it will almost certainly require a return to form from Cam Newton to navigate through the last three games unscathed. Even then, they will need a couple Wild Card-contending teams to falter down the stretch, as most projection models give them just a 20% chance to make the playoffs by finishing 3-0.
Newton's first test of survival will come against Chandler Cox's Dolphins. Though Cox's day-of-game status has taken a recent nosedive — five healthy inactives in the last seven games — there is still a chance he makes it on the playoff roster. After a home game against the Patriots, the Fins' go to Las Vegas for a Saturday night game before traveling across the States to upstate New York to face the Bills. Winning those first two matchups would go a long way toward easing their postseason fears. Regardless of what happens down the stretch, it has been a fantastic one-year turnaround for a team that was 3-11 through its first 14 games a season ago.
Just one game ahead of the Dolphins in the AFC Wild Card is Cody Parkey and the Cleveland Browns. After dropping a heartbreaker to the rival Ravens in what was by far the most entertaining game of the season last night, the Browns can do everything from winning the AFC North to missing out on the playoffs altogether. Heavy odds lie in the middle, a Wild Card spot where Cleveland holds tiebreakers over the Colts and Raiders. Two games in MetLife Stadium, first the Giants then the Jets, come before a final trip to Pittsburgh. Should they drop two of the remaining three, things could get really muddy for the Browns. Let's hope Parkey bounces back strong.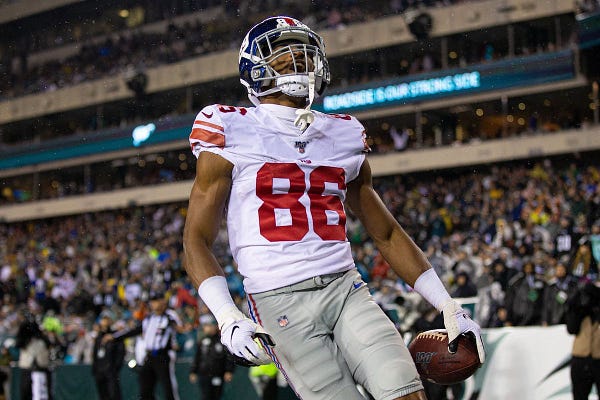 To the NFC East, where a largely mocked division featured a pair of teams on winning streaks at the top of the standings heading into Week 14. Though the Giants' four-gamer snapped after a visit from the Cardinals, dropping them to 5-8, the Washington Football Team extended their stretch of victories to four after beating the 49ers, now have a one-game lead, and control their own destiny. Slayton's G-Men did beat Barber's Team in both matchups this season, so they would own the tiebreaker if the two records end evenly.
The Giants still have two dates with their AFC North opponents, hosting the Browns on Sunday night, traveling to Baltimore in Week 16, and returning home to face the Cowboys in the season's final game. As it stands right now, Darius Slayton is projected to have about a 24 percent chance of running routes in the playoffs.
However, if Peyton Barber and Washington beat the Seahawks, Panthers, and Eagles — the Football Team will host a first-round playoff game. The NFL's worst division easily has the best chance at being its most dramatic race for the crown.
Kerryon Johnson and the Detroit Lions are as close to the cutting room floor as a team could possibly be. It would be a tall order to ask this team to win one game over the Titans, Buccaneers, or Vikings, asking them to beat all three in a row? Insanity. Even if they pulled off the unthinkable, the Lions would need a LOT of help with additional losses from the Bears, Buccaneers, and Cardinals. On the bright side, it's almost Pisto-, Red Wi-, Tig-
…I'm sorry, Detroit. We'll watch Casey Mize together.
Finally, the Raiders. The honest truth is that the Las Vegas Raiders should be on a four-game losing streak. Their saving grace was a defensive collapse by the New York Jets in the final seconds of their Week 13 matchup, which kept the Jets winless, gave the Raiders a needed victory, and cost Gregg Williams his job. Now 7-6 after getting thumped by the Colts this past weekend, LV has to string wins together for Daniel Carlson to kick for more than one day in January. Anything less than three straight wins would be big trouble for the Silver and Black. They face the Chargers at home this Thursday night, the Dolphins on the following Saturday, and make a trip to Denver in Week 17.
There it is. That is the pathway for every Auburn fantasy player to keep playing beyond the fantasy season, and play some meaningful winter football.
Now let's take a look at how the rest of the SEC got their teams ready for the playoff push in Week 14:
Alabama
QB: Tua Tagovailoa (Dolphins) - 28
RB: Derrick Henry (Titans) - 35.2
RB: Kenyan Drake (Cardinals) - 15.5
WR: Calvin Ridley (Falcons) - 22.4
WR: Amari Cooper (Cowboys) - 13.1
TE: Irv Smith Jr. (Vikings) – 14.3
FLEX: Josh Jacobs (Raiders) - 8.9
TOTAL = 137.4
Powered by two explosive performances, the Tide fantasy team put up the conference's second highest weekly score of the season — beating its own Week 6 mark, which featured 3.1 points from the quarterback spot, by the way.
Derrick Henry once again ran wild on the Jaguars defense, racking up 26 carries for 215 rushing yards, two rushing touchdowns, and throwing in two catches for seven yards for good measure. The Little Tractor has now tortured Jacksonville for over 1,000 rushing yards in just 10 career games, with a 13-yard performance factored in. Long story short, he shreds them.
(Note: Half of these four games were against the Jags in the last three seasons.)
Once again marred by a depleted backfield, the Dolphins relied on the left arm of their 2020 first-rounder against the defending Super Bowl champions. Tagovailoa responded by throwing for 316 yards and two touchdowns on 28-for-48 and rushing for another score. The first-year quarterback remains under the microscope, with his offense only outscoring the Chiefs in the points-off-turnovers department 8-7, despite winning the turnover battle 4-1 — which ultimately led to their defeat. It was a strong fantasy day, but there is still much to learn for and about Tua as he tries to help navigate Miami into the playoffs.
The route-running unit had another great weekend, and even got the help of a tight end for just the second time in the last five weeks. Calvin Ridley took advantage of another game without Julio Jones, catching eight of his 12 targets for 124 yards, which included a 39-yard touchdown pass from Russell Gage at the end of the first quarter.
Though only targeted five times, Amari Cooper had four receptions for 51 yards and a touchdown in the Cowboys blowout win over the Bengals. Similarly, Irv Smith Jr. had the Dave Thomas special: 4-for-4 with 63 yards and a touchdown for the Vikings.
As for the other running backs: Kenyan Drake has quietly put together a solid season. 23 carries, 80 yards, a touchdown, a 10-yard catch, and some fumble luck (two fumbles, both recovered by a teammate) made it now. Meanwhile, Josh Jacobs' attempts to troll his fantasy managers did not exactly pan out, as they were most likely better served to sit him after all. Just 13 rushes for 49 yards and three catches for 25 yards was all he could muster in the 44-27 loss to the Colts.
Arkansas
QB: Brandon Allen (Bengals) - 13.9
RB: Jonathan Williams (Lions) - OUT
TE: Hunter Henry (Chargers) – 7.1
FLEX: Jeremy Sprinkle (Football Team) – 0
TOTAL = 21
Although sacks did not play a part, Brandon Allen was forced out of the game late for a second Sunday in a row due to an injury. This time, a bone bruise in his knee took him out of the 30-7 loss to the Cowboys. Allen managed to go 27-for-36 with a passing touchdown, 12 rushing yards, and kept a clean sheet for the first time this season. He will remain the Bengals' starting quarterback if he is healthy enough to face a stewing Steelers team in Week 15.
Back to scheduled programming for Hunter Henry. A positive matchup against the Falcons produced six catches on eight intended passes for 41 yards. As the Chargers continue to air it out — 49.5 passing attempts on average in the last four weeks — Henry should continue to get plenty of opportunities as the third target in Los Angeles. Let's break out our first projection of the season: five catches for 63 yards for HH against the Raiders on Thursday night.
Auburn
QB: Cam Newton (Patriots) – 5.4
RB: Kerryon Johnson (Lions) - 7.8
RB: Peyton Barber (Football Team) – 4.8
WR: Darius Slayton (Giants) – 4.6
TE: C.J. Uzomah (Bengals) - IR
FLEX: Chandler Cox (Dolphins) - OUT
K: Daniel Carlson (Raiders) – 9
TOTAL = 31.6
Though the venue remained the same, the result was far different for the second game in five days for the Patriots inside SoFi Stadium. New England was completely dominated at the line of scrimmage on both sides of the ball throughout Thursday night, leading to all sorts of issues — including six sacks and a blown up screen play that became a second quarter pick-six. Newton (9-16 for 119 passing yards, the INT, and just 16 rushing yards) and the offense sputtered, which resulted in Jarrett Stidham getting more opportunity to lead the offense at the end of the game. Cam will remain in control of the position, but the clock is ticking quickly for the NFL's longest playoff streak with another stingy defense awaiting in Miami.
With D'Andre Swift back in action, Kerryon was relegated to just 15 offensive snaps. As a result, KJ got just three touches in this order: a 10-yard catch, a one-yard run, and a two-yard touchdown run in the fourth quarter to bring the Lions within a touchdown. He did his job. Peyton Barber enjoyed his fourth consecutive week with an increased role, and oddly enough, a fourth straight win for the Football Team. 12 carries for 37 yards and a couple of catches for a single yard is not going to widen many eyes but he, too, did his job.
Darius Slayton's eight targets led the Giants by three but the Cardinals' pass rush caused havoc for the New York offense all day to the tune of eight sacks and numerous hurries and hits. As a result, Slayton was limited to just three catches for 31 yards, and the Giants' momentum was halted at four wins in a row.
Florida
QB: Jeff Driskel (Broncos) - CV19
RB: La'Mical Perine (Jets) – IR
WR: Freddie Swain (Seahawks) - 9.2
WR: Demarcus Robinson (Chiefs) - 1.8
TE: Jordan Reed (49ers) - 2.3
FLEX: Brandon Powell (Falcons) - 1.4
TOTAL = 14.7
The first of five Seattle touchdowns was a 19-yard pass from Russell Wilson who rolled out right and found Freddie Swain in the back of the end zone. The rookie wideout's second touchdown of the year was his first since Week 2 against the Patriots. Though he only caught one more pass for three yards, he will surely take it — just his second week with fantasy points since early October.
The rest of the Gators combined for four catches and 35 yards: Demarcus Robinson had a catch for 13 yards, Brandon Powell caught one pass for nine yards, and Jordan Reed added the other two catches for 13 yards.
Georgia
QB: Matthew Stafford (Lions) – 14.4
RB: Nick Chubb (Browns) - 23.3
RB: D'Andre Swift (Lions) - 13
WR: A.J. Green (Bengals) - 15.2
WR: Mecole Hardman (Chiefs) - 9.5
TE: Charlie Woerner (49ers) - 0
FLEX: Todd Gurley II (Falcons) - 4.1
K: Rodrigo Blankenship (Colts) - 14
TOTAL = 93.5
Yet another outstanding performance from Nick Chubb on Monday night will put him back on the All-SEC list at the bottom of this article for a third consecutive week. Seventeen carries for 82 yards, two rushing touchdowns, two targets, two catches for 21 receiving yards were good enough to get him there again. Chubb has either had 100+ scrimmage yards or scored a touchdown in seven of the nine games he has played in this season. Remarkable.
D'Andre Swift was back in action for the first time in a month, facing a porous Green Bay run defense. But Detroit took a committee approach to the ground game, and Swift had just seven carries for 24 yards, but that did include a three-yard touchdown. He found slightly more success as a pass-catcher, hauling in four passes out of the backfield for 26 yards. His fellow Georgia alum QB, Matthew Stafford, was 24-for-34 for 244 yards a passing touchdown and an additional six yards on the ground. However, he took four sacks and had to leave the game late with a rib injury, putting his availability for Week 15 once again in peril.
The A.J. Green scratch-offs hit again on Sunday. After zero catches and just four targets over the past two weeks, Green went to work against the Dallas secondary — six snags for 62 yards and Cincinnati's only touchdown of the game. He has been held without a catch four different times this season and is facing Steel next week, but if you're feeling lucky, scratch away.
An electrifying 67-yard punt return for a touchdown highlighted Mecole Hardman's day, which also included going a perfect 3-of-3 in targets for 40 receiving yards. Sure, he fumbled after 27 of those but he was quickly vindicated by a Dolphins' safety … And who could really be upset with him after a house call like this:
HotRod worked from short range on Sunday, converting field goals from 25, 20, and 35 and all five of his extra point attempts.
Kentucky
RB: Benny Snell Jr. (Steelers) – 1.4
RB/WR: Lynn Bowden Jr. (Dolphins) -11.9
WR: Randall Cobb (Texans) – IR
TOTAL = 13.3
Need a sneaky waiver wire addition to give your team a boost in the playoffs? You might need to consider Lynn Bowden Jr. After getting on the field for 44% of the Dolphins' offensive snaps (by far the most of his rookie season) and turning in a four-catch, 52 all-purpose yard performance a week ago, LBJ seems to have really earned the trust of Chan Gailey. Miami put him on the field for 59 offensive plays (71%) on Sunday and he led the team in all three major receiver categories with nine targets, seven receptions, and 82 receiving yards.
Bowden also added a two-yard rush and an incomplete pass to his box score — that's some heavy usage for a guy who has flown way under the radar thus far. If your skill positions are as depleted as the Miami backfield, it wouldn't hurt to give him a look.
LSU
QB: Joe Burrow (Bengals) – IR
RB: Clyde Edwards-Helaire (Chiefs) - 11.6
RB: Darrel Williams (Chiefs) – 0
WR: Russell Gage (Falcons) - 16.3
WR: Jarvis Landry (Browns) - 8.7
TE: Foster Moreau (Raiders) – 11.2
FLEX: Justin Jefferson (Vikings) - 7.9
TOTAL = 55.7
LSU finally got to use the ever-escaping services of a tight end to hit its third consecutive week in the upper 50s.
For the first time since Week 1, the Bayou receiving corps was led by Russell Gage, who added a 39-yard touchdown pass to his five catches and 82 receiving yards in the Falcons' narrow defeat to the Chargers.
Meanwhile in Tampa, the Buccaneers secondary cooled off Justin Jefferson, keeping him from scoring a touchdown and holding him to four catches and 39 yards. They could not keep him out of the end zone all day, though, as he added a two-point conversion to his modest total.
Mississippi State
QB: Dak Prescott (Cowboys) – IR
TE: Jordan Thomas (Patriots) - OUT
TOTAL = 0
Zero.
Missouri
QB: Drew Lock (Broncos) – 25.6
TOTAL = 25.6
Drew Lock threw four touchdown passes in what was pretty easily the best performance of his young career. Though he did lose a fumble, Lock managed to go the full 60 minutes without throwing an interception, much to the dismay of those of us who chose the Panthers D/ST unit this week. 21 completions out of 27 passes for 280 yards and a 32-27 win put a little bit of momentum behind his "Broncos QB of the Future" campaign.
Ole Miss
RB: Jordan Wilkins (Colts) – 1.7
WR: A.J. Brown (Titans) – 20.7
WR: D.K. Metcalf (Seahawks) – 15.1
TE: Dawson Knox (Bills) - 5.4
FLEX: Laquon Treadwell (Falcons) - 7.1
TOTAL = 47.8
After missing a couple of mid-week practices due to injury, A.J. Brown matched season-highs from Week 5 with seven catches on a 78 percent rate, which he took for 112 yards and a touchdown in the Titans 31-10 beating of the Jags. On the other side of the country in an even more lopsided affair, D.K. Metcalf caught six passes for 61 yards and a touchdown.
Notice a new name on the list? That's right, Laquon Treadwell scored a nine-yard touchdown with his first catch since Week 14 of last season. Right on time.
Dawson Knox fumbled and took a nasty hit that will subsequently force him to carry an injury designation into the practice week, but he had a productive four-catch, 34-yard game.
South Carolina
RB: Mike Davis (Panthers) – 23.8
RB: Rico Dowdle (Cowboys) – 0
WR: Alshon Jeffery (Eagles) - 8
WR: Damiere Byrd (Patriots) - 7.3
TE: Jared Cook (Saints) - 11.2
FLEX: Pharoh Cooper (Panthers) - 6.7
K: Ryan Succop (Buccaneers) - 9
TOTAL = 66
Week 14 brought the highest weekly total of the season for the NFL Gamecocks. Mike Davis got the party started early with a two-rushing-touchdown performance that split his 93 total scrimmage yards between 11 rushes for 51 yards and five catches for 42 yards. With Christian McCaffrey expected to be back at practice this week, keep an eye on the Panthers backfield against Green Bay in Week 15.
Two season-best fantasy performances helped boost the South Carolina alumni this week. First, Mike Davis' teammate Pharoh Cooper got involved in the Panther passing attack, catching all three of his targets for 52 yards — his most targets and catches since last year's Week 13 and the most receiving yards in his five-year career. Next, Alshon Jeffery caught a 15-yard touchdown pass during the Eagles' surprising upset of the New Orleans Saints.
Facing Jeffery's Eagles on Sunday, Jared Cook got into the end zone for a second week in a row, as part of his 37-yard, three-catch performance. Damiere Byrd, whose value is geared more toward being a cheap play in daily fantasy, caught five passes for 48 yards during the Patriots' Thursday night struggle in LA.
Tennessee
QB: Joshua Dobbs (Steelers) - OUT
RB: Alvin Kamara (Saints) – 18.9
RB: Jakob Johnson (Patriots) – 0
WR: Cordarrelle Patterson (Bears) – 2.6
WR: Marquez Callaway (Saints) - IR
TE: Jason Witten (Raiders) – 0
FLEX: Luke Stocker (Falcons) - 0
TOTAL = 21.5
Heavily involved in the passing game for the first time since the quarterback change, Alvin Kamara racked up 94 yards from scrimmage against Philly. 11 rushes for 50 yards and a touchdown and seven receptions on a game-leading 10 targets for 44 yards. Brees is expected to be back as soon as the highly-anticipated, heavily-projected Super Bowl preview against the Kansas City Chiefs this weekend.
Cordarrelle Patterson carried the ball six times for 26 yards in the Bears 36-7 win over the Houston Texans, and went without a kick return for just the second time all season.
Texas A&M
QB: Ryan Tannehill (Titans) – 16.5
RB: Trayveon Williams (Bengals) - 5.8
RB: Cullen Gillaspia (Texans) - IR
WR: Mike Evans (Buccaneers) – 7.1
WR: Christian Kirk (Cardinals) - 2.9
TE: Jace Sternberger (Packers) – INJ
FLEX: Josh Reynolds (Rams) – 1.1
K: Randy Bullock (Bengals) - OUT
TOTAL = 33.4
Much like in Week 12, Tannehill's passing services were not strongly needed due to Derrick Henry's plowing through the opposing defense. An efficient 19-of-24, Tannehill's highest completion percentage of the season, for 212 yards and two passing touchdowns was more than enough to supplement his running back's groundwork.
Mike Evans went without a touchdown for just the fourth time in his 2020 season. He instead would have to settle for three catches and 56 yards in the Bucs win over the Vikings. Christian Kirk and Josh Reynolds contributed fantasy change with three catches for 14 yards and one catch for six yards, respectively.
For the first time in his professional career, Trayveon Williams was the lead back for the Bengals. He led the team in total scrimmage yards, touches (15), rushes (12), and rushing yards (49), adding three catches for 14 yards.
Vanderbilt
RB: Ke'Shawn Vaughn (Buccaneers) - -0.3
RB: Khari Blasingame (Titans) – 0
WR: Trent Sherfield (Cardinals) - 0
TOTAL = -0.3
We're taking points away. At least it's not another zero?
FANTASY STANDINGS THROUGH WEEK 14
1. Alabama: 1335.7 (last week - 1)
2. Georgia: 1052 (2)
3. LSU: 981.7 (3)
4. Texas A&M: 795.7 (4)
5. South Carolina: 632.2 (5)
6. Auburn: 582.5 (6)
7. Ole Miss: 563 (7)
8. Tennessee: 394.2 (8)
9. Florida: 340.3 (9)
10. Missouri: 168.6 (11)
11. Mississippi State: 151.9 (10)
12. Kentucky: 150.4 (12)
13. Arkansas: 136.1 (13)
14. Vanderbilt: 20 (14)
WEEK 14 ALL-SEC FANTASY TEAM
QB: Tua Tagovailoa (Alabama/Dolphins) – 28
RB: Derrick Henry (Alabama/Titans) - 35.2
RB: Mike Davis (South Carolina/Panthers) - 23.8
WR: Calvin Ridley (Alabama/Falcons) - 22.4
WR: A.J. Brown (Ole Miss/Titans) - 20.7
TE: Irv Smith Jr. (Alabama/Vikings) - 14.3
FLEX: Nick Chubb (Georgia/Browns) - 23.3
K: Rodrigo Blankenship (Georgia/Colts) - 14
TOTAL = 181.7
Alabama's Sunday success keeps building, with four Tide alum making their way onto the Week 14 all-conference list. Tua is the only first-timer here after his rushing touchdown helped him beat out a strong performance from Drew Lock. Sometimes, the six-pointers make all the difference. Speaking of difference makers, Derrick Henry showed once again that he is certainly one of those. He and A.J. Brown are All-SEC players for the sixth time this year, pacing the conference for most appearances.
Nick Chubb is the active All-SEC streak leader with three consecutive standout games. Mike Davis broke a streak of seven active weeks without the honor, while Calvin Ridley got back atop the receiver rankings for the first time since Week 7. After missing three of the last four games due to injury, Irv Smith Jr. was back in a big way grabbing the #1 tight end spot for a second time.
Busy and perfect is the recipe for being the best kicker in the conference, and on Sunday afternoon, Rodrigo Blankenship was every bit of both. His fourth standout performance has him tied with Randy Bullock in the Kicker of the Year race with just three games to go.
We had a change in the standings! Missouri finally caught up with the leveled out Mississippi State squad, and Kentucky is about to follow suit. Unfortunately for Auburn, South Carolina had its biggest weekend of the year while the Tigers returned to their Week 12 form. :(
With Ole Miss close behind, Auburn is now playing defense just as much as they are trying to track down the Gamecocks. In order to do either of those things, the Auburn squad will need a couple of breakout performances from at least a couple of players in the season's final three weeks.
The playoff push is here. Will Cam do enough in Week 15 to keep the dream alive? With everyone is still alive in the NFC East, can Slayton's Giants gain ground and take down Parkey's Browns? Will Barber's Football Team extend their winning streak to a shocking five games? Let's watch and gather back here on Tuesday to recap a big weekend that marks the return of Saturday NFL action.
If you would like to order a two-pack of our new Auburn Observer stickers for $2, follow the instructions at this link.