Discover more from The Auburn Observer
Deep dives into the stats, strategies and stories of Auburn football and basketball
Over 3,000 subscribers
The biggest thing keeping Auburn from joining college football's elite tier
All four teams that made the College Football Playoff last year had it. On Wednesday, Seth Williams mentioned it. What do the Tigers need to become a true contender?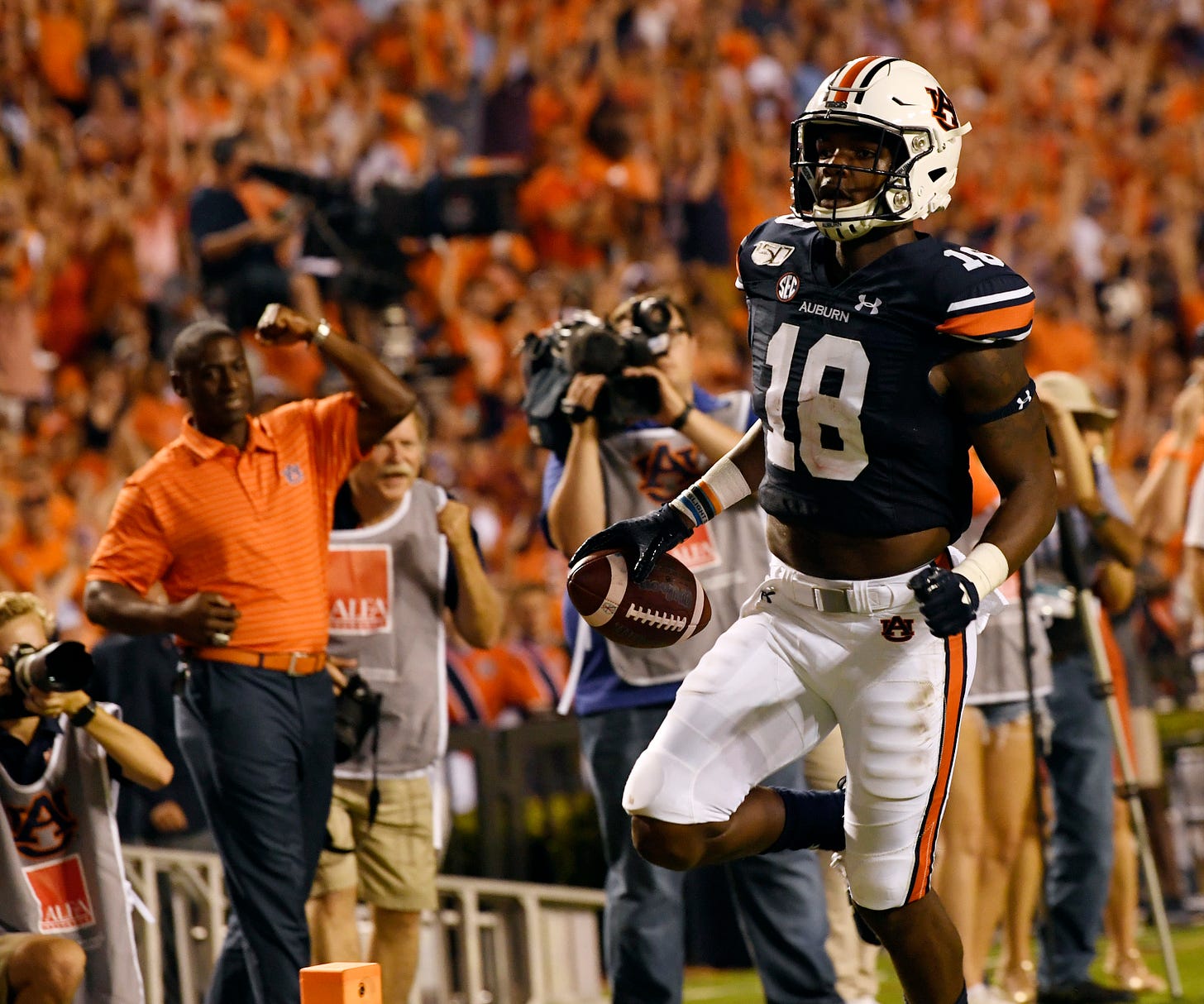 WR Seth Williams (Todd Van Emst/Auburn Athletics)
---
Thanks for checking out The Auburn Observer. For the month of September, every story and podcast will be free. Starting October 1, The Auburn Observer will switch to a paid newsletter. If you haven't already, please subscribe using the button below to get new posts sent to your inbox. If you enjoy our work, make sure to tell all your fellow Tigers fans to join us.
It didn't take long for Seth Williams to get Auburn fans excited Wednesday morning.
Williams spoke to media members via Zoom, and his answer to the very first question he got — one about the changes for the Tigers' offense with Chad Morris at the helm — quickly made the rounds online.
"I feel like this year, people are going to see an explosive offense," Williams said. "Nothing is ruled out. We're going to both pass and throw the ball. Just look for an explosive offense this year."
People latched onto the key word of that quote, "explosive," and for good reason.
Over the last two seasons, explosiveness has been the missing ingredient for the Auburn offense. Even with the emergence of Boobee Whitlow as a reliable go-to rusher, it felt like the Tigers lacked that true home-run threat on the ground that they had in years past. Through the air, the big-play rate with quarterback Jarrett Stidham took a step back from a strong 2017 in 2018 and dipped even further after Bo Nix took over as a true freshman starter in 2019.
In 2019, Auburn averaged only 5.58 yards per play, which was its second-worst mark under Gus Malzahn. Its Offensive SP+ was 33.9, which was also a second-worst mark in the Malzahn era.
Throughout the 2019 season, Malzahn preached the importance of explosive plays and the need to generate more of them. Hitting larger plays gave Auburn a chance to come back in the fourth quarter against both LSU and Georgia. Those plays allowed the Tigers to establish a faster pace and smoother rhythm offensively.
"When we're at our best, we're able to run the football, and we've got explosive plays," Malzahn said. "Whether it's the running game, whether it's the passing game, we have to create explosive plays. When we do that, we're a good offense. When we don't, we're average."
The term "explosive plays" can vary, depending on the coach. A well-established definition in the coaching and analytics community says running plays that gain at least 12 yards and passing plays that gain at least 16 yards are explosive.
It's difficult to find NCAA-wide stat charts and leaderboards for explosive plays. At CFBStats.com, though, gains can be broken down by 10-plus yards, 20-plus yards, 30-plus yards, and so forth.
For the purposes of this article, let's define any play — passing and running — that gains 20-plus yards as a "Huge Play." Using that definition, let's look at the percentages of Auburn's total plays, passing plays and running plays that went for Huge gains in the Malzahn era.
"Huge Play" (20-plus yards) Percentages for Auburn under Gus Malzahn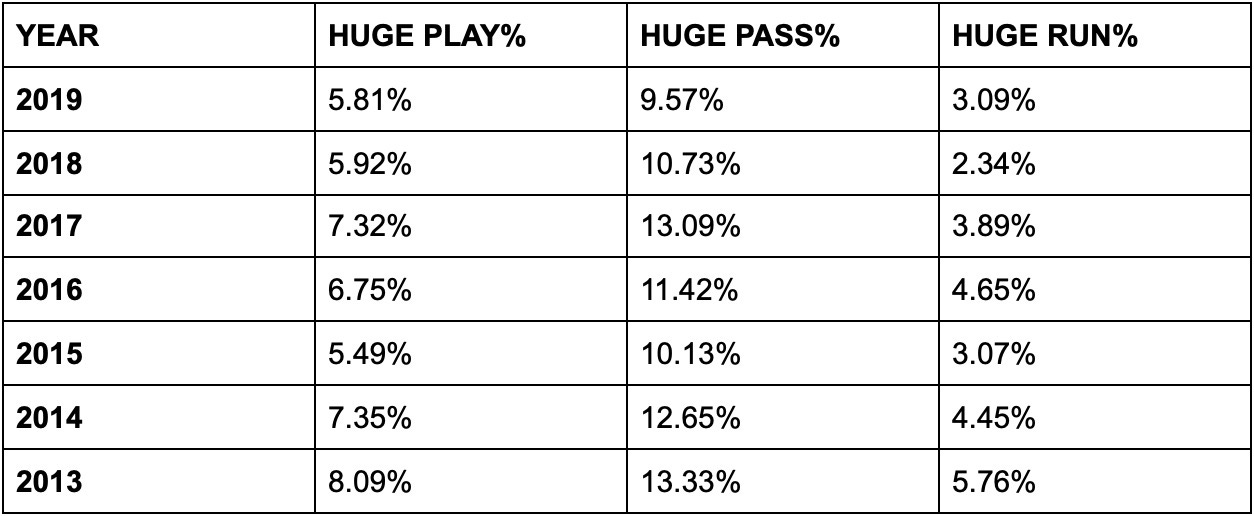 Using the above table, it's easy to see that Auburn's three most successful seasons on offense — 2013, 2014 and 2017 — were the ones that had the highest percentages of Huge Plays. They were also the three highest percentages in terms of Huge Pass Plays. Even though the Tigers were much more run-heavy with Nick Marshall in 2013 and 2014 than they were with Stidham in 2017, all three attacks were the best under Malzahn at getting these long gains on a per-snap basis.
One smaller outlier on this table is the 2016 season, when Auburn overcame a messy quarterback situation to earn a New Year's Six berth behind a rushing attack that created big numbers with Kamryn Pettway and Kerryon Johnson. That 2016 offense had the fourth-best Huge Play percentage, the fourth-best Huge Pass Play percentage and the second-best Huge Run Play percentage.
In the Tigers' frustrating 2015 campaign and their last two seasons, they've fallen below 6 percent in Huge Play rate, below 11 percent in Huge Pass rate and below what is an already-low 3.1 percent in Huge Run rate. Across the board, the monster gains that defined Malzahn's best attacks are happening less frequently.
Fortunately for Auburn, the consistent excellence of its defense under Kevin Steele has kept the team in special company over the last two seasons. The Tigers finished No. 9 nationally in SP+ in 2019 — highlighted by a playoff-spoiling win over Alabama — and No. 7 in 2018.
However, in this day and age of college football, the teams that are competing for championships are the ones with the best offenses. Elite defenses can win you games, but keep in mind that all four of the teams that made the College Football Playoff in 2019 were in the top seven nationally for offensive yards per play. The top seven nationally in defensive yards per play included just two playoff teams, with the other two finishing 29th and 63rd in that category.
The yards per play mark on offense is significant. As Bill Connelly wrote at Football Study Hall in 2017, elite teams can't live on explosiveness alone:
The key to explosiveness is efficiency. The key to making big plays is being able to stay on the field long enough to make one… Efficiency is everything in college football. Explosiveness is too random to rely on without efficiency.
That checks out, as all four of the playoff teams in 2019 were in that top-seven for offensive production on a per-play basis. All four teams also ranked inside the top eight for first downs per game, which can be another sign of how efficient an offense is performing.
However, 2019 specifically felt like The Year of the Huge Play in college football. Look at the teams who generated the most gains of 20-plus yards. The top four were the playoff teams, and No. 5 was Alabama, which is still the gold standard of championship-caliber play in the sport.
If Auburn wants to challenge for a playoff spot, it has to get closer to the explosiveness that is being seen by the consistent contenders. Last year, the gap was significant.
"Huge Play" (20-plus yards) Percentages for Notable Offenses in 2019

Improving on those low numbers — Auburn was 86th nationally in total number of Huge Plays, 61st in Huge Pass Plays and 78th in Huge Run Plays last season — and getting to that explosive offense Williams talked about Wednesday will have to be a total team effort.
Bo Nix's accuracy will be a huge point of emphasis, especially after he finished 88th nationally in completion percentage a season ago. Fewer incompletions mean more chances to raise that Huge Play rate. In 2019, the starting quarterbacks for the five other offenses in the table above all finished inside the top 16 nationally in completion percentage.
And pushing for bigger plays doesn't necessarily mean throwing the ball deeper. Morris' track record is to throw more quick passes than screens.
According to SEC Statcat, LSU's Heisman-winning quarterback Joe Burrow averaged 9.62 air yards per attempt last season, while Nix averaged 9.32. Alabama's Tua Tagovailoa, meanwhile, averaged only 8.75 air yards. As LSU and Alabama both showed last season, these types of Huge Plays can come with massive catch-and-runs from receivers on shorter tosses — which fits into Nix's skill set quite well.
While creating Huge Plays through the air is statistically more valuable than doing so on the ground, keep in mind that three of the four playoff teams last season finished in the top 12 nationally in that running category. The likes of Ohio State's J.K. Dobbins, Clemson's Travis Etienne and seemingly whoever touched the ball for Oklahoma in 2019 were big-play threats. And although LSU did a lot of its damage with Burrow, running back Clyde Edwards-Helaire finished seventh nationally in Huge Run Plays for an individual.
According to SEC Statcat, Auburn had the third-worst explosive run rate in the SEC last season. Big-play ability has been one of the key points of emphasis in the Tigers' recent running back recruiting efforts, and the opportunities should be there for the likes of Shaun Shivers, Mark-Antony Richards and Tank Bigsby this fall.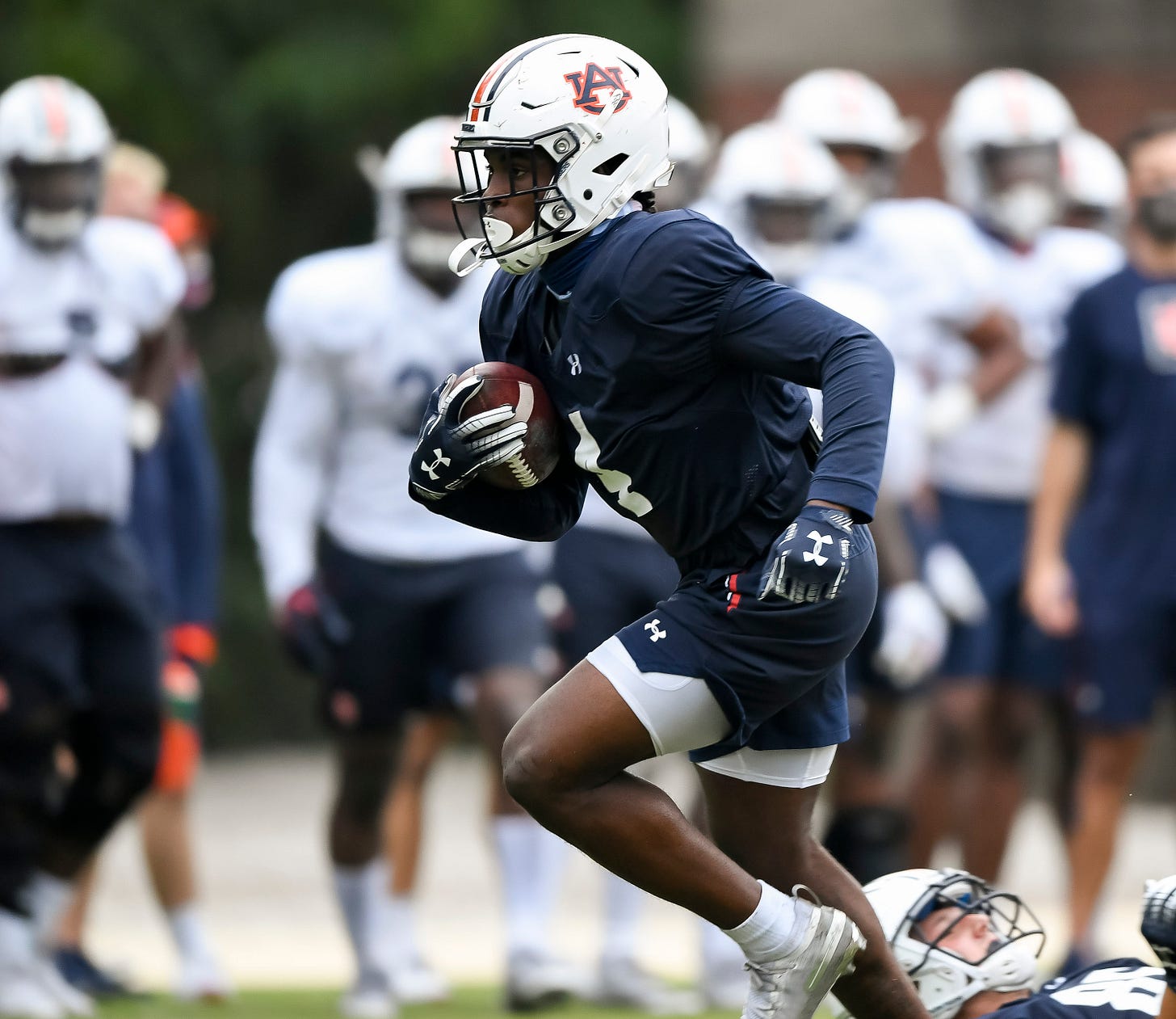 RB Tank Bigsby (Todd Van Emst/Auburn Athletics)
However, the recent lack of explosive runs can't be solely put on the running backs. According to Football Outsiders, each of the four playoff teams in 2019 finished in the top nine nationally in line yards — an advanced stat that separates the credit for successful running plays between the line and the backs. Auburn finished No. 57 in that category.
Becoming a better run-blocking unit will be a high priority among Auburn's new-look offensive line in 2020. While so much of the attention on the Tigers' offensive transition this offseason has been placed on the passing game, explosive and efficient running has been a staple of both Morris and Malzahn offenses. In order to win big, being a big-play threat through the air and on the ground is crucial.
Expecting Auburn to become a 2019 LSU type of offense overnight is a stretch. But, combined with another elite Steele defense, getting much closer to the offensive heights of college football's top teams has to be the next step for the program under Malzahn.
Big plays are the lifeblood of football, and their statistical importance on the offensive end is seemingly growing by the year. If what Williams said Wednesday proves true, Auburn will have a much better chance of getting to where its fanbase wants it to be.
Later this week on The Auburn Observer: A new episode of the podcast will drop Thursday afternoon/early evening. Look for this week's Aubserver Mailbag in your inboxes on Friday morning — so send any last-minute questions for it on Twitter @JFergusonAU or email them at the1andonlyJF@gmail.com.