Discover more from The Auburn Observer
Deep dives into the stats, strategies and stories of Auburn football and basketball
Over 3,000 subscribers
The case for Shaun Shivers as Auburn's new RB1
"Worm" lights up rooms with his personality and defenders with his running style. Could stat sheets get that same treatment in 2020?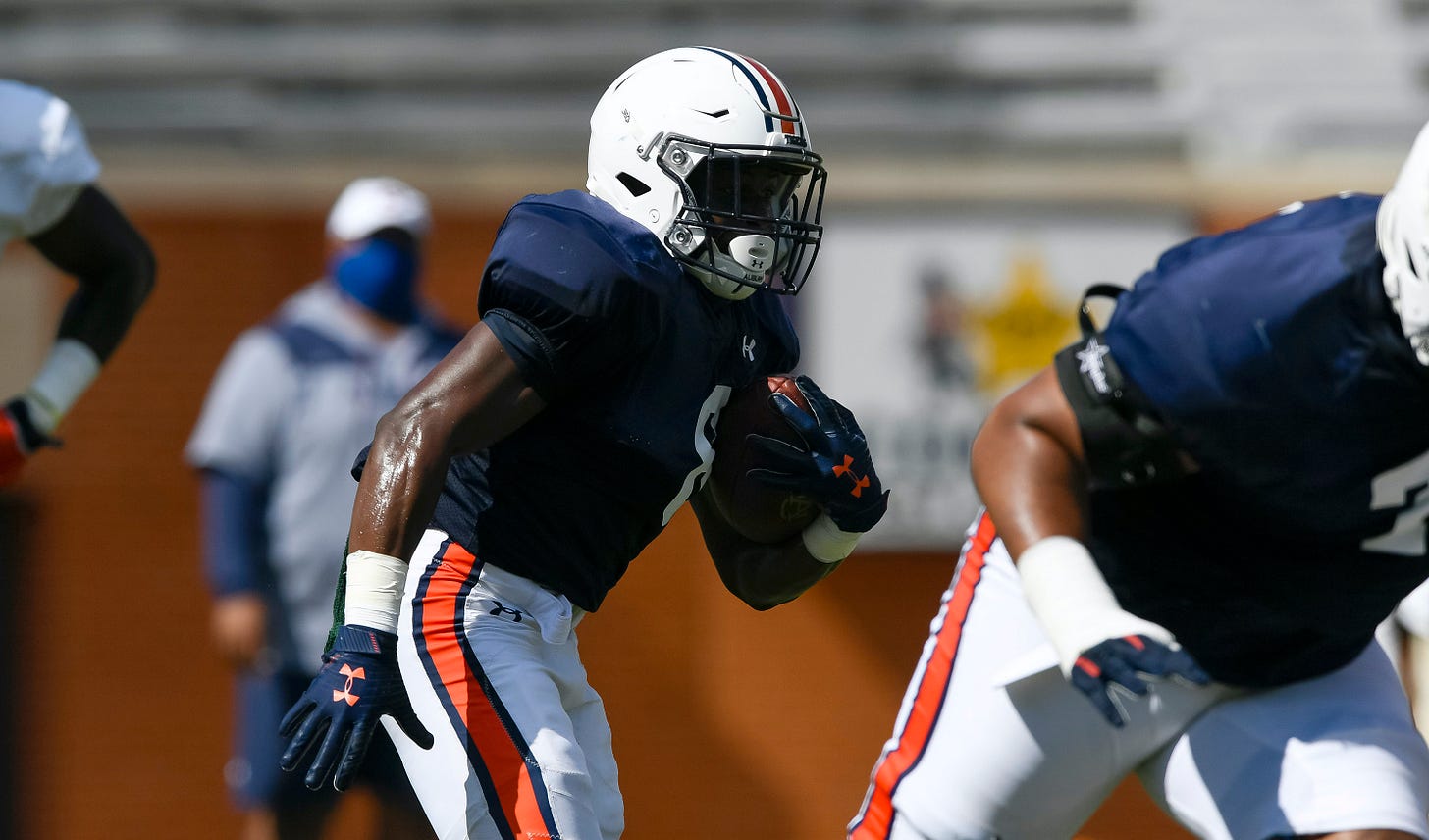 RB Shaun Shivers (Todd Van Emst/Auburn Athletics)
---
Thanks for checking out The Auburn Observer. For the month of September, every story and podcast will be free. Starting October 1, The Auburn Observer will switch to a paid newsletter. If you haven't already, please subscribe using the button below to get new posts sent to your inbox. If you enjoy our work, make sure to tell all your fellow Tigers fans to join us.
Shaun Shivers could not play another snap of football at Auburn, and he'll still be a legend.
His game-winning touchdown run in the 2019 Iron Bowl vaulted him into fame forever. Many Auburn fans were already going to fondly remember the 5-foot-7 running back that played like he was 6-foot-7, but the icon status was sealed as soon as Xavier McKinney's helmet flew off his head.
For the first two years of his Auburn career, Shivers served as a change-of-pace back for the Tigers' offense. Gus Malzahn has often referred to him as that, and he served in a role similar to the now-departed Kam Martin.
Shivers' dimensions on the Auburn roster — 5-foot-7 and 179 pounds — scream "scat back." His track numbers do as well, as he ran a blistering 10.29 in the 100 meters as a high school senior.
Thanks to the presence of world record-holder Anthony Schwartz, Auburn is one of a tiny number of football programs in America where Shivers wouldn't be by far the fastest man.
Yet Shivers is walking proof that appearances can be deceiving. He is, at his core, a power back. Even before he trucked McKinney to win the Iron Bowl, Shivers had a well-established reputation as someone who is tough to bring down. His impressive strength, combined with a low center of gravity, make him difficult to knock off-course.
Heading into 2020, Shivers is now Auburn's most experienced running back. He didn't have the total carries of D.J. Williams, who had 84 to Shivers' 55 last season. That hasn't stopped him from taking charge during the Tigers' fall camp, even with the added presence of talented freshmen Mark-Antony Richards and Tank Bigsby.
"I think (running backs coach Cadillac Williams) is really impressed with the group as a whole, with just their attitude, their work ethic," Auburn head coach Gus Malzahn said after the Tigers' second scrimmage earlier this month. "Right now, he's rotating a lot of them. I know Shivers has been with the 1s, D.J. has been with the 1s and 2s."
Auburn will most likely go with a committee approach at running back early this season. New offensive coordinator Chad Morris recently said he felt like a team needed to have four reliable running backs to make it through an SEC season.
In a traditional, feature-back format, Shivers might not be a favorite to lead the team in carries due to his frame. However, the Tigers have had more rotation over the last two seasons, and the increased depth there from recent recruiting classes makes the multi-back system the most logical choice in 2020.
In that case, Shivers has a real chance to not only start Week 1 against Kentucky, but also be Auburn's leader at the position. He's already made quite the impression on Morris.
"We see what kind of player he is on the field, but off the field, he is just incredible to be around," Morris said last week. "When you walk in, he just lights the room up. I've really enjoyed getting to know him, and then you get to watch his work ethic and him performing out on the field."
Following the Tigers' most recent scrimmage, Malzahn quickly mentioned how Shivers has had "a great camp" when he was asked about the running back situation. Malzhan also praised Shivers' consistency during practices and scrimmages.
"He finished the season on a high note, and he's very confident," Malzahn said. "He knows the offense inside and out… He's just playing at a high level. He's one of the bright spots, I think, of the whole team at this point, just with his positive energy and everything that goes with it."
Auburn's coaches have stressed the importance of consistency with the younger running backs, including redshirt sophomore Harold Joiner. Shivers standing out in that capacity bodes well for his role in 2020.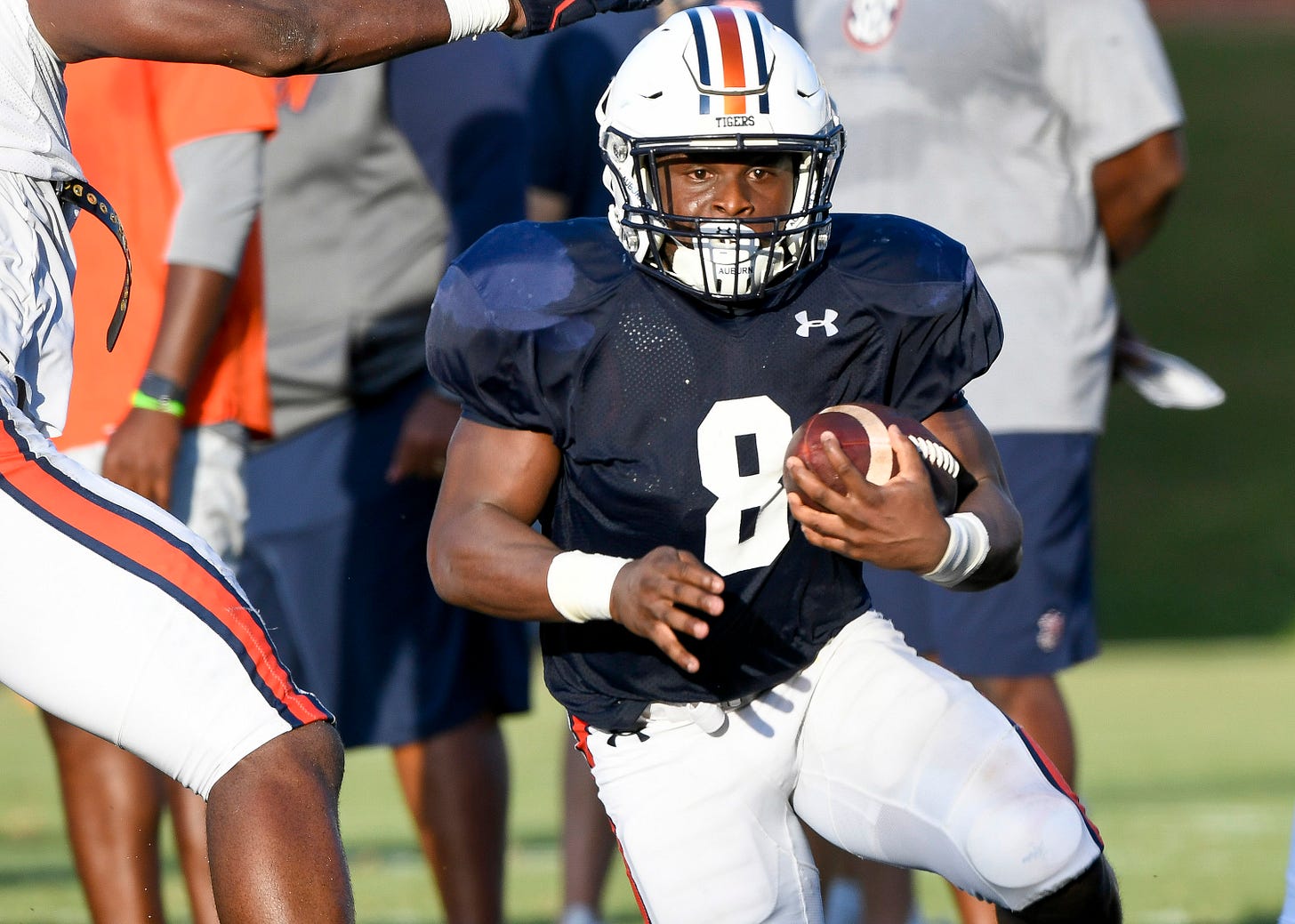 RB Shaun Shivers (Todd Van Emst/Auburn Athletics)
Judging by the numbers, Shivers might be the best bet to lead the way for an Auburn offense looking for more explosiveness following two down years in that category.
In 2019, Shivers averaged 5.20 yards per carry, which ranked second on the team behind Martin. According to SEC Statcat, Shivers averaged 2.73 yards before contact per carry, which also only trailed Martin. Among SEC running backs who recorded at least 50 carries last season, that YBC mark ranked No. 10 in the league.
Shivers also had a success rate of 42.86 percent on his carries last season, another mark that only trailed the graduated Martin. He had a lower negative play percentage than former starter Boobee Whitlow and — perhaps most importantly — led all Auburn running backs in explosive play rate at 14.29 percent.
Even though he was the No. 4 option on the roster in terms of carries in 2019, Shivers is arguably the most efficient running back the Tigers have coming back in 2020.
His elite speed makes him a home run threat on the ground, which is something Auburn has lacked in the last couple of years. He also might be the most ideal pairing for a new-look offensive line, thanks to his ability to create before contact. Shivers doesn't need a massive hole to make things happen on the ground.
In 2019, Shivers did a lot of his damage on power plays, otherwise known as man- or gap-blocked runs. He led the Tigers in yards per carry, success rate and first down percentage on these types of runs.
Watch Shivers' highlights from last fall and notice the high number of his best carries came on sweeps, powers, counters and tosses. Some of them even come from him starting out wide, which is also a good sign for him in an offense that will want to use more pre-snap motion under Morris:
Then there's the progress Shivers has made in other areas of his game this offseason. Morris emphasizes using his running backs more in the passing game, whether it's protecting or receiving.
"As much as we ask our running backs to do — whether it's pass game, whether it's pass protection, whether it's obviously running the football — these guys have got to be physical, and they've got to be able to hold up," Morris said recently. "We've been able to see a lot of that."
Shivers hasn't been much of a receiving threat in his football career, whether at Auburn or during his high school days as a title-winning back at Chaminade Madonna Prep in Fort Lauderdale, Fla., as friend of the newsletter Josh Vitale — subscribe to the Montgomery Advertiser, people — pointed out recently:
However, Shivers has shown he can make highlight-reel plays as a receiver this offseason. During Auburn's second scrimmage, he caught a pass in the flat from Bo Nix and took it 80 yards for a touchdown, as the below video shows at the :37 mark:
Shivers has also been able to use his physicality in the passing game, too. Last Saturday, Malzahn remarked that Shivers has been a "really good protector," which could be an important development for Auburn after losing its top players in that role — Whitlow and Malik Miller — from last year.
Becoming a more reliable weapon in passing situations, whether by blocking for the quarterback or running routes for him, is crucial for the modern running back. The most valued backs in the NFL right now, outside of 6-foot-4 wrecking ball Derrick Henry, are receiving threats such as Christian McCaffrey, Alvin Kamara, Saquon Barkley and Ezekiel Elliott.
One of the most popular comparisons for Shivers among Auburn fans this offseason is former LSU running back Clyde Edwards-Helaire, who was a 2020 first-round pick by the defending Super Bowl champion Kansas City Chiefs and the NFL's leading rusher in Week 1.
Edwards-Helaire and Shivers are listed at the same height, 5-foot-7, but don't exactly have the same body types — CEH weighs more than 200 pounds. (It's also worth noting that Edwards-Helaire was listed at 5-foot-8 at LSU, so Shivers might be getting that classic college height bump a little bit from Auburn as well.)
However, the comparisons still make some sense at face value, as they're both short running backs who have shown tackle-breaking abilities that don't seem to match their size.
What made Edwards-Helaire so effective for Joe Burrow's LSU in 2019 and so perfect that it kind of feels unfair for Patrick Mahomes' Chiefs in 2020, though, was all the stuff he does in addition to his rushing stats.
Check out what Spencer Hall wrote about Edwards-Helaire last December (and also subscribe to Moon Crew while you're at it):
Height: 5'9". Shadow cast: Like he's at least twenty feet tall. It is so hard to overstate how important Edwards-Helaire is to LSU's offensive success, and specifically to Burrow's improvement and effectiveness overall. His 1200 yards rushing make going play-action on any down a reality, and allow Burrow to take short completions on first down without worrying too much about moving the chains on the next downs. 

In the receiving game, Edwards-Helaire is a pesky nightmare. Out of the backfield as an outlet receiver, he can embarrass linebackers and nickelbacks by turning one yard catches into first downs.

He's not just an outlet receiver, though. He hits angle routes into the open field against slower defenders and makes them pay with the B-button… Edwards-Helaire looks like he's been playing in the slot for years.

LSU's offensive line has been so good in 2019 that they haven't even needed Edwards-Helaire to pass-protect that often. That's probably good for everyone, both because Edwards-Helaire is such an asset as a receiver, and because people tend to start flying when he picks up blitzes.
Big-play rushing to keep the defense honest, frustratingly good receiving, positional versatility and clutch pass-protecting — Edwards-Helaire is everything a running back should be in a modern offense.
Shivers and Auburn aren't like-for-like comparisons to Edwards-Helaire and LSU by any means. But the Tigers would love to get closer to that type of explosive production on offense, and the blueprint for successful backs has been more of the all-around weapon that Edwards-Helaire is. 
Shivers has been hard at work expanding his game this offseason. He's taken charge of first-team snaps in a camp where it feels like anybody in the Tigers' deep running back room could become the lead dog. He's proven he belongs on the field in passing situations, which should only increase his snap count.
"It means something to him, there's no doubt about it," Morris said. "He wants to be great and I think he's got a chance to be really special. As we watch his development, it's going to be fun to watch him play."
A lot of signs this fall are pointing toward Shivers to get the first crack at Auburn's RB1 role following the departure of Whitlow.
Although he might not look like the typical running back, he might just be the perfect face for what Auburn hopes will be a new era of backfield stars on the Plains.
Later this week on The Auburn Observer: More insights from Auburn's final stretch of practice before Kentucky game week, a new episode of the podcast and the Friday Aubserver Mailbag.