Discover more from The Auburn Observer
Deep dives into the stats, strategies and stories of Auburn football and basketball
Over 3,000 subscribers
Welcome to The Auburn Observer
l'm starting a subscription newsletter — and podcast — for my Auburn football and basketball coverage. Here's what you can expect.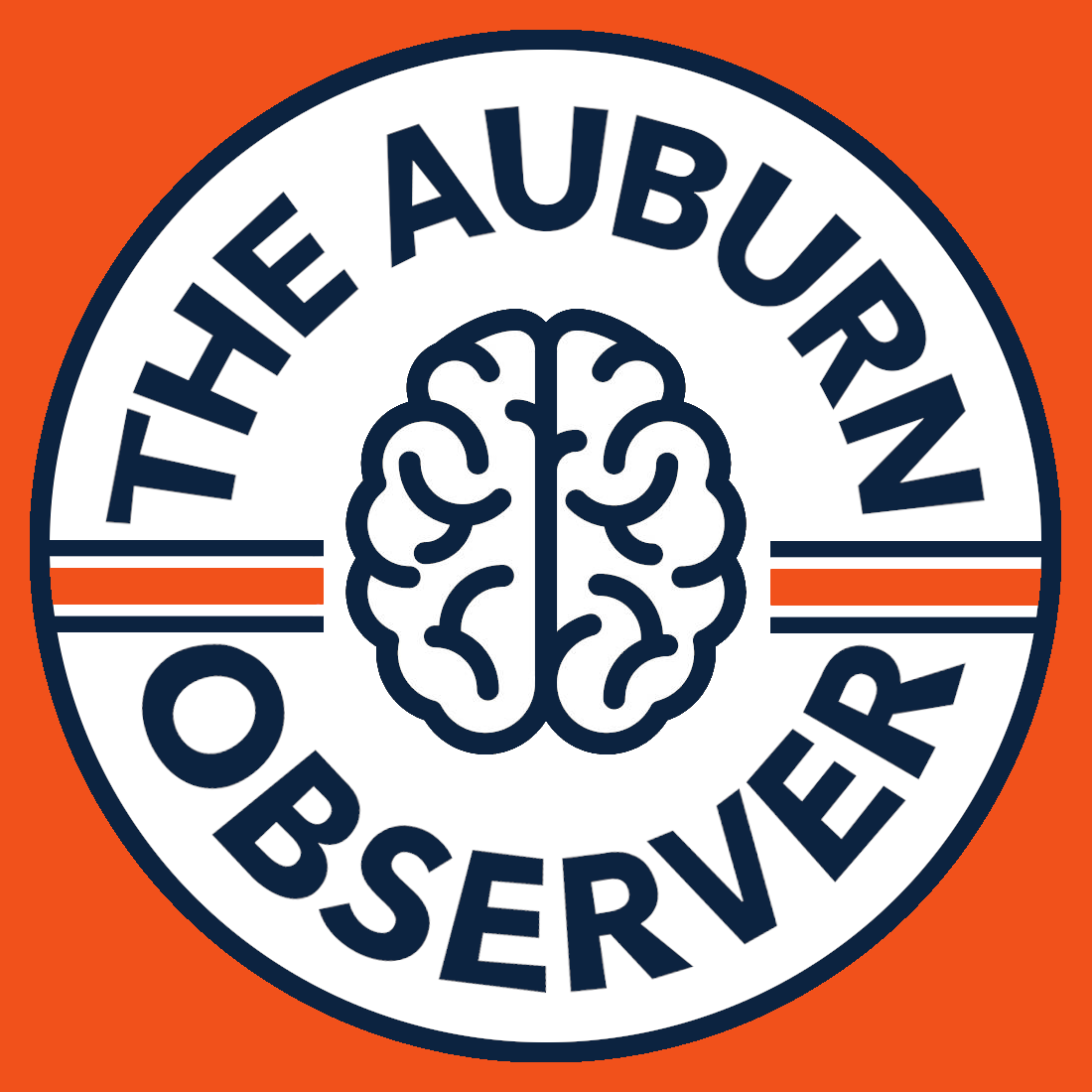 The only way I could start any of this is with a thank you — a deep, heartfelt, massive thank you — to so many people. Every tweet, DM, text, email and call I've received over the last few months, offering support and asking where I would write next, played a huge part into getting to this point. I can't thank all of y'all enough.
That being said…
Welcome to The Auburn Observer.
I've covered Auburn sports in some fashion every year since I was a junior in college in 2013. And while it feels like the world is on fire right now, I'd still like to keep doing this for a living, if possible. So, here I am, starting my own independent outlet for all my words about the Tigers.
Let me try to explain what all is going on here by answering questions that I'm sure some of you might have.
So what is this, exactly?
The Auburn Observer is where my words on the Tigers will live. Here's the quick pitch: I want to take you inside the stats, strategy and stories of Auburn football and basketball.
If you're new to Substack, this is going to be a newsletter format where new stories will be emailed directly to your inboxes after you subscribe and still live on their own website, in case you want to share links with your friends or read past posts.
I've been kicking around this idea for months, really ever since I got let go from The Athletic. I've been inspired by the success of others who have gone independent — Matt Brown of Extra Points (who has been a monumental help in helping this whole thing get started), the former Deadspin staff at Defector, and the Moon Crew of Spencer Hall, Richard Johnson, Jason Kirk and Alex Kirshner that has both published a truly excellent book and started its own great newsletter.
There will be a lot of learning on both sides as we go along, and I'm thankful to whoever will be along for the ride.
What is going to be on here?
My goal is to publish at least three articles per week, bumping up to four during football season.
The foundation of The Auburn Observer will be the type of stories that I've written over the last few years that have seemed to be well-received by Tigers fans — stuff like film rooms, weekly mailbags, postgame observations and inside-the-numbers analysis like this first piece on Anthony Schwartz. I'll also throw in the occasional longer feature or opinion column.
Going independent is a gamble, especially when you've gotten used to working with incredible editors over the last couple of seasons and now have to do it all on your own. (Please feel free to point out any typos to me.) But, in a year where very little has gone well for me and a lot of other people, I've been so excited by the idea of still writing what I want and giving it directly to the readers. It's that connection that made me want to give writing about Auburn another shot in this new format.
Plus, self-publishing will also give me the freedom to do things like help out Friday night football coverage at the Opelika-Auburn News, actually cover Auburn basketball like I want and start my own podcast with Painter Sharpless.
Wait, you and Painter are doing a podcast?
That's right. You can even listen to the first episode right now.
The Auburn Observer Podcast will shoot for two episodes per week most weeks. We've been overwhelmed by the number of people who have told us how much they miss our old radio show or suggested that we do a podcast together. So, now we're going to do that — an Auburn-focused podcast that will go along with the writing here at The Auburn Observer.
During the preseason, we'll plan to release two free episodes per week. Once we get into the season, the goal is to have a free postgame reaction podcast either late Saturday or early Sunday and a premium one previewing the next game later in the week.
One of the episodes per week will always be free, and the other will go along with a subscription.
And speaking of that…
Alright, how much does this cost?
For the entire month of September, absolutely nothing. All of the stories and all of the podcasts in September will be free.
Starting October 1, the plan is to go to $6 for a month-to-month subscription. (If this first month goes well, I might do a discounted yearly subscription.)
But this will be free to start, for multiple reasons. First, I want people to be able to try this out and get used to the newsletter format and the podcasts before having to put down any money.
This means everyone will, if the current schedules hold, get a full football game week for free — Auburn's opener against Kentucky. Then, toward the end game week for Georgia, it'll switch to a paid newsletter. (Again, one podcast episode will be free each week.)
Second, there's a nonzero chance that football season could get pushed back even further or completely canceled. If that happens, I don't want to have taken your money and then had no games to write about after that.
So, subscribe for free during the month of September and try it out for yourself. Then, if you want to keep supporting it in October, you'll be able to convert your free subscription into a paid one. And while all the stuff is free during September, you're going to want to go ahead and subscribe with your email address.
Do that with this button below, if you haven't already.
What's with the name?
Full disclosure: The name started as a joke between myself and my friend Dan Peck. Both of us are wrestling fans, and the godfather of the subscription newsletter in sportswriting is Dave Meltzer at the Wrestling Observer Newsletter. When I first started talking to Dan about this idea, it was codenamed The Auburn Observer or "The Aubserver."
But, the more I thought about it, the more I loved The Auburn Observer as an actual name.
My most popular stories in the past have been observation-based, whether it's film rooms, postgame analysis, mailbags or recruiting pieces based on roster management. I'm not a newsbreaker or a scoops guy. There are far better reporters who already do that on the Auburn beat, and I've tried to carve out my own lane with this observational style. 
My ultimate goal is for Auburn fans to learn more about their favorite teams or start thinking about what happens on the field or court in new ways when they read my work.
So, the name stuck. (It also helps that it makes this thing sound like a legit outlet.)
Are the mailbags still going to be on Fridays?
Yes. Josh Vitale's vacation from competition is officially over.
No further questions, your honor.
Great.
I'll close this by thanking everyone once again for the support over the last few months and the interest in subscribing to this new venture. So much is up in the air right now, and an already shrinking job market in sportswriting got even tighter thanks to the pandemic.
It would have been easy to just hang it up and get out of the game. But I wasn't quite ready to be done, and a lot of you helped me get the courage to give this a shot.
If it works, hopefully it'll be something I can do for a living and do it for a long time. If it doesn't work, I know I won't live with the regrets of "what if?"
Hold on, what if I have more questions about this later?
You can always shoot me a tweet @JFergusonAU or send me an email at the1andonlyJF@gmail.com.
Alright, that's enough introduction. Let's go.