Discover more from The Auburn Observer
Deep dives into the stats, strategies and stories of Auburn football and basketball
Over 3,000 subscribers
Why Anthony Schwartz's stock should explode in a Chad Morris offense
Who might benefit the most from the arrival of Auburn's new offensive coordinator? Based on Morris' track record, it's the Tigers' most efficient receiver from last season.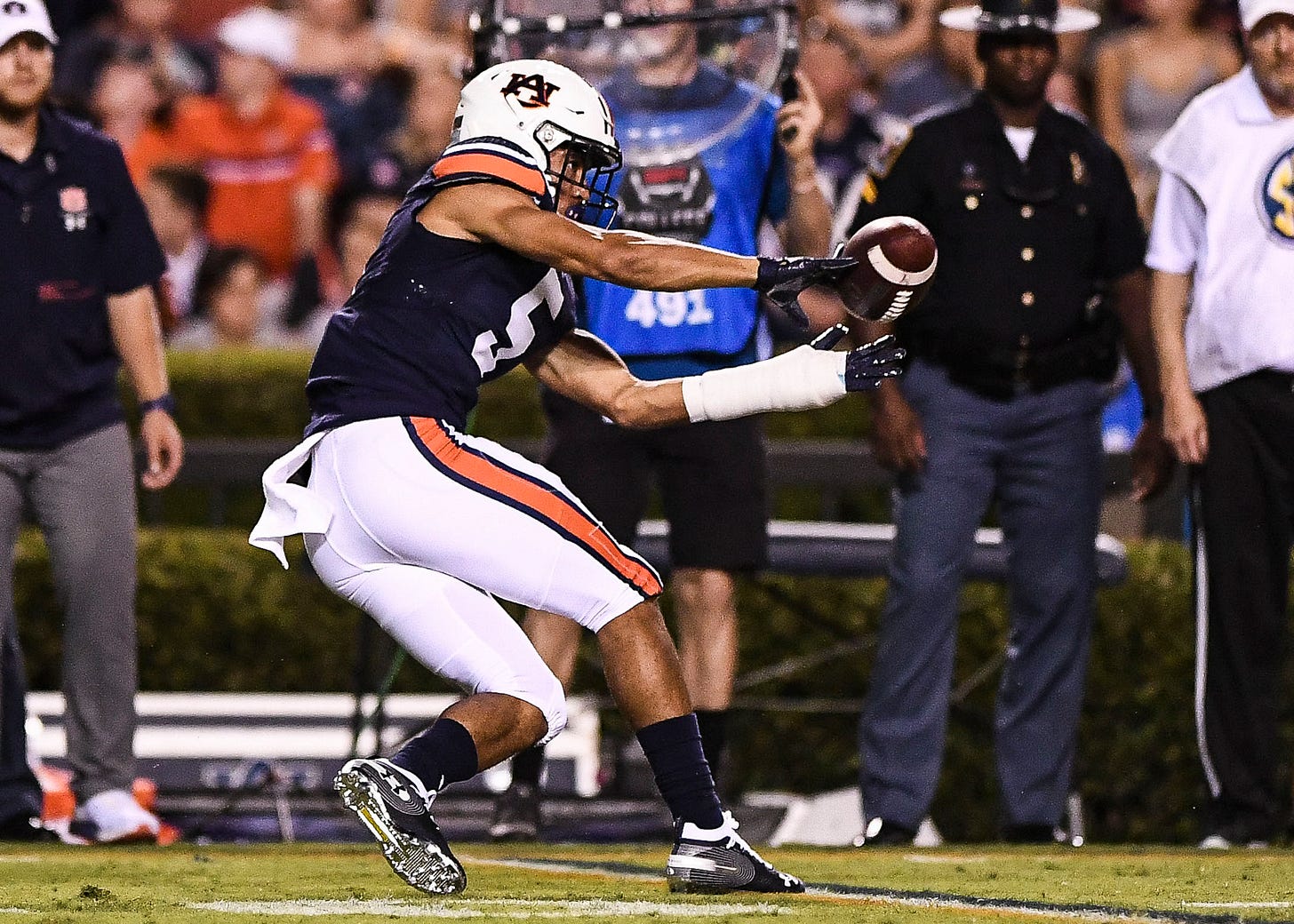 (Cat Wofford/Auburn Athletics)
The word "explosive" gets thrown around in football all the time. All players — from quick skill position players to massive linemen — want to be known as explosive. Coaches demand it. Scouts look for it.
And there might not be a better definition of explosive than Anthony Schwartz.
The acceleration that it takes to go from motionless to world record-breaking speed is nothing short of an athletic detonation. Schwartz is the fastest man in college football, and he'll enter the 2020 season for Auburn as an experienced weapon out wide.
When Gus Malzahn hired his longtime friend Chad Morris to be his new offensive coordinator and play-caller late last year, plenty of people rightfully pointed toward the potential impact it could have on quarterback Bo Nix.
However, Morris' arrival might have the biggest impact on Schwartz this fall.
Schwartz had the second-most receptions (41) and receiving yards (440) for Auburn last season, behind Seth Williams (59 and 830). He ranked just No. 19 in the SEC in catches and No. 29 in yards. Schwartz only had one touchdown reception, which came in a blowout win at Arkansas.
That Arkansas game was a turning point for Schwartz, though. It followed an off week for the Tigers, and it came after a first half of the season in which Schwartz was heavily affected by injuries. Against Arkansas, Schwartz was finally on the field consistently — and he was doing it across from Williams, who he had shared time with at split end up to that point.
Starting with the Arkansas game, Schwartz became a bigger piece in the Auburn offense. While Nix had established a solid connection early with Williams, it took more time to get to that point with Schwartz, due to the injuries. And unfortunately for Schwartz, he missed almost the entirety of the Iron Bowl win over Alabama due to an injury he suffered after making a catch on the Tigers' first play from scrimmage.
Excluding the Iron Bowl, Schwartz averaged 5.83 catches per game between the trip to Arkansas and the Outback Bowl loss to Minnesota. That was even more than Williams, who averaged 5.42 receptions per game during that stretch.
Getting the ball more to Schwartz made a ton of sense from Auburn's perspective. According to a film review of Nix's passes from earlier this year, no Auburn receiver had a better catch rate than Schwartz at 77.36 percent. He also was the most efficient option on the roster, leading all receivers who had at least double-digit receptions with an average of 8.30 yards per target.
Schwartz's elite speed has made him an ideal receiver in Auburn's offense under Malzahn, which has focused a lot of its attack on deep shots and screen passes. Schwartz, unsurprisingly, led the team in yards per target on screens (6.65) and deep throws of 20-plus air yards (14).
But, like Williams, Schwartz has proven himself to be capable of becoming an all-around receiver for the Auburn passing game.
No one on the team had more yards per target on short passes of one to nine air yards (7.32), and he was the third-highest on intermediate passes of 10 to 19 air yards (7.75). The only two receivers ahead of him in that category, Will Hastings and Sal Cannella, are no longer on the team.
Schwartz was Auburn's most efficient receiver in 2019, and those numbers have real potential to grow if Nix improves on his significant accuracy issues from a season ago.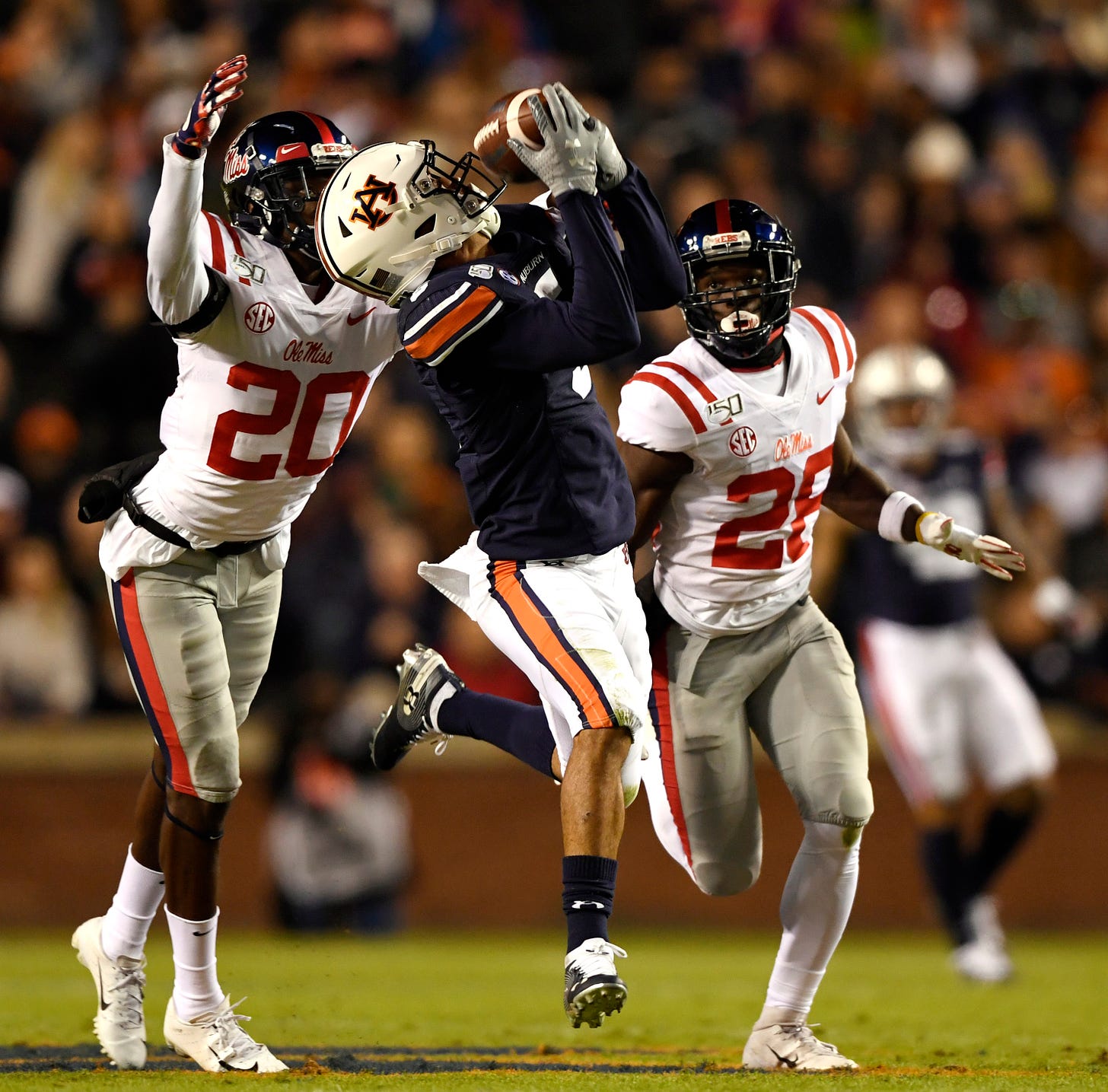 (Todd Van Emst/Auburn Athletics)
That step forward from Nix also coincides with the arrival of Morris, which should only add onto Schwartz's explosive potential for the 2020 season.
Schwartz is effective at all levels of the field, and Morris' passing attacks historically have been more diverse than Malzahn's. Even in Morris' struggle-filled 10-game stint with Arkansas last season, there was more variety through the air. Arkansas threw 10 percent fewer screen passes than Auburn, as well as 7.2 percent more short passes and 5.9 percent more intermediate passes.
So, yes, Auburn fans — there's a real chance your visions of Schwartz catching slants from Nix aren't just a preseason practice mirage. With more short and intermediate targets, Schwartz could find more opportunities to catch the ball while running full speed without them mostly being on deep shots downfield.
And more balls toward Schwartz won't have to come at a detriment to Williams, who has been a big-play machine at Auburn and has a real chance to be the program's first All-SEC pick at wide receiver since Frank Sanders in 1994.
The simplest reasoning for that is the amount of passes Morris' offenses usually put up in the air. Eight of Morris' 10 college offenses have averaged at least 34 pass attempts per game, while Malzahn's high mark at Auburn was 30.5 — which was set last season with Nix.
Also, No. 2 receivers in Morris' offenses have been able to put up numbers that would rival No. 1 receivers' workloads for most Auburn attacks.
No. 2 receivers have averaged 2.5 catches per game under Malzahn as an Auburn head coach. Under Morris, No. 2 receivers average 3.79 catches per game, and that number jumps to 4.1 per game when you take out his troubled Arkansas tenure. No. 2 receivers have only averaged 3 catches per game for an entire season under Malzahn just three times. In Morris offenses, that number is doubled to six different seasons.
Morris also has plenty of experience coaching the classic combination of big, possession-based receiver with a shorter, faster target — much like the one Auburn should have again in 2020 with Williams and Schwartz.
In 2017 at SMU, Trey Quinn averaged a whopping 8.8 catches per game and 10.8 yards per catch next to the 6-foot-4 Courtland Sutton. In that same season, James Proche averaged 3.1 catches per game and a ridiculous 20.4 yards per catch. A year earlier, Proche averaged 4.8 catches per game next to Sutton. All three of those receivers, by the way, were drafted into the NFL.
Back at Clemson, Artavis Scott got 5.8 catches per game in 2014 in an offense that also featured Mike Williams out wide. Before him, Sammy Watkins thrived as a dynamic flanker — 6.67 catches per game and 14.1 yards per catch for his Clemson career — lining up on the other side from the likes of Martavis Bryant and DeAndre Hopkins.
Watkins might be the best archetype for Schwartz's ceiling in a Morris offense. Look at how the majority of Watkins' highlights at Clemson had him playing flanker while a bigger split end lined up on the other side of the formation.
Of course, it's tough to directly compare what Auburn could have in Williams and Schwartz in 2020 to the NFL wide receiver factory Morris had at Clemson or the pass-happy SMU bunch that regularly faced defenses that weren't SEC caliber.
But the numbers that speedy receivers have put up in one-two punches with bigger wideouts under Morris should only speak well to Schwartz's chances in 2020.
Combine that with an improving Nix and an always-dangerous Williams in what has been called "a whole new Auburn offense," and there are plenty of reasons to believe why the future should be extra bright for the one they call Flash.