Discover more from The Auburn Observer
Deep dives into the stats, strategies and stories of Auburn football and basketball
Over 3,000 subscribers
Why Jamal Johnson's offseason improvement could be huge for Auburn basketball
The Tigers will have an extremely young roster this season. A breakout campaign for Johnson would check several boxes for Bruce Pearl's team.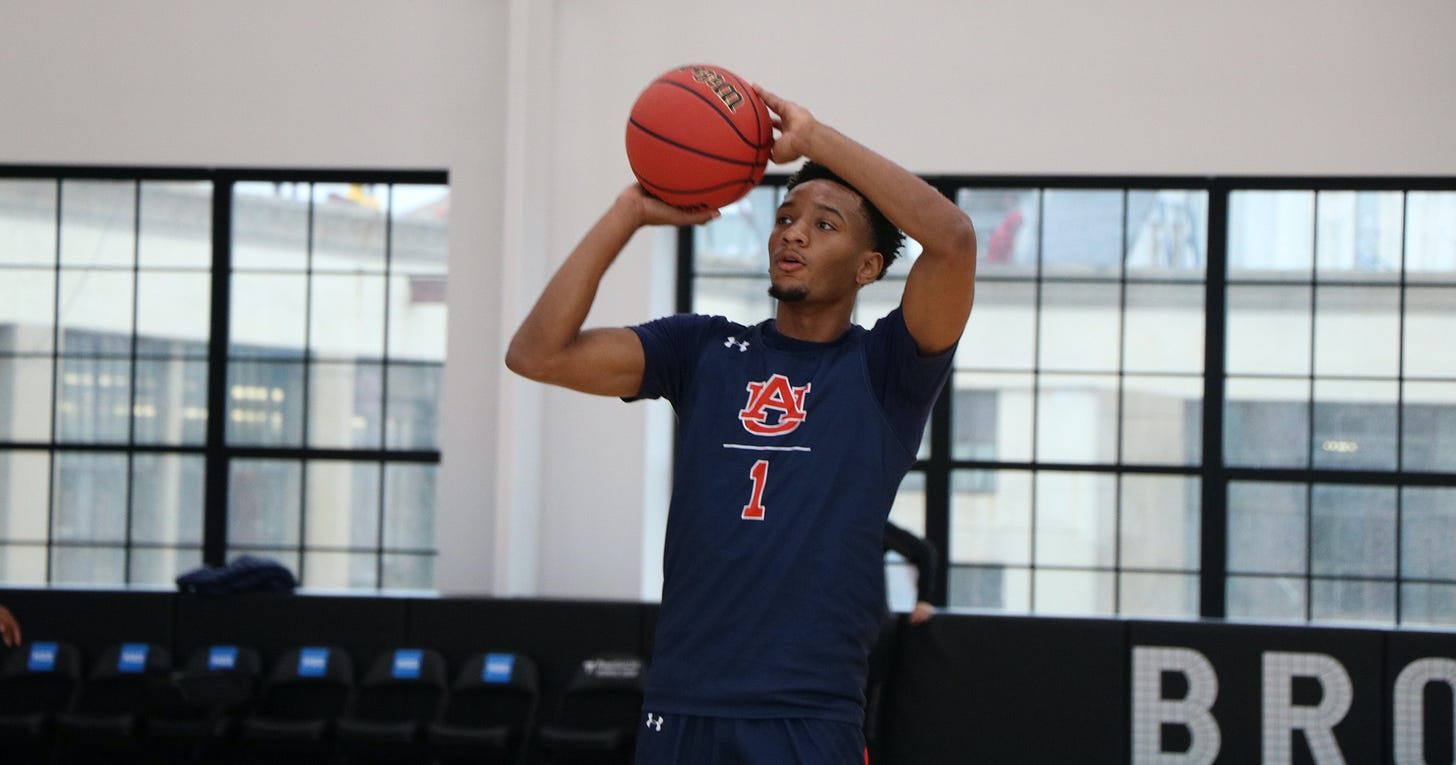 SG Jamal Johnson (Cody Voga/Auburn Athletics)
---
Thanks for checking out The Auburn Observer. This is a free bonus story that is unlocked for everyone to read. If you're getting this via email and would like to upgrade to a paid subscription that gives you access to all stories — including the football Film Room series — and premium podcast episodes, you can do so by clicking the button below.
There's a term in English soccer that could apply to Bruce Pearl's Auburn basketball program this upcoming season.
It's a term that can be tongue-in-cheek or something of a cliche. But there's a lot of truth to it, especially when it comes to impact on a team's roster. Whenever a player steps into a new role or returns from a long-term injury, it's sometimes referred to as being "like a new transfer." Jurgen Klopp, perhaps the best manager in the world, referred to this in a press conference at Liverpool three years ago.
In soccer terms, "transfer" is the process of buying a player from another team — like a combination of a free agent signing and a trade in American sports. In college sports, "transfer" obviously refers to a player who moves from one school to another.
That second definition of transfer is what Auburn was going after this offseason. With one available scholarship left after their 2020 class signings and the departures from last year's roster, the Tigers were linked to a large number of transfers over the last several months. 
The vast majority of those Auburn targets were players who would most likely occupy the 2, or shooting guard, spot in Pearl's system. The Tigers lost both of their starting guards, J'Von McCormick and Samir Doughty, to graduation. 
Five-star signee Sharife Cooper is all but guaranteed to replace McCormick at point. But Doughty's role is a question mark. Auburn has several younger players who could get minutes there — Allen Flanigan, Devan Cambridge, Turbo Jones and true freshman Justin Powell — but it was obvious the program would like to get someone with experience in the backcourt for what will be an extremely young roster in 2020-21. Veteran guard presence, especially in March, can go a long way.
Auburn was unable to add that experienced member to the roster this offseason. But it could get someone who is "like a new transfer" in the form of, well, an old transfer.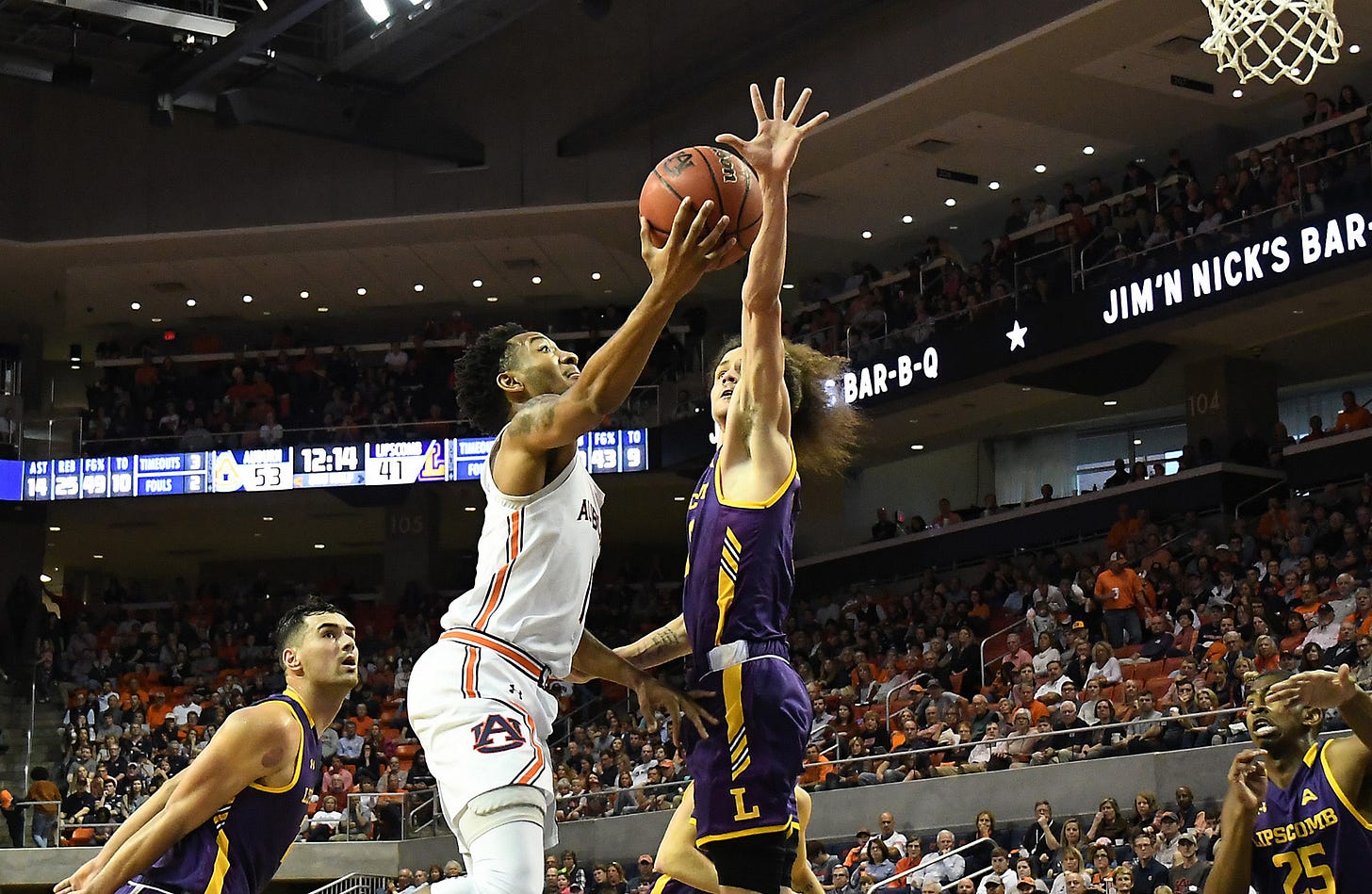 SG Jamal Johnson (Anthony Hall/Auburn Athletics)
Jamal Johnson is Auburn's only scholarship player who is older than a sophomore. He's one of only two juniors on the entire roster, with walk-on guard and local product Preston Cook being the other. This will be Johnson's third season with the team, as he had to sit out the 2018-19 Final Four run after transferring from Memphis.
No other scholarship player on the roster has been at Auburn for more than two years. After spending a season as a scout team player and a season as a reserve, Johnson is now the most experienced college player Pearl has at his disposal.
"I would say that Jamal does have a chance to be one of our leaders," Pearl said last week. "But I think it's so early that I don't comment much on it, because I just gotta let it play out — I got to let it evolve and let those guys step up."
Still, one could say that the buzz around Johnson this offseason is palpable.
"Jamal's probably improved as much as anybody from last year to this year," Pearl said. "He's worked really hard."
Johnson's work ethic has become a talking point for those inside the Auburn basketball program this offseason. Over the summer, during a Zoom press conference for journalism students, the Birmingham native shared some insight on how he's developed that drive over the years.
"It's definitely a transition, because high school — it's not easy, but there's not as many good players as college," Johnson said. "In college, everybody is good. So there's no one person that can't do anything good. Somebody's good. So you have to work every day, or somebody is going to outwork you. So you have to work every single day to try to get better and try to fight for your position every single day so you can acquire the benefits you deserve."
Johnson's improvement comes after a first campaign that started with promise but faded during the heart of SEC play. He played double-digit minutes off the bench for Auburn in 18 of its first 25 games, and he had double-digit points in early outings against South Alabama and Lipscomb.
But Johnson played fewer than 10 minutes in all but one of Auburn's final nine games in the regular season. During that stretch, he went 1-9 from the field shooting and added a pair of free throws in a win over Tennessee.
Even with that cold offensive spell as Auburn's rotation got tighter in the stretch run of the season, Johnson still showed the type of fearless 3-point shooting that makes him an ideal fit for what Pearl will most likely try to run again this upcoming season.
"He continues to demonstrate that if he can see it, he's got a really good chance to make it," Pearl said.
Johnson led all Auburn players in 3-point percentage at 38.6 percent last season, and his offensive rating per 100 possessions (115.9) ranked third behind Austin Wiley and Isaac Okoro. His true shooting percentage (55.0%) ranks only behind forward Jaylin Williams among returning players on this season's team.
As a true freshman starter at Memphis, Johnson was second on the Tigers in 3-pointers made and scored inside double figures on 11 different occasions. Although he hasn't been a regular first-choice player at the SEC level, he's been one in a solid Division I conference.
While Johnson has proven to be a long-range threat in his limited time at Auburn, Pearl mentioned that he had improved both his mid-range shooting and off-ball offensive work during the offseason.
The true test of Johnson's development, though, will come in the area of defense. Last season, Johnson had the worst defensive rating of any Auburn player who took the floor for more than three minutes. His defensive box plus/minus was third-lowest among scholarship players.
The Tigers will need consistent defense in the backcourt this season, especially with the 6-foot freshman Cooper expected to play a lot of minutes at point guard. That was an area of great focus this offseason for Johnson, who spent time with his father — former Alabama and NBA first-round small forward Buck Johnson — practicing on that end of the floor.
"He's worked really hard on his athleticism, his speed, his quickness, his ability to stay in front of you," Pearl said. "I think he worked a lot with his dad on his defensive slides and some of his mobility."
If Johnson has expanded an offensive game that already has shown solid potential while becoming a more reliable defender, he should have a great chance to play major minutes at shooting guard this upcoming season.
But beyond what happens in the box score, Johnson has a chance to give Auburn something it will need following all the senior departures from last season — veteran leadership.
"I'm going to be one of the older players on the team next year, so hopefully I can become a leader on and off the court, because I have the most experience playing in college and postseason and stuff," Johnson said. "I'm going to try to work on my leadership role and try to teach and help the younger guys get well-adjusted to play in college. That's one of my biggest goals this year, is to become a better leader."
Johnson will face plenty of competition for minutes on the wing at Auburn, as Pearl has been impressed by the determination of his young, athletic roster during an unpredictable offseason. 
But the junior sharpshooter has several unique factors working in his favor as someone entering his fourth year of college basketball. There's a chance that, with more minutes, he can turn into a new type of player that Auburn was looking for in the transfer market this offseason. 
And even if the season begins with Johnson not in the starting lineup, he should be a reliable leader for a bunch of Tigers who are still fairly new to the process.
"I definitely see Jamal (has) been a really improved player, trying to carve out his niche on the roster still and his role," Pearl said. "But he's done a pretty good job stepping up."
Up next on The Auburn Observer: We'll have football stories on Wednesday and Thursday, plus a premium podcast episode on Thursday evening that will preview the Tigers' upcoming trip to Ole Miss. On Friday, it's the Aubserver Mailbag. Send in your questions now via Twitter @JFergusonAU or email the1andonlyJF@gmail.com.