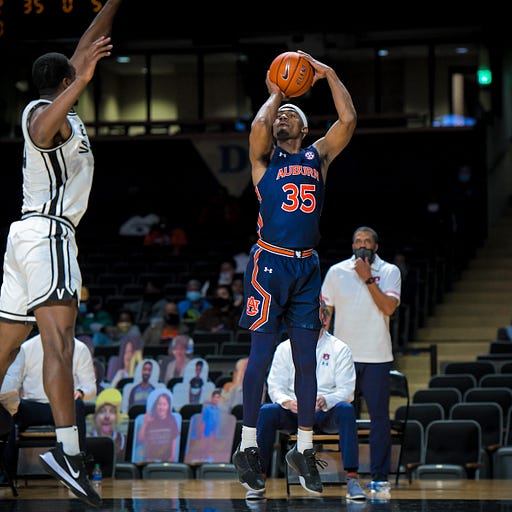 Feb 10, 2021 • 1HR 16M
Episode 48: Painter vs. The NCAA
This episode is for paid subscribers
Justin Ferguson and Painter Sharpless take you inside the stats and strategy of Auburn football and basketball on The Auburn Observer Podcast.
SG Devan Cambridge (Vanderbilt Athletics)
Justin and Painter review Auburn's much-needed road win against Vanderbilt and preview a trip to Kentucky. They also discuss The Jalen Green Discourse™ and get heated about how the NCAA continues to drag its feet while making its product worse.
Also, they talk about a large young football player lobbing alley-oops and a fantastic stat for Nehemiah Pritchett.
This premium episode of The Auburn Observer podcast is available to paid subscribers only. To add the premium feed to your favorite podcast app — basically all of them except for Spotify — click the "Listen in podcast app" option and add the feed to your app of choice. This new feed will include both free and premium episodes, so you can unsubscribe from the free feed to avoid clutter in the app.
Follow Justin (@JFergusonAU) and Painter (@paintsharpless) on Twitter.
This episode is for paid subscribers